Switching to FACT-Finder allows the Berner Group to accelerate the digital shopping process and generates synergy effects in international shop control.
The Berner Group is the central B2B retail partner for all materials in the construction, mobility and industry sectors. While the core business remains focused on direct sales in 25 countries, the Berner Group has recognised the importance of current developments, choosing the right time to invest in digital sales channels. This resulted in more than 20 online shops in a range of languages and a digital assortment of 230,000 articles. A decisive factor here is that shoppers are able to profit from lightning-fast procurement of the right products. It is also possible to roll out group-wide requirements automatically to the online shops for all countries. The Berner Group has solved these and other B2B retail challenges – by switching from an open source search to FACT-Finder.
"Search is our flagship product"
B2B e-commerce is becoming increasingly digital. By 2020, it is set to grow to more than double the market volume of B2C e-commerce. It has long been noticeable that more shoppers are using an online channel. According to ibi research, the search function plays a particularly important role for 85% of shop visitors – at least in theory.
Katja Sallie, Business Service Manager at the Berner Group, confirms that it can be very different in practice: "Most sessions in our online shops start with a search. And that is exactly where we had major problems in the past. Before we started working with FACT-Finder, shop visitors often found irrelevant products, or no products at all. That had an adverse effect on our conversion rate and on our image – the search is the main point of entry and is therefore our flagship product."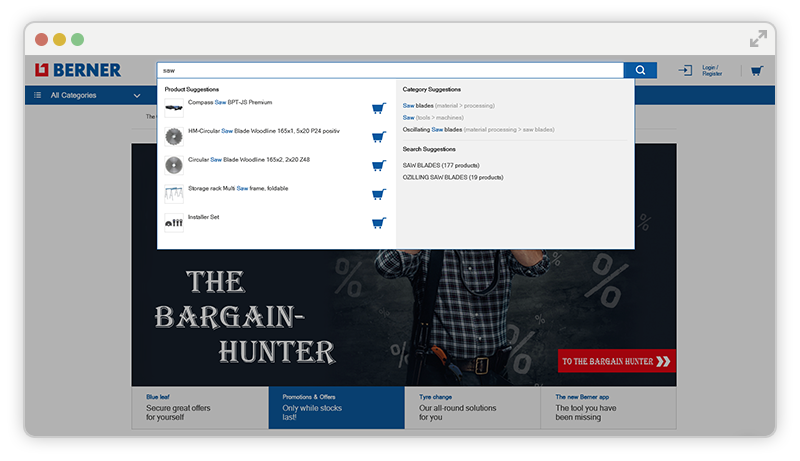 Convenient suggest function on berner.de. Shoppers can fill their shopping carts in seconds and then proceed directly to the next query.
Significantly fewer no-hit pages, 20 times more search queries
Procuring the right materials, tools or accessories from a huge assortment can become a real ordeal in some B2B shops. This can be caused by complicated product names, which shoppers often mistype or sometimes don't even use in the search.
Katja Sallie explains how the Berner Group e-commerce team meets this challenge: "In terms of the quality of the search results, we have taken a great leap forward since implementing FACT-Finder. Our analyses in the German and French shops show a significantly reduction in the occurrence of no-hit pages, combined with the search being used 20 times more often on average. This was possible because FACT-Finder boasts error-tolerance and an ability to learn that deliver instant improvements – and also because we now have many tools to control the search results. Customers often use a variety of search terms when looking for one and the same product. That is why we create synonym entries: these mean that shoppers can find our safety shoes if they enter 'steel toecap shoes', for example. This provides us with a practical opportunity to optimise results without having to make any changes to the product data."
Shoppers can order more in less time
If there is one success factor that is especially decisive in B2B e-commerce, then it is speed: shoppers expect to get to the right product as quickly as possible. Not just because they are used to the comforts of B2C from their private lives, but also because they need to make the most of their working time. "Most of our customers already know how many of each article they intend to order," explains Katja Sallie. "We support this customer group in various ways with FACT-Finder. For example, the solution enables searching for article IDs as well as for complex terms like 'zinc-coated lock washer'. Our shoppers clearly prefer the search by IDs. We have also adjusted the Suggest module so that a shopping cart function is displayed for each product proposal. That represents another enormous improvement to the procurement process."
Automatic consulting for non-expert customers
"The Suggest function is also important for customers who do not have expert knowledge, or who want to read more before making a purchase," continues Katja Sallie. "Here, FACT-Finder allows us to display blog articles and other content in the proposal menu. This helps non-expert shoppers to notice current campaigns as they are starting to search for relevant content – whether this relates to topics such as cleaning car exteriors or how to grind concrete correctly. We are also planning to use FACT-Finder advisor campaigns more intensively in the future. There is plenty of potential there, especially with our matrix products – by which I mean articles such as screws, which are available in multiple variants. If customers do not know exactly which article specification is the right one, a digital shopping assistant can certainly increase the conversion rate."
Efficient shop control for decentralised e-commerce structure
The Berner Group is a B2B retail partner operating at an international level, running local e-commerce teams in various country subsidiaries. This means that technology implemented on a cross-country level must fulfil specific requirements – which saw the previously-used open source search reach its limits. "It is of the utmost importance for us that we are able to roll out group-wide requirements from a central point. At the same time, our local e-commerce managers must be able to independently fine-tune synonyms, ranking adjustments or product promotions. The multi-channel configuration feature in FACT-Finder is worth its weight in gold. If a specific optimisation or campaign has been tested successfully in the German-language shop, we can roll this out directly to all channels – without having to individually convert each of our 20 country shops. So, that is naturally a huge relief," says Katja Sallie.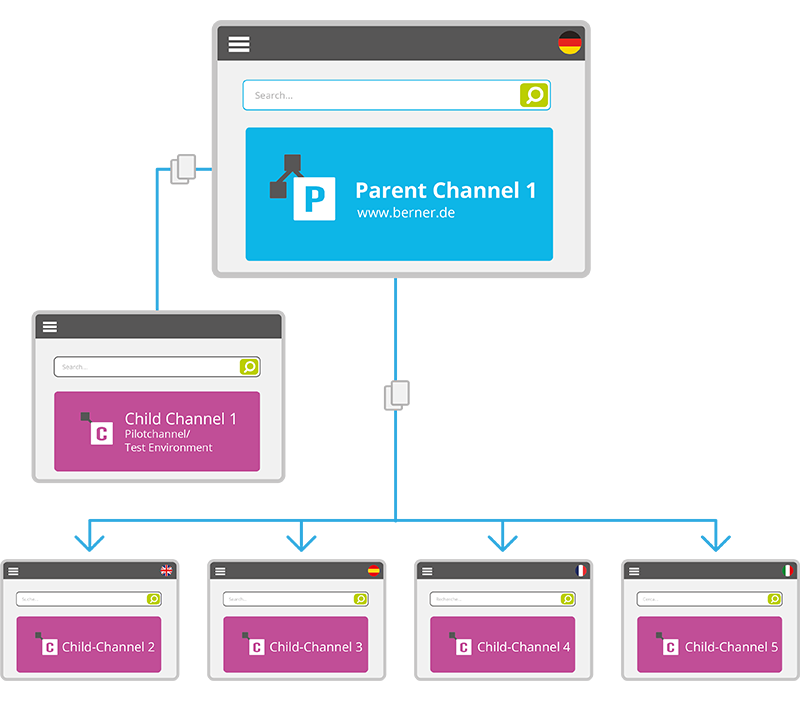 Faster roll-out for group requirements: the settings in the German Berner shop can be transferred to all other country shops with one click. If required, the local e-commerce managers can then fine-tune the settings in their shop.
Consulting helps to make the most of revenue potential
The Berner Group management team have plenty of plans for the future as they aim to continue the improvement of the customer journey in the international shops. The e-commerce team is supported by in-house experts at FACT-Finder: "I am very pleased with the personal support – communication and reaction times are great," says a delighted Katja Sallie. "There is a personal contact at FACT-Finder for any queries that we have. In addition to the service desk, which supports us for technical questions, we also use the consulting program on an hourly quota basis. This allows us to communicate regularly with Mr. Wagner, our consultant – with particular focus on topics such as product data optimisation, recommendations and personalisation."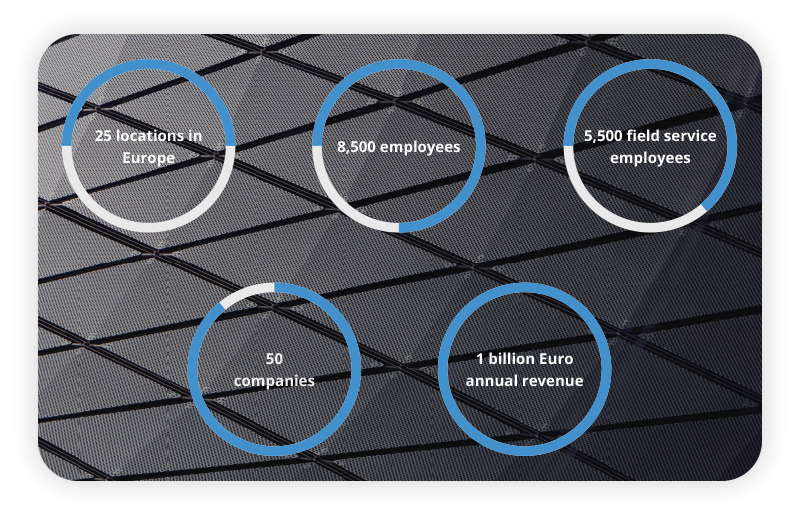 The Berner Group is the central B2B retail partner for all materials in the construction, mobility and industry sectors.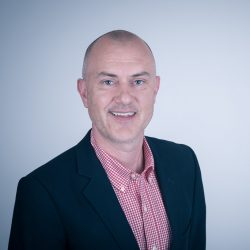 Stuart Patterson
is the New Business Manager at FACT-Finder for UK and Ireland. Stuart brings a wealth of ecommerce experience having worked in both UK and Irish markets extensively. He has worked with small entrepreneurial start-ups to Global brands such as BMW, Vodafone and Mindshareworld. Stuart brings a fresh outside the box type of approach based research and best practices. He has 10 years ecommerce experience across all verticals. As a previous business owner he knows how to create bespoke ecommerce solutions tailored to specific requirements and objectives.