As a matter of principle, individual online shops require their own unique optimisation measures. Nonetheless there are a number of recommendations that apply to all – some very basic, others much more complex. But one rule rings true for all: The devil is in the detail.
Here's five best practice tips to ensure maximised e-commerce success.
1. Make sure that your first impression counts
Customers come to your shop through a number of different routes. The common paths though are typing the URL into their browser or as the result of a Google search with a subsequent click on an Ad Words ad, or a link shown in the organic results.
Using URLs in which relevant keywords are included helps to make your product range more visible in search engines. You can automatically generate these "speaking" URLs with your ecommerce platform recognising the correct keywords among the articles and product descriptions and then incorporating them autonomously into the web address.
When your organic SEM and SEO actions start having an impact and search engines generate a regular inflow of visitors to your shop, you should start creating landing pages for each article. These pages need to be individually adapted to the term the visitor searched for and retain any product information the visitor was interested in during his last visit to your shop. This creates a more relevant entry into your product range and reduces the bounce rate significantly.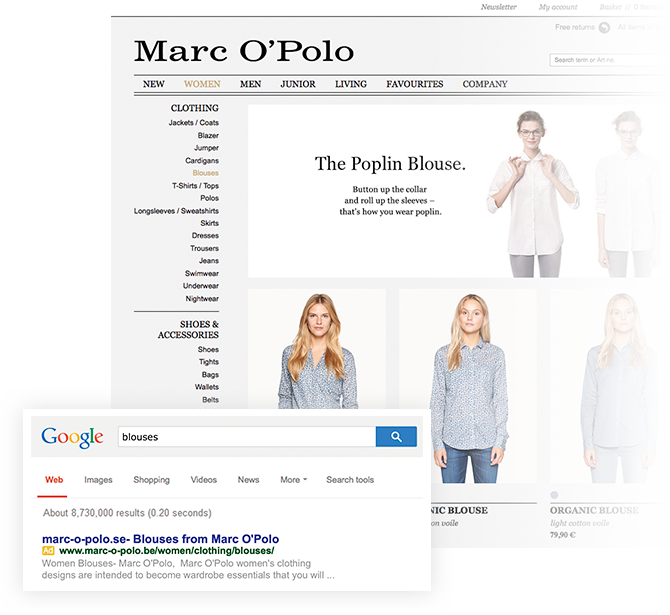 For instance, a visitor searching for "red shoes Nike" in Google could be guided to a landing page that is designed (with the help of banners etc) as a Nike brand world and on which the filters "shoes" and "red" are available from the beginning. If your e-commerce platform offers more in-depth tracking options, the visitor's previous shopping behavior can be taken into consideration, allowing you to automatically add other filters such as "men".
2. Strengthen your customer's trust
Everything that enforces your shop's authority and establishes trust among your customers should be accentuated and made easily available – from quality seals for certified dealers, to shipping terms and contact information. If your merchandising tool allows you to define things like "contacts" or "terms and conditions" as re-directs, this would greatly enhance your customers' on-site experience as they can easily find those categories through your on-site-search.
3. Ensure customers can get to their desired product as easily as possible
Visitors "scan" websites according to certain patterns, instead of reading them fully. If it is difficult for them to orientate themselves, they will leave the website very quickly. In order to avoid such inconvenience, you can place the most important shop functionality – your on-site search – prominently in the upper part of your site. A search box that is sufficiently large, that is not placed next to other input boxes and that stands out due to its colouring or contrast, is more obvious for shop visitors and will ensure the search is used.
In addition, you make your labelling as obvious as possible. Make sure the search button says "search" and not "Go" or other similar terms. Alternatively a magnifying glass symbol can serve this purpose as it is the universally accepted icon for search. This is indispensable so to ensure that the visitor does not get confused.
Also having text such as "Please type in your search term" can further reinforce its positioning. However, two things need to be considered: First, for a previously defined text you should use a JavaScript, so that it disappears when clicking in the search box and does not demand a manual elimination. Second, when clicking on the search button without adding a term that should not trigger a search for "Please type in your search term". Empty searches should be directed to special landing pages – e.g. to those with current offers or deals.
Furthermore, while typing in the first letters in the search box an error tolerant suggest function offers useful orientation support and facilitates the customer's search for products with complex spelling. According to current usability studies it is recommended that the search result list consists of a maximum 10 articles and can be scrolled both with the mouse and the arrow keys.
Sub-dividing search suggestions into different categories and adding some additional information, for example "price" or "sale", turns your suggest area into a small sales area. For this reason, it is recommended that you establish some Business Rules through which specific search terms will be ranked higher. This way, articles with high margins, high storage costs or with a high purchase probability can be prioritised. This is possible when the search algorithm learns from the user behaviour and considers previous clicks, search queries, orders etc.
4. Accelerate purchase decisions
Purchase decisions can be accelerated when the search result ranking adapts automatically to the customer behaviour. If you have access to analytical data, then use these to identify current trends and to prioritise requested products. By offering your customers filtering features in order to refine their search results, their path to the right product is significantly shortened.
To this end, it is essential to only indicate relevant filters in a reasonable order. For example, the filter group "screen diagonal" is essential for TVs and should be placed at the top. For digital cameras, however, the screen diagonal is negligible.
If there are more than eight different filter groups, rarely used filters can be summed up under "more options". By adding the sample space for each filter group you create a good overview.
5. Create the perfect e-commerce product data stream
Our experience has shown us that within most online shops' product databases there is still much room for optimisation. Valid, complete and consistently structured product data forms the basis for highly targeted on-site-search and for well-functioning filtering navigation.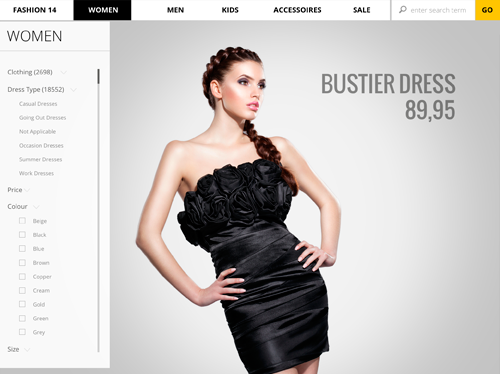 In order to ensure sustained high product data quality we recommend a five step process:
Inspect the data throughout the data analysis and perform rough classification. Additionally, establish large categories (e.g. jewellery & watches, fashion, etc).
Create specific, rule-based filters in each category to represent product features. By doing this, finger rings for example will be differentiated by "[n] mm" according to their diameter and LCD televisions by "inch" according to their screen diagonal.
Capture the specific information for each product with the help of the rules depicted in step 2. Thereby, variable terms, units, and formats in the product data – e.g. screen diagonals in "inch" as well as in "cm" – are harmonised.
Adjust duplicates in order to control and optimise results with the help of new, precisely definite characteristics.
Qualify the final results with the assistance of specific cleansing software.
By Oliver Hansert, Head of Customer Excellence at FACT-Finder.
This article originally appeared at digital marketing magazine. Copyright 2014. Follow digital marketing magazine on Google+.