FACT-Finder tops the list of 20 best on-site search technologies worldwide.
FACT-Finder is thrilled to announce that it has been named the 'Best Site Search Solution' for 2019. This coveted title was awarded by FinancesOnline, the fastest growing independent review platform for B2B, SaaS and financial solutions. In order to help online professionals choose a tool that best fits their needs, the platform gathered 46 solution providers. After a thorough compare and contrast, they compiled the top 20 solutions in the market. FACT-Finder came in at number one.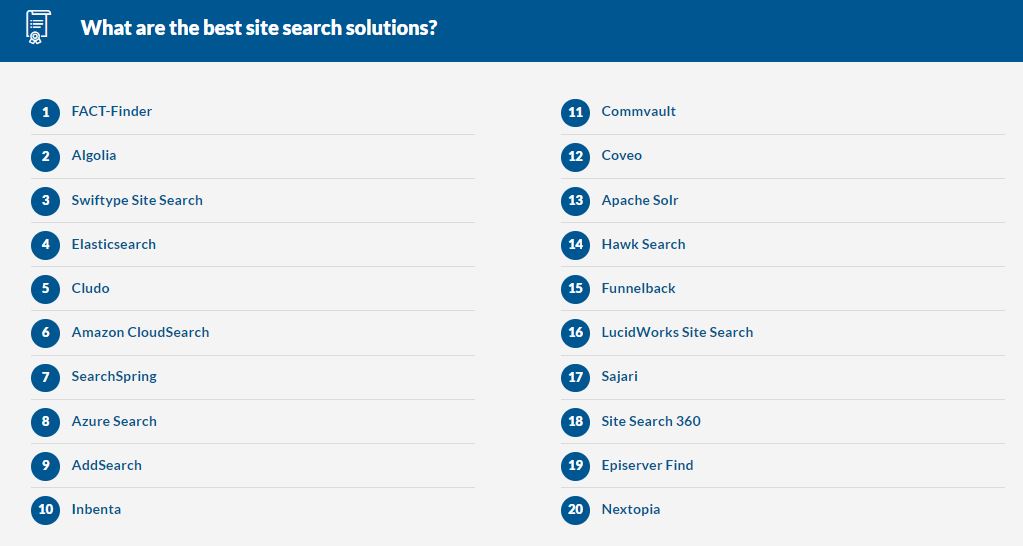 Demand for site search is growing due the expanding use of websites both by customers and businesses. A study aimed at online shoppers asked what their biggest frustrations were with site search. From over 1,000 shoppers surveyed, 28% are offered irrelevant product results, 24% are unable to find the product they're searching for, and 18% struggle with the search function not recognizing the words they use – together, that's three fourths of potential customers. Usability relies on site search – the better the site search, the better the user experience. FinancesOnline details how the enterprise search industry is expected to reach a value of $8.9 billion USD by 2024, proving the critical role that site search plays in any website. Understanding the importance and impact of site search for online businesses. the review platform did what it does best. It gathered the best tools on the market and analysed them according to their flexibility, configurability, ease of use and pricing.
What Sets FACT-Finder Apart?
FinancesOnline highlighted a few of the reasons why professionals looking to improve their site search should choose FACT-Finder technology.
All-in-one solution
On-site search, navigation, merchandising, personalisation and more: FACT-Finder improves all shop functions that lead customers to the most relevant products in record time. Our software suite consists of five modules that you can configure via an easy-to-use back-end. The FACT-Finder Core is the foundation of our solution. In addition to revolutionising your site search, it is the engine that powers the AI-based functionality of the other modules within the suite. The additional modules can be added flexibly and at predictable costs. The more modules you use, the greater the impact on your sales. Thanks to tracking data and AI algorithms, the modules work together seamlessly and constantly improve each other.

Powerful search results
FACT-Finder's patented Worldmatch® algorithm finds the most relevant products despite spelling mistakes or complex, multi-word searches – even in complex languages, such as Japanese or Cantonese. Automatic search optimisation continuously improves the results thanks to Machine Learning. The Suggest module also helps to display suitable products, categories and manufactures, as well as search term suggestions -all within the search bar. These may be supplemented with product images and additional information, such as pricing, ratings or availability.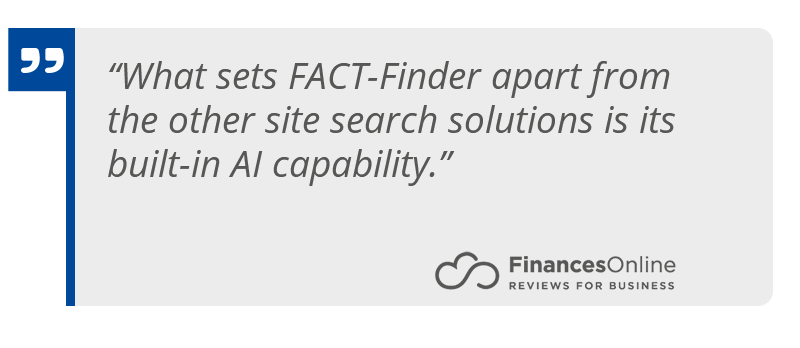 Artificial Intelligence
"What sets FACT-Finder apart from the other site search solutions is its built in AI capability," says FinancesOnline. Personalisation, semantic enhancer, Predictive Basket, recommendation engine and actionable analytics – all benefit from AI. An example is FACT-Finder's Predictive Basket which is able to predict from the second visit which products are most likely to be purchased. Before a customer runs out of certain consumables, the Predictive Basket reminds them to reorder – whether that be by email, on the home page, or during checkout. Everything that a customer wants to order again can simply be added to the shopping cart through the intuitive drag-and-drop tool. All of this without having to search for anything, and eliminating the possibility of forgetting something important.
Leading Ahead
FACT-Finder is also awarded a 9 out of the maximum score of 10 through the SmartScore® system. This unique system created by FinancesOnline provides professionals with a full overview of the software by aggregating a score based on nine critical factors. Customization, for example, rates the software's tools that allow the business to match the software's functions to business-specific processes and current needs. Ease of use rates the level of difficulty in learning and using the software. This includes guided tutorials, drag-and-drop tools, intuitive behaviour, and search and data retrieval.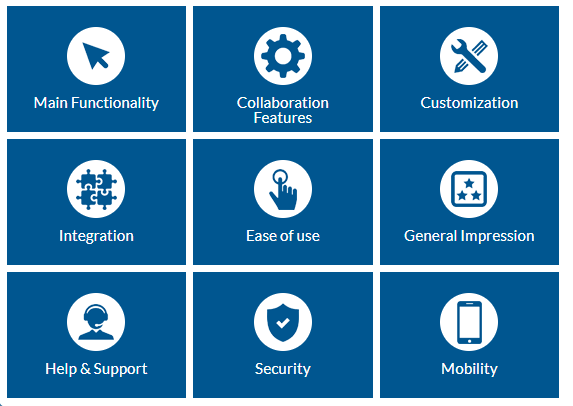 Seal of Approval
FACT-Finder is granted the Verified Quality Seal – a guarantee to prospective customers of solid experience. This seal is given by a team of experts who evaluate the software's quality and its vendor credibility which is based on several key factors including quality of customer support, SmartScore®, user satisfaction rating and verified contact details of the vendor.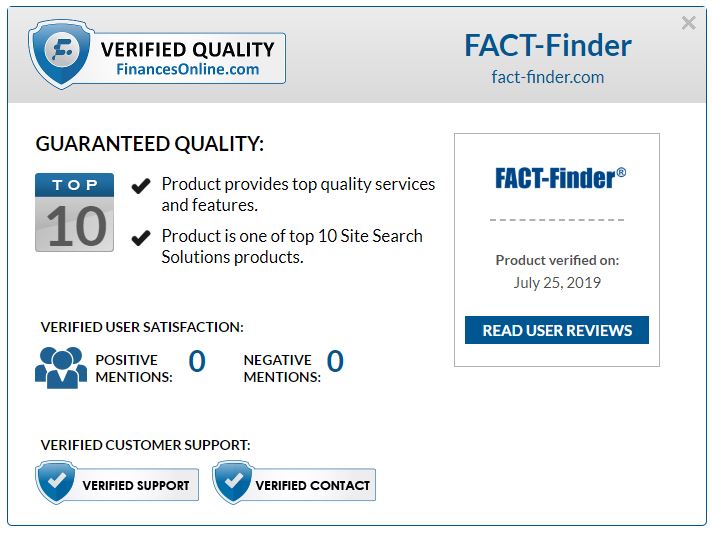 You Deserve the Best
FinancesOnline suggests that aside from considering the vendor's reliability, the software's popularity, and the product's price point, businesses should also consider how well the software will work with your website. Will it be able to cater to your unique needs? As you browse for a site search solution, the review platform recommends to use the following four questions as a guide in gauging whether your prospective software is what will propel your business forward. Let's see how FACT-Finder measures up:
1. Does it adapt to a website visitor's search patterns?

Yes. The Customer Journey module tracks clicks that occur during navigation, allowing your shop to learn from customers' behaviour. It then shares this valuable data to all other FACT-Finder tools powered with Machine Learning – the more input they receive, the more they improve. The automated FACT-Finder Personalisation module shows your customers more relevant search results and recommendations. Based on tracking data along with session and user IDs, the module determines the unique preferences of your individual customers, such as preferred brands, colours, prices or categories. The most relevant products to each active user are then promoted to the top of the results page, resulting in higher conversion and a more intuitive customer shopping experience.
2. Does the software provide you with the level of control you want?

Yes. Your control center is the FACT-Finder back-end. See something you would like to change? Then change it in just a matter of seconds through FACT-Finder's user interface which allows you to intuitively control all functions and workflows. Built-in search and filter options help you quickly access any FACT-Finder setting, whether it be search diagnostics, ranking rules, campaigns or personalisation. You can control and maintain all your FACT-Finder channels simultaneously without having to work on each one individually.
3. Do you have the ability to maintain it?

Yes. FACT-Finder's dedicated team is always with you. Consultants provide personalised advice on ways to align the modules to your business objectives. They offer expert training sessions to teach users how to work successfully and efficiently with the software. Need help with the back-end, customising ranking rules or creating campaigns? The Customer Care team will help you with any questions you may have about configuring FACT-Finder. With us, you will not encounter an anonymous call center or, as with open source, help portals and forums. In the case of technical questions or assistance, you will always have access to FACT-Finder's Service Desk.
4. Will it allow you to pull the search data for other purposes?

Yes. The brand new FACT-Finder Analytics shows you exactly where unexploited sales potential lies. It offers you unprecedented evaluation tools that allow you to immerse yourself in the chronological sequence of each session. Numerous key figures are available for your analysis, such as click-through rate, cart-to-purchase rate or sales-per-search. Intelligent assistants monitor the data and historical curves then let you know when peaks or unexpected events require special attention. Additionally, with FACT-Finder's integrated A/B Testing you can now put all your sales methods to the test, with simplicity and transparency. Based on the results, you can determine the most effective ways to improve your online shop and demonstrate how much revenue your decisions can bring – all based on data. This creates ultimate visibility for e-commerce managers, CRO experts and on-site marketers.
See FACT-Finder in Action
You don't have to take our word for it. FinancesOnline experts say, "With the above factors mentioned, we highly recommend our top solution FACT-Finder as the site search solution for you." They conclude, "The powerful solution has all the tools you need to deliver the most relevant results to each store visitor. It boasts Europe's leading conversion engine as well as the best algorithm for e-commerce business. Besides, features like the predictive basket, faceted navigation, and robust recommendation engine set FACT-Finder apart from other site search solutions." To read the full review, visit Best 20 Site Search Solutions for 2019.

As a leading SaaS provider, we offer free demo plans that allow users to test drive our software features at no cost and make well-informed decisions. The demos give you the chance to understand how the software can help to boost your company's efficiency and profitability. To see FACT-Finder in action, request a free demo here:

---
About FinancesOnline
FinancesOnline is a free platform that lets you find the best B2B and SaaS solutions. Each year they help millions of users compare products, find customer reviews and reports from experts to easily choose a solution that will let your company grow. To discover additional business applications, visit https://financesonline.com/.
Sources:
www.financesonline.com/site-search
www.marketingcharts.com