FACT-Finder continues to lead as the best site search technology worldwide for eCommerce businesses.
Competing against the leading site search technologies worldwide, we are thrilled to announce that FACT-Finder has been named the best site search solution for 2022. This coveted title was awarded by FinancesOnline, the fastest-growing independent review platform for B2B, SaaS, and financial solutions. In order to help online professionals choose a tool that best fits their needs, the platform gathered 46 solution providers. After a thorough comparison, they compiled the top 20 solutions in the market. FACT-Finder came in at number one.
We are delighted that our software is worthy of recognition and see this as an opportunity to continue doing the utmost for online retailers. This win is very exciting not only due to the reward for work well done but because of what it means for FACT-Finder users: What sets our technology apart from others, also sets FACT-Finder-powered online shops ahead of the competition. To read the full review, visit FinancesOnline.
Quick overview of the smartest way to the best products
The ultimate eCommerce experience begins at the search bar which is why we have developed a search core unlike any other. Our search is self-learning, error-tolerant, language independent, location-based, semantic, contextual, and can process any type of query such as SKUs and complex, long-tail searches. We are able to deliver this level of intelligent search via our proprietary technology such as Worldmatch®, which analyzes character sets to deliver results in any language, and Semantic Enhancer®, which understands queries by intent to deliver desired products.
We make the search bar extra user-friendly with a responsive suggest feature that leads customers to their desired destination with fewer clicks. As customers type, our tool predicts matching terms and displays a menu of helpful product images, prices, ratings and even how-to guides and video tutorials. Intelligent search matters not only because it improves the experience for online visitors but because it converts those passive visitors into active buyers.
If you would like to see our site search in action, request a free demo. It's an easy way to test drive our software features at no cost, giving you the chance to understand how the software can help boost your company's efficiency and profitability.

How exactly is FACT-Finder the best site search for online shops?
At a time when online presence is critical, it's important to optimize your digital shop – a key starting point is site search. Learn 13 reasons why FACT-Finder is the year's leading search engine for eCommerce professionals looking to improve their conversion.
1. Error tolerance. Did you know that the FACT® in our name is actually a patented method for error-tolerant matching? Meaning that no matter the search term entered, or how many mistakes it may have, our search engine compensates for these mistakes and delivers precise results. Error tolerance is in our DNA.
2. Language-agnostic search. Our global search solution is built for scaling your eCommerce business internationally. Our patented Worldmatch® algorithm makes this easy: it works by analyzing any character set, in any language, and comparing the similarity of terms and phrases phonetically (according to the way they sound) – just as a human being does. It finds the most relevant products despite spelling mistakes or complex, multi-word searches – even in complex languages, such as Japanese or Cantonese.
3. Long-tail search queries. In eCommerce, the more specific the search term, the more determined the online visitor is to buy. Fortunately for retailers, FACT-Finder is especially powerful when searching for converting highly focused, multi-word searches, including product IDs. With longer search queries, there's also a higher chance for typing errors, highlighting a greater need for an error-tolerant search.
4. Semantic Enhancer. Search engines must be able to understand search queries not merely by letters but by purpose. For example, if you're looking for a computer monitor and perform a search for 'monitor', other search tools will simply match the search term with the product data. Unfortunately, this often results in unwanted products, i.e., glare filters, mounts, or stands, which also contain 'monitor' in their description. FACT-Finder's patented Semantic Enhancer understands what customers actually want by recognizing the relationship between search queries and subsequent purchases, thereby only showing actual computer monitors.
5. Artificial intelligence. FACT-Finder's personalization, semantic enhancer, Predictive Basket, recommendation engine, and actionable analytics all benefit from AI. For example, FACT-Finder's Predictive Basket is able to predict from the second visit which products are most likely to be purchased. Before a customer runs out of certain consumables, the Predictive Basket reminds them to reorder – whether that be by email, on the home page, or during checkout. Everything that a customer wants to order again can simply be added to the shopping cart through the intuitive drag-and-drop tool. All of this without having to search for anything, and eliminating the possibility of forgetting something important.
6. Autocomplete search. Make your search bar extra user-friendly by using autocomplete search. As customers type the first letters of their search query, our tool automatically suggests a menu of matching phrases – leading them to their ideal page with fewer clicks. These may be supplemented with product images and additional information, such as pricing, ratings, or availability. In addition to speeding up searches, it also helps users construct their search and encourages exploration into items or categories they hadn't previously considered.
7. Content search. Do you have content-rich media such as video tutorials, how-to guides, or a blog? Did you know that FACT-Finder enables you to display these and more all within the suggest menu? So, in addition to products, you're able to showcase the industry knowledge that distinguishes you from competitors.
8. Search analytics. We love data, and we love site search optimizations based on data. Our AI-based analytics tool is equipped with numerous evaluation tools that help eCommerce merchants pinpoint undiscovered sales potential. You can quickly identify trends or demand highlights, view KPIs in detail, and more. Plus, built-in assistants help monitor the data and notify you when something requires special attention.
9. Ranking rules. The ranking, or the order in which results are displayed, is also a function performed by the site search. This is a big responsibility as the sequence in which products appear has a major effect on online conversion. That is why our search solution has built-in, fully customizable ranking rules that help retailers align search results to their business objectives.
10. Location search. Through geolocation, retailers can boost sales in their stationary businesses. The shop shares the online visitor's IP address with FACT-Finder. FACT-Finder knows the locations of store branches and based on local inventory, calculates which one is nearest. It then automatically ranks these products higher in the search results providing users with a local experience.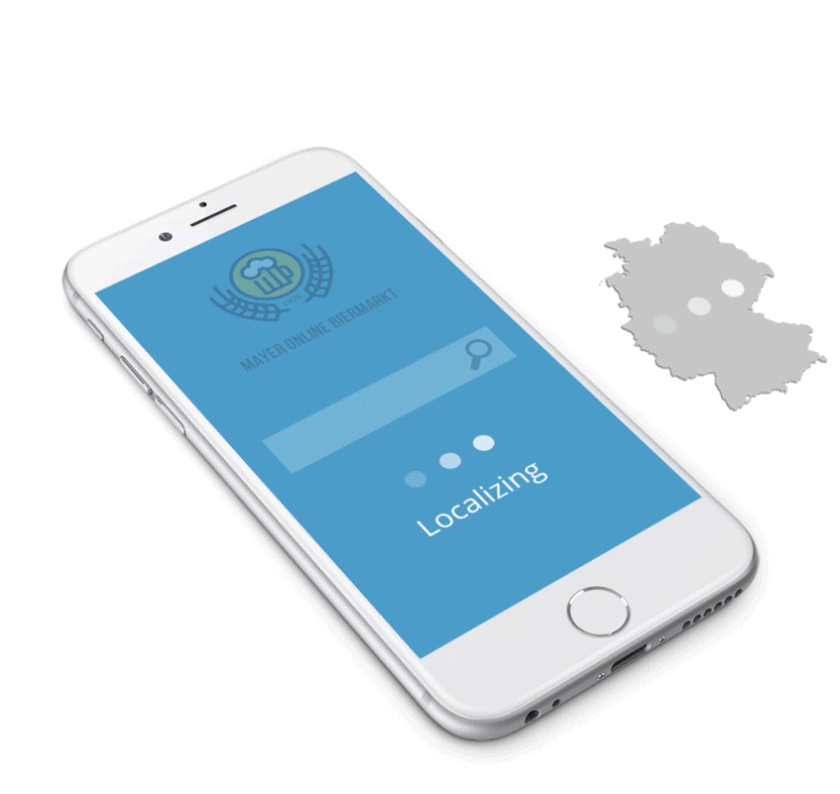 11. A/B testing. FACT-Finder knows that accurate A/B tests can make a huge difference to your bottom line. Our integrated split-testing tool lets you test complex multivariate scenarios – providing clear insights into which back-end settings are most profitable for your online shop.
12. Real-time, one-to-one AI personalization. FACT-Finder added the Nordic's leading one-to-one personalization technology Loop54 to its portfolio in October 2021. Integrating Loop54's artificial neural network into FACT-Finder will advance the quality of product discovery in online shops, delivering unique and responsive results with minimal data requirements. This union of market-leading technologies provides brands, retailers and partners with the best and smartest tools to grow their businesses.
Read the press release: FACT-Finder Acquires Real-Time AI Personalization Vendor Loop54
Go behind the scenes of acquisition: Europe's Most Powerful Search and Personalization Technology
13. All-in-one solution
Search, filters, campaigns, ranking, and much more – FACT-Finder offers you a suite of tools to maximize your conversion. Core+ is the foundation of our solution, delivering extensive eCommerce features in one central module. The additional modules work to further enhance the customer experience and can be easily added, so as your business needs change, FACT-Finder changes with them. Innovative algorithms and AI ensure the modules work together seamlessly and continuously improve one another. This all-in-one approach eliminates the hassle of having multiple solution providers, fortifies your sales methods, and saves you time and money. Learn more by visiting FACT-Finder.com.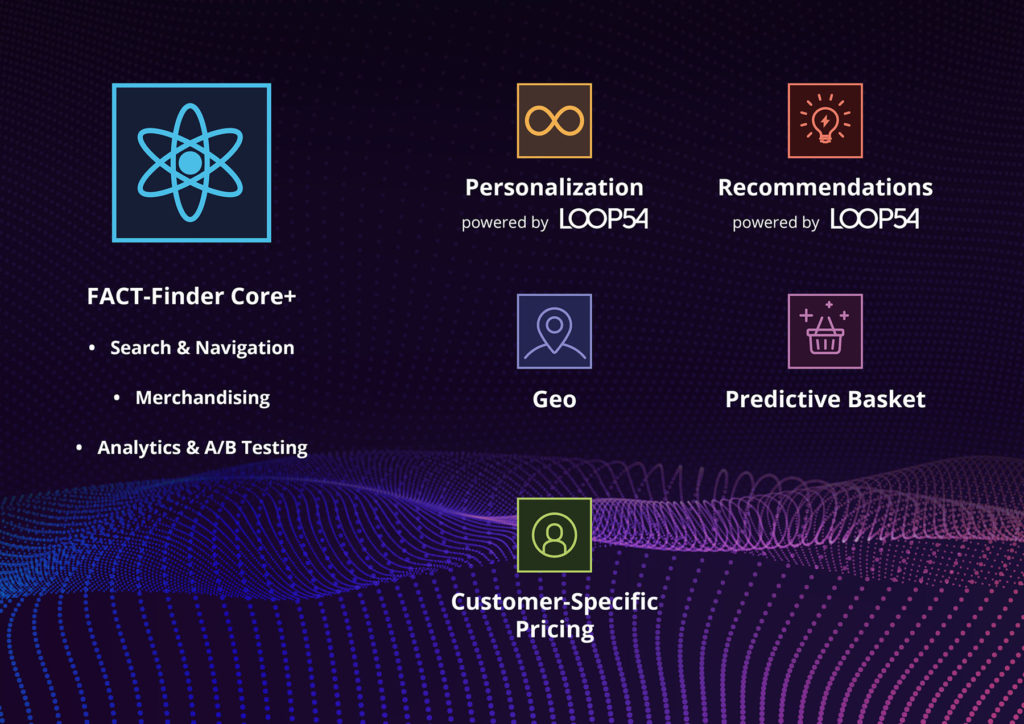 Is our site search right for you?
FinancesOnline recommends that aside from considering the vendor's reliability, the software's popularity, and the product's price point, businesses should also consider how well the software will work with your website. Will it be able to cater to your unique needs? As you browse for a site search solution, the review platform recommends using the following four questions as a guide in gauging whether your prospective software is what will propel your business forward. Let's see how FACT-Finder measures up according to their experts.
1. Does it adapt to a website visitor's search patterns?

Yes. The Customer Journey module tracks clicks that occur during navigation, allowing your shop to learn from customers' behavior. It then shares this valuable data to all other FACT-Finder tools powered with Machine Learning – the more input they receive, the more they improve. The automated FACT-Finder Personalization module shows your customers more relevant search results and recommendations. Based on tracking data along with session and user IDs, the module determines the unique preferences of your individual customers, such as preferred brands, colors, prices or categories. The most relevant products to each active user are then promoted to the top of the results page, resulting in higher conversion and a more intuitive customer shopping experience.
2. Does the software provide you with the level of control you want?

Yes. Your control center is the FACT-Finder back-end. See something you would like to change? Then change it in just a matter of seconds through FACT-Finder's user interface which allows you to intuitively control all functions and workflows. Built-in search and filter options help you quickly access any FACT-Finder setting, whether it be search diagnostics, ranking rules, campaigns or personalization. You can control and maintain all your FACT-Finder channels simultaneously without having to work on each one individually.
3. Do you have the ability to maintain it?

Yes. FACT-Finder's dedicated team is always with you. Consultants provide personalized advice on ways to align the modules to your business objectives. They offer expert training sessions to teach users how to work successfully and efficiently with the software. Need help with the back-end, customizing ranking rules or creating campaigns? The Customer Care team will help you with any questions you may have about configuring FACT-Finder. With us, you will not encounter an anonymous call center or, as with open-source, help portals and forums. In the case of technical questions or assistance, you will always have access to FACT-Finder's Service Desk.
4. Will it allow you to pull the search data for other purposes?

Yes. The brand new FACT-Finder analytics shows you exactly where unexploited sales potential lies. It offers you unprecedented evaluation tools that allow you to immerse yourself in the chronological sequence of each session. Numerous key figures are available for your analysis, such as click-through rate, cart-to-purchase rate or sales-per-search. Intelligent assistants monitor the data and historical curves and then let you know when peaks or unexpected events require special attention. Additionally, with FACT-Finder's integrated A/B Testing you can now put all your sales methods to the test, with simplicity and transparency. Based on the results, you can determine the most effective ways to improve your online shop and demonstrate how much revenue your decisions can bring – all based on data. This creates ultimate visibility for eCommerce managers, CRO experts and on-site marketers.
FACT-Finder has been growing alongside eCommerce for the past twenty years. It now helps more than 1,800 online shops grow and excel. You can count on us as a site search technology with proven success.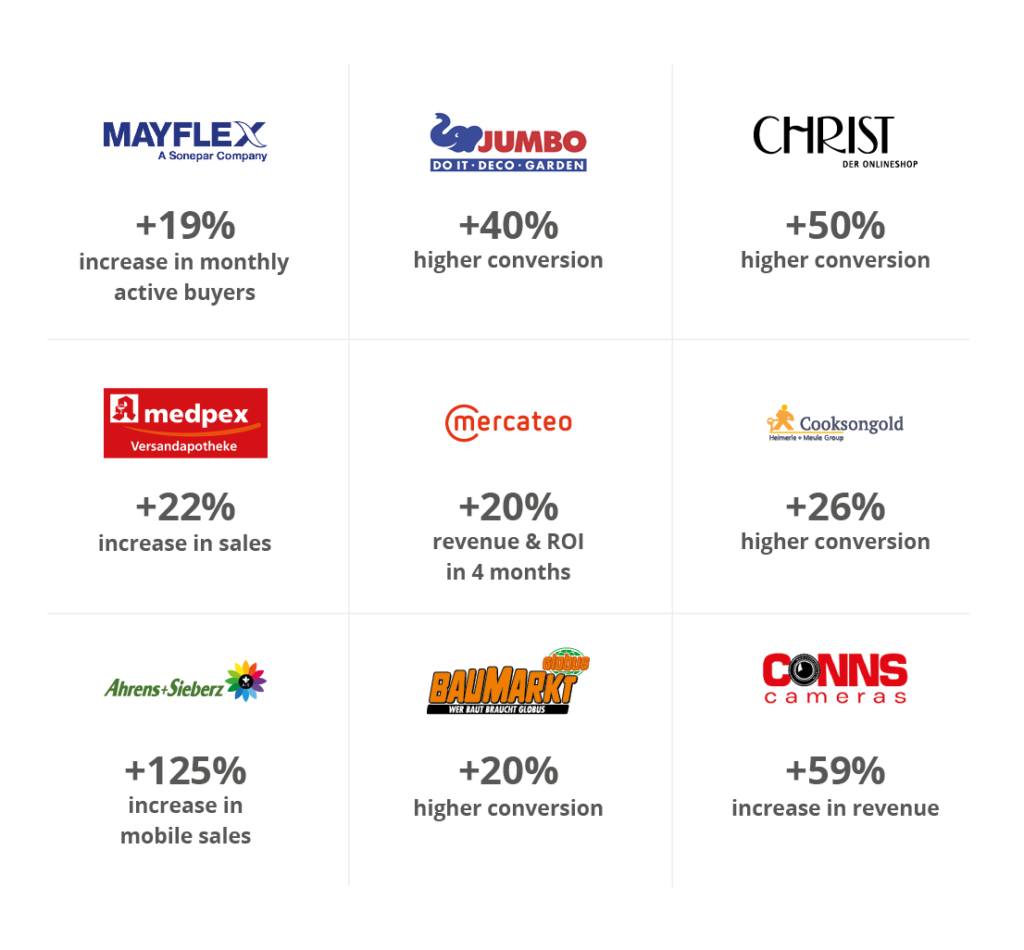 How is the 'Best Site Search Solution' chosen?
FinancesOnline, the source behind this award, is the fastest-growing independent review platform for B2B, SaaS and financial solutions. They award providers across various fields to help businesses find a solution that will fit their business needs. To achieve that goal, they have a team of SaaS and finance experts who are constantly reviewing all major solutions and services.
9.4 on SmartScore®
FinancesOnline gathered 46 leading solutions and examined them carefully, specifically focusing on nine critical factors. Customization, for example, rates the software's tools that allow the business to match the software's functions to business-specific processes and current needs. Ease of use rates the level of difficulty in learning and using the software. This includes guided tutorials, drag-and-drop tools, intuitive behavior, and search and data retrieval. The SmartScore® system, created by FinancesOnline, aggregates the count of these nine components totaling the final score of each business solution.
FACT-Finder is awarded a 9.4 out of 10 through the SmartScore® system.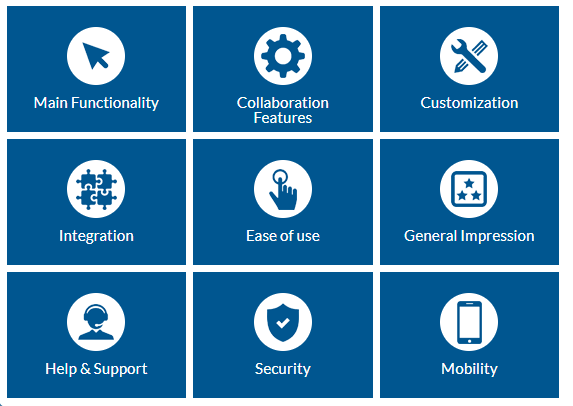 96% user satisfaction
In addition to the performance of the software, FinancesOnline also considers the experience of customers who have used the solution as a critical factor in the decision-making process. That is why they use the behavior-based Customer Satisfaction Algorithm™ to gather user opinions; these can be reviews and comments across a wide range of social media sites as well as blogs and websites.
The algorithm collects all the reviews and filters out the comments and posts that do not feature a customer's opinion. It then processes the reviews through a set of filters to extract key data from each review such as detailed keyword analysis, social response signals and various metadata.
After all partial data is analyzed and evaluated, the system assigns a single customer satisfaction score. This allows users an easy and transparent way to compare customers' experiences.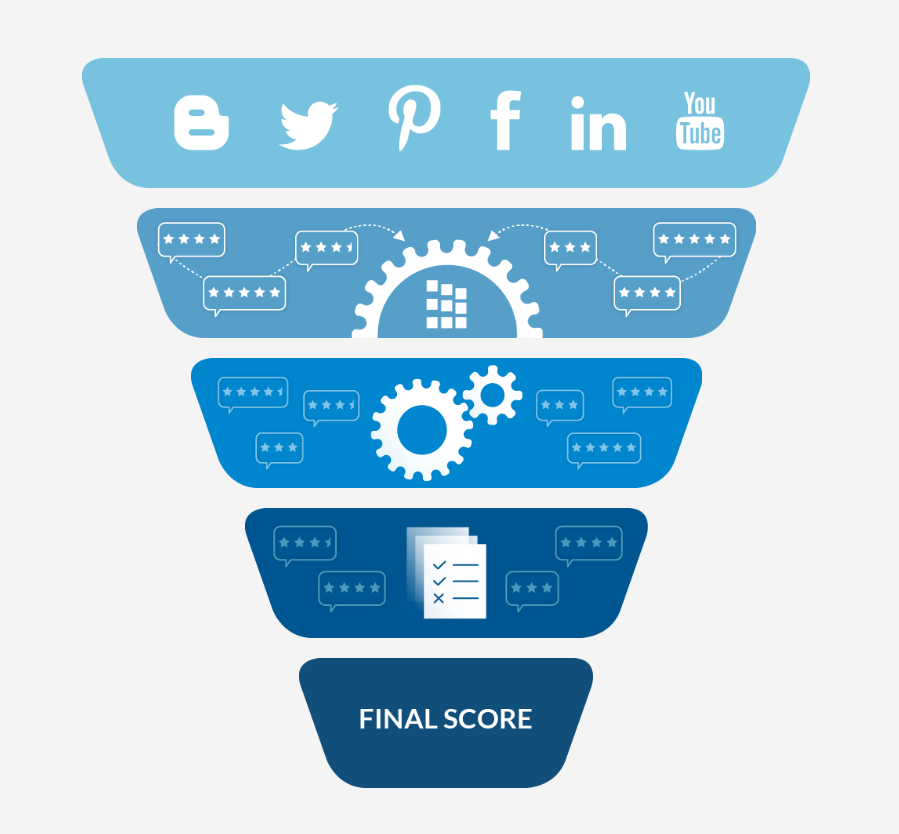 FACT-Finder is awarded a user satisfaction score of 96%.
From start-up to world's leading search technology
FACT-Finder is the leading search, merch and personalization solution for B2C and B2B eCommerce. The company is rooted in technological innovation and customer growth, using proprietary technology to enhance every online interaction for buyers while increasing revenue for sellers by 20-33%. This, along with accrued experience in the industry and a dedicated team of experts, has established FACT-Finder as the smartest way to the best products.
Online shops powered by FACT-Finder benefit from access to the latest developments in AI and ML, enabling them to deliver digital shopping experiences unlike any other on the market. The company's continuous development of cutting-edge solutions like Next Generation and the Predictive Basket continues to push the bounds of what is possible in eCommerce. The acquisition of the Nordic's leading AI personalization vendor Loop54 makes FACT-Finder the only solution in the market to offer real-time, one-to-one personalized shopping.
Read our brochure to learn more: FACT-Finder Next Generation