109,000 visitors from 110 countries at the world's leading retail trade fair.
"The EuroShop is and remains the most important meeting place for the world of retail." – This is the summary of Hans Werner Reinhard, Deputy Managing Director, Messe Düsseldorf, regarding EuroShop 2014, which took place from 16th to 20th of February already the 18th time. As the international leading trade fair for the retail branch, EuroShop is held since 1966 every three years and records continuous growth in both visitor and exhibitor numbers.
More decision-makers than ever among the visitors.
Also this year, with 109,000 trade visitors from 110 countries and 2,226 exhibitors from 57 countries, the previous records were broken. "We are particularly pleased with the growth of internationalism and the decision-making authority of the visitors." Reinhard further says. According to the Messe Düsseldorf, 73 percent of all EuroShop visitors were executives. And two-thirds of the visitors stated that they are deeply involved in investment decisions at their companies.[1]

Currently, retailers invest a lot of money.
In general, retailers presently have a high propensity to invest – Michael Gerling, Managing Director of the EHI Retail Institute says: "With 6.8 billion euros, the total investments of the trade in the extension and reconstruction of its stores were in 2013 at a record level. Alone in the setup of new stores, retailers invested last year 1.75 billion euros, 25 percent more than in 2010." This raised high expectations among the exhibitors regarding EuroShop. With an unexpected large number of contracts these expectations were even exceeded.[2]
Customer experience and omnichannel in the exhibition's focus.
Thematically, this year's EuroShop had two priorities: first, the staging and emotionalisation of the customer experience by unusual design ideas and innovative shopfitting – here are some impressions:
Secondly, the implementation of omnichannel strategies – an issue that particularly stationary retailers concerns. Because nowadays customers already expect to be able to move seamlessly between online and offline channels whilst shopping.
EuroShop, where was your software area?
Covering an area of ​​200,000 square meters, more than 2,000 exhibitors presented their creations, solutions, innovations and technologies – thematically divided into 4 segments: Shopfitting, Visual Marketing, Design & Event and Retail Technology. In the latter hardware as well as software vendors were represented. This caused confusion among many fair visitors. A subdivision of both divisions would have contributed greatly to a better orientation.
Conversations at the FACT-Finder booth: How can product data become digitally available?
In the Retail Technology segment the FACT-Finder team was present as an exhibitor. Among other things we have shown our visitors how our search platform can map data, such as product prices, availabilities and other content in all channels and make these available to customers. Here, our attendees found particularly interesting that these data can be delivered individually – for example, depending on the customer's location.
Based on project examples, we have shown how FACT-Finder helps to realize a variety of omnichannel scenarios – for example leading online visitors into the stationary markets, increasing in-store orders with advisor tablets or delivering local offers and availabilities in the online channels.
Keynote lectures: retail experts gave practical insights.
Innovative approaches, best practices and latest technologies – the EuroShop visitors were able to learn about all of that in keynote forums. In the multi-channel forum for example, practical insights were given by Jürgen Berens von Rautenfeld, CEO/ Chairman of the Board, Online Software AG, in the lecture "Channel Zapping! – The multi-channel customer as a chance for retailers" and by Roland Fesenmayr, CEO, OXID eSales AG, in the lecture "Consumer Behavior in transformation – Key factors for successful Multi-Channel-E-Commerce".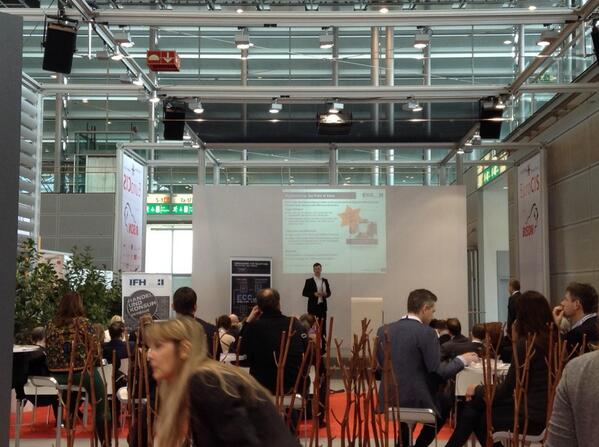 A recent survey, according how far stationary retailers in Europe and the U.S. have progressed with the digitization of their business, was the subject-matter of the lecture "Digitizing the Store" held by Rob Garf, Vice President, Product & Solutions Marketing at Demandware. 250 managing directors and CIOs were surveyed by the National Retail Federation and Demandware, whether they are tending to use a single digital platform to manage customer interactions and transactions across all channels.
The results: 36 percent consider this step going away from separate IT systems for POS and e-commerce, 31 percent are undecided and 33 percent don't consider investing in such a platform. These figures suggest that traditional POS systems will be replaced in the coming years step by step. Retailers, who fail this measure and continue to rely on separate systems, can maintain their corporate identity and their offer consistent only with much effort – whether in terms of range, price, merchandising actions or displaying availability and customer profiles.[3]
The next EuroShop rises 2017.
In three years – from 5th to 9th of March 2017 – the 19th EuroShop takes place. Hard to see which developments will be made until then. But, regarding Retail Technology we probably see some of them already next year – at the EuroCis from 24th till 26th of Februar 2015.
Learn more about implementing omnichannel strategies with FACT-Finder …