The FACT-Finder Release 7.2, which offers brand new functions alongside backend improvements and increased performance, is to be released just in time for the eCommerce Expo London on 28.09.2016. You, our customers, have played a major role in determining the contents of the most recent version, for your suggestions and requests have been channelled directly into the development. The result is a logical expansion to Version 7.1. Discover some of the most important innovations below.
Now you can control campaigns more quickly and in a more targeted manner
Version 7.2 brings with it several upgrades with regard to the FACT-Finder Campaign Manager. All of these increase ease of use. And one of them even opens up brand new opportunities for the promotion of sales.
Position product campaigns on any shop pages

First thing's first: product campaigns can now be effortlessly rolled out on pages that were previously (almost) unattainable. For example on the home page or on category pages that originate from the shop system. As such, select products – whether it's best-sellers, accessories or up-selling goods ­– can be promoted even more effectively. On the shop system side, you only require the corresponding placeholders and that the info be sent to FACT-Finder when the customer "lands" on such a page.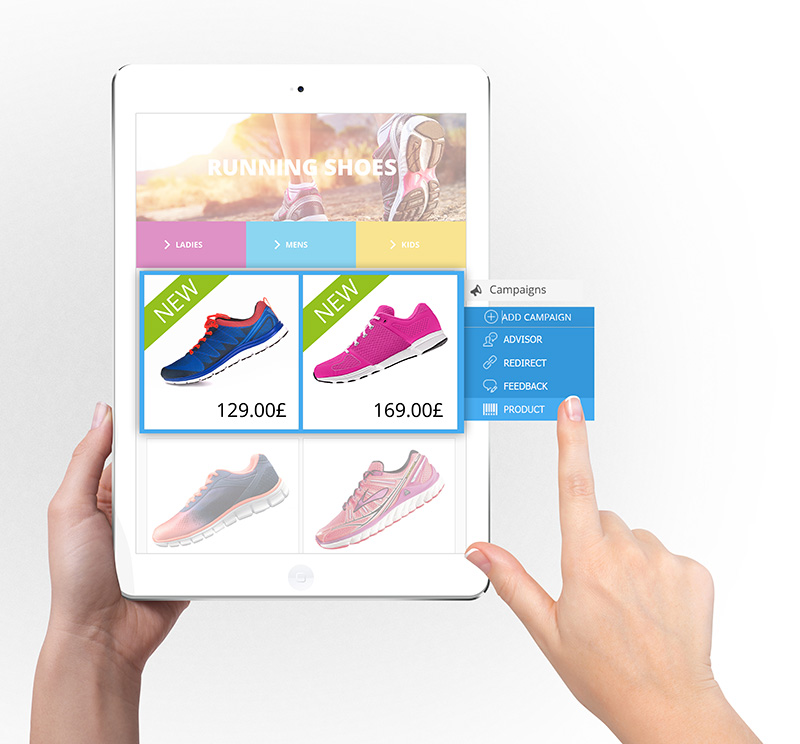 Set up advisory campaigns more quickly

An increasing number of shops are making use of our advisory campaigns. With this tool, a question and answer process can be set up, which supports the customer in making a product selection. To do so it is essential that you set up suitable products for every response option. This takes place either in the form of static product sets or ­– and this is new – by means of the selection of criteria such as popularity or price, provided the corresponding data exists in the feed and FACT-Finder Tracking is cleanly integrated. The new selection modes have the advantage that FACT-Finder automatically selects the products that match the answer. This saves both set-up and updating expense.
What you see is what you get: improved editor for feedback campaigns

With the help of feedback campaigns, you can display banners and texts on search results pages in order to offer your customers appropriate content – for example, information on new products, catwalk videos, measurement sketches, advertising for discount campaigns etc. To this end, there is an editor available in the configuration menu, which could previously be controlled using HTML. As of FACT-Finder 7.2, this has become a WYSIWYG editor. This means that you no longer require HTML tags in order to add your images or design your texts. In addition, you can also directly see how your content will appear in the frontend. This will considerably facilitate the work of all those who work with feedback campaigns.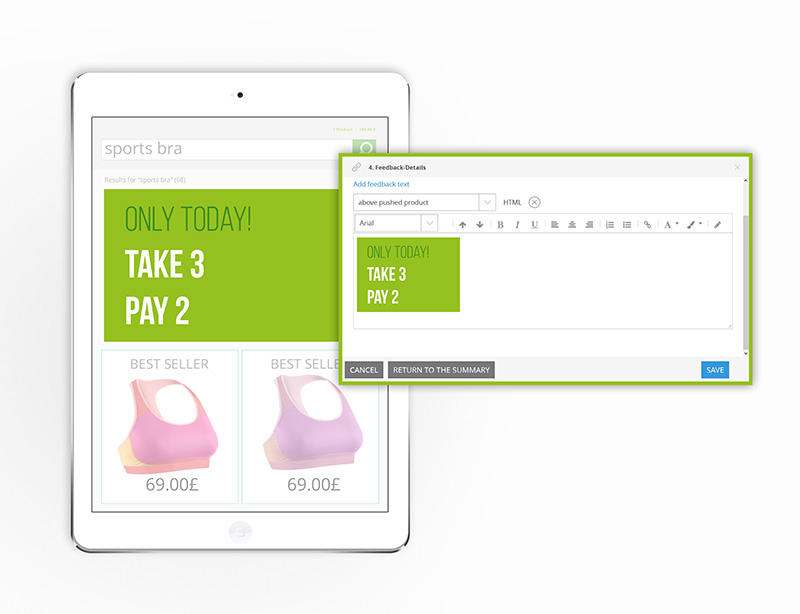 Personalised Pushed Products
Personalise the products that are highlighted within a campaign – many customers have specifically requested a function that makes this possible. In 7.2 it is now included for the first time. In order to make use of it, all that is required is that you click on the new "personalise" checkbox when configuring your Pushed Products. Then the FACT-Finder personalisation module will arrange the products to be displayed within the scope of the campaign according to individual customer preference.
Example: imagine you operate a sports fashion shop. In order to place best-selling t-shirts in a more prominent position, you specify with the help of a campaign that the search term "shirt" should result in the best-selling products appearing in the top positions. You also activate personalisation for this campaign.
If a customer now performs a search specifying the colour preference pink– on account of having already placed a pair of pink sneakers in her shopping cart, for instance – after the term "shirt", FACT-Finder can consider this preference when determining the sequence of the Pushed Products. Ideally, a pink, best-selling product will then appear at the top of the list of results. In addition to colour, FACT-Finder takes other attributes, such as brand, price range, size etc. into account when determining the order in which the results are displayed – of course also with the precondition that the product data has been sufficiently maintained.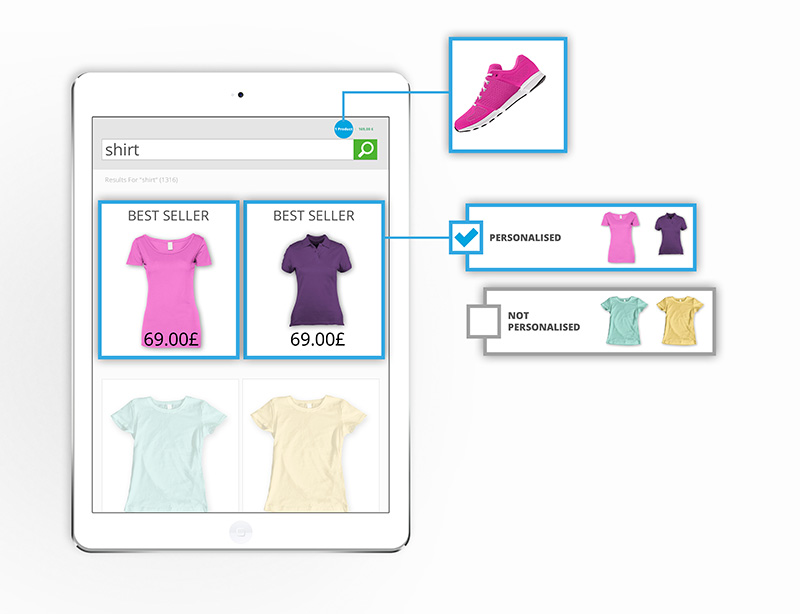 As such, this campaign feature is the next logical developmental step with regard to FACT-Finder personalisation – following the introduction of personalisation for search results and its expansion to allow for recommendations.
Save time thanks to new configuration options
A few commonly required import adjustments, which until now had incurred project-related expenditure, can be very easily adjusted by the user him/herself with the new FACT-Finder version – these include:
Reduction of whitespace characters in the data feed. The occurrence of multiple black spaces is thus avoided.
Removal of HTML code. With this adjustment, HTML codes are automatically decoded in order that the data feed can be more easily read.
Replacement of quotation marks and other special characters with the respective standardised variants. This helps to avoid errors in the product data.
Removal of the duplication of field content. Ensures that each value only appears once in fields that can contain several values.
Further improvements in performance and usability
Attribute generation controllable in FACT-Finder

Those using the Omikron Data Quality Server will in future be able to control the generation of filter attributes more simply. This is because the corresponding workflows can now be directly configured and added in the FACT-Finder backend.
Recommendation Engine further improved

Even at peak load, the FACT-Finder Recommendation Engine quickly generated relevant add-on and alternative recommendations. With Release 7.2 it has undergone a further increase in performance, which is of particular interest for shops with an extensive product range and extremely high visitor numbers.
Even simpler backend operation

Last but not least, the release brings with it a host of minor UI improvements, which also facilitate the everyday working life of FACT-Finder users. For example, when it comes to configuring campaigns, defining date values, calling up search result information, filtering results and many other actions.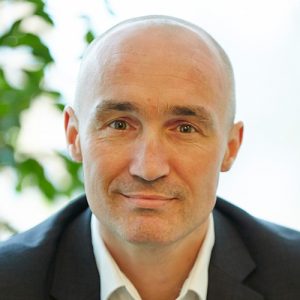 Kevin Sparks is Commercial Director of FACT-Finder UK Ltd and is dedicated to solving retailer's problems all over the UK and Ireland. His extensive experience with e-commerce solutions makes him the go-to person for advice on aligning and tailoring our solutions to your business needs. He has helped many customers create compelling customer experiences.