By using a combination of intelligent search and navigation combined with behavioural merchandising solutions, online retailers are able to take profitable opportunities: increase sales by up to 50 per cent but also satisfied customers who are more likely to return.
Why search is important
Search functionality has quickly become one of the most powerful tools for online retailers in guiding their visitors, securing their customers' loyalty and increasing sales. Current market research by Norman Nielsen on customer behaviour shows at least 50 per cent of web visitors using the search function straight away upon entering an online store with one out of three visitors terminating their search after not finding what they are looking for. FACT-Finder, with its intelligent search function, does not only recognise and tolerate errors, it also ranks search results according to relevance and purchase data, to name two. In addition search results can be ranked by business rules or popularity. By using partner solutions, video clips may be implemented in the result list, as well as matching product recommendations. The latter is provided by FACT-Finder's partner Avail Intelligence.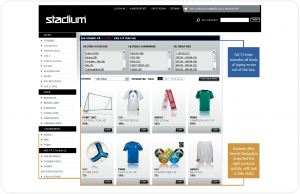 Personalised, relevant product recommendations
By reading a visitor's behaviour on a website, Avail's technology predicts customer interests and personalises the online shopping experience, primarily by recommending products of interest. This is made possible using what Avail calls "collective intelligence", i.e. taking the behaviour of other shoppers with similar interests into consideration to create social recommendations, e.g. "People who bought this item also bought". In an indirect manner you could say that customers are helping each other find the best products.
Avail's recommendation engine can be utilized for personalised up- and cross-selling to offer alternative or complementary products, to drive conversion rates and order values. It supports the entire buying process, from search result pages, product detail pages into the basket, right up to the check-out, and can also be used offsite, in personalised advertisements, mobile stores, emails, in-store kiosks, and call-centre sessions.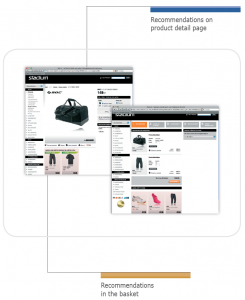 Combining search, merchandising & recommendations for maximum effect
Once visitors have entered your website, an optimal shopping experience needs to be provided in order to help visitors find and buy products. In today´s e-shopping world this begins with a reliable highly error-tolerant on-site search as well as dynamic and structured navigation. Connected with individualised promotions, recommendations and merchandising tools, the perfect matching shopping journey for each user is paved.
FACT-Finder and Avail deliver personalised search results, sorting them according to relevance and visitors' interests by comparing them, for example, to purchases of visitors who searched for the same products. Additionally, optimal recommendations are given to the visitors by analysing this search history. User behaviour may also be related to all other click behaviour, e.g. clicks on top-level navigation categories or product detail pages.
The benefit of this synergy for the e-tailer: up-selling and cross-selling both increase, resulting in higher conversion rates and average order values. In general, customers often see an increase in sales per visitor of 10-20%, depending on type of shop and positioning of recommendations. And through the integration of professional on-site search & navigation, shop owners can achieve an additional boost in their conversion rate by always suggesting and finding the right products.