Whether checking online prices on a smartphone whilst being in a brick and mortar, searching for products via tablet during a TV ad break or any another scenario – customers take for granted that channel hopping will work without a hitch which imposes a technical challenge on retailers. As a consequence, e-commerce and multichannel solutions gain more and more in importance.
This is one of the main reasons why the big success of the Internet Retailing Expo on 26 and 27 of March in Birmingham came as no surprise: More than 5000 retailers, suppliers and industry experts visited the IRX to learn how to cope with a new challenge of seamlessly connecting different customer touch points. Among a diversified program including 200 exhibitors, 6 conferences, 12 workshops, 13 best practice workshops and 100 speakers FACT-Finder was also present with a booth and a speech.
Search in retail gets full attention
When Marino Casucci, International Sales Director of FACT-Finder, entered the podium with his speech "The Magic of Search in Retail – Creating the best customer experience through outstanding usability." the audience paid particular attention. The explanation of how omnichannel strategies depend on the ability to browse and search through all relevant data and the suggestions how to connect on- and offline worlds fascinated the listeners.
That was also reflected in the obvious increase of FACT-Finder's booth visitors afterwards. After the hard years of the economic crisis ecommerce is booming in the United Kingdom and retailers are willing to invest and to develop their shops further. Currently most of their shops are still struggling with problems which lead to interesting discussions and questions as well as enthusiastic compliments concerning the FACT-Finder technology.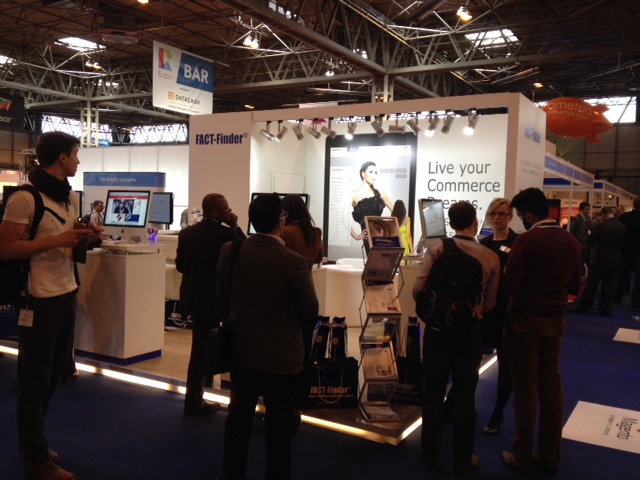 Experts sharing their knowledge in six conferences
As special highlights six conferences with different topics were integrated in the program and all of them found very wide audience.
The Wednesday conference stream began with the topic Internet Retailing In-Store and was all about the omnichannel experience and strategies. Speakers like Bertrand Bodson, Digital Director at Argos, explained how technology innovation enhances customer experience in the bricks and mortar environment. The second conference dealt with Customer Experience and Journey, i.e. understanding the cross-channel customer, driving loyalty and increasing market share with reasonable strategies. The last conference for the day focused on International Retailing. Among other experts, Professor Dr Jonathan Reynolds, Academic Director of the Oxford Institute of Retail, gave a speech about the right way to a successfully implemented multichannel international expansion strategy.
On Thursday the program went on with Operations and Logistics focusing on logistics strategies and stock management, Digital Sales and Marketing demonstrating different opportunities to maximize turnovers through new innovations in sales and marketing strategy, and Mobile and Mobility with specialization in mobile terminals. Mark Cody, Senior Marketing Manager – Mobile from Tesco, informed his audience about new innovations in mobile marketing and John Gillan, Industry Retail Leader at Google, presented a mobile strategy through a deeper understanding of the mobile customer.
2015 the Expo is supposed to grow even more and FACT-Finder team is looking forward to being a part of this thrilling show again.