Getnow delivers impressive results in online grocery shopping via a focused UX strategy and powerful e-commerce technology – proving you can have your cake and eat it too.
The online market share of the German food industry is slim. Despite initiatives by several large retailers, online food grocery has been a difficult market to conquer – until now. A Munich-based start-up called Getnow set an impressive growth curve thanks to a highly efficient concept.
Getnow uses existing warehouse and logistics businesses in order to focus entirely on digital selling; specifically on acquiring customers, optimizing their online platform and retaining the now 100,000 active shoppers.
FACT-Finder's AI-based search technology plays a critical role in this e-commerce strategy by increasing online sales while supporting rapid scaling. Growth and scalability are vital because the food industry is only the beginning of Getnow's expansion.
Online grocery retail continues to have great potential
At around €160 billion, the food industry is one of the strongest markets in the German economy in terms of sales. It's the online market share that has great potential for growth. Previous studies expected online groceries to rise to around 5% by 2020, which would have corresponded to a sales volume of around €8 billion.
These forecasts, unfortunately, did not bear fruit. Some pilot projects by supermarket chains like Kaufland, were called off yet again. The German online market share for food remains only 1%, falling significantly lower than Great Britain at 7 % and France at 6%.
A difficult market, yet delicious results
With low margins, high customer expectations, delicate items and financially strong competition, hardly any other e-commerce industry is more challenging than food retail. Despite these challenges, the online groceries start-up Getnow has managed to achieve a four-figure growth within one year.
What is the secret of success behind this? According to Sebastian Wiese, Chief Technology Officer at Getnow, it is a concept that, as efficient as it is pragmatic, enables the start-up to make such a leap in growth.
"Our business model is fundamentally different from other providers," Wiese explains. "We don't maintain a warehouse nor a delivery fleet, but rather work with partners who are already established in these areas, especially with Metro1 and DHL2. Instead of first setting up an extensive cost structure and then acquiring customers, we begin with generating clientele and then proceed on a demand-driven basis."
He adds, "Depending on the size of the order, we can scale the packaging and delivery service with the help of our partners. As a result, we are not only flexible, but also save enormous infrastructure costs – unlike other providers. This allows us to concentrate fully on customer acquisition and customer retention."
Getnow's service works like this:
All online visitors have access to Metro's online grocery range without needing a membership card.
Through Getnow's platform, shoppers pick their items, assemble their digital shopping cart and submit the order.
Getnow employees then shop directly from the nearest Metro store and hand the products over to the delivery service.
The delivery service then brings the groceries directly to the customers' door.
The service is currently available in eight major cities across Germany and the surrounding areas. Getnow customers include both private individuals as well as businesses. The product range currently offers more than 15,000 everyday articles. In addition to fresh groceries such as meat, fish and fruit, household product like cleaning supplies, drugstore items and pet products are also available.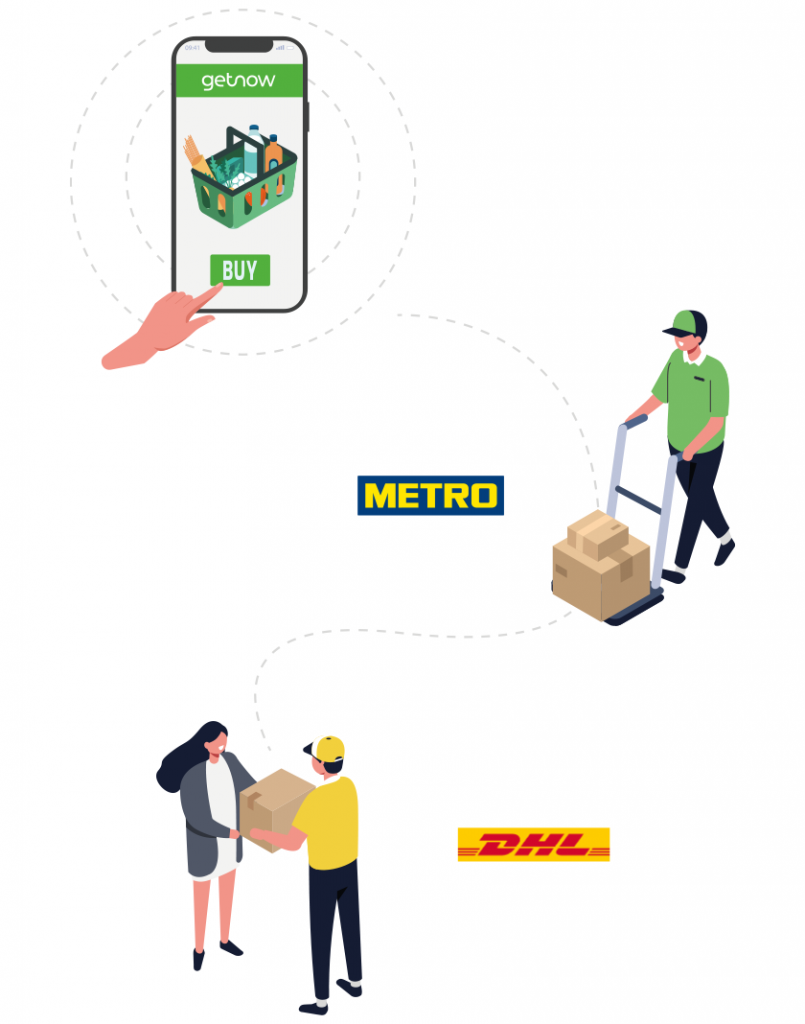 Focus on customer acquisition and life-time value
Since 2017, the number of Getnow users has grown to over 100,000 and continues to grow with hundreds more joining each day – progress that shows how effective Getnow's communication measures are.

"We rely on a marketing mix of offline and online channels," says Wiese. "Currently, 80 percent of our budget is used for online activities since these are much easier to measure. Customer acquisition is essential but it is, of course, not enough. Activities that monetize the leads are just as important, for example shopping cart discounts, waiving delivery costs, etc."
"In order to retain acquired shoppers and to motivate them to reorder, we work hard in the area of CRM (Customer Relationship Management)" continues Wise. "We collect data on what customers do in the online shop, what they buy and when they last ordered. Using this database, we are then able to provide support, and thanks to FACT-Finder, show relevant products through other marketing channels and in the shop itself."
€100 average online grocery cart proves FACT-Finder turns visitors into buyers
Whether traffic turns into paying (and returning) customers depends heavily on the shopping experience. That is why, Getnow integrated FACT-Finder's AI-based search and navigation solution into their online platform.
When it comes to online shopping, the customer journey must meet special requirements. This is particularly true in online grocery shopping. First, because buyers often have specific preferences, want to exclude intolerable foods or need more detailed information. Second, because the names of food items can be misleading when searching online.
Wiese points out, "If you search for 'milk' and get 'milk chocolate' or 'toothpaste for milk teeth' as the results, you will not be satisfied. For us, it's all about guiding the customer quickly and effectively through the customer journey."
"We see that the search behavior in the food industry is changing. Customers generally don't want to find a specific product but rather a group of foods that fit their preferences. The most common examples are vegan and lactose-free foods." He adds, "We support this type of purchase behavior through product attributes, for example, labels that intelligently group articles. We then use FACT-Finder to display these groups in a targeted, context-specific way, either on search results pages, categories, or in keyword-based campaigns."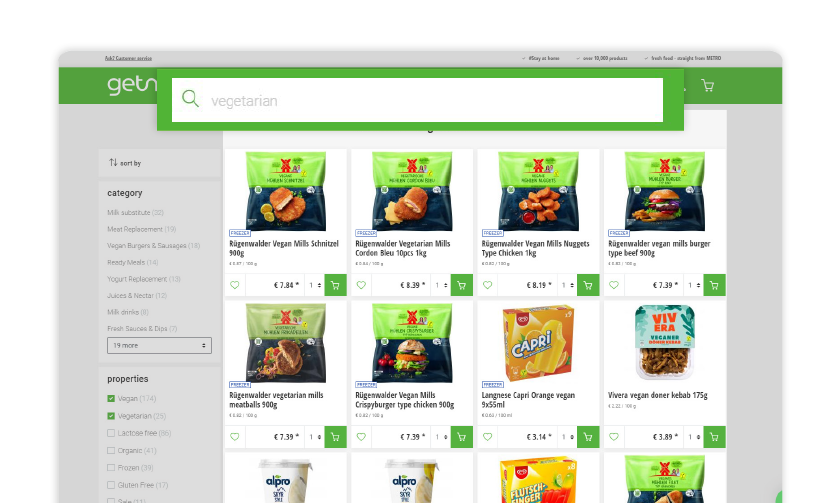 An average online grocery shopping cart value of 100 Euros demonstrates that Getnow both understands and fulfills the needs of its clients. Additionally, over the last few months, the start-up has also increased other key figures with FACT-Finder.
FACT-Finder improves conversion rate, bounce rate, and turnover
Getnow's switch from an open source solution to FACT-Finder resulted in rapid KPI growth. 95% of Getnow's online visitors use the search function to find their desired items. With such a large percentage, it is clear how the quality of the search impacts sales figures.
"The main questions we focus on are: Do our customers find the right products? Do they find complementary products? And do they find pages with the right group of products? The better and more reliably everything works, the more customers convert and the bigger their shopping cart," says Weise.
He continues, "Based on the positive experience from a previous online grocery project, we decided to use FACT-Finder at Getnow. Proof that it was the right decision did not take long – FACT-Finder has improved all of our KPIs and we have found that even small conversion increases have a large impact on our sales."
Online grocery merchandising that fulfills all use cases
Search is the heart of any online shop, but there are many other functionalities that accompany search in supporting online visitors while shopping, such as:
Suggest function
Filters
Campaign manager
Recommendation engine
Re-ordering assistants
With FACT-Finder, Getnow has all these technologies from a single source, equipped with Machine Learning algorithms.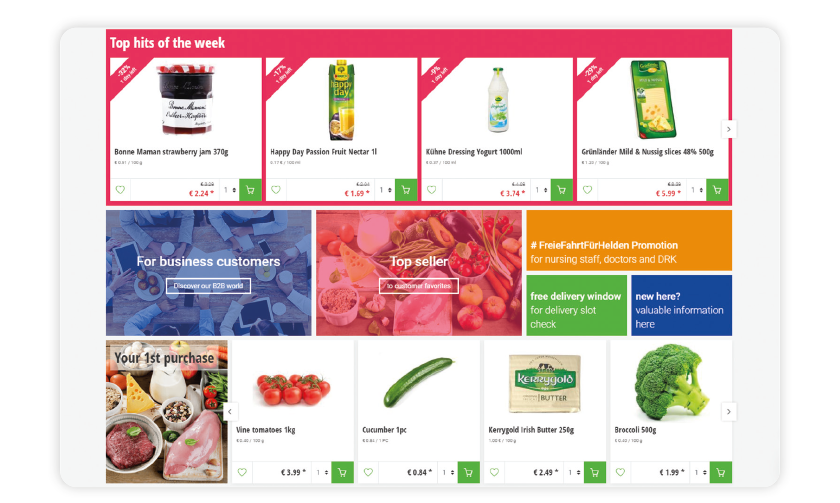 "Whatever we want to optimize, wherever between the home page and checkout, we can with FACT-Finder," remarks Weise. "It allows us to fulfill virtually any use case. For example, we use the Recommendation Engine extensively to promote cross-selling and upselling, which works very well in the food industry. We have also created ranking rules to move articles with high relevance up in the search results and therefore sell them with priority."
"Simplifying reorders is also extremely important for us because every decision I can eliminate for the customer has a positive effect on sales. We would like to develop further in this area, and are therefore thinking of using FACT-Finder's Predictive Basket."


"Marketing within our shop remains one of the most important activities, especially around major holidays like Christmas, New Year's Eve and Easter. It's here that FACT-Finder allows us to display personalized product ranges, provide complementary products and showcase inspiring content. This type of event-related categories help us to inspire customers to purchase and generate even more traffic through Google."
Simple operation, no programming effort, fast onboarding
When describing his experience with FACT-Finder's software, Weise says, "What we really appreciate is the user interface. Our shop managers and everyone who works in the operational side can use FACT-Finder without the need for developer resources. We can adapt algorithms, create campaigns, maintain thesaurus entries – everything that improves our shop and keeps it up to date."
"Every day we look at which are the top search terms as well as top fail terms and can carry out targeted optimizations. We also control the product range and define what the next categories will be for us. On the front-end, we don't have to worry about how category trees are constructed, because our shop receives them directly from FACT-Finder. The ability to do all of this without hard-code, which saves an enormous amount of time, was a major reason for our decision to use FACT-Finder," remarks Weise.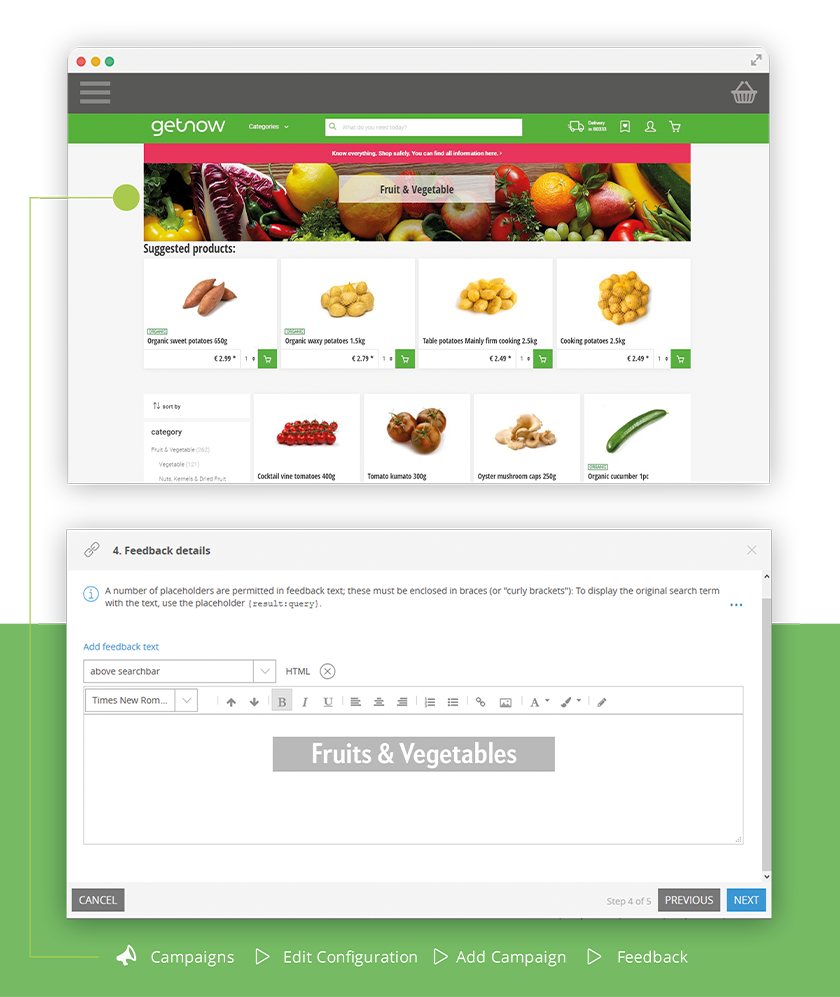 "We would do the same project again"
From integration to functionality to design, FACT-Finder was implemented in just six weeks – a time window which demanded a high level of commitment from those involved, especially OXID eSales3, NETFORMIC4, and FACT-Finder.
Wiese comments, "Implementing a completely new FACT-Finder in just six weeks was certainly ambitious. All the better that it worked." That's because in addition to a tight schedule, a key requirement for Getnow was to have a scalable platform. He explains, "The project was about being very agile. The biggest challenge was to find the right balance between functionality and practicality: What is the smallest range of functions? How do we split up? How do we build the functionalities?"
He adds, "The cooperation with OXID eSales, FACT-Finder, and NETFORMIC was excellent. Without this combination, the project could not have been completed in such a short time. I would like to emphasize the high level of commitment of all those involved. We would do the same project again."
By choosing OXID eSales and FACT-Finder, Getnow not only achieved a quick ROI, but also a significant increase in scalability and flexibility. At least 100 additional locations can be connected to the new Getnow platform. The entire project took only two months from start to go-live, so we were able to meet all requirements. This success was made possible by the extremely positive collaboration with Getnow.

Alexander Mages, Project Manager of Professional Services at OXID eSales
Future plans: FACT-Finder facilitates rapid expansion
Scaling your own business model is one of the cornerstones of Getnow's e-commerce strategy. The online grocery service is currently available in eight metropolitan areas and the next step is to expand to other major cities. The focus will continue to be on the German market.
"We are aware that there is still a lot of potential in the domestic market," says Wiese. "And we want to tap into this potential before we increase the complexity through language and legal barriers. As a start-up, you have to use time and resources as efficiently as possible. So first, we will scale the existing locations and add new locations nationally."
He continues, "Our experience shows that we need only one month to set up a new location and six more months until it is profitable. It's only possible to expand at this speed if the technical systems are designed for it. With our setup, an online shop for another city can be built in just two days. All we need to do to make the new subdivision ready for business is create an additional channel within FACT-Finder. We do not have to implement or extend anything. That, of course, simplifies our scaling enormously, which is why recruiting, rather than technology, takes the most time."
Local service availability is not the only area in which Getnow is growing. Another is in product range. Getnow recently started a cooperation with another renowned retail company, and FACT-Finder customer: Globus SB-Warenhaus.
Unlike the delivery service for Metro products, Globus is a Click-and-Collect concept. This means that customers can find Globus products at globus.getnow.com, buy online and pick up in-store. To learn more about Click-and-Collect, statistics and how to implement the strategy, visit our Black Friday blog.
Wiese explains, "We are convinced that hardly any customer in Germany buys from a single supplier. Instead, customers buy from different suppliers and product lines. Which is why we embrace partnerships with other companies in order to offer complementary product ranges on our platform."
"We are working hard to offer our customers the widest possible selection. That, of course, makes our business more complex – not only in logistics but also in the front-end. At some point, entering into our platform will no longer be via a provider, but rather via the desired product. In the future, searches, campaigns and the marketing of product portfolios will be even more important for us. These are all challenges we are fully prepared thanks to FACT-Finder," concludes Weise.
Getnow's advantages with FACT-Finder
At a glance, these are some of the benefits this online grocery retailer gains through FACT-Finder technology:
More turnover through an improved search function in the online shop
Optimized search results via Machine Learning
All shop functions for navigation, merchandising and recommendations from one source
Online marketing without any programming knowledge or the help of IT
Time-to-market in only 6 weeks
Quick and easy scalability for additional locations
Want to see FACT-Finder in action? Book your free 20 minute demo today!

---