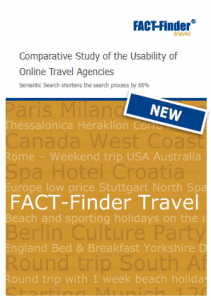 How can semantic search improve the usability of online travel agencies? Our comparative study of the usability of online travel agencies was performed on 42 test persons in August 2011 (you can download the comparative study on the FACT-Finder Travel website). To study the behaviour when using online travel agencies, the test persons were first presented with a representation of five top-performing online travel agencies and next presented with the semantic travel search of FACT-Finder Travel. The results of the study were based on in-depth interviews as well as eye tracking performed on 70% of the test persons.
The study revealed that users had become accustomed to the conventional search box as found on online travel websites. Because of no alternative, the users have learned how to use it simply, but complained about its long-winded implementation and poor handling. As a result, the test persons needed between 3 and 26 clicks to fill out the proper information, leaving an average of 16 clicks before the final query was sent. Presented with the semantic travel search, the average click rate dropped to 2, which was further apparent by the time needed for the search input. With an average of 1:03 minutes the traditional search showed to be approximately two thirds longer than the semantic travel search with a time of 22 seconds.
When presented with the semantic travel search, test persons showed to embrace the rapid and uncomplicated search and they were particularly impressed that they could search entirely according to their personal criteria with an ease not possible with conventional search.
During the subsequent eye tracking evaluation, when users viewed the list of results particular attention was paid to hotel attributes – and these had a longer viewing time as well.
The results of the study showed that the semantic travel search reduces boredom and dejections, whilst at the same time increasing the probability of a firm booking. Over 95% over the persons tested showed an interest in seeing this technology adopted by more websites.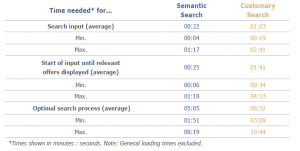 In combination with the regular search box, the entire booking process can be accelerated and the usability of online travel agencies increased enormously.