Easter, Summer Fashion, P3, Shirt, and Nike: Every search term entered in your online-shop provides valuable insight as to how your customers think – and how they buy. Information is often concealed within the terms used, and this you can use to your own advantage – for improved search results, special landing pages, or product ranges. Use it to reach the heart of your target group.
The 4 Steps to More Conversion.
For the first step, concentrate on the most important search terms. Have your eCommerce manager provide you with a list of the most frequent search queries used in your shop. Then arrange the terms into the correct order (e.g. frequent terms with a lower click-through rate). Finally, allocate the terms to a particular range, e.g.:
General product range (digital cameras, bedclothes, lamps, etc.)
Specific product range (Sony PlayStation 3, Gardena Garden System, Lego bricks, etc.)
Brand environment (Adidas, Sony, Boss, etc.)
Category (shirts, trousers, shoes, etc.)
Theme (spring, Christmas, Halloween, etc.)
Now it's time to optimize. Set up your product pages according to the needs of your customers. Use action banners, logos of sought-after brands, or product worlds with seasonal offers. Then it's a matter of testing, optimizing, testing, optimizing, etc., etc.
Tip: Don't overdo things at the start. Instead, concentrate on a smaller selection (e.g. the Top 20). Compare the conversion rates and revenue from the past with the progress now. As your experience widens, you can introduce optimal procedures for further search terms.
Examples: How Your Optimisation Brings Success…
Example 1: Shirt
A person searching for "shirt" in a fashion shop is usually looking for a man's shirt; therefore, it makes sense to show a selection of men's shirts in the initial search results. Additionally, you can show a filter that takes visitors to the "Children" and "Women" categories, or other criteria such as size, price, color, etc., with a simple mouse click.
Example 2: PS3
"PS3", "PlayStation", "PS 3" are common terms used when searching for the Sony PlayStation 3. Therefore, the product itself should always appear in the first results, followed by frequently purchased accessories.
When a product is particularly important for your shop, it can be beneficial to form an entire product world around it (in the case of the PS3, products tailored for the needs of gamers). In this case, you lead your visitors directly to a specially prepared product page. There they find not only the product itself but also the most important versions, bundles, games, and accessories.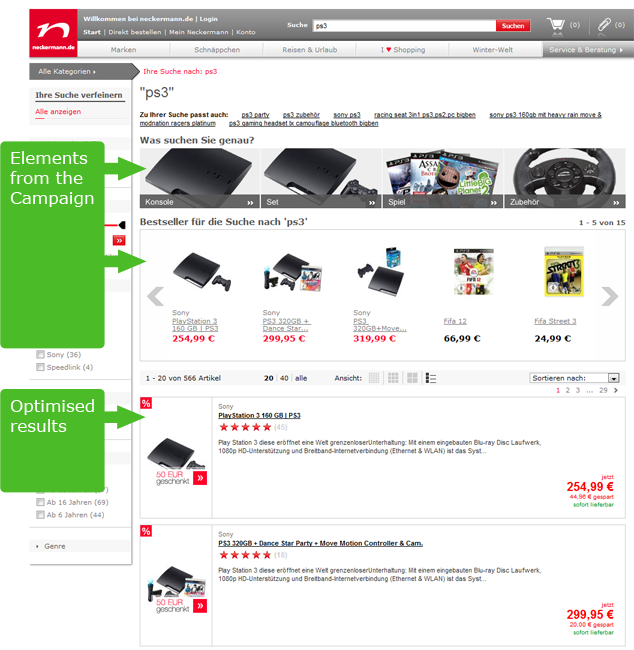 Example 3: Nike football boots
Two pieces of information and appropriate measures can be derived from this search inquiry:
1. An enquirer specifying "Nike" when searching for football boots demonstrates a stark affinity for the brand name. Adapt to the preferences of your customers by including "Nike" brand banners or logos on all result pages.
2. The term "football" in the search query immediately reveals the type of sport the enquirer is interested in; therefore, you should customize the results page with appropriately appealing football elements. Perhaps the European or World Championships are soon to take place – draw inspiration from such events and occasions. You can usually store suitable design templates simply within your shop system. The search function analyses the search queries and provides the appropriate templates.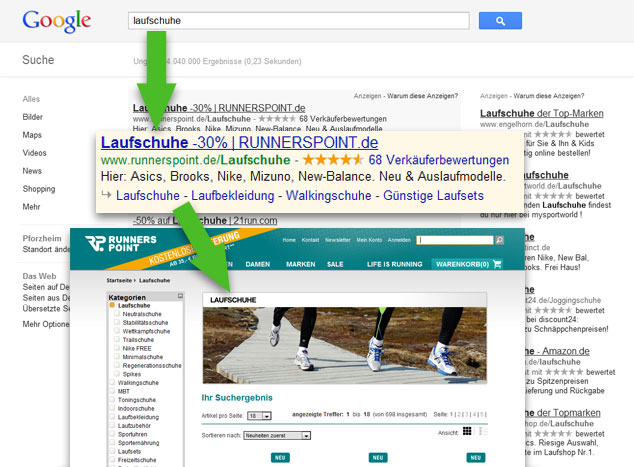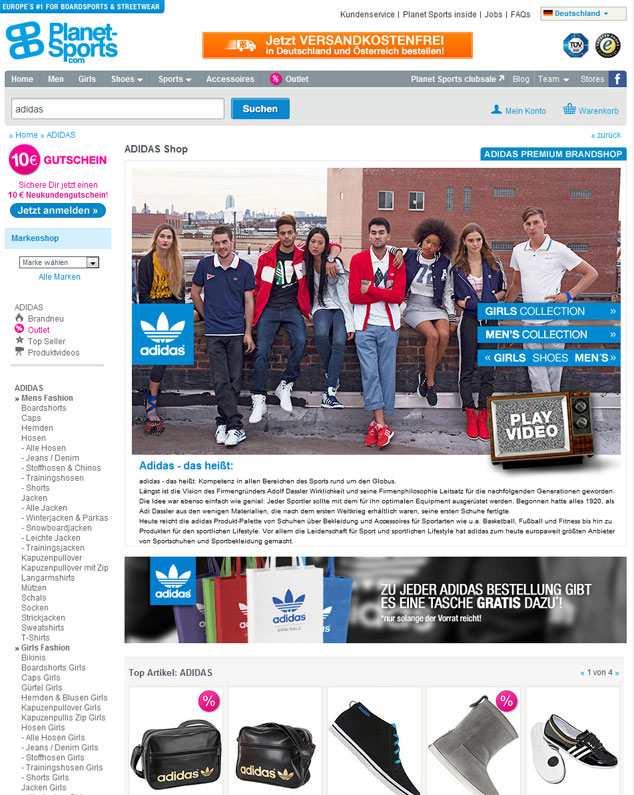 Example 4: Summer Fashion
An enquirer searching for "summer fashion" is usually also receptive to summer's ambient atmosphere. Our recommendation: Take shop visitors making seasonal search queries directly to graphically creative landing pages. In the case of "summer fashion", the landing page could have a summerlike theme and appearance, featuring summer fashion articles for men, women, and children. Of course, you can give all target pages the look and feel of summer.
Spring, autumn, and winter offer similar opportunities, as well as public holidays such as Easter and Christmas.
More Service Information for Customers, e.g. Business Conditions
Visitors often enter search terms in online-shops such as "opening times", "postage costs", and "cost of return", because they want these uncertainties clarified. It's essential to have the answers readily available, as they are usually the final deciding factors before the click on "Proceed to checkout". Detailed information about the search terms used on your website can be found in your shop's search log file.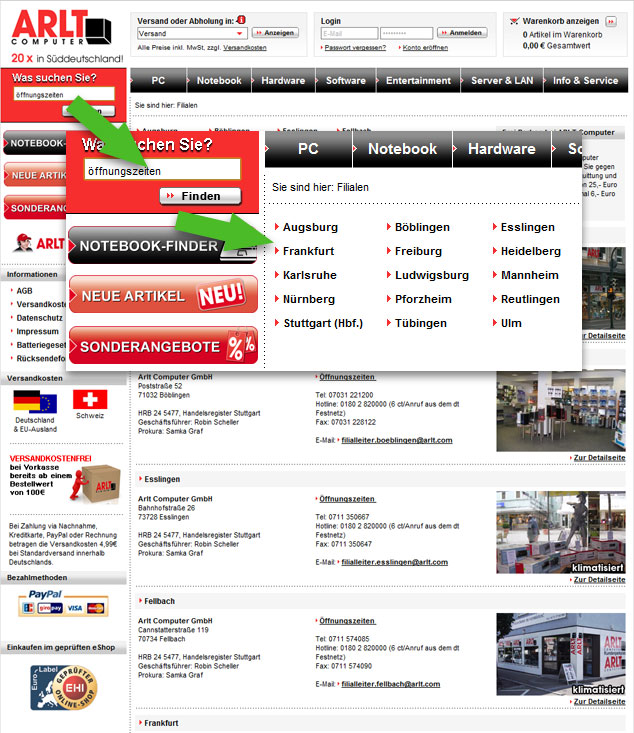 More Conversion Opportunities
There are many more opportunities to smooth the shopping path for your customers. For example, consider optimizing your zero-hit pages; perhaps you could show more products here – or an Assistant campaign that actively helps visitors with their choice of product? When a customer in a pet shop is searching for an item such as a dog's collar, the following questions could appear above the first results: "Do you have a large or small dog?" or "Is your dog heavy or lightweight?" What material should the collar be made of; leather, metal or synthetic?" etc.
What Possibilities does FACT-Finder Offer?
With the FACT-Finder Campaign Manager, you can control the search results of your online shop according to your own needs and requirements whilst making effective and targeted use of the synergetic effects of online and offline campaigns.
Further information about the conversion platform can be found here: https://www.fact-finder.com