This year will be the shortest holiday season in six years. What will those fewer shopping days mean for retailers and consumers?
Black Friday takes place the day after Thanksgiving, a U.S. holiday that by law falls on the fourth Thursday of the month. The date can vary between the 22nd at the earliest and the 28th at the latest. With Thanksgiving 2019 falling on the 28th, this will be the shortest holiday season possible. Compared to last year, consumers and retailers will lose almost a week of shopping time between Thanksgiving and Christmas, leaving almost $1 billion1 in revenue behind. Gasp! From a business and economic perspective, it's a little unnerving that we've managed to set one of the most important annual retail cycles to a period of time with a variable start date but a fixed end date. In a situation where every day counts, what are retailers to do?
Wouldn't You Know It
Retailers are fully aware that this year's holiday shopping calendar isn't generous, but shoppers might not be. In fact, only 1 in 3 Americans 2 are currently aware that there is nearly one week less between Thanksgiving and Christmas – which is why 44% of retailers will call out the shortened time frame in advertisements3. Shoppers will likely not realise there are fewer shopping days this year until it's too late, but it isn't really an issue with overall retail spending being higher than ever. Plus, for many people this year, Black Friday coincides with payday which could see record sales for retailers as a result – earnings from the day are expected to reach £2.53 billion in the UK, 3.4% more than last year, with each shopper intending to spend £224 on average4.
Does the Early Bird Really Catch the Worm?
Timing is crucial for retailers during the shortened season which explains why nearly half have supersized not only pre-Thanksgiving marketing initiatives but also sales to encourage earlier shopping. Even though Black Friday runs on the 29th, many retailers have gotten a head start. Online giant Amazon will kick-off their Black Friday sales as early as the 22nd, running a full eight days. If that wasn't enough, they are also running a Black Friday Countdown Sale from the 18th through the 31st – that's two whole weeks of deals, deals, deals. Big-box store Walmart will launch Black Friday online sales on the 27th and in-store on the 28th – yes, on Thanksgiving Day. Combatting this type of competition means smaller retailers are forced to approach the holiday season differently. 54% will begin running deals earlier this year and 55% will offer deeper discounts than they normally do5.
This holiday season is the shortest possible, with only 26 days in between Thanksgiving and Christmas – that's 6 days less than last year.
There is, however, a silver lining. While early deals may give retailers a head start on incentivising purchases, many shoppers hold off on hitting the buy button. Rather than pin their hopes on bagging the perfect early sale, many shoppers prefer taking the time to do online research, discover new brands and products, find physical stores that will get products in their hands when they're ready to buy and most importantly, it gives them time to be absolutely positive that they've got the best deal. And for 52% of shoppers, finding a great deal is the most enjoyable thing about shopping — even better than getting the lowest price. With Black Friday and Cyber Monday continuing to be the deepest discounts of the year, maybe being early isn't all it's cracked up to be.
Tip: Shoppers are researching to find the best deals of the season before, during, and after Black Friday, and hatching a game plan to determine what, where, and when to buy – so, use the weeks leading up to the big day to reach them. Inform shoppers of your products, prices and offers early in their planning cycle and provide curated and easy-to-navigate options for gifting. With the race to capture shopper's hearts and wallets, providing them with all they information they're already looking for, will win the consideration battle.
Ship, Ship, Hooray
We're all familiar with Amazon's shipping empire: Prime's free two-day delivery (which they announced earlier this year will be cut to one-day shipping, guaranteed), same-day delivery in select cities, one- or two-hour delivery, and even in-home delivery. Talk about friendly competition. So in addition to starting earlier and offering lower prices, retailers are now also expected to sweeten up their shipping options. And expectation is turning into action with 96% of retailers5 reporting they plan to change their shipping tactics to compete with retailers like Amazon. Even larger retailers are feeling the heat– this year marks the first holiday season that Walmart and Best Buy offer free next-day delivery. But speed is not the most important to shoppers, it's the monetary value – with 85% of customers wanting free shipping versus 15% fast shipping. So much so, that 58% of holiday shoppers5 will not complete an online purchase without free shipping. While all-inclusive free shipping may work for some retailers, it can damage profit margins or may be simply not be viable for others.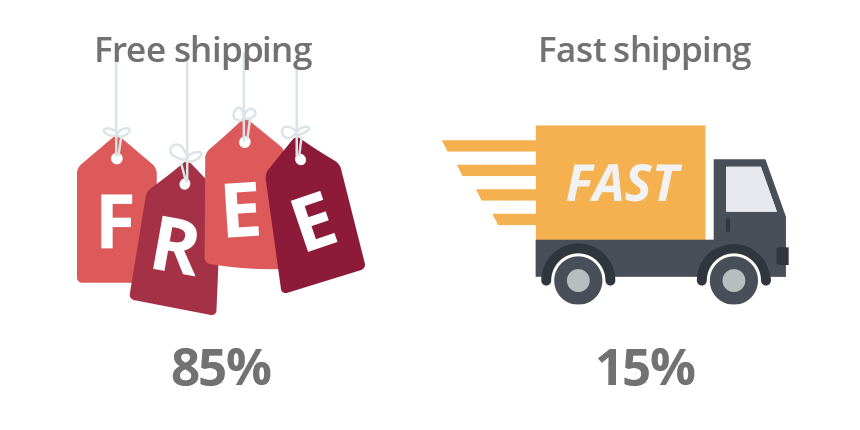 Tip: Shoppers will go to great lengths to avoid paying for shipping and will likely result in an abandoned shopping cart. With a smart shipping strategy, retailers can meet shoppers' expectations without tanking profits. A few ways to offer free shipping are:
Paid membership program for free shipping. On days like Black Friday, give members an added service benefit by letting them view deals earlier and start shopping ahead of non-members.

Only at certain times of the year, as a special offer or on busy days like Black Friday or Cyber Monday. This is a good way to test the effects that free delivery will have on your business.

With orders over a certain threshold. This is often the most popular choice and the cheapest to implement because it covers the cost of shipping on smaller orders and encourages purchases on additional items in order to reach the minimum.

Only on eligible items. Retailers can reserve this service for higher margin products, ensuring a gain on the sale, or on smaller, lightweight items that don't cost much to ship.
Meet BOPUS, Your Holiday Helper
An alternative strategy retailers can implement is Buy Online Pick Up In Store (BOPUS or BOPIS), also known as Click and Collect. This effective conversion tactic is shaping up as one of the emerging trend setters for Black Friday 2019, according to a new study from Adobe. Due to the convenience, money savings, reduced shipping costs, and ability to search for more deals online, 85% of shoppers are motivated to purchase with BOPUS options this season2. During Black Friday and the 3-day sales weekend that follows, avoiding crowds while shopping has become more important to 67% of shoppers. BOPUS is a perfect solution for that group. An added benefit is that customers will likely shop for additional items when picking up their online order. With fewer days to spend, it's predicted that BOPUS will be more popular than ever before, with revenue from this delivery method doubling in the week before Christmas as shoppers rush to complete their gift lists.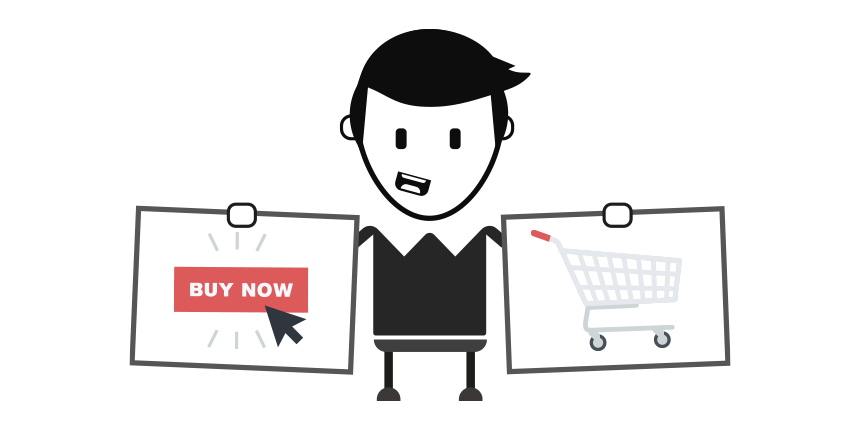 Tip: 60% of retailers5 are increasing their BOPUS efforts to make the shopping experience easier. Here's what you can do to make your BOPUS experience outstanding:
Make finding items in your online store easy. This is especially important on mobile devices where screen size is limited.

Clearly mark items that are available for BOPUS. Having a location-based search tool for your online shop will help identify the closest store with the item in stock.

Make the checkout and payment process easy. Remember, less is more.

Quickly notify shoppers about their order and pick up time. It's already stressful enough to holiday shop, don't add doubt of a lost order to the list.

Provide clear instructions to customers and in-store employees so the process runs smooth and fast
With all that said, it's easy to see that customers are finding the best shopping strategy that suits them. Whether it's online, in-store, shipped, picked up, early, last minute or a mix, retailers would be wise to meet shoppers in these varying moments. Doing so could mean a happier and more profitable Friday.
Are you doing things differently for this shortened holiday shopping season? Let us know in the comments!
---