The wait is over: FACT-Finder 7.3 is  released. The new version is particularly exciting for retailers using multiple FACT-Finder channels: from now on, it will be possible to simultaneously manage and maintain different channels (i.e. online shops or sub-shops), without having to work on each one separately.
On the one hand, you will be able to fulfil current requirements much quicker, enabling you to redirect the freed resources to other tasks. On the other hand, you can ensure your FACT-Finder channels are of a consistent quality and no channel is neglected. Below is a glimpse of the key improvements in FACT-Finder 7.3.
To see all of the new features live, view our release webinar on Wednesday, May 24, 2017 10:00 AM (GMT).
New operating concept: maintain multiple channels at once
Behind the "multi-channel configuration" is a clear design concept: You are now able create and configure two different kinds of channels in FACT-Finder – parent and child channels. The parent channels automatically transfer their settings (i.e. search optimisations, basic settings and module settings) to their associated child channels. Schematically this looks as follows: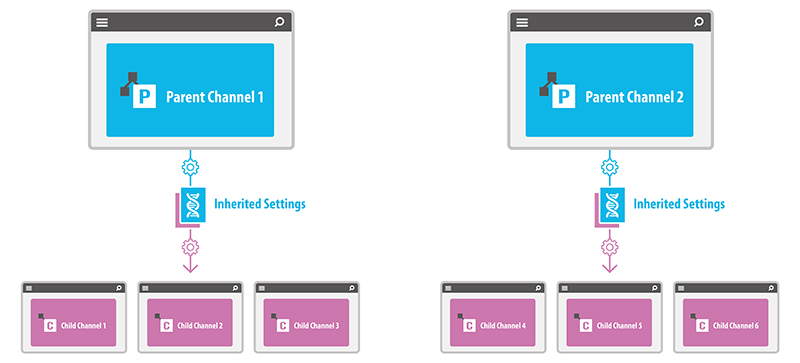 Avoiding repeated tasks saves costs. Parent channels automatically hand down their configurations – for example thesaurus and pre-processor entries, suggestion adjustments, field weightings, algorithm settings and much more. 
Child channels can be managed individually
The "inherited" settings are immediately active in the child channels, but each channel can also be individually customised at any time. An adjustment in one child channel is not carried over to other child channels, nor is it passed back to the parent channel. In addition, the adjusted setting will no longer be updated by the parent channel, until you reset it back to being hereditary. All child channels deviating from the associated parent channel are flagged accordingly, to ensure a quick and doubtless identification.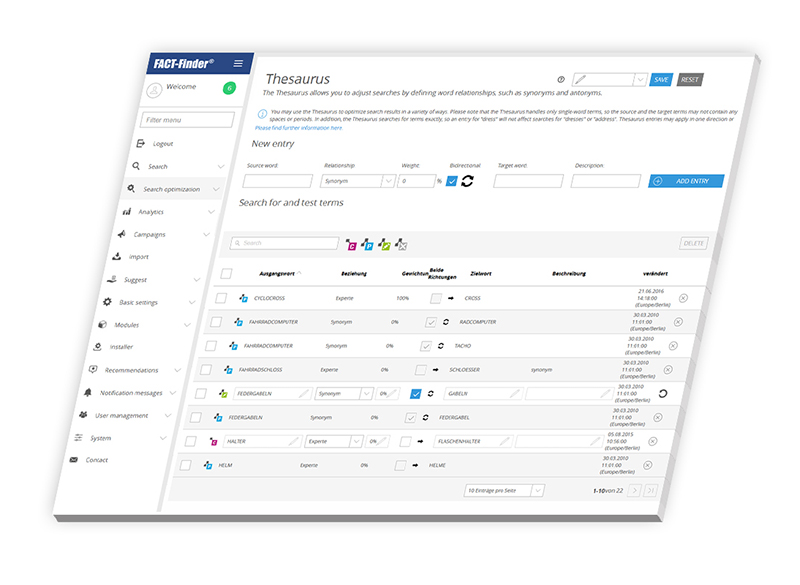 Thanks to the different icons you always know precisely which settings have been inherited from the parent channel and which have been modified.
Which online retailers benefit from our service?
The multi-channel configuration fundamentally reduces the maintenance effort for all retailers using two or more FACT-Finder channels in one language.
These examples showcase, how shops of different sizes can be organised using FACT-Finder 7.3.
Small shops: faster expansion in a single language area
For retailers who have previously operated exclusively in Germany and who want to expand into Austria, it is now much easier to set up their new shop ready for selling and to keep it up to date. Instead of manually transferring over all settings, a few simple clicks create a new child channel for the Austrian shops, with its settings inherited from the German parent channel. If necessary, the ranking rules in the new child channel can be specifically adjusted, in particular if you want to rank items by best sellers. The sales figures in Germany and Austria could be very different, after all.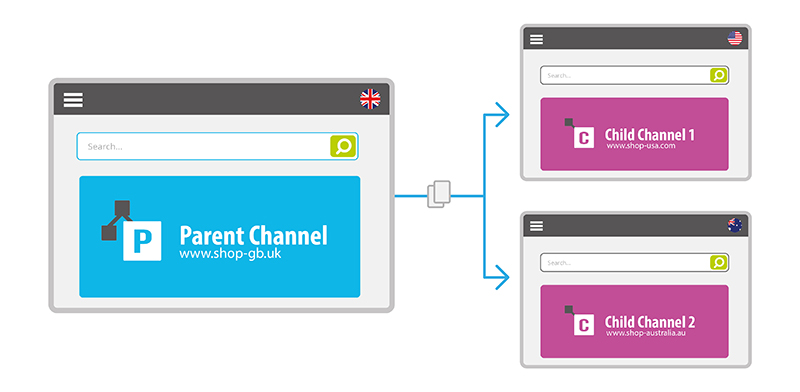 Develop new markets within a language area more easily: all additional English speaking channels can be derived from the English parent channel.
Large shops: manage languages efficiently all over Europe
Retailers who operate in multiple countries can create a parent channel for each language area and derive the various child channels as in the previous example.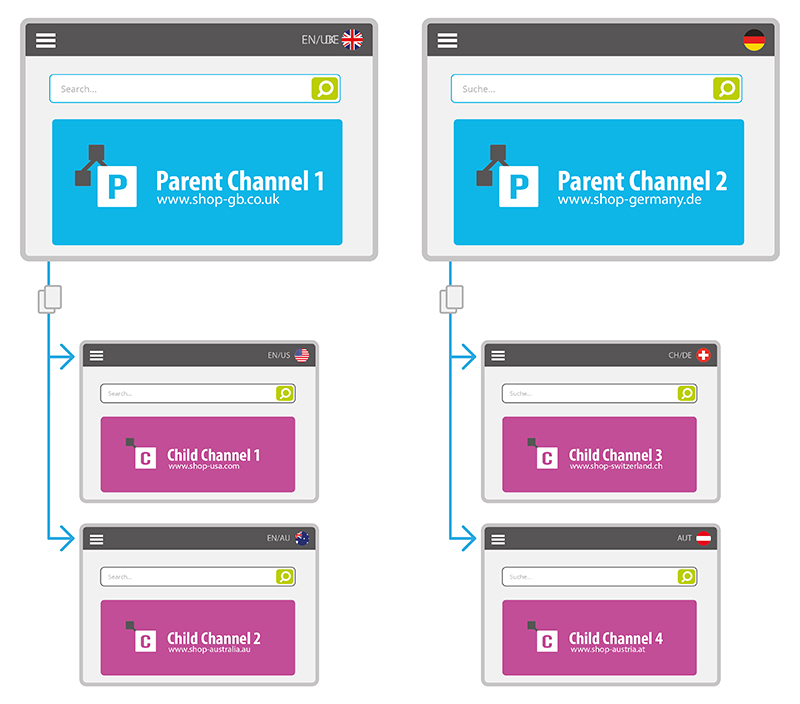 Operational shop management has never been so simple. No FACT-Finder channel is neglected. New languages can be added with ease.
International shops: standardised configuration in all channels
For corporations and retailers with a double-digit number of channels, there is the option of initially testing the impact of their FACT-Finder adjustments in a pilot channel. Afterwards they can roll out the finalised configuration to the individual target markets and adjust the relevant language settings.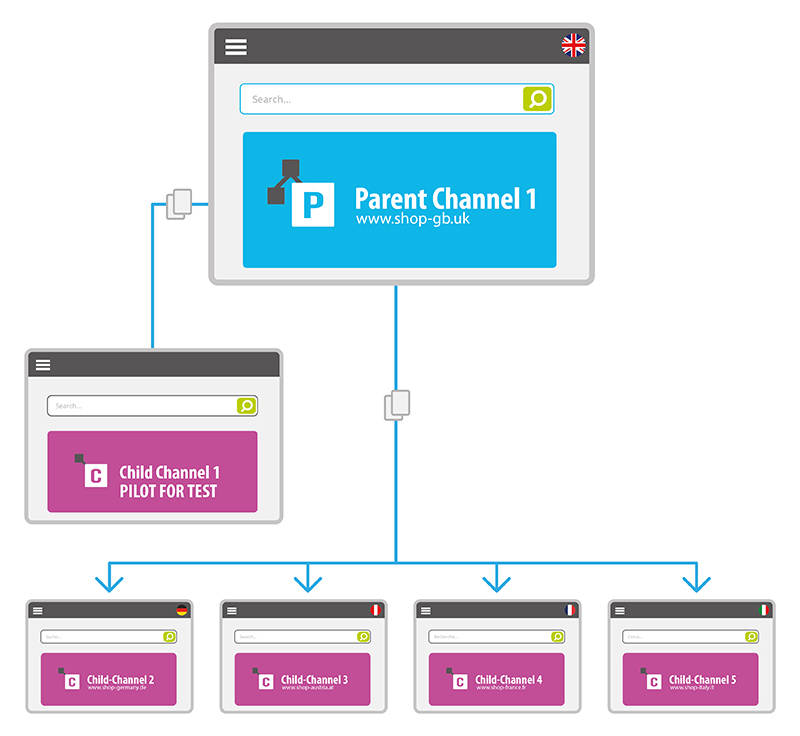 Roll-out concept for retailers with multiple channels. FACT-Finder adjustments are tested in the pilot channel, then passed to the parent channel to be introduced to all channels.
Overview: which settings are inherited?
Search optimisation:

Thesaurus
Pre-processor
Stop words
Trash

Basic settings:

Search algorithm
Field weighting
Ranking
Filter/navigation
ASN thumbnails
Results listing
Index fields
Import settings

Suggest:

Suggest logic
Suggest types
Suggest import
Suggest whitelist
Suggest blacklist

Modules:

After search optimisation
Personalisation
SEO enhancer
Single word searches
Semantic enhancer
Data quality
Recommendations
Clone rather than inherit campaigns
In contrast to the settings indicated, campaigns are not inherited. Due to the bespoke nature of campaigns, almost every campaign in the child channels would need to be adjusted after inheritance. Customisations like the trigger, the date settings and many others are case-specific, not generic.
That is why, instead of inheriting campaigns, FACT-Finder 7.3 introduces a much more useful function: the targeted cloning of campaigns in multiple channels.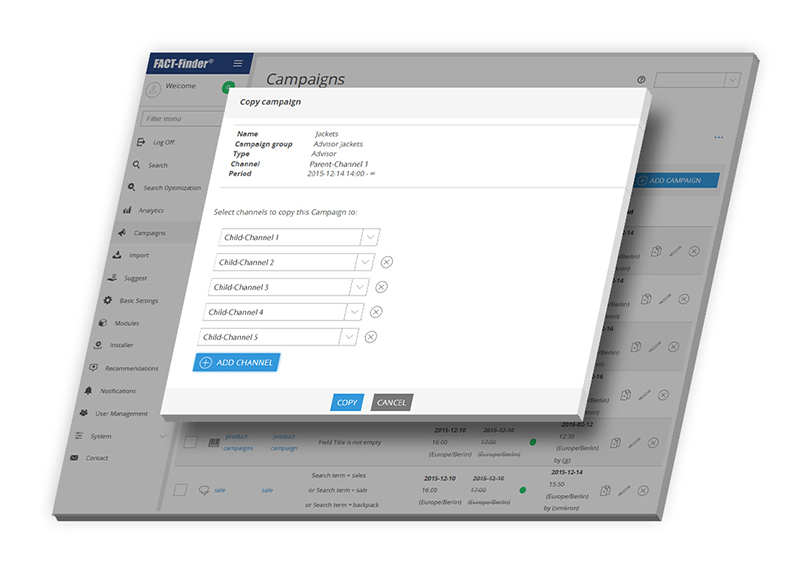 Multiple cloning of campaigns. The current FACT-Finder version simplifies your campaign management.
In future, the "Copy campaign" configuration window will include the new button "Add channel". This enables you to select additional channels to which to copy selected campaigns. The campaign then serves as a template in the new channel. A little hint: you can also clone an existing campaign multiple times in the same channel.
To see all of the new features live, view our release webinar on Wednesday, May 24, 2017 10:00 AM (GMT),