A detailed look into the newly designed FACT-Finder Customer Portal and its expanded functionality.
Hi! I'm Uwe, head of Service Desk. Are you a FACT-Finder user who's had questions such as: What is the status of my integration project? Where can I find documentation for the campaign manager? Or which of my Service Desk tickets are still open?
Then, I'm pleased to tell you that you can find this information and more, at any time, through our Customer Portal. Working as a central information center for all FACT-Finder services, it combines ticket functions, status updates, and important links on a single interface. In this article, I will explain what all the Customer Portal offers you and how to activate your access.
Advantages for FACT-Finder users
✓ Save time on support requests – create, view, and respond to Service Desk tickets with one click.
✓ Transparent, 24/7 service status – stay in the loop of current projects, server availability, and open tickets.
✓ Centralized access to resources – including video tutorials, technical documentation, and release notes.
Activate your access
Don't have access yet? We are happy to activate the Customer Portal for you. Simply send an e-mail to service-desk@fact-finder.com.
Our team is always happy to help you. Hear Maximilian's kind words as he shares his experience with our support. "When I call FACT-Finder, someone answers who knows who I am, who knows who our company is, who knows our case and personally helps me. And when the going gets tough, there is someone who takes care of it and who makes it their purpose in life for that day to help us."
What's included
At FACT-Finder, we consider Software-as-a-Service to be much more than just hosting. We are also there for our users to answer any questions or concerns they may have about the application. In addition to providing personal support through our Service Desk team, we want to offer a comprehensive self-service platform via the Customer Portal. In the last months, we have continuously expanded and added many features.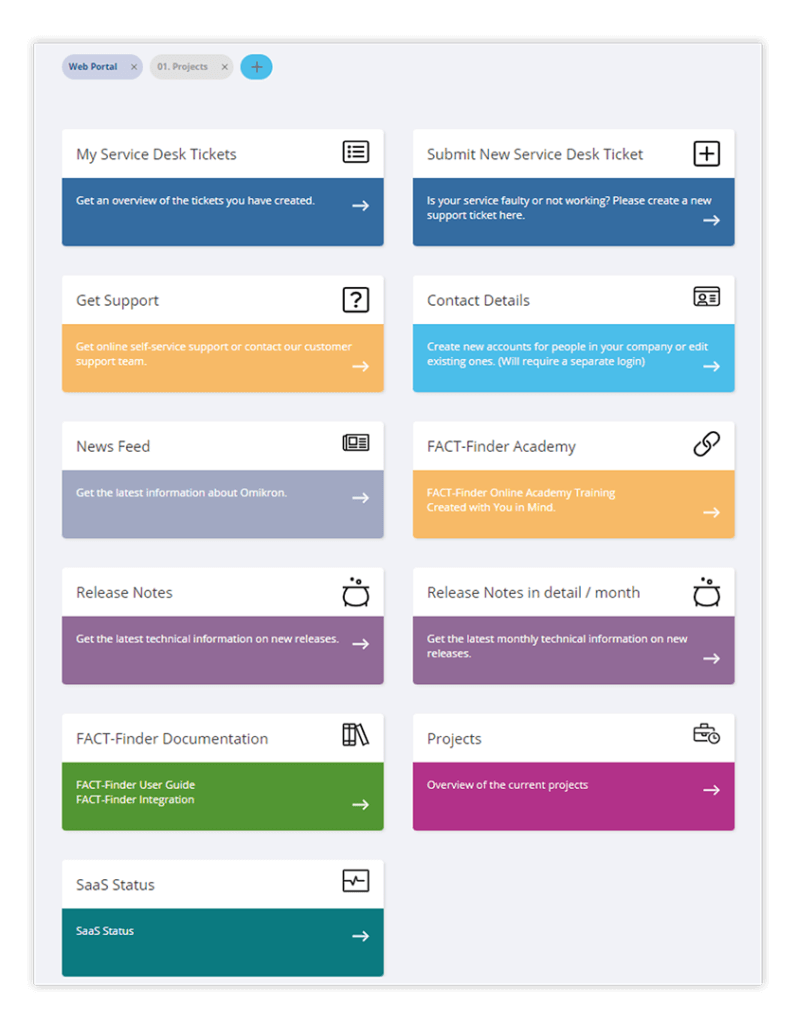 My Service Desk Tickets
Our standards include first-class service quality and speed, as well as full transparency. Under 'My Service Desk Tickets' you can check the status of your requests, comment on them, and rate our support.
Submit New Service Desk Ticket
Submit new support requests to the Service Desk with just a few clicks. Our team of experts will contact you as soon as possible, eager to find a solution to your problem.
Get Support
From FAQs and documentation to video tutorials, you'll find all the resources that can help you – clearly structured and up to date – in the Customer Portal.
Contact Details
Now you can easily maintain and adjust contact data yourself. You can add additional employees and edit existing entries or set them to inactive. You can also define which person from your company is the primary technical contact. We will inform this person or this distribution list, for example, in the event of upcoming maintenance work.
News Feed
Always stay up to date. This is where we keep you informed about all news, tips, and user reports related to FACT-Finder.
FACT-Finder Academy
You also have direct access to all tutorials via our Customer Portal. Our FACT-Finder Online Academy now offers more than 50 training videos that show you how to get the most out of FACT-Finder, for example in configuring search, arranging filters, or digital campaigns.
Release Notes
What innovations does the current release have? Which features have been improved or introduced? You can now stay up to date on technical updates for FACT-Finder.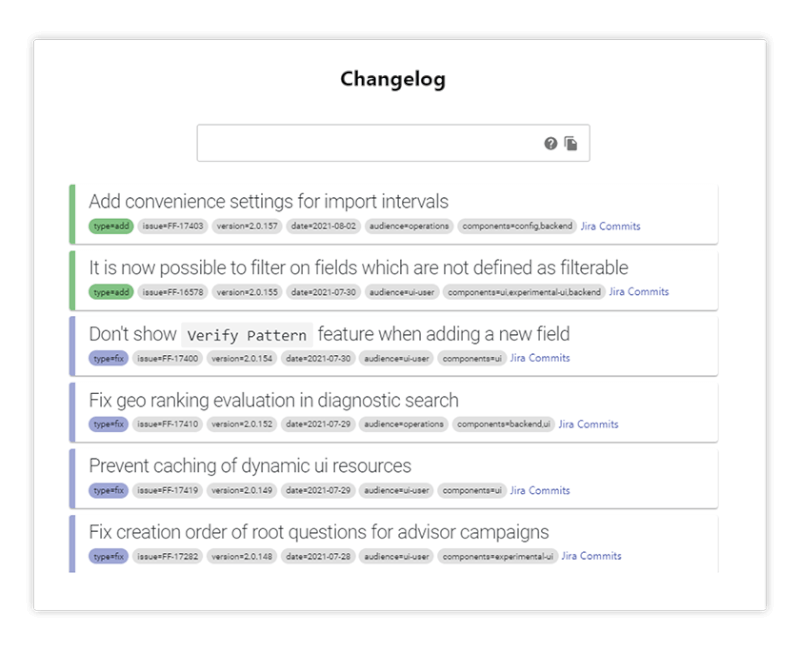 FACT-Finder documentation
Our technical documentation is also quickly and easily accessible via the Customer Portal. Whether it's whitelisting suggestions, guided selling campaigns or the recommendation engine, here you'll find detailed information on the integration and use of all modules.
Projects
Are you a new customer or have you commissioned the integration of an additional module? Here you can track the current status of your FACT-Finder projects around the clock – from start to go live.
SaaS Status
With our SaaS solution, you can rely on best practices in hosting and operating FACT-Finder. We monitor the availability of all components around the clock. In the Customer Portal, we give you an insight into server availability under 'SaaS Status', so that you can rest assured that your FACT-Finder is working reliably.
Get started now
I hope I was able to give you some interesting insights into our Customer Portal in this blog post. Have fun discovering and using the new features! If you do not yet have access to the Customer Portal, or have any questions, requests or suggestions, feel free to reach out to us directly.

Your Service Desk team supports you
Monday to Friday, 8 a.m. to 6 p.m.
by phone at +49 7231 12587 ext. 701 and
by email at service-desk@fact-finder.com