Loop54 has undergone a transformation and is now called Infinity, reflecting its growing capabilities. Discover the latest updates and enhancements that Infinity brings to your online shop.
Ever since the union of market-leading technologies FactFinder and Loop54 in 2021, our team has been working diligently to make product discovery better than ever before. By combining Loop54's cutting-edge AI technology with FactFinder's greatest capabilities into one platform, we provide you with the best of search, merchandising and personalization in one solution – bringing joy to your shoppers and helping you drive better business outcomes.

We are proud to announce that the Loop54 product has evolved to Infinity, a name that better reflects its powerful, growing capabilities. We've been listening to your feedback and can't wait to show you what's new.
New look, new merchandising capabilities
If you're an existing Loop54 client, you might have noticed a sleek new user interface to accompany the features you've come to know and love.
Even more exciting, there's now the option to leverage powerful new merchandising features that puts more control in your hands:
Experience editor: for tricky search queries that only humans understand, nudge the AI in the right direction by prioritizing the most relevant search results.
Redirects: send specific search queries (e.g. brand names or informational queries like "shipping") directly to the perfect landing page that matches your shopper's intent for a more intuitive experience.
Take charge with the experience editor
While AI is incredibly powerful, there are cases where the details and context that only humans understand make all the difference. That's where Infinity's new experience editor comes in, allowing you to take control of your online shop and nudge the fast-learning AI in the right direction.
For instance, AI algorithms commonly have difficulty differentiating between when someone is looking for an accessory versus a device, such as an iPad or an iPad case, when there isn't a lot of behavioral data available. Results often get better on their own over time, but this requires an incredible amount of data for the AI to learn from that most online shops simply don't have. As a result, search results for "iPad" often display hundreds of mixed product types because the term "iPad" can be found across all of the data fields for all types of products.
With the experience editor, you can create custom feature sets that match a user's true intent. For example, with the same query "iPad," you can select an iPad in the original results set to show what is actually meant by the query. The AI will then prioritize products of that type first, bypassing weeks, months or even years of learning via behavioral data. In just a few clicks, you can effectively train the fast-learning AI to better respond to the intended context and prioritize the right products every time – faster than ever before.
In addition to zeroing in on specific intent, you can also broaden the results of queries that provide few – or no – products, such as specific long-tail queries. This helps improve the customer experience by avoiding irrelevant or zero results, also decreasing bounce. For example, if someone types in "phone accessories," they may get a strange set of results that covers random accessories in general. By adding in new feature sets of other products that also match the current intent, such as phone cables and cases, you can show the AI what products are most relevant for this type of search.
How it benefits you:
Increased control over the customer journey for every team member
Increased conversion rates
Increased customer satisfaction and loyalty
Want to explore more use cases in your industry?
Redirect searches for a more intuitive experience
Making the shopping experience as smooth and effortless as possible is key to driving conversions. Our powerful AI does most of this work for you, automatically. But there are just some things that need the human touch – and that's where our new merchandising feature, redirects, comes in. You can now send shoppers directly to the landing page or informational page that matches their intent (and your business objectives), ensuring they find the information they need quickly and easily.
For example, you can now easily direct shoppers to specific pages that are optimized for conversion, such as product, brand or landing pages. When a shopper searches for a specific brand name on your eCommerce website, it's likely that they are already familiar with that brand and are interested in purchasing products from them. By redirecting them to the brand's page, you can provide them with a more personalized shopping experience and make it easier for them to find the products they are looking for. This also allows you to highlight new or popular products and encourage up- or cross-selling by showcasing the full range of products from that brand.
If a shopper searches for information on shipping or returns, redirects can send them directly to the relevant content page, providing them with the information they need to make a purchase. Similarly, if a shopper has a question about your product or service, you can redirect them to your FAQ page, providing them with the answers they need to make an informed decision. You can also use redirects to prevent shoppers from encountering zero search results by redirecting them to the next best product or category that may be of interest.
All of these use cases additionally help to optimize your website's performance. By directing shoppers to the most relevant pages, bounce rates decrease and the amount of time that shoppers spend on your site increases. This can improve your website's search rankings and visibility, making it easier for potential customers to find you online.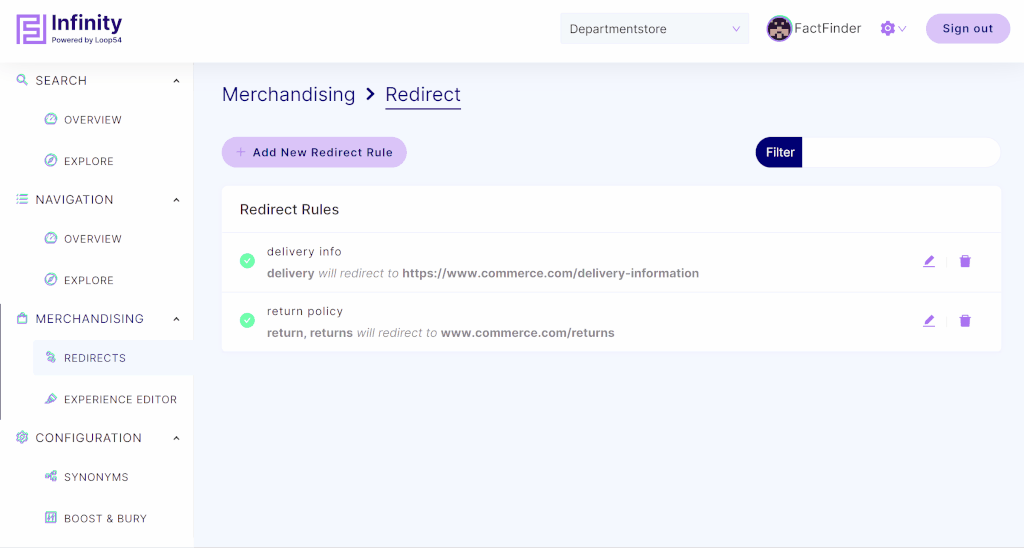 How it benefits you:
Increased conversion rates
Decreased bounce
More intuitive experiences that boost customer loyalty and AOV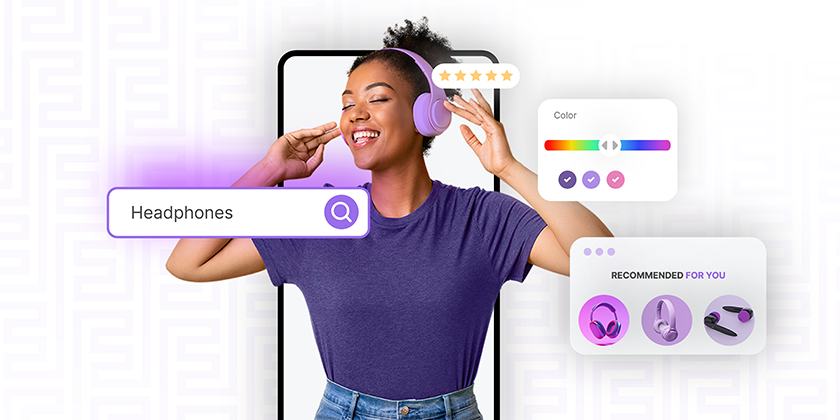 New to Infinity? Maximize conversions by combining fast-learning AI with human expertise
In today's fast-paced eCommerce landscape, staying ahead of the curve is critical to success. FactFinder Infinity leverages proprietary, fast-learning AI that fuels hyper-relevant experiences automatically, all while giving you the flexibility to prioritize which products and pages to display based on your business' objectives. If you're looking to boost sales with minimal resource commitment, improve customer satisfaction, and stay ahead of the competition, Infinity is the solution you've been searching for.