Wondering what happened during this year's popular sales weekend? FACT-Finder transformed Black Friday 2019 quantitative research into valuable e-commerce insights.
A lot happened during the Black Friday shopping frenzy, but what does it all mean? To answer this, FACT-Finder analyzed customer requests from over 1,800 online shops to provide the most comprehensive and accurate insights for European retail and e-commerce. A "request" is a single call to a FACT-Finder server. These can be search queries, suggestions, a tracking request or a personalized recommendation. The insights indicate unexpected shifts in shoppers' habits: Black Friday online activity peaked on you'll never guess…Thursday and Cyber Monday was a day like any other. Using Adobe Analytics1, which measures online transactions from 80 of the top 100 online retailers in the U.S, we examine how E.U. and U.S. shoppers differ, and how Singles' Day has the power to make November the most shopper-coveted month of the year. Plus, consumers help answer the never-ending debate of desktop versus smartphones. Let's get started.
Thankful for Thursday
Black Friday in the U.S. dates back to the late 19th century( https://www.mentalfloss.com/article/31581/brief-history-black-friday ) but in Europe it was virtually unknown until the early 2010s. It was Amazon who first introduced the event to the U.K. in 2010, making Black Friday more aged in this country than its neighbours. Today, thousands of European retailers have embraced the discounting craze, and they're such big fans that they like to start ahead of time.
FACT-Finder analysed each individual day during Black Week, starting from the Monday before through Cyber Monday. The first three days of the week were business as usual while the weekend was surprisingly the most inactive time of the week. Then right in the middle, during the 48-hour span of retail's biggest shopping day and the hours leading up to it, was an unexpected find. One would imagine that the pinnacle of Black Friday would be on, well, Friday – but this year, that was not the case. It was Thursday who stole the show with the highest activity taking place late at night. FACT-Finder detected an influx of online requests starting at 7 p.m., peaking at 8:30 p.m. and continuing through 11 p.m. This is quite unusual for a Thursday; in fact it's a 21% increase in activity.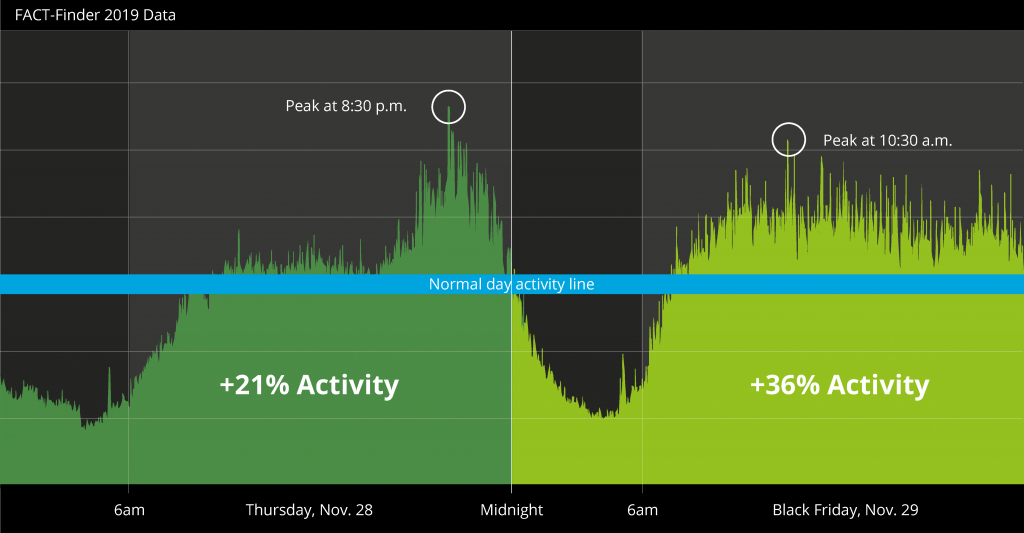 Overseas, Black Friday remains strong as the unofficial beginning date for the holiday shopping season. And while it still saw impressive results, $7.4 billion to be exact, it was its predecessor that was the focus of attention. 2019 marks the first time that Thursday sales passed the milestone $4 billion mark. With Thanksgiving falling on the 28th, this year will be the shortest holiday season possible. Compared to last year, consumers and retailers will lose almost a week of shopping time between Thanksgiving and Christmas, leaving almost $1 billion in revenue behind. A more compressed selling period caused many retailers to get an early jump on Black Friday deals, with 54% running deals earlier and 55% offering deeper discounts than they normally do5. By stepping up awareness of Thursday sales, U.S. retailers were able to unlock a 3x boost in revenue that contributed to a total of $4.2 billion.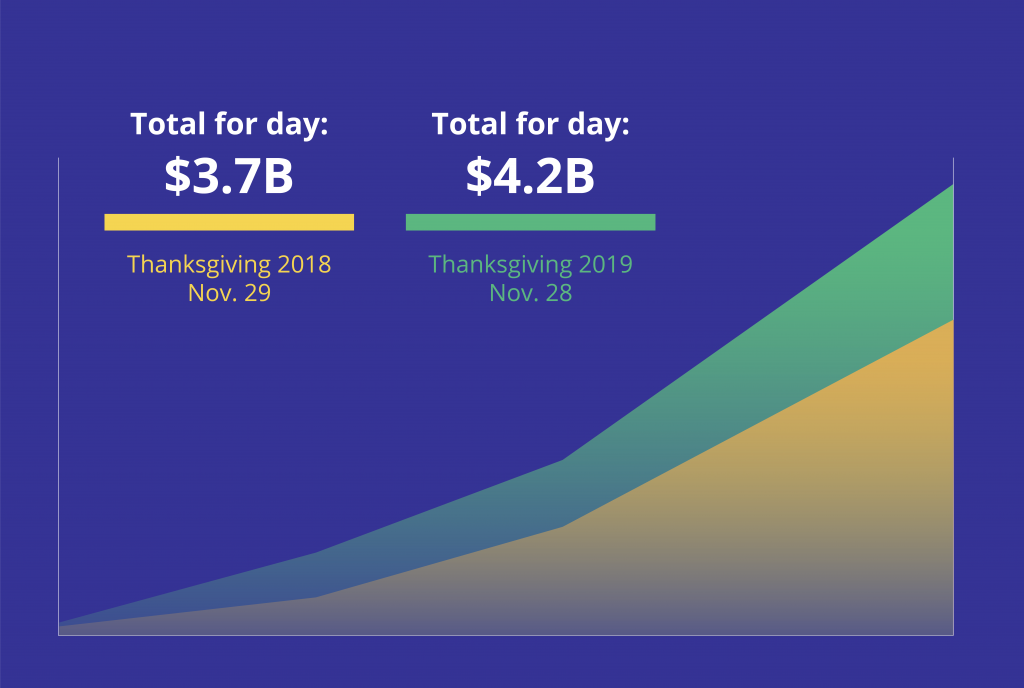 Although these two outcomes have 4,903 miles in between them, they share an underlying truth: Black Friday shopping is seeping into Thursday. By focusing on what is occurring during these spikes, we were able to find a correlation between the two. In the U.S. the day before Black Friday is Thanksgiving, a national holiday, and by collateral, much of the week, if not all, is also time off. A typical Thanksgiving Day consists of getting together with family, eating, being thankful, getting full, and then relaxing. Since many consumers are spending more time at home, while most brick-and-mortar businesses are closed, with plenty of downtimes, it makes sense that they are using this time to flock online and start their holiday shopping efforts.
Meanwhile, in Europe, both Thursday and Friday are normal working days, which also helps explain the sudden shift to Thursday. Europeans are working during the day but, between 7 p.m. and midnight, they are at home, on their devices, researching, comparing prices, planning, pre-ordering, adding to cart, bookmarking, and so on, preparing everything ahead of the big shopping day – fail to prepare and prepare to fail. That way, all that must be done the next day is to click and buy.
Black Friday versus Cyber Monday
The Black Friday momentum has been growing steadily and 2019 was no exception. For retailers in Europe, FACT-Finder reported an increase of 36.4% in online customer requests. The day remained steadily busy with the highest peaks taking place at 10:30 a.m. For the U.S., total consumer spending for the day was $7.4 billion, making it a year-over-year growth of 19.6%. It's safe to say that Black Friday remains a profitable Friday for retailers worldwide.
It's hard to believe but Cyber Monday dates back to just 2005, when the internet was often referred to as "cyberspace." Quaint, right? Then online stores began running their own big sales to compete with the brick-and-mortar craze of Black Friday. Today, Black Friday is as much an online event as it is an in-store event, and with both dates operating heavily online, offering the lowest prices on the year's hottest items – their defining lines begin blur. Nonetheless, in the true spirit of competition, the U.S. and Europe have picked favorites.
Team: Black Friday | MVP: Europe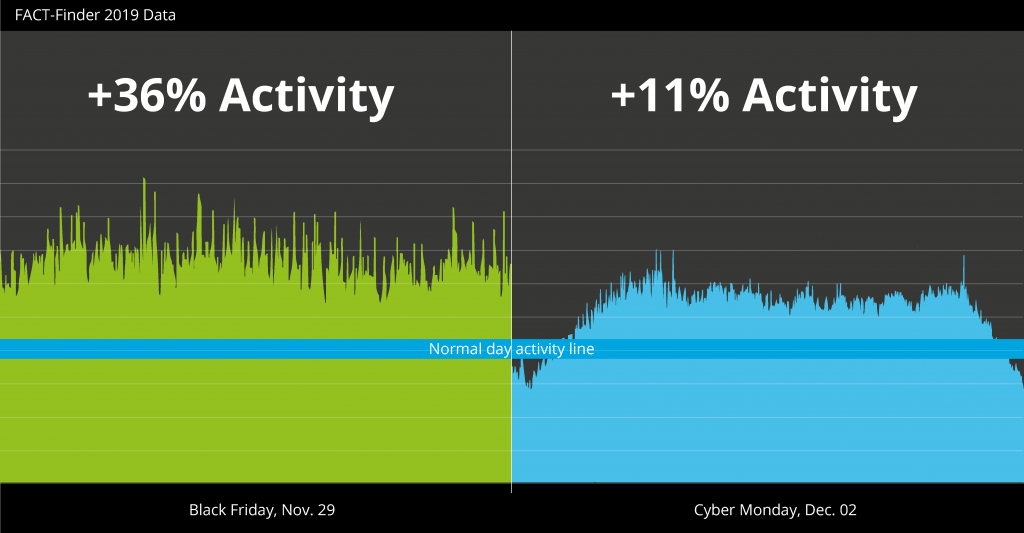 FACT-Finder data shows a whopping 36.4% increase in requests on Black Friday versus a slight 11.4% rise on Cyber Monday. This could be due to all that pre-Friday preparatory work. If Europeans are spending Thursday night planning and preparing for Friday, they already have a decision in mind so there is no need to postpone until Monday. Relating to this idea, Shopify2 found that European consumers make the fastest shopping choices online worldwide. In measures of minutes, Germans are the most decisive needing only 17.68 minutes, followed by the French with 18.97 and the Britons at 19.32. In comparison with North Americans, who take 23.47 minutes in the U.S. and 26.90 minutes in Canada, that's a five-minute head start on shopping.
---
Team: Cyber Monday | MVP: United States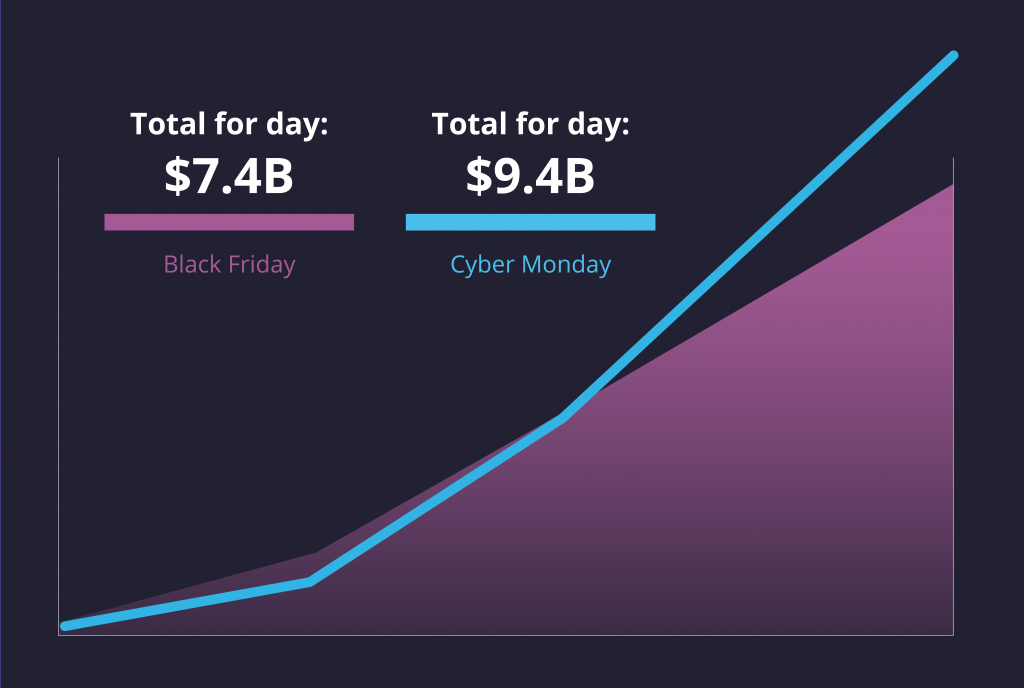 Consumer spending for Cyber Monday this year was $9.4 billion, that's $2 billion above Black Friday's $7.4 billion. Since its dawn, it has grown and grown, and for the past three years it has surpassed its Black Friday ancestor. Business Insider3 conducted a nationwide survey of 2,300 American adults and found that the majority signaled their preference for Cyber Monday 58.2% compared to Black Friday 41.8%. What is it that makes it so popular? According to Honey4, a browser extension that automatically finds and applies coupons, it's because Cyber Monday has the better deals. Honey's research showed that last year's Cyber Monday average savings (per user, per purchase) peaked at 21%, while Black Friday savings peaked at 18.5%. Another theory is that Black Friday is about self-gifting while Cyber Monday is the sinking realization that you only have 23 days to provide holiday gifts for everyone you know – driving urgency. And of course, because Cyber Monday will have pretty much the same deals as Black Friday, there's the added benefit to waiting and achieving your gift shopping without interrupting precious family time.
---
Team: "We're not sure"
The debate between which day offers the better deals has been persistent for the past couple of years. Google found that among the top searches around Black Friday were "cyber monday vs black friday", "which is better black friday or cyber monday" and "is cyber monday as good as black friday." Through these search queries, shoppers are showing intent while emphasising their doubt. It's not a coincidence that a search for "cyber monday vs black friday" provides 60 million results all promising to guide consumers to the better day.
Single and Ready to Mingle?
Alibaba, the company that owns the two largest e-commerce websites in the world, Taobao and Tmall, launched Singles' Day on November 11th, 2009. What started out as a day intended for retail therapy has quickly transcended all expectations. This year, revenue reached a record high of $38.4 billion in one day, making it the biggest shopping day in history. Revenue for Thanksgiving, Black Friday, Small Business Saturday, Sunday and Cyber Monday combined does not amount to that. That's five days versus a single day. Although the event, now called the 11:11 Global Shopping Festival, is central to China, it won't be long before it gains more traction abroad.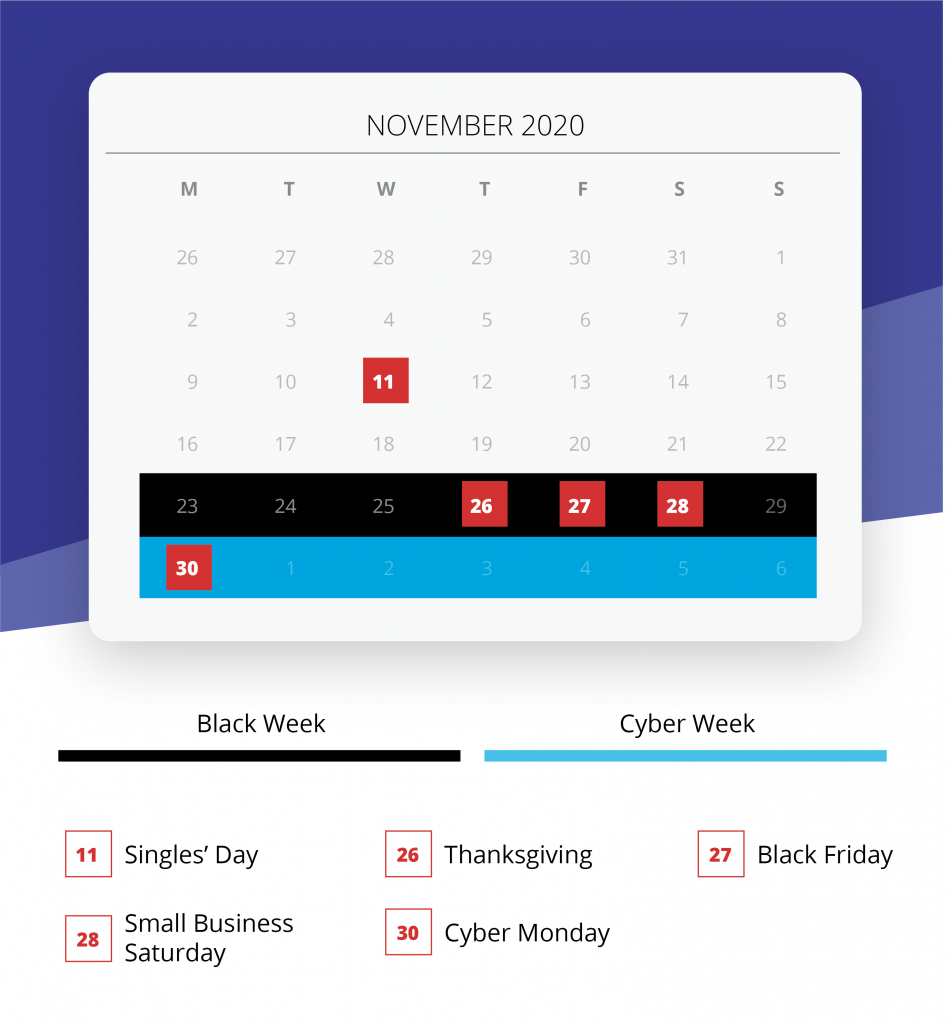 If e-commerce history has taught us anything it's that customers interested in savings will participate in any trend regardless of how country-specific it may be. A case in point are all the shopping dates we have discussed. Black Friday, a historically American event, has become Europe's biggest shopping day while gradually becoming yesterday's news to Americans. The most-recent Cyber Monday has replaced Black Friday as America's sweetheart. Although the growth is gradual, it's sensible to predict it will one day become Europe's too. Then we have Singles' Day, the newcomer and e-commerce's most eligible bachelor – with those numbers, who wouldn´t want a piece. Already this year, 24% of U.S. retailers5 ran Singles' Day promotions – including Walmart, Macy's, Gap, Target and Costco. In fact, Costco was the top Tmall Global seller on Singles' Day. The company sold about $3.14 million worth of products in a single hour, according to Alibaba. Once America fully adopts this day, it won't be long for discount-focused shoppers to demand it in Europe. And when retailers allow Singles' Day into the end-of-year sales, it will turn the entire month of November into the best time of the year to shop.
Data Point: Battle of the Devices
Revenue is directly impacted by consumer spending trends, especially by the devices they prefer to use. While most people browse sites via a mobile device, it seems the majority of purchases are still made via desktop. According to Adobe Analytics, between November 1st and December 5th, 58% of traffic came from smartphones but it accounted for just 37% of revenue. On the contrary, desktops brought in 36% of traffic and generated 59% of revenue.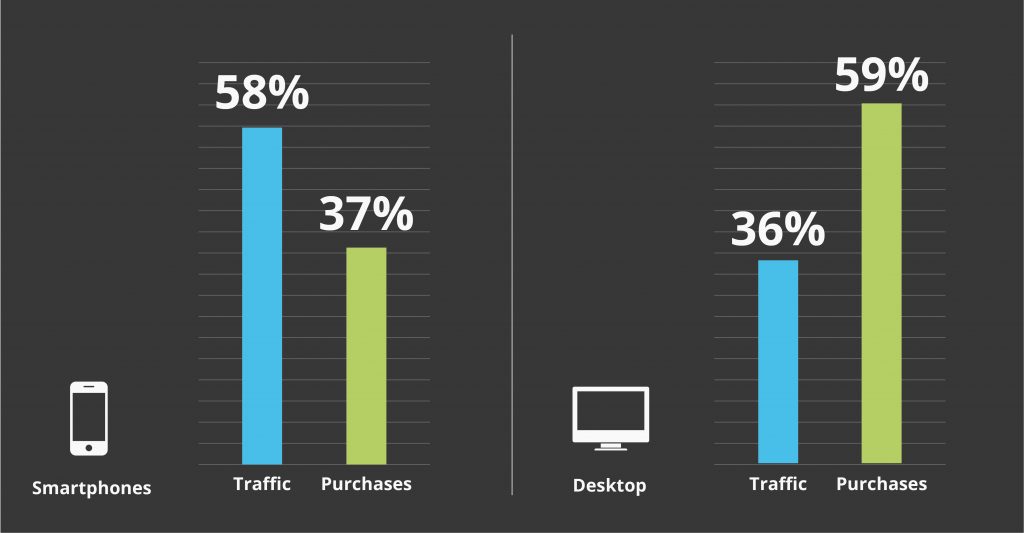 This preference could indicate a problem with mobile platforms not making it easy to shop on-the-go. PricewaterhouseCoopers found that 48% of consumers find it frustrating to search and buy products on a smartphone. When a potential customer is on a hand-held device but your site isn't easy to use, they're 5 times more likely to hop right back to search results and go to one of your competitors who does have an easy-to-navigate platform.
Tip: Simple UX changes that behave according to the device or display will provide a streamlined experience for online visitors. Some of these are:
Reduce shopping hurdles like pop-ups and optimise necessary ones like GDPR to be less intrusive and easily dismissed

Avoid customers having to pinch and zoom by formatting the site so that it sizes buttons instead of just shrinking them

Take into consideration typing difficulties on smaller formats by utilizing grammar tools such as autocorrect and synonyms

Avoid visual overload by using ranking rules that feature less products per line but make viewing product images and information clearer
To learn more ways to optimise your online shop and increase conversion potential, contact our e-commerce experts at consulting@fact-finder.com. Share your thoughts with us: What do you think next year will show? Which holiday do you prefer? Let us know in the comments.
---