FACT-Finder not only offers online shoppers a great user experience, it also provides retailers with the same level of satisfaction.
FACT-Finder has been awarded the "Great User Experience" certificate. This award was given by FinancesOnline, the fastest-growing independent review platform for B2B, SaaS and financial solutions. The platform explains, "Experts grant this award to products that offer especially good user experience. We evaluate how easy it is to start using the product and how well-designed its interface and features are to facilitate the work process."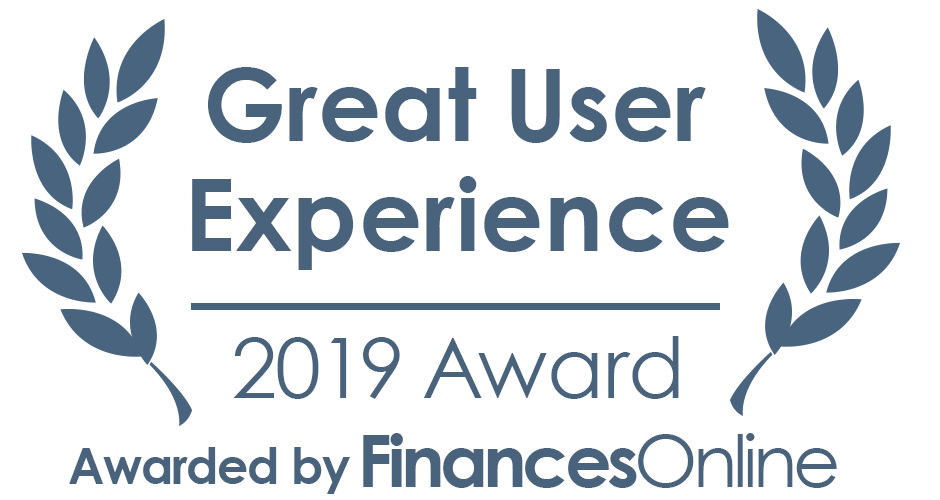 "No product is an island. A product is more than the product. It is a cohesive, integrated set of experiences. Think through all of the stages of a product or service – from initial intentions through final reflections, from first usage to help, service, and maintenance. Make them all work together seamlessly."

Don Norman – Inventor of the term 'User Experience'
User experience, or UX, focuses on having a deep understanding of users: what they need, what they value, their abilities and also their limitations. It also takes into account the business goals and objectives of the user. FACT-Finder understands the importance of customers' impressions of our brand and knows designing a great experience is the best way to build trust and loyalty. There are many factors to consider in understanding UX, but following Peter Morville's UX Honeycomb, FACT-Finder focuses on providing its users with a solution that is useful, usable, findable, valuable, desirable, accessible and credible. From the first step of integration to ongoing customer success, you can entrust FACT-Finder to provide you with a memorable experience.

Integration Tailored to You
Whether you're using in-house development or a ready-made, standard solution – FACT-Finder can be integrated into any shop. For all major e-commerce systems, we offer software development kits (SDKs) that are constantly being developed and improved – always with the aim of an optimal integration into your system landscape as quickly as possible. From consulting to implementation and after-sales service – our FACT-Finder team is at your side at every step of the way, with our experience of more than 1,800 integrations worldwide. In addition to integration via SDKs, REST API is another way to bring FACT-Finder to your online store. To learn more, check out our blog FACT-Finder Integration: It's Not Rocket Science.
Your Control Center: The Back-End
See something you would like to change? Then change it in just a matter of seconds through FACT-Finder's user interface which allows you to intuitively control all functions and workflows. Built-in search and filter options help you quickly access any FACT-Finder setting, whether it be search diagnostics, ranking rules, campaigns or personalisation. You can control and maintain all your FACT-Finder channels simultaneously without having to work on each one individually. Are you a multinational retailer? No problem, thanks to the multi-level rights system, your settings can also be inherited to your other shops. You can define at a granular level which users and groups are allowed to manage which channels and FACT-Finder functions.
On-Site Marketing – Easy, Fast, Flexible
Customers aren't able to interact with products online as they are in brick-and-mortar stores, which is why visual merchandising is critical in inspiring online purchases. The FACT-Finder Merchandising module enables you to quickly create and modify campaigns to promote products that interest customers. All the while enabling you to react quickly to current demands and changing market requirements – keeping your online store ahead of the competition. E-commerce and marketing teams can easily create brand pages, seasonal themed worlds, virtual consultants or special placements for promotional products – all without any programming knowledge or the help of IT. This way, customers not only stay in the shop longer – they also make more purchase and are more likely to return.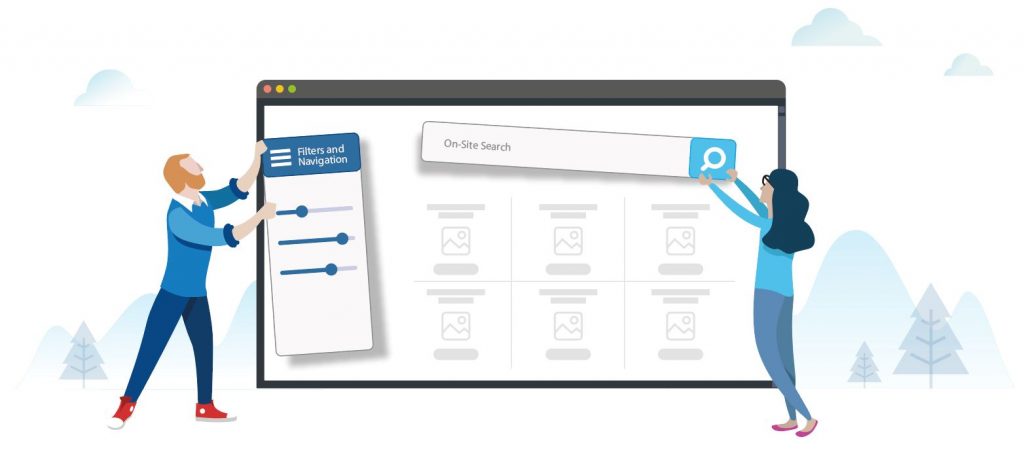 Search Analysis Through Data Science
What adjustments bring me the greatest conversion lever? Where can I expand my product range? And what prices should I adjust? The brand new FACT-Finder Analytics shows you exactly where unexploited sales potential lies. It offers you unprecedented evaluation tools that allow you to immerse yourself in the chronological sequence of each session. Numerous key figures are available for your analysis, such as click-through rate, cart-to-purchase rate or sales-per-search. Intelligent assistants monitor the data and historical curves and then let you know when peaks or unexpected events require special attention.
Stop Experimenting, Start Optimising
Whether it's campaigns, ranking rules or entire modules, with FACT-Finder's integrated A/B Testing you can now put all your sales methods to the test, with simplicity and transparency. Based on the results, you can determine the most effective ways to improve your online shop and demonstrate how much revenue your decisions can bring – all based on data. This creates ultimate visibility for e-commerce managers, CRO experts and on-site marketers.
Rely On Us
FACT-Finder's dedicated team is always with you. Consultants provide personalised advice on ways to align the modules to your business objectives. They offer expert training sessions to teach users how to work successfully and efficiently with the software. Need help with the back-end, customising ranking rules or creating campaigns? The Customer Care team will help you with any questions you may have about configuring FACT-Finder. With us, you will not encounter an anonymous call center or, as with open source, help portals and forums. In the case of technical questions or assistance, you will always have access to FACT-Finder's Service Desk.
See FACT-Finder in Action
As a leading SaaS provider, we offer free demo plans that allow users to test drive our software features at no cost and make well-informed decisions. The demos give you the chance to understand how the software can help to boost your company's efficiency and profitability. Read FinancesOnline's full product review of FACT-Finder and visit Best 20 Site Search Solutions for 2019 to learn how FACT-Finder wins number one. See FACT-Finder in action by requesting a free demo:

---
About FinancesOnline
FinancesOnline is a free platform that lets you find the best B2B and SaaS solutions. Each year they help millions of users compare products, find customer reviews and reports from experts to easily choose a solution that will let your company grow.