Justyna Skorupska, Managing Director at FACT-Finder Poland and international renowned e-commerce expert, recently gave an interview in Brief Magazine, the first and one of the biggest sales and marketing magazines in Poland. It is addressed to those, who are professionally connected with sales, marketing, media and research com
panies.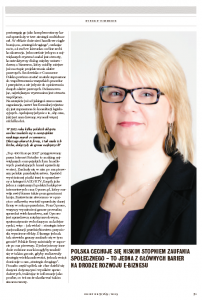 Is 100 PLN enough to create an e-shop that will bring 100,000 PLN turnover in a year? Is SEO/SEM a cure for all the problems of my e-business? – These questions and more are asked by those who have just started e-commerce business as well as by those who are already active in this market. Justyna Skorupska answers to these questions in the May issue of the Brief Magazine and gives tangible advice how to get to the top of e-commerce.
The complete article is available here (Polish).