B2B companies face a slightly lower risk of being overrun by global players such as Amazon and Alibaba thanks to higher customer loyalty compared to B2C companies. However, the danger cannot be ruled out. A study by ibi Research found out in 2017 that more than half of all B2B companies already generate more than 10% of their total revenue online. This percentage will continue to rise rapidly in the coming years, similar to the development of online sales in B2C trading a few years ago.
Alibaba, Amazon Business and Co – Developments and dangers in B2B eCommerce
In 2016, only around 6% of German medium-sized companies reinvested in online trading. On the other hand, e-commerce giants are already fully focused on B2B trade. Amazon Business, the B2B niche of the global market leader, has been on the German market since 2016. Between April 2017 and December 2017 alone, it recorded customer growth of over 200%. If you look at the USA, you will find customer-specific prices and other personalisation features that you already know from B2C trade. In view of the USD 16 billion Amazon invested in research, logistics and IT in 2017, it is only a matter of time before these features are also launched on the German market.
A similar investment of 15 billion USD is planned for the European logistics network of Alibaba, Amazon's Chinese counterpart. Centres in Prague and London already exist, others are planned for France, Belgium and Hamburg. Alibaba itself expects sales growth of 100% in Europe only this year. It should not be assumed that the company only offers B-goods that cannot match the German quality. Since its inception, Alibaba has focused on innovation and the promotion of digitization and artificial intelligence. For example, there is a tool for sellers that generates ideal product descriptions using algorithms. According to the so-called Turing test, these cannot be distinguished from a description written by a human being.
The developments of global players in the B2B sector are a particular danger for medium-sized companies that are falling behind in terms of digitization.

B2C vs. B2B: Many differences – one thing in common
In contrast to the B2C sector, purchases in the B2B sector are rational. Impulse purchases are almost impossible, since the B2B buyer researches and compares in advance and usually does not use his own credit card. Also, the buyer often does not decide alone, he must first consult with the various parties in the buying centre before making a purchase. Another difference is that in the B2B business there is a deep customer loyalty, whereas the personal contact with Amazon is rather unusual. Although it is standard in B2C to make payments directly, unlike orders in B2B trade, especially for larger quantities, are often paid proportionately in instalments or only after delivery.
However, it is important to understand that B2B e-commerce is getting in line with B2C. Just like in private life, B2B customers expect a comfortable and practical shopping experience. But what exactly is to be implemented and how do you make the successful transition from catalogue distribution to online shops?
Requirements your shop must fulfil
Use and navigation
Logical usability and navigation of the online shop is extremely important. Customers are spoilt by their personal online shopping experience. The probability of not finding the right product in the first minute on Amazon or AliExpress, the B2C shop of the Chinese eCommerce giant Alibaba, is practically zero. This is mainly due to intelligent product suggestions in the search bar and a learning filter navigation.
These functions are also playing an increasingly important role in B2B online shops. In order to make research as convenient as possible for the customer, all relevant data should be quickly accessible, visible and customizable by filters.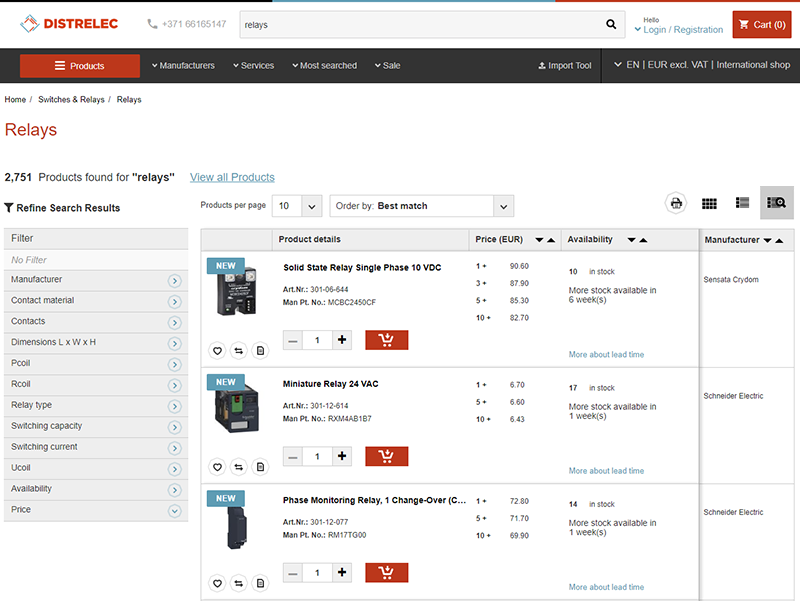 Filters are there to support customers in their selection – whether after entering a search term or clicking on a category. This is only possible as long as the sub-navigation is easy to use, manageable and well structured.
Personalisation
When you log in to your Amazon account, you will be offered products to buy again and products that are very similar to products you have already viewed or purchased. Your B2B customer also expects these functions, which are managed by learning algorithms.
Here B2B eCommerce even goes one step further, because it will be necessary to offer different prices to different customers. For example, a long-standing customer with known order and delivery circumstances receives a lower price than a new customer whose order implementation involves higher organizational costs. Another example of good personalization: A known customer logs into his account and sees certain items depending on his shopping cycles, which he will most likely add to the shopping cart.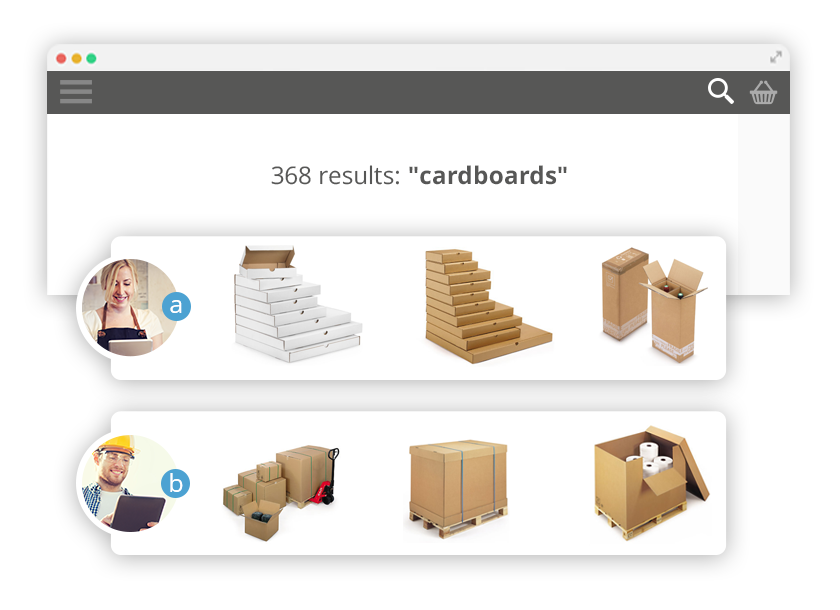 Buyers often have different expectations of one and the same search request. Personalised results ensure that customers find the right products as quickly as possible.
Design and appearance
Without an attractive landing page, which tells new customers that your company is serious and modern, customers will leave your site quickly. A user-friendly design plays an important role in the acquisition of new customers, as do meaningful product descriptions. These also allow better placement in search results on Google.
The most successful B2B web shops are characterised by a simple and clear layout with a logical structure. In addition, it is of advantage to make your corporate identity recognisable throughout all your channels in order to anchor your brand in the customer's memory.
Analysis
Data is sales. In B2B eCommerce it is also advantageous to know which content has been clicked on how often, where customers have jumped off and which ads are efficient or inefficient. Clear and fast data analysis enables better decision-making within the company. Optimize your online shop and your advertisements by analyzing them with suitable tools. The difficulty lies particularly in integrating the decisive communication channels and data sources. However, once the data analysis has been successfully implemented, you will be shown new perspectives that allow you to implement new process optimization projects.
Conclusion
The implementation of these requirements often fails due to the difficult implementation. Many B2B companies are still too under-digitized to meet future demands. Of course it is associated with a lot of effort and costs to successfully implement an online shop. Nevertheless, it is vital to start these projects, to maintain market shares and regular customers in the long term and at least to compete with Alibaba and Amazon Business in specific branches.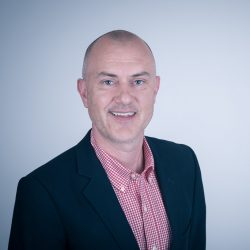 Stuart Patterson
is the New Business Manager at FACT-Finder for UK and Ireland. Stuart brings a wealth of ecommerce experience having worked in both UK and Irish markets extensively. He has worked with small entrepreneurial start-ups to Global brands such as BMW, Vodafone and Mindshareworld. Stuart brings a fresh outside the box type of approach based research and best practices. He has 10 years ecommerce experience across all verticals. As a previous business owner he knows how to create bespoke ecommerce solutions tailored to specific requirements and objectives.