Price pressure is on the increase in eCommerce and online shoppers are more demanding than ever. To offer your customers more added value and develop long-term customer loyalty, you need to think about their shopping experience. The customers themselves have already recognised the advantages personalisation can bring. This is demonstrated by the global "Connected Commerce" study from digitasLBi – it states that 87 percent of online shoppers buy more when they receive personalised offers after logging on. However, as is so often the case in eCommerce, there is much that can be done correctly, and much that can be done incorrectly, with personalisation. The following sections provide some suggestions.
Landing page with a personal touch
A landing page that adjusts itself to match the current context for the visitor helps to reduce the bounce rate. Is the user a new customer, or did the user log in as an existing customer? Did the customer place any items in the shopping cart on his/her last visit, without making a purchase? Can any clear preferences be derived from the customer's clicking and purchase behaviour? You can use this and other information. Uses can include the targeted display of incentives such as new customer discounts or notification of abandoned shopping carts.
What you need to look out for: Ensure that movement data such as clicks, shopping carts and purchases are tracked reliably and that your shop transfers the relevant cookie IDs or user IDs to your personalisation tool. The correct contents will be displayed for the relevant users – those that match their previous interactions.
What you need to avoid: If you are segmenting according to target groups, you need to add movement data to make sure that you do not just create your customer clusters based on master data. Otherwise, there is a significant risk of making incorrect or stereotypical assumptions regarding product recommendations.
Personalise search results based on standardised product data
Just like in retail stores, deciding which products enjoy the most prominent placement is also decisive in the online shop. The higher a product is to be found in the search result list, the more likely it is to be purchased. Ideally, those shop products that match the customer's tastes are to be found high up in the list. And that is exactly what you can control.
How does the personalisation of search results work? Based on tracking data in conjunction with cookie IDs (or login IDs if using logins), the internal search recognises individual customer preferences – e.g. specific brands, colours, price segments, categories – and upgrades the position of the most relevant products in the search result.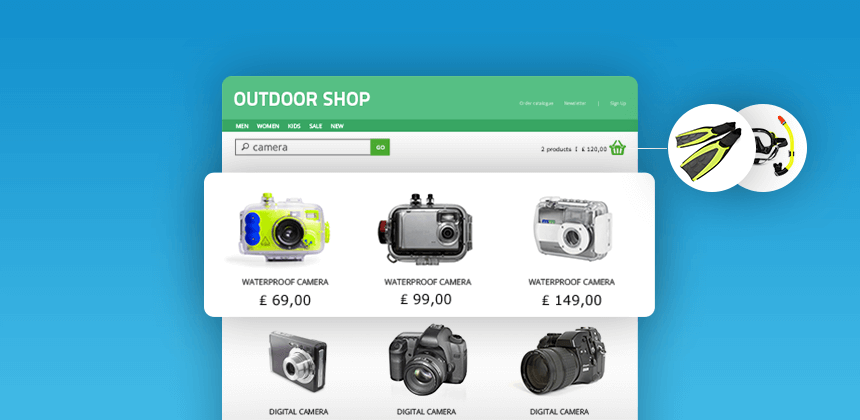 Search results that match your customers' interests are more likely to lead to conversion.
What you need to look out for: A personalisation engine needs standardised product data to be able to function well. In the fashion segment, it is often the case that manufacturers come up with idiosyncratic names for product colours – such as azure, ocean or frost.  However, to help the personalisation engine to work out that the customer likes to wear blue, then "blue" must be defined in the feed, in addition to the unusual names.
It is also important to ensure that the data feed fields are complete, wherever possible. If you notice that your feed does not contain enough product characteristics, the best idea is to add more relevant attributes. These are often tucked away in product descriptions and in other long texts.
What you need to avoid: Do not overdo it with the personalisation of your search results. A customer should not find only yellow ladies' clothing in his favourite shop, just because he once purchased a yellow blouse for his wife there. Personalisation only has a positive effect if the customer does not find it intrusive.
Fill shopping carts with individual recommendations
A product details page should not just motivate shoppers to place the product they are currently looking at in the shopping cart, but should also display relevant additional products. Recommendations that match customer tastes are a good way of setting your shop apart from the competition.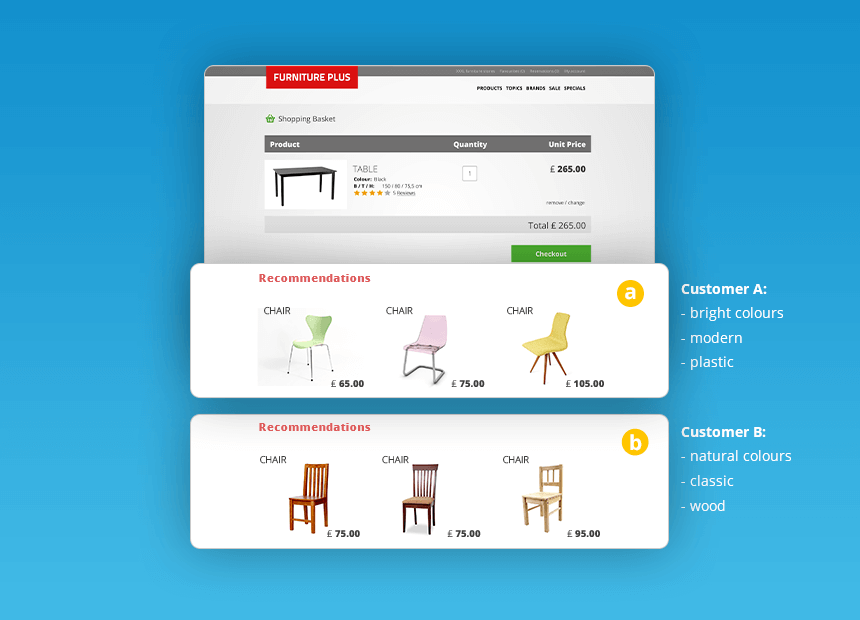 Customer tastes often determine which recommendations are correct. 
What you need to look out for: To allow the generation of purchasing-relevant recommendations, your recommendation engine should use various data sources. On the one hand, it needs to make use of what is known as the wisdom of the crowd – the information about which products are often purchased together and which categories are a good fit for one another. It also requires user-specific movement data, i.e. clicks, purchases and current shopping cart contents. If the cart contains a shirt and a tie, those items that would match them both should be displayed: for example, a jacket.
What you need to avoid: Unsuitable recommendations can irritate customers and damage your image. For example, if a Liverpool shirt is recommended alongside Manchester Utd shorts in your sporting goods shop. With mail-order pharmacies, there are also legal aspects to consider, as you are not allowed to offer medications with interactions. The best idea is to define blacklist logic to exclude such blunders.
Campaigns for individual target groups
Concrete actions – a search query, the selection of a filter or clicking on an Adwords ad – always reveal something about current customer interests. You can react to this by setting up targeted campaigns in your shop. For example, you can direct customers who are searching for a specific brand to a dedicated shop page with the look & feel of that label. Or you can create a useful advisor function that pops up when someone searches for a generic term such as "PC". Pushed products also provide you with additional personalisation for the highlight products for a campaign. For example, if you run a sporting fashion shop that defines a campaign for the search term "shirt", those items that are sold most often appear first in the result list. If you also activate personalisation here, a customer who has previously searched for pink shoes then sees pink best-seller articles at the top of the result list.
What you need to look out for: Put yourself in the position of your target groups. Which customer expects which contents, and at which location in your shop? The answers to these questions produce suitable locations for the implementation of your internal shop campaigns.
What you need to avoid: Do not just use static contents and product sets for your Adwords landing pages. These will not remain up-to-date for very long. It is better to ensure that your landing pages adjust dynamically – always dependent on the keyword that the customer enters in Google.
Conclusion – Relevance is Essential
Regardless of how you want to individually address your customers: instead of implementing personalisation as often as possible and in as many locations as possible, you need to focus on added value for the customer – increasing relevance and service – and test the effect of every action. If you do that, personalisation can be a real opportunity for you as a shop owner to set yourself apart from the price war on various marketplaces.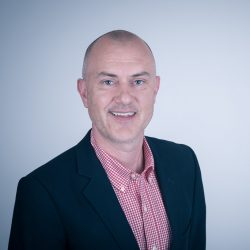 Stuart Patterson
is the New Business Manager at FACT-Finder for UK and Ireland. Stuart brings a wealth of ecommerce experience having worked in both UK and Irish markets extensively. He has worked with small entrepreneurial start-ups to Global brands such as BMW, Vodafone and Mindshareworld. Stuart brings a fresh outside the box type of approach based research and best practices. He has 10 years ecommerce experience across all verticals. As a previous business owner he knows how to create bespoke ecommerce solutions tailored to specific requirements and objectives.