Ratioform knows search optimizations pay off: They now benefit from 23% of visitors using the search, 15% search-driven conversion and cutting-edge search tools that will propel their already established online success.
For business buyers, the concept of online-first is becoming increasingly important. Instead of making purchases via phone or paper forms, many B2B buyers now prefer to place orders online, just as they do in their private lives. But how do you lead buyers quickly to the right products in a complex B2B range? Ratioform, the leading supplier of packaging solutions and a TAKKT AG company, was also faced with this challenge.
Sustainable packaging material comes in a wide variety of designs – whether large, small, unbreakable or corrosion-resistant, Ratioform covers the spectrum, consistently aligning its services to the needs of its buyers. With FACT-Finder, Ratioform not only provides fast, intelligent search, it also uses the technology to implement a completely new B2B feature known as the Carton Finder. Patricia Waibl, UX Manager at Ratioform, provides insights into how this European-wide B2B company optimizes its site search.
Double-digit growth in 2020
Ratioform is experiencing firsthand just how much the Corona pandemic is driving adoption and demand for digital sourcing opportunities. This omnichannel company had set high goals for its e-commerce growth in 2020 and achieved them all – within one year, online sales increased by 11%, accounting for 30% of total sales.
On one hand, this success was made possible by the increased traffic during the lockdowns. On the other, it was also due to the targeted optimizations that Ratioform's e-commerce team continuously performs. One of them, for example, was getting more visitors to use the search.
Patricia explains, "Since last year, we've made our search function more prominent and added an interactive GIF. This has enabled us to increase the proportion of visitors using search to 23% – which has directly impacted our sales. Our search conversion rate is now very good, at over 15%."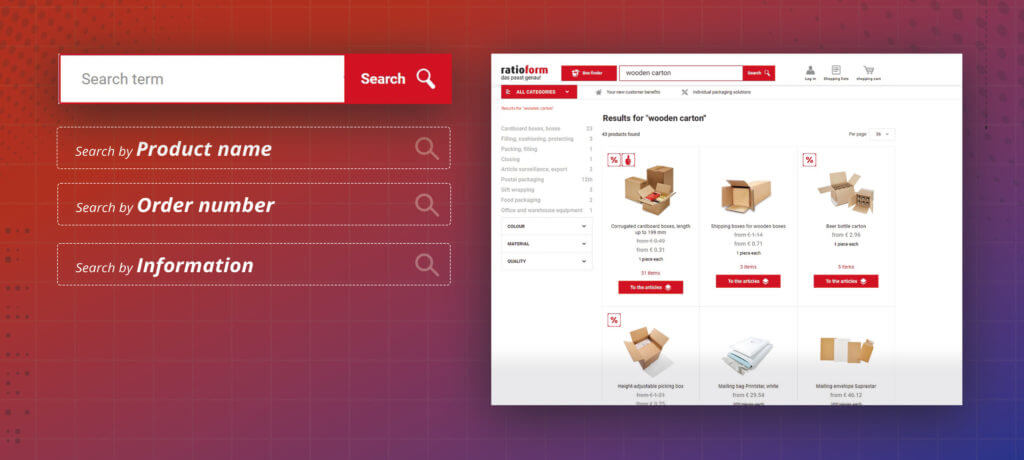 15 years with FACT-Finder
From product search to suggestions to filters, FACT-Finder covers all search-related functions. Ratioform has been relying on the self-learning solution for 15 years. During the most current relaunch, FACT-Finder was integrated even deeper into the core processes of the Ratioform shop.
"For our relaunch, we retooled the technology and implemented it even deeper," says Patricia. "Previously, FACT-Finder answered only product-related search queries. If a customer entered an article number or a content keyword, the search result came from the store itself. We have now replaced this hybrid solution purely with FACT-Finder's search. I think the holistic solution is much better and it works very well. For example, we use feedback campaigns to also map the content areas in the search. And we use advisor campaigns to help customers select products on specific category pages."
"The FACT-Finder support is excellent"
"I would also like to emphasize the good cooperation with the service team," Patricia continues. "The FACT-Finder support is excellent. Due to our in-house server structure, it often happens that we have technical questions. Even with highly complex issues, we are always helped quickly and reliably. In addition, the operation of the software is consistently stable – in my four years with the solution, there have never been any major limitations."

Ratioform's Carton Finder is search reimagined
Ratioform's e-commerce team shows a great deal of commitment and innovation in guiding shoppers to the right cardboard boxes as quickly as possible. For example, a new format for the Ratioform Carton Finder was also implemented as part of the relaunch.
This feature allows buyers to enter their desired carton dimensions and intelligently compared them against tens of thousands of products. In the list of results, the Ratioform shop not only shows products that exactly match the entries but also those that deviate slightly. For each result, a box is displayed with green and red to indicate which dimensions match and which do not. After all, outer packaging can often have wiggle room and does not have to fit exactly to the millimeter.
"We had already built in a self-developed carton finder solution in the previous store version. But our thought was 'why should we program our own search engine when we already have intelligent search technology onboard?' That's why we decided to map the carton finder via FACT-Finder," explains Patricia.
"For us, the Carton Finder is a real USP and we achieve very good conversions with it. At the moment, we are still fine-tuning it, but the current status is already very good. In the future, we would like to optimize it even further and incorporate more know-how. Our vision is to offer customers a window where they can enter all their requirements – so in addition to dimensions, for example, attributes such as 'fast packaging' or 'corrosion-resistant'. We are happy to have FACT-Finder as a search tool that allows us to put our ideas into practice," concludes Patricia.