Our two-time, back-to-back winning technology sets us apart from other solution providers. That same technology sets FACT-Finder-powered online shops above the competition.
We are in the peak of awards season, the annual time period where the most distinguished film and music award events take place. These long-awaited ceremonies have been in the works since October, when ballots were sent out to voters to collect nominations. Awards season typically begins with the Toronto International Film Festival, which takes place in early September, and culminates with the coveted Academy Awards in early February.
The elaborate extravaganza, from the fashion spectacle on the red carpet to grand musical performances, is all in honor of the significance of the event. Artists are transformed from nominees to winners, in the sight of millions of viewers. They receive recognition from their industry leaders and peers for the excellence in their artistic achievements. They are awarded not only with a statuette representing their merit but with a title of prestigious reputation to carry with them a lifetime. In brief, it is easy to understand why these awards are meaningful to those involved. Although FACT-Finder is not an actor or a singer, we are the technical crew of more than 1,600 online shops – working behind the scenes to power conversion and drive sales. Which is why we are so proud to announce that FACT-Finder has won in the software category for 'Best Site Search Solution 2020'.
"And the award goes to….."
Competing against the leading on-site search technologies worldwide, FACT-Finder is thrilled to announce that it came out on top – winning the #1 spot for Best Site Search Solution 2020. This win is very exciting not only due to the reward for work well done but because of what it means for our FACT-Finder users. What sets our technology apart from other software also sets FACT-Finder-powered online shops from the competition.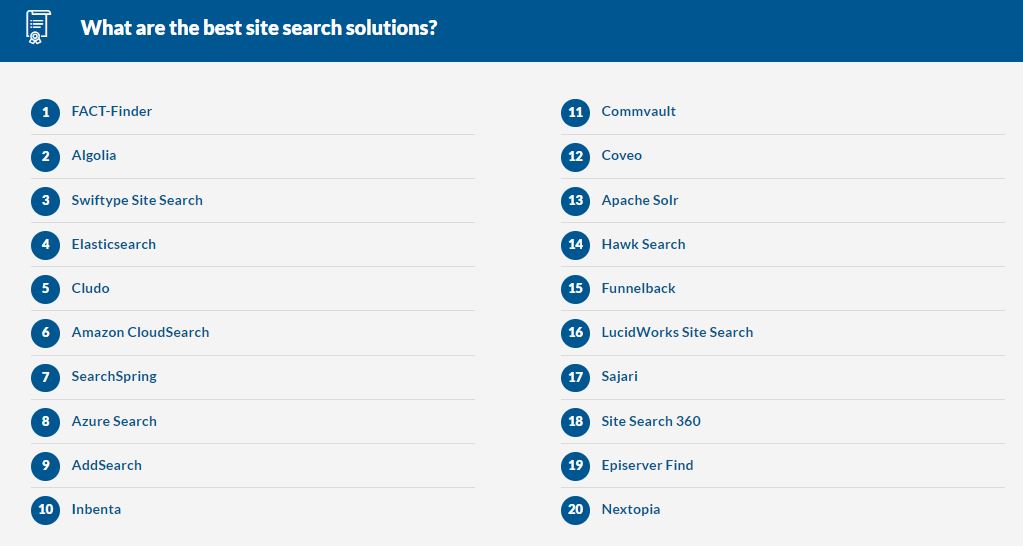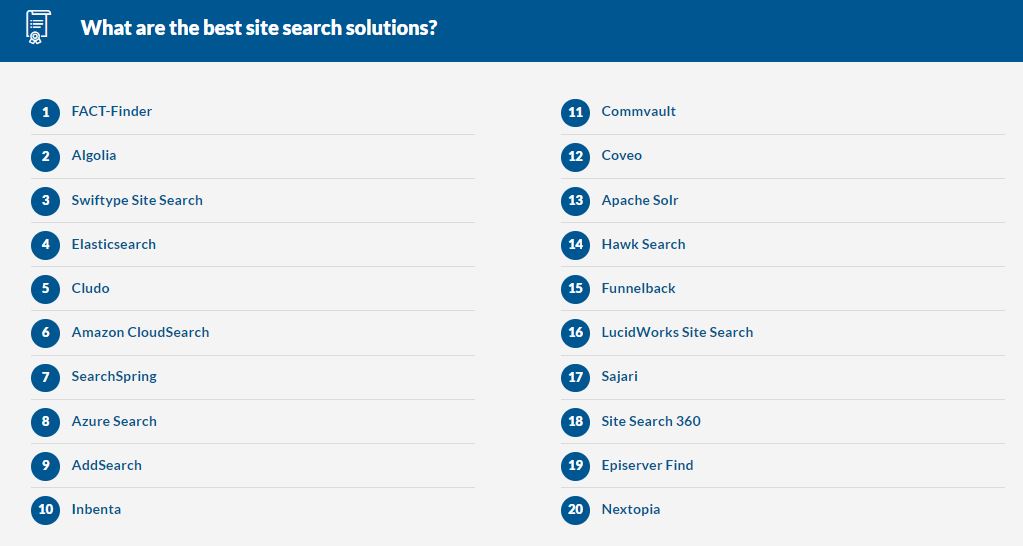 This is the second time FACT-Finder has been honored with this award, the previous time being 2019 – making our software a two-time, back-to-back winner. To read the full review, visit Best 20 Site Search Solutions for 2020. To learn more about our accolades, visit our Best Site Search Solution 2019, Great User Experience, Expert's Choice, and Supreme Software articles.
'Best Site Search Solution' award process
Electing the year's highest achievers in the industry demands a rigorous process. Let's take the Academy Awards, often shortened to the Oscars, as an example. Barring all grandiose, philosophical reasoning, the Oscars are the industry's biggest and glitziest way to celebrate the best movies of the year, as selected by elites across various cinematic fields. The voting body for the Academy Awards is comprised of more than 7,000 members across various practices, including actors, writers, directors, and cinematographers. After the nominations are announced, members get a week to choose their final favorites. Instead of just picking their favorite movie, voters have to rank all nominated films in order1. Certified public accountants from a firm designated by the academy's president go through and kick out the movie that gets the least votes overall, repeating this process until they end up with the film with the most votes overall.
After all the voting and tallying, the winners are finally determined, but they are not reported to anyone. Only two accountants see the final results and they are responsible for keeping those results secret until the awards ceremony. The accountants memorize the names of the winners, stuff two sets of envelopes, and pack and store two briefcases at an undisclosed location until the day of the ceremony. Neither the members of the academy nor the producers of the awards show know who will receive an Oscar. It is a complete mystery until the presenter utters one of the most famous lines in Hollywood: "And the Oscar goes to…."2 See what we mean by rigorous?
In a similar way is the 'Best Site Search Solution' award granted. FinancesOnline, the party behind this award, is the fastest growing independent review platform for B2B, SaaS and financial solutions. They award providers across various fields to help businesses find a solution that will fit their business needs. To achieve that goal, they have a team of SaaS and finance experts who are constantly reviewing all major solutions and services. In order to find the best site search provider, the platform left no stone unturned. It gathered 46 leading solutions and examined them carefully, specifically focusing on nine critical factors: main functionality, collaboration features, customization, integration, ease of use, general impression, help & support, security, and mobility. The SmartScore® system, created by FinancesOnline, aggregates the count of these nine components totaling the final score of each business solution.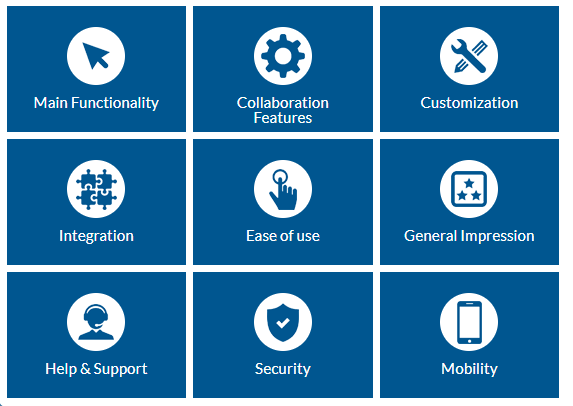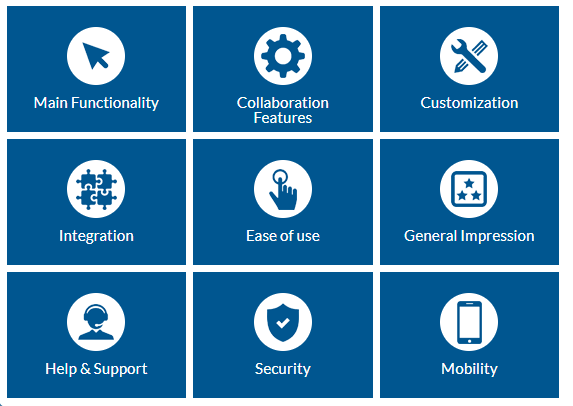 FACT-Finder is awarded a 9 out of 10 through the SmartScore® system.
In addition to the performance of the software, FinancesOnline also considers the experience of customers who have used the solution as a critical factor in the decision-making process. That is why, they use the behavior-based Customer Satisfaction Algorithm™ to gather user opinions; these can be reviews and comments across a wide range of social media sites as well as blogs and websites. The algorithm collects all the reviews and filters out the comments and posts that do not feature a customer's opinion. It then processes the reviews through a set of filters to extract key data from each review such as detailed keyword analysis, social response signals and various meta data. After all partial data is analysed and evaluated, the system assigns a single customer satisfaction score. This allows users an easy and transparent way to compare customers' experience.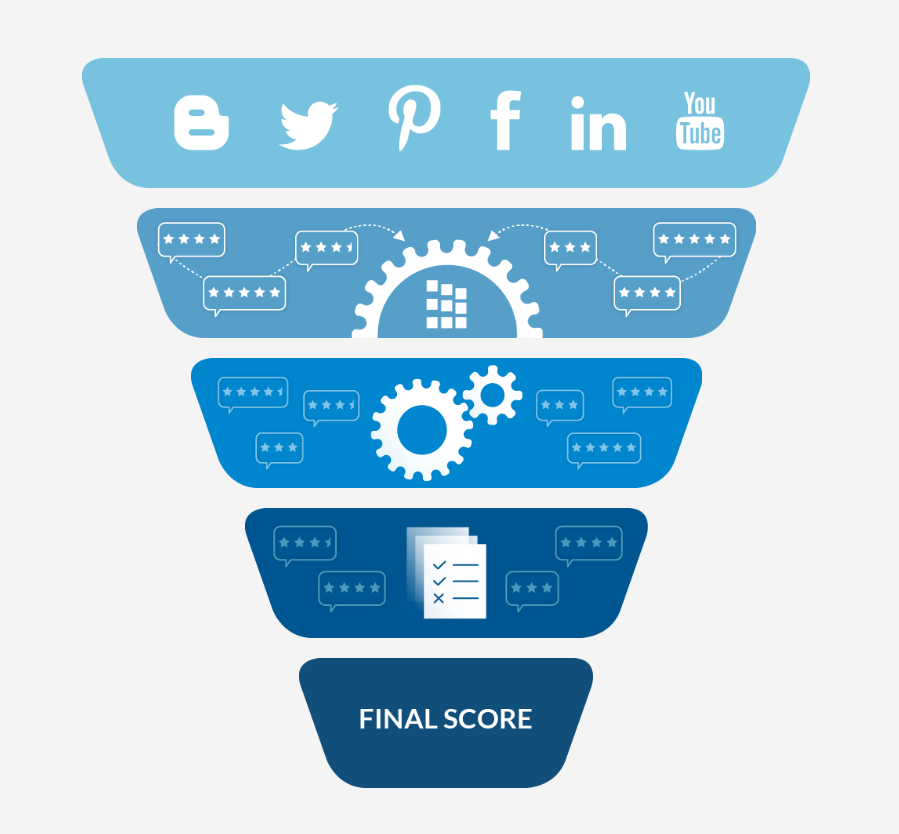 FACT-Finder is awarded a user satisfaction score of 96%.
FinancesOnline uses these two values to compare the solutions to one another, narrowing down their list from 46 to the leading 20. From there, they do a one-by-one review of each product: what it is, its benefits, features, what problems the solution will solve, any additional awards and quality certificates, pricing, technical details, support the company offers, and useful resources.
"We would like to thank….."
Our success stems from the technology at our core and the people behind it. FACT-Finder has been using AI since our founding and Machine Learning since 2006. We have a dedicated SaaS team focused on maximising the stability and performance of your conversion engine. Our support team of consulting, customer care, and service desk are eager to provide personalised advice, provide expert training, answer any questions and provide full assistance. With FACT-Finder, you will not encounter an anonymous call centre or help portals and forums as with open source solutions.
We are delighted that our software is worthy of recognition and see this as an opportunity to continue doing the utmost for online retailers. If you would like to see our software in action, request a free demo. This is an easy way to test drive our software features at no cost, giving you the chance to understand how the software can help boost your company's efficiency and profitability.



---
About FinancesOnline
FinancesOnline is a free platform that lets you find the best B2B and SaaS solutions. Each year they help millions of users compare products, find customer reviews and reports from experts to easily choose a solution that will let your company grow. To discover additional business applications, visit https://financesonline.com/.
https://www.vanityfair.com/hollywood/2018/09/awards-season-guide[↩]
https://www.britannica.com/story/who-votes-for-the-academy-awards[↩]