Consumers need help finding the perfect Mother's Day gift. We have one easy, intuitive, and fully digital solution to help them.
Moms. What would we do without them? Were it not for them, we wouldn't even be here reading this article. There are not enough words or ways to express how special they are, which is why celebrating all that they do is so important.
Although we don't all share the same date, we do share the same sentiment: expressing our utmost gratitude – but what are you to gift the most dear and important person in your life?
Consumers are wondering that too, and it shows: the top Google 1 searches around the search term "mother's day" are:
best mothers day gifts
good mothers day gifts
top mothers day gift
A survey by Statista 2 also found that what is most important to consumers when buying Mother's Day gifts is finding a gift that's unique or different (44%) and finding a gift that creates a special memory (38%).
We can see a pattern here – no one is shooting for average or unexceptional. Consumers want to be the best gift-givers for mom.
Mother's Day Shopping Trends
The National Retail Federation reports that consumer spending for Mother's Day has been continually growing, reaching a record $25 billion last year in the U.S. alone. They also found that of the total 84% of American adults who celebrated the day, these were the types of gifts they planned to purchase:
Traditional gift such as flowers and cards are still popular choices but more unconventional options have also emerged over the past years. Consumers are looking for unique and memorable gifting options. For example, the number of people planning to gift a personal service, like a much-deserved massage, has grown from 16% to 24%, and spending on these gifts has doubled.
Product subscription services are also growing in popularity for consumers looking to give moms a gift that keeps on giving. Other types of gifts such as electronics and gift cards have too risen in popularity.
While these unique gift categories continue to grow, they're doing so alongside more classic Mother's Day gifts rather than replacing them. Over the last 10 years, spending on flowers has grown by a third while spending on Mother's Day jewelry has increased from $2.3 billion to over $5 billion today 3.
Consumers: "Help, I need Mother's Day ideas!"
Finding the perfect gift for mom is not necessarily an easy task. With more purchase options than ever, it's understandable that online shoppers can feel overwhelmed when making a purchase decision.
Perhaps that's why 81% of consumers say they look to retailers for inspiration 4 when making Mother's Day purchases.
It's in these early stages of researching what they want to buy that consumers turn online for help. During this beginner step, most people aren't brand-committed – they are just looking to discover ideas and inspiration.
In fact, 90% of smartphone users are not absolutely certain of the specific brand they want to buy when they begin looking for information online 5.
Ultimately, the decision on where to buy these thoughtful gifts will come down to the retailers that can provide them with the best ideas.
---
Want expert e-commerce help tailored to your online shop?
Ask our consultants!

---
Retailers: "We are here to help you!"
It's during this early point in the consumer decision journey that retailers are presented with an ideal opportunity to market and engage with potential shoppers. Brands are able to directly answer consumer needs by offering a helping hand during these I-need-ideas moments.
One of the simplest and most effective marketing ideas is gift guides. That's because consumers appreciate the extra help from retailers who sift through the internet's endless list of items on their behalf and pull out the things they might actually like.
An example of this is Nordstrom's6 Mother's Day gift guide.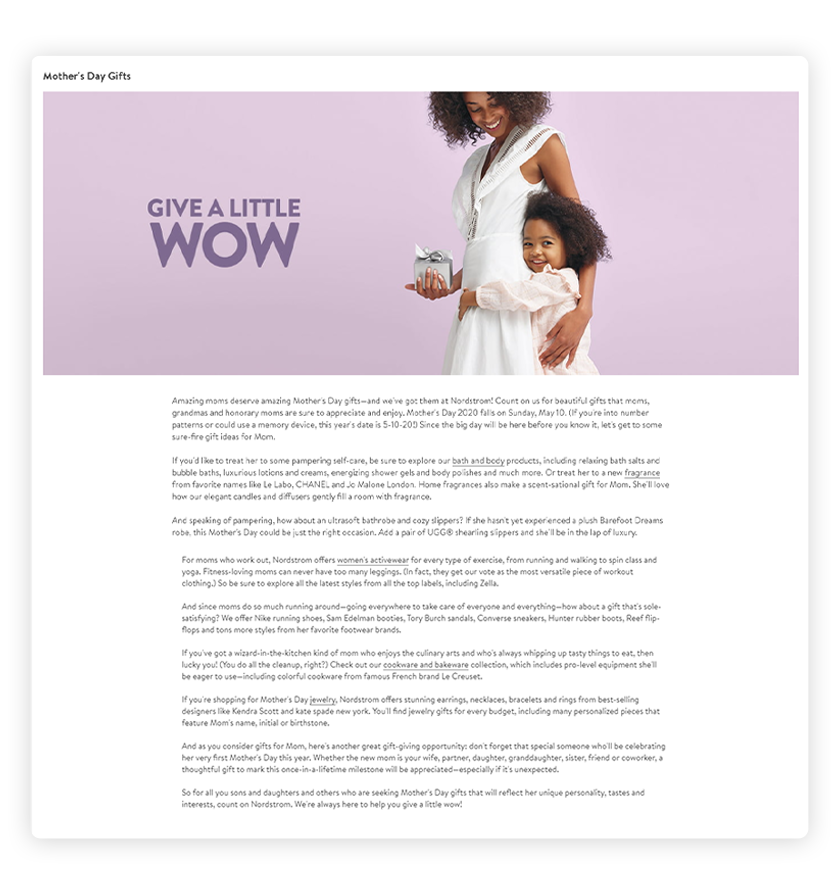 Nordstrom's guide provides shoppers with a detailed and comprehensive list of choices, from running shoes to bakeware.
Unfortunately, it's not so easy on the eyes – the amount of text with no images makes it hard to understand or follow. It's important that gift guides are both helpful and appealing.
Remember that a considerable portion of shoppers use their mobile devices when searching and shopping online. This is crucial to keep in mind for marketing ideas because consumers who use their smartphones at least once a week to shop, say that product images are the shopping feature they turn to most. That's because images are one of the quickest and easiest ways for visitors to get an idea of your products.
When done correctly, the gift guide format not only attracts readers but can also convert them into buyers.
Thoughtful marketing idea: Guided Selling
Do you want to create a gift guide that is both useful and visually appealing? Then Guided Selling marketing campaigns are the way to go.
Guided Selling is a type of advisory campaign that gives you the ability to assist shoppers like you would in-store. It's the equivalent of an in-person exchange: interactive, helpful and intuitive – but fully digital. It works through a question-and-answer format that is displayed by text and images.
Customers easily answer the questions based on visual preferences and characteristics until their options are filtered down to the perfect gift.
The benefits of guided selling are that it gives the ability to guides the user with targeted questions. This is especially useful when consumers aren't sure of what they're searching for. Because customers are fully involved and informed in the product selection, product return rates are directly reduced.
Guided selling also offers the advantage of increased trust and turns indecisive visitors into active buyers.
How does Guided Selling work?
This Mother's Day consultant is ready to provide shoppers with the gift-buying guidance and support customers desire. It begins by asking the user a simple yet selective question. The consultant offers a choice of corresponding answers with text and images, making it both easy and fun to use.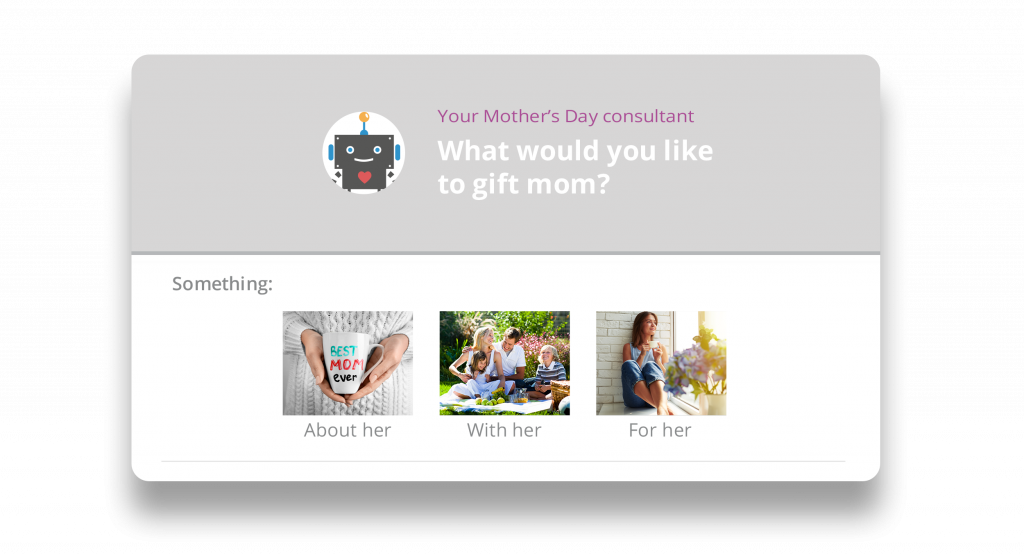 Based on the answer selected, the consultant then displays appropriate follow-up questions.
Let's say the user chooses "for her" as their answer. The digital consultant refines the results by restricting unwanted products that match "about her" or "with her". Rather, it prompts the user with a second question that will further refine the matching products to gift "for her".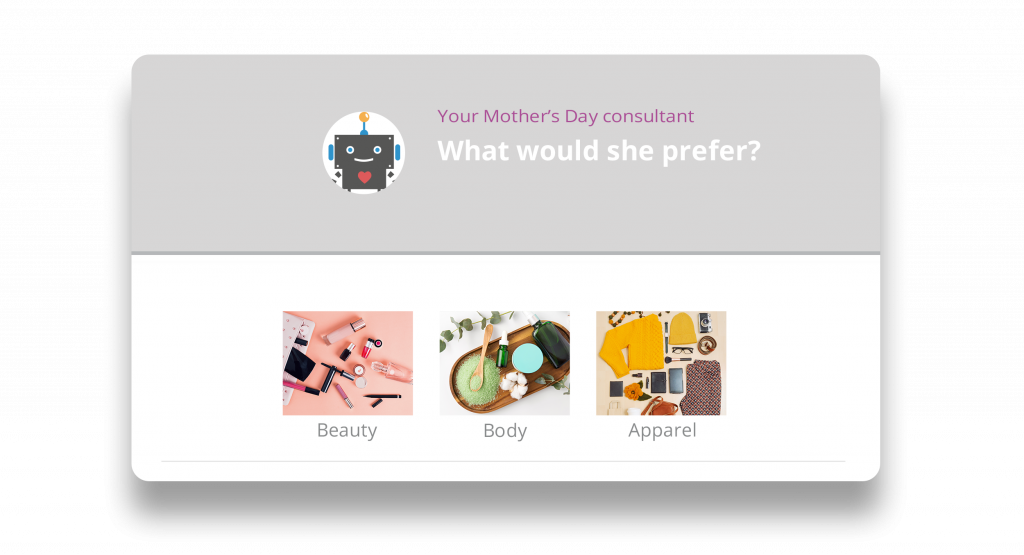 The more questions answered, the more the results are filtered, leading to a more precise selection of highly-relevant products. The user is then able to easily see and quickly find products that match their "body" gift preference.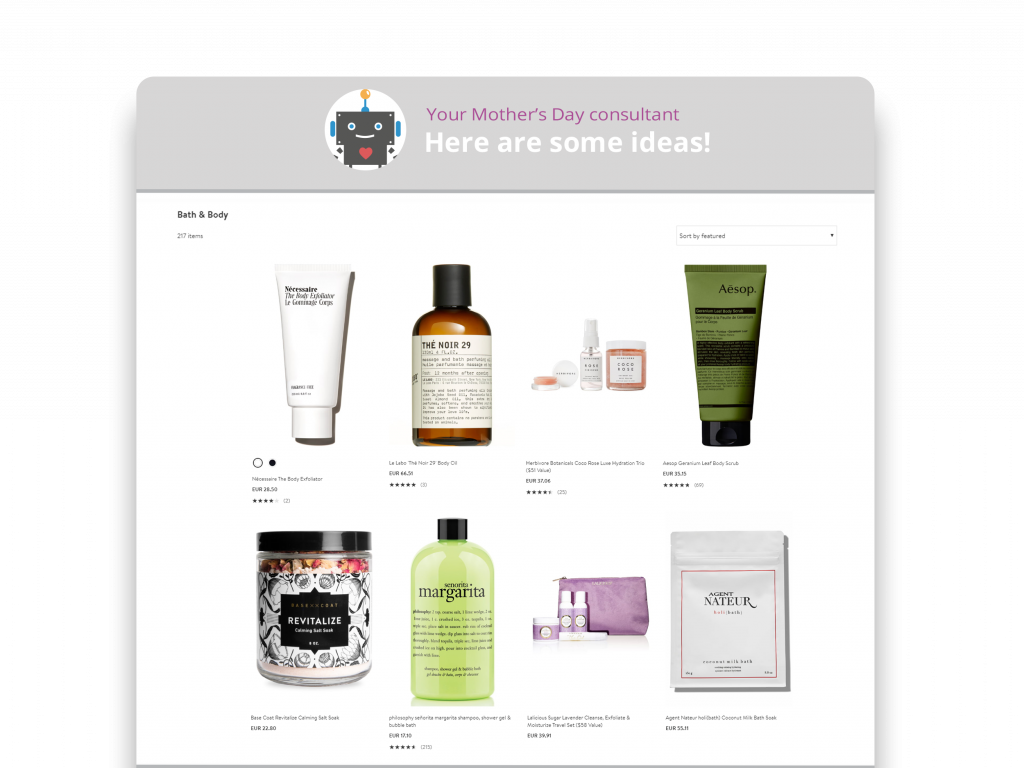 7 Simple Steps to Activating Guided Selling
Guided selling campaigns are a powerful tool for digital merchandising. The good news is that powerful doesn't have to mean difficult. Guided selling campaigns are actually very easy to set up. To activate your FACT-Finder guided selling campaign follow these 7 simple steps.
1. On the FACT-Finder back-end, click on the "Campaigns" module.
2. Click on "Add Campaign" and choose "Advisor".
3. Choose the campaign name, define a time frame and a trigger. A trigger is what will launch the campaign, for example the search term "Mother's Day".
4. List the question(s) you want to ask the user.
5. Then, list the corresponding answer(s).
6. Choose a product list for the answers. They can be up-selling, cross-selling, most popular, product, or list of article numbers.
7. The last step is to review your settings and make any additional adjustments. Then click activate to make the new guided selling live. It's really that easy.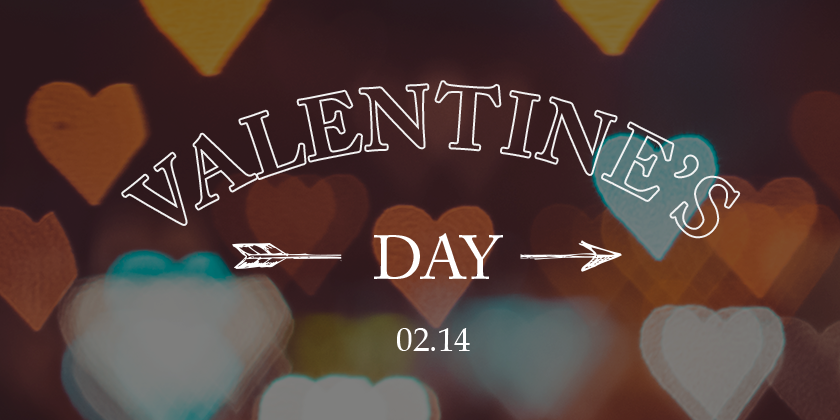 ---