Love is in the air, and so is the opportunity to achieve higher-than-average sales on this Valentine's Day.
Valentine's Day is fast approaching. This year, February 14th falls on the second Sunday of the month.
Across the world gifts will be exchanged between loved ones, all in the name of St. Valentine. Although the origins of this day were romantic, today it's not only couples who are commemorated.
It has become increasingly common to use this day to reflect on all the different types of love in life, from children, parents, friends, coworkers, to pets. As a broad range of consumers indulge in this day of affection, it's important that retailers to spruce up their online experience.
If you are a retailer who doesn't offer traditional Valentine's Day gifts (flowers, jewelry, candy), don't worry. For many customers today, Valentine's Day is an opportunity to gift the perfect gift – which translates to personalized and unique.
Some shoppers plan to gift a loved one, others plan to treat themselves to something special, hold a get-together with single friends or even purchase anti-Valentine's Day gifts. So even if the products you offer don't fall into the traditional category, with a bit of imagination, you can still achieve higher-than-average sales on Valentine's Day.
In the name of love, we are sharing 6 methods to make your online shop totally irresistible and showing exactly how to implement them.
1. Make your products customizable
Finding the perfect gift, from the heart, for your one and only, to demonstrate your undying love and affection requires a lot of work and a big investment, right?
Not necessarily. Custom-made gifts are here to help with the sometimes-difficult process of gift-giving.
Customizable gifts are a perfect opportunity to find an item that is useful and practical, but at the same time you make it your own. A perfume bottle may seem like nothing out of the ordinary, but a perfume bottle engraved with a heartfelt message from a loved one is something else entirely.
It's said that "it's the thought that counts" and that is certainly true of personalized gifts – from the detailing of the item, to the packaging, to the accompanying card message, shows that the giver has put in time and thought. All without the unnecessary hassle, while adding value.
Personalization offers an appealing, cost-effective way for consumers to form an emotional connection to a particular product, while retailers enjoy increased loyalty and customer satisfaction rates.
Tip: provide customers with additional services such as product personalisation, the choice of gift wrapping or customised greeting cards. Suddenly items like sneakers and DVDs get a romantic touch – increasing the probability of a purchase.

2. Create a temporary Valentine's Day category
Theme pages generate strong visual purchasing incentives – not just for the product being searched for, but also for articles from completely different categories. For example, perfume, clothes, electronics, and decor are normally found in separate product groups. When grouped together, however, they collectively generate additional value under a "Valentine's Day Gifts" category. Customers who initially wanted to buy perfume, can then discover unexpected gift ideas.
Tip: position products that would be fitting as presents under a "Valentine's Day Gifts" category. That way, online visitors can head directly to the gift ideas list, see a comprehensive view of all items available, and perhaps buy more than originally planned.
FACT-Finder users can easily create such event-related categories through the feedback function in the Merchandising module.
First, define the time frame for the campaign. Then, define what triggers it – in this case, category selection. Finally, determine which product set, banner, and text are to be displayed above the product results.
That's it – your Valentine's Day page is now ready to go. Bonus: to direct even more traffic, link this page to your AdWords campaigns.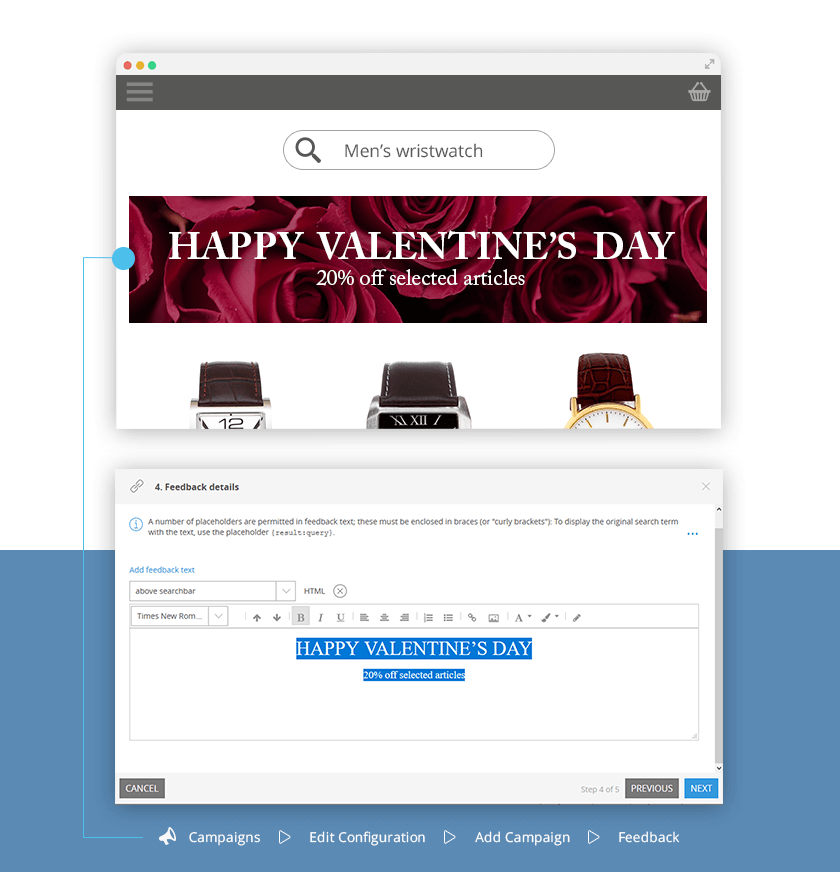 ---
Want expert e-commerce help tailored to your online shop?
Ask our consultants!

---
3. Display your Valentine's Day category within the search suggestions
According to Google Search data, Valentine's Day is the #2 holiday for last-minute gift shopping, meaning shoppers are turning to their devices for help.
With only a short time to make a purchase, no shopper wants to type long search terms like "polished stainless-steel wristband" – especially on mobile devices where typing can be especially tedious and time-consuming.
Customers are very familiar with search suggestions (such as those provided by Google) which appear in a drop-down menu as soon as the first letters are typed. Bring that to life in your online shop via an automatic menu that intelligently suggests products, categories, and content.
It's not just about speeding up the search process but rather about guiding the user and helping them in constructing their search.
Retailers who offer this type of dynamic suggest function and make it easy to find products by quickly suggesting them, win the hearts of lovestruck consumers by helping them find the perfect gift just in time.
Tip: showcase your Valentine's Day gift ideas in the suggest menu to help increase awareness among visitors while giving them the ability to easily access what they are looking for.
FACT-Finder users are able to display selected campaigns in addition to product suggestions, even while visitors are still typing their search term. To do this, you only need to add a new suggest category in the back-end. You are then able to create a whitelist entry to integrate your Valentine's Day page into the suggest menu. It will then appear whenever a visitor enters a term that matches a product from your "Valentine's Day Gifts" category.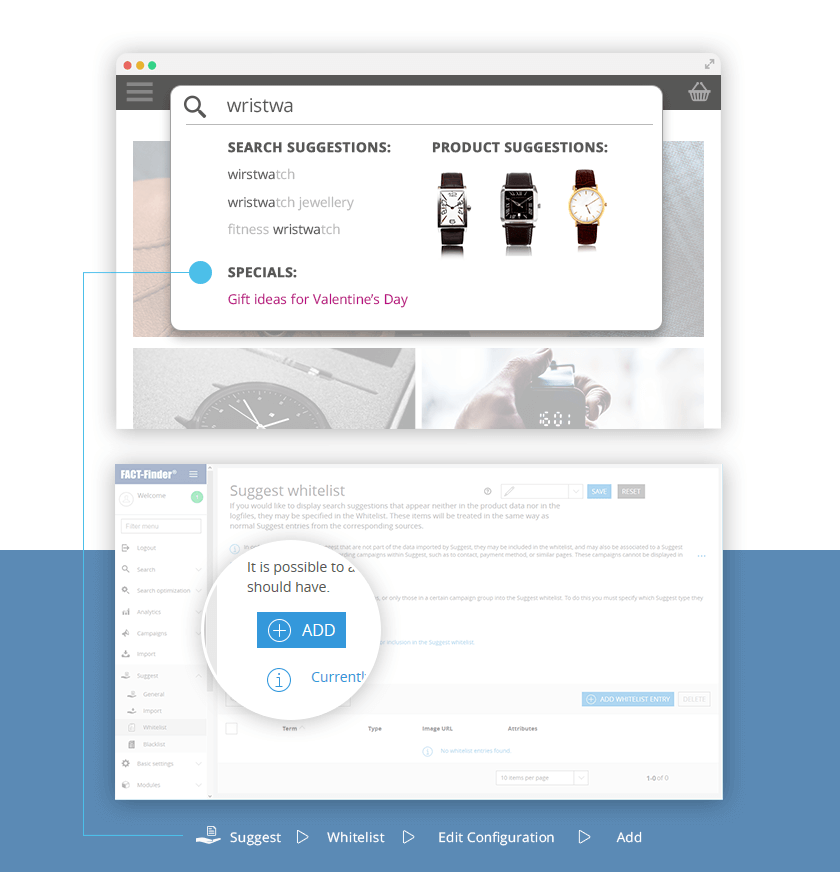 4. Provide advice for choosing the perfect gift
Some online visitors may still be undecided about which gift to choose. In order to prevent them from aimlessly clicking around and ultimately abandoning the site, retailers should cease the opportunity to guide them.
Advisor campaigns allow retailers to assist online customers as a trained sales assistant would in person, using selective questions – known as guided selling.
This Q&A format refines search results by restricting unwanted products. The more questions answered, the more the results are filtered, leading to a precise list of highly-relevant products.
Guided selling offers the advantage of increased trust and turns indecisive visitors into active buyers.
Tip: support customers in choosing the right product by providing guidance through guided selling. It's the online equivalent of an in-person exchange: interactive, helpful and intuitive – but fully digital.

With some forward planning, you only need a few minutes to create an advisor campaign with FACT-Finder. Select the "Advisor" function in the back-end, there you can define the conditions under which your campaign should appear (for example, a specific search term). Then, create your question-answer tree, by defining which answer matches which product results. If you have accompanying graphics, you can use them to visualise the answer options.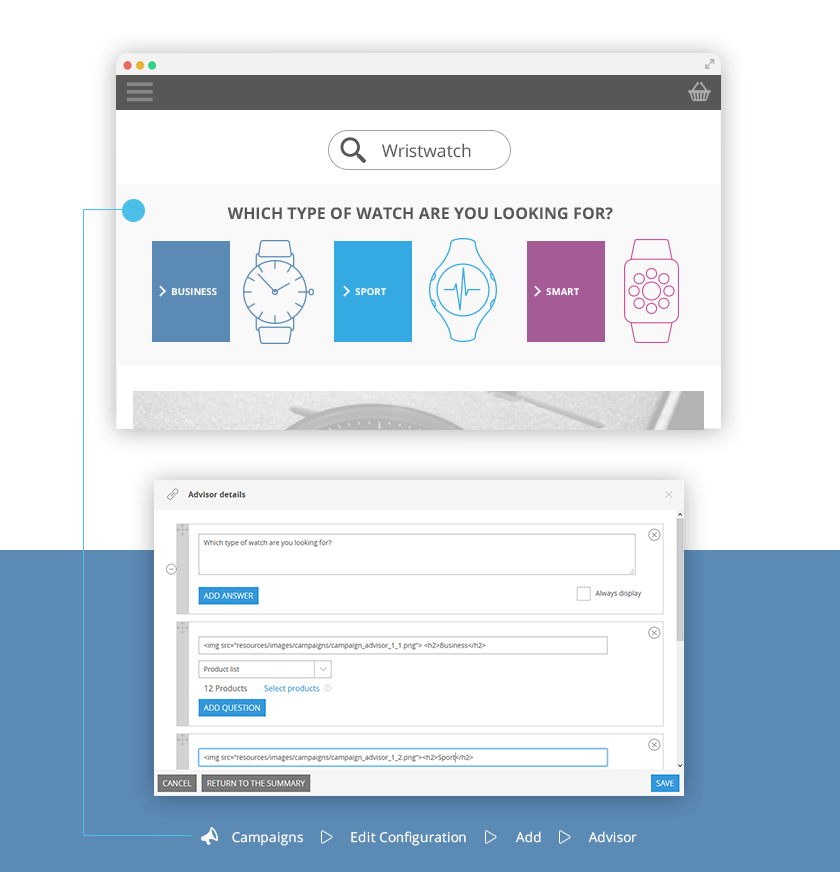 5. Offer relevant content and make it visible
Whether it's a blog post on cooking a romantic dinner or a video tutorial on how to make homemade cards, appealing content is a powerful lever for more traffic and higher sales. This is especially important to arouse the interest of new, potential customers. But you can't make a first impression if shoppers can't find your content.
Tip: provide visitors with creative content that incentivises online purchases. For example, a "Lovable DIY Valentine's Day Cards" video tutorial featuring step-by-step instructions is great. Being able to buy the materials necessary through the same website, even better.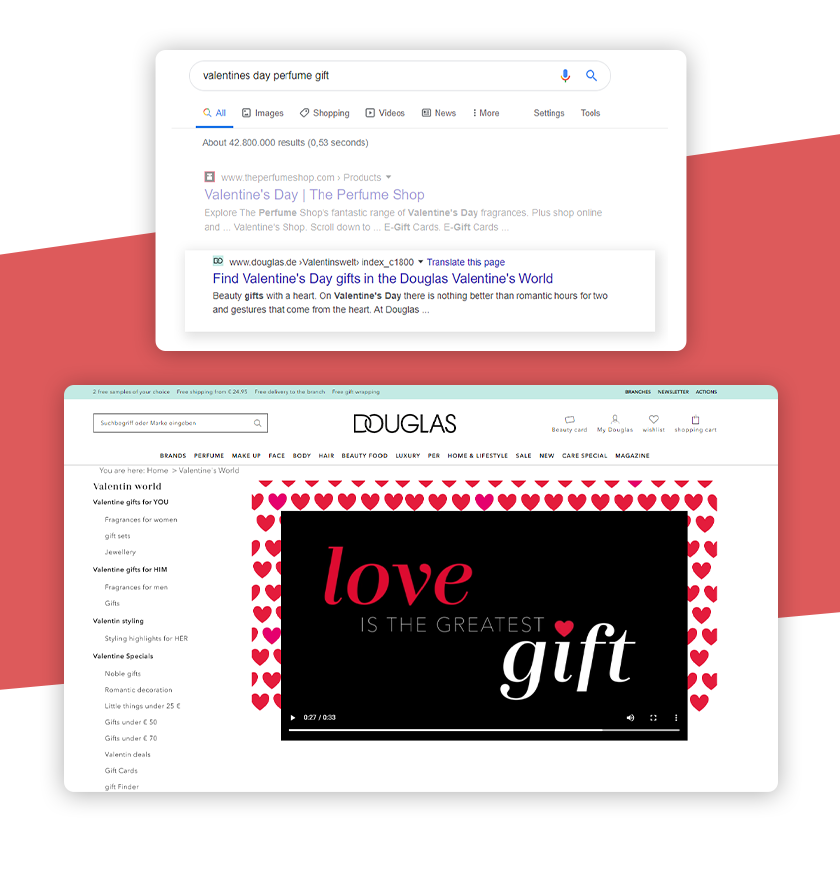 In addition to promoting your content within your online shop, we recommend expanding it to organic searches. Research in advance to learn which Google keywords are best suited for your content. The higher your content ranks on Google, the more online shoppers you will reach and the greater the attention you draw to your product offers. If you have implemented our tips above, such as creating a "Valentine's Day Gifts" category or implementing a gift advisor campaign, you now have more content to promote.
6. Entice customers with additional recommendations
Conversion is not the only objective – successful e-commerce also depends on the average size of customer shopping carts.
It's easy to increase the cart volume by providing suitable product recommendations. For example, a person who buys a gift may also need gift wrapping and a complementary accessory but, a lot of times they don't think about it – until you show it to them.
Help shoppers give the ultimate Valentine's Day gift by suggesting items that complement their purchase.
Tip: directly offer related products that the shopper might additionally need or want. This is an effective way to cross-sell and increase the value of the shopping cart.
FACT-Finder users who utilise the Recommendation Engine can easily set this up. In the back-end, you will see the "Manual Recommendation" menu it. Here, you can specify which additional items are to be recommended for which products. It's that easy.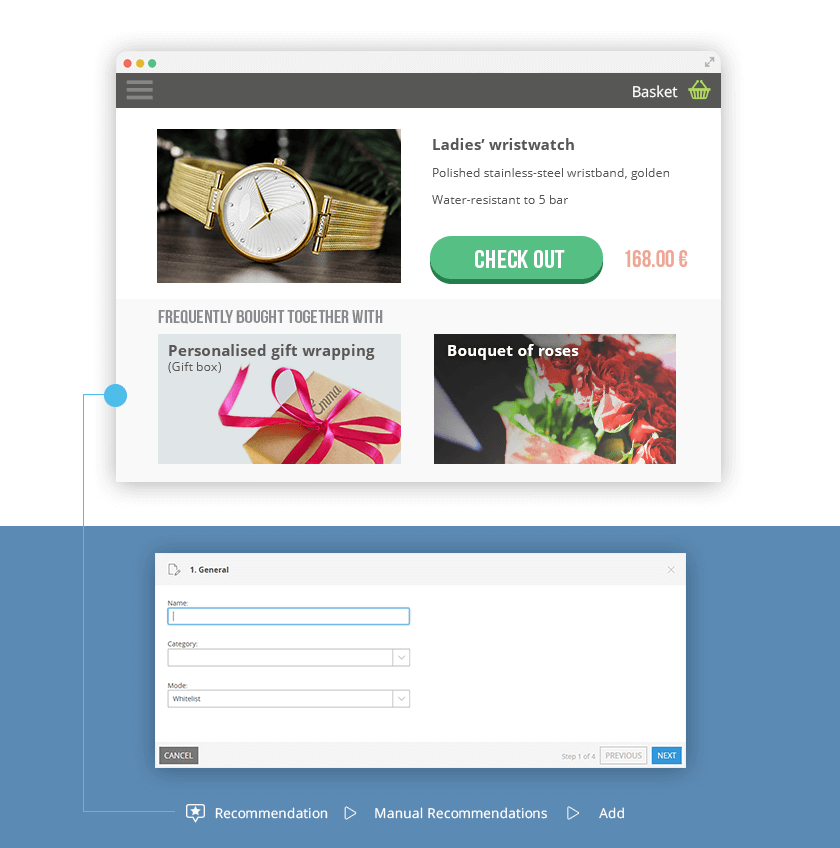 Conquering hearts on Valentine's Day
Clever on-site marketing can make February 14th a profitable day for any retailer.
Keep in mind that many online shoppers buy their gifts last minute, therefore organize your gift ideas in a way that encourages and facilitates spontaneous purchases.
Ensure that your Valentine's Day offers are positioned in the most visible locations, this also holds true for discounts on vouchers or selected articles.
All visitors are potential buyers, but visitors cannot convert into buyers if they can't find what they are looking for. The crucial element in the purchase process for special holidays is leading visitors quickly and conveniently to the products they are searching.