Welcome to this edition of "E-Commerce Tip of the Month," a blog series where we provide retailers like you with actionable advice to increase sales and improve the customer journey in your online shop.
As a digital native, I'm quite comfortable with making my purchases online, and I do it quite often. This was true before the pandemic, and it's even more true now. However, there's still a large percentage of the population that are learning to shop online for the first time – and struggling. As retailers, it's your job to make that experience as seamless and intuitive for them as possible. My mom, for example, is now buying all of her groceries online – and this coming from a woman that still doesn't understand that you don't need a new email address for every new computer that you buy (sorry mom, you know I love you).
So let's jump into a 'quick win' of how you can help guide your customers through their online purchasing decisions to make them feel more confident in their choices using optimized product filters; after all, who wants to deal with returning something they bought online after they already had to wait for it to be shipped to them? I'm notorious for begrudgingly keeping something I'm not fully satisfied with just to avoid the hassle of shipping it back.
So, let's take a look at the customer journey of a big-name retailer, using my mom as an example consumer here. She's on Asda's website and she'd like to buy a few bottles of wine to pair with a weekend of cheesy Hallmark movies. By following the navigation, she'd find this page: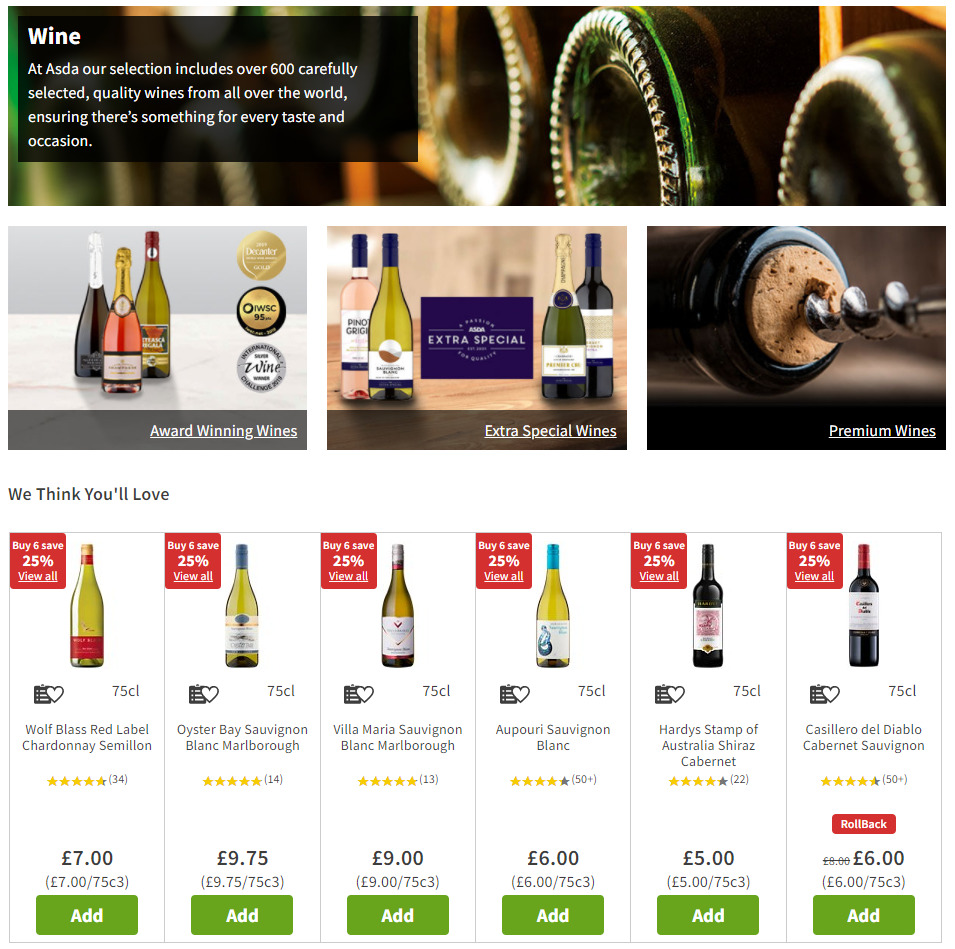 Unfortunately, this page just shows a random list of recommended wines – and that's the thing about my mom, she's quite picky. So she decides to click further into the navigation to find wine matched to her tastes and "wine discovery" sounds quite promising here:

Yet she's still provided with a random list of wines recommended by Asda – even worse, she can't use the product filters to narrow down her options to only her desired type of wine: reds. Instead she's presented with filters like "no shellfish," not exactly matching her intent: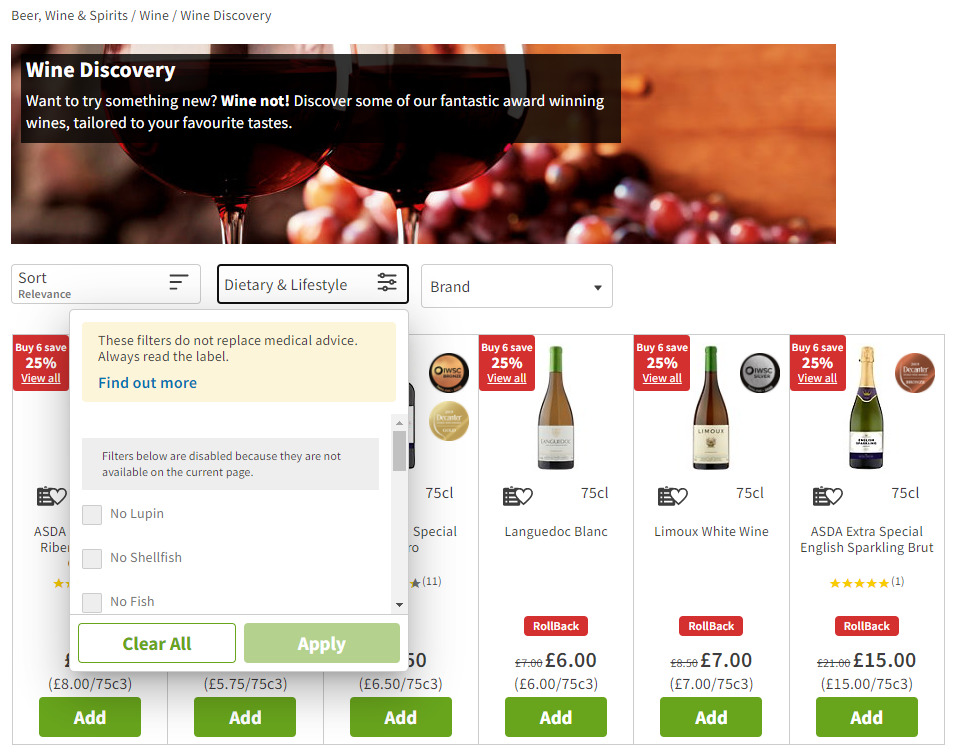 Now let's see what would happen if my mom pops on over to Lidl's online shop (I'll use the German website here with translation, as they have an e-commerce channel up and running). By following the navigation, she'd arrive to this landing page: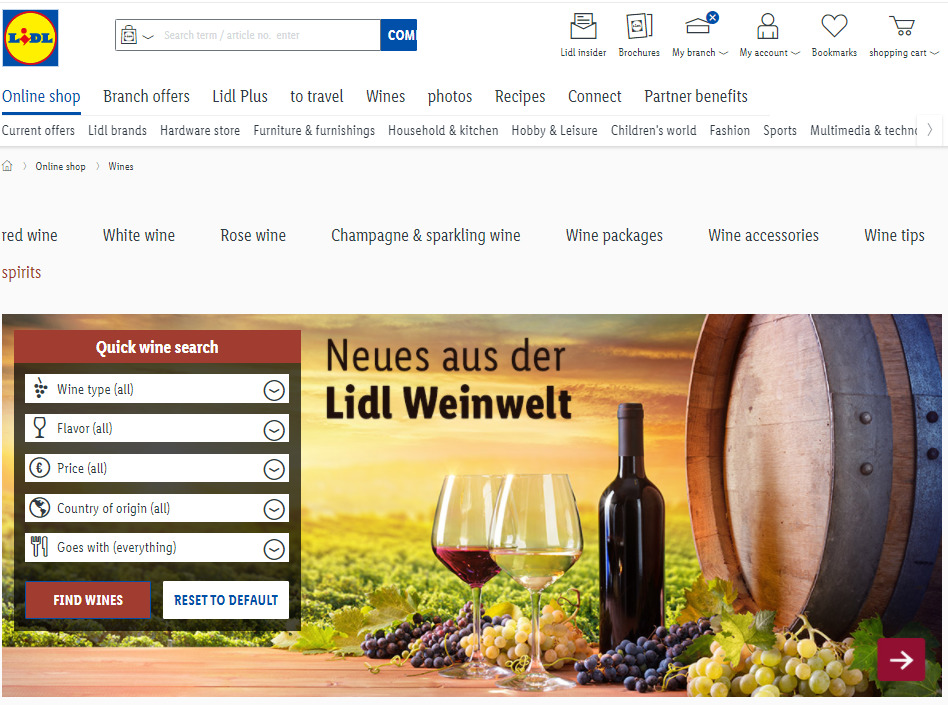 Immediately she's presented with a wine finder to help her narrow down her search to only wines that fit her unique preferences, just as a store assistant might do with her during a conversation in a bricks-and-mortar store: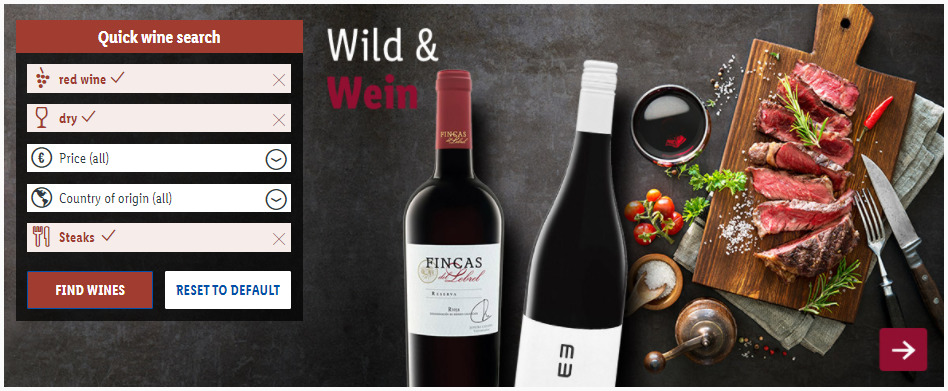 Now she has a manageable list of wines that are tailored to her tastes. Once she arrives to the results page, the product filters can narrow down her search even more using dynamically generated categories that actually make sense given the search query for wine, like region, grape variety and more. My mom would probably feel much more comfortable buying any of the wines on this list.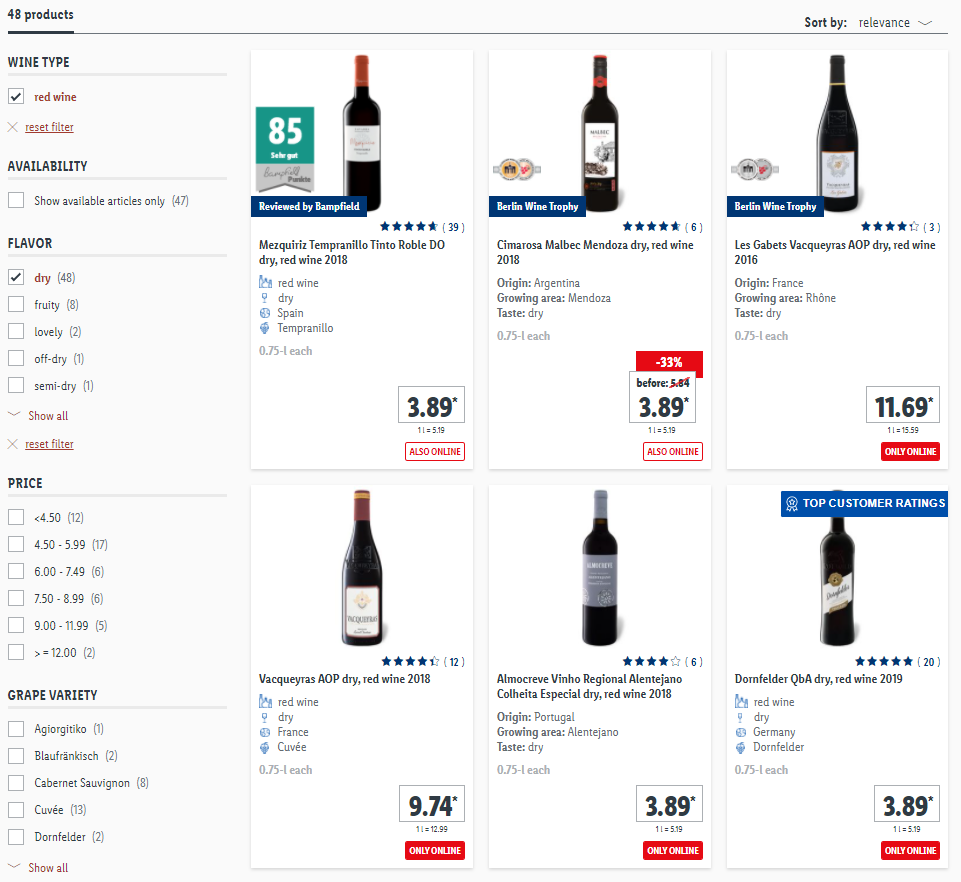 It's been said a million times before, and I'll say it again: providing a quality and intuitive experience in your online shops is critical, especially in times of COVID-19. Even once some sense of normality settles back in, surveys show that most people plan to continue making purchases online. The customer journey needs to accommodate shoppers of all ages and experience levels, making the process of finding the right products quickly a priority. Using optimized, dynamic product filters is one of the easiest ways for you to get started.
Where do you prefer to buy your wine online? Let us know in the comments below ⤵ I'll be sure to pass on your favorite picks to my dear mom, who I clearly need to earn some points with.