Your online shop can't afford to make these mistakes, otherwise it's money out of your pocket and into the pockets of your competitors.
With e-commerce competition at a high, having an online presence is critical. However, if your online store isn't optimized, it might be scaring away visitors rather than converting them. Our FACT-Finder team has identified 9 routine mistakes made by online retailers that are costing them millions.
Don't be frightened, this article will show you how intelligent UX improvements can turn these mistakes into opportunities and increase your e-commerce conversion potential. Let's get started – we'll have a spooky good time.
Mistake #1: Leading visitors to zero results pages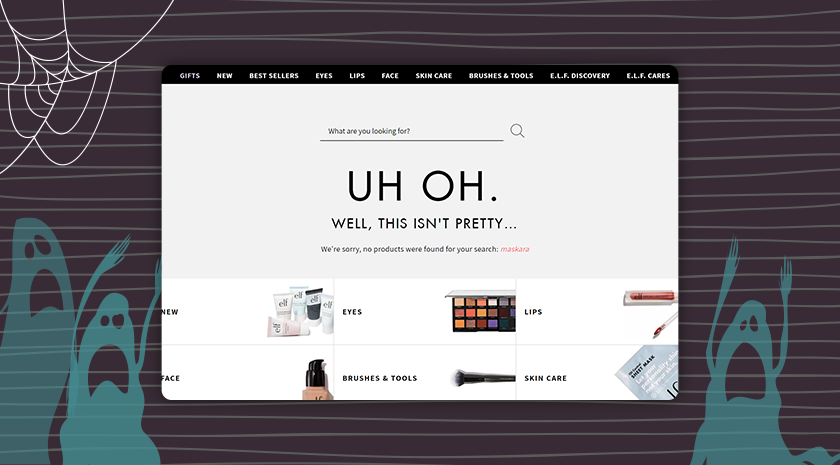 A search for 'maskara' on this online shop leads to a zero results page. The correct spelling is 'mascara' but this is an easy mistake for customers to make, especially when typing on a mobile device. Without a grammatical error, this online shop offers several mascara products but online visitors are not able to see that. Users can easily assume that the item isn't offered on this site and head to a competitor – scary. A zero results page leads to lost sales.
FACT-Finder offers error-tolerant search and semantic results optimization.
Niche Beauty's online shop is equipped with a search function that is error-tolerant and intuitive. Their site search recognizes that the term 'maskara' is a misspelling and as a result, displays relevant products. Niche Beauty leads visitors to 61 highly-relevant mascara items that keep their shoppers engaged.
Mistake #2: Displaying unavailable products in the results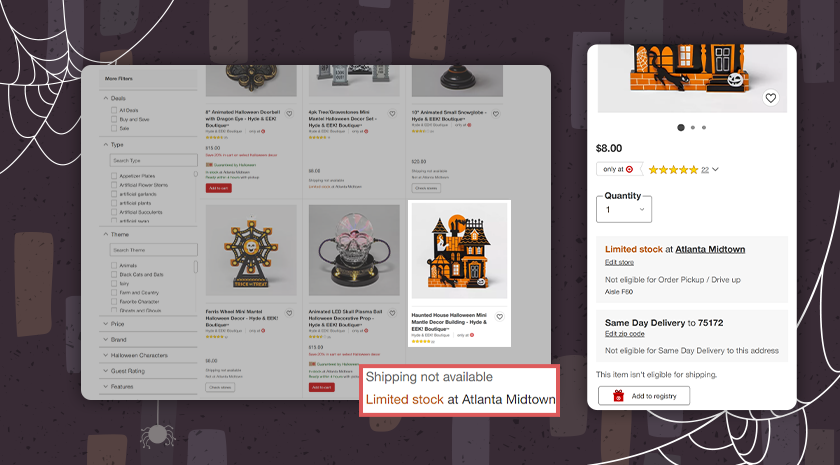 The first 6 search results for 'halloween decorations' on this site features only 2 products that are actually available for online purchase (first and fifth position). This means that the first results visitors are presented with are items not eligible for shipping or order pickup, or are in limited stock. If this were on a handheld device, users would have to scroll to find an item that is actually available. The probability of visitors clicking out and going to a competitor's site are high.
FACT-Finder offers controllable product sorting and location-based search results.
FACT-Finder understands that getting the right products in front of prospective customers is crucial. That is why our search function implements ranking rules that take factors such as customer reviews, price, sales discounts, and local availability into account when deciding how to best display results. This dynamic sorting makes it easy to see item that are available to purchase online, to reserve or purchase in-store.
Mistake #3: Showing uninspiring search suggestions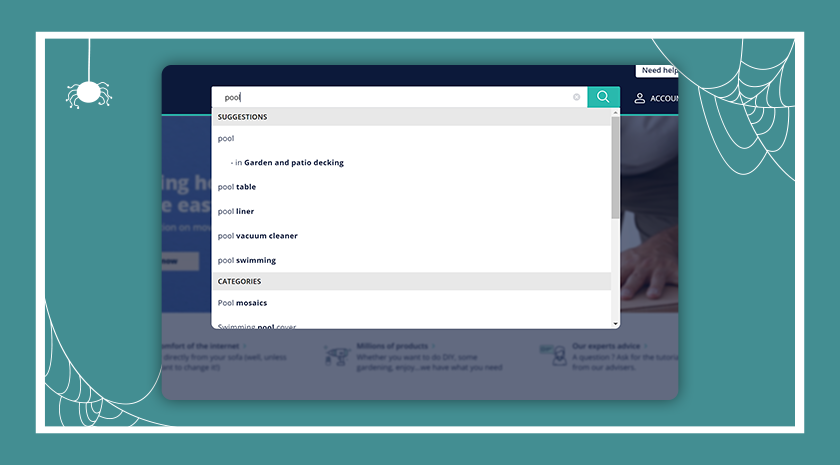 This site's search bar displays suggestions for 'pool' but does so in a way that is frightfully boring. Visitors have to scroll down the plain suggest menu to see that it also features categories, brands, ideas and advice. Unfortunately for this retailer, the content they offer is neither engaging or interesting for users.
FACT-Finder offers an intelligent suggest function and fast results, even with 100M+ products.
OBI visitors searching for 'pool' are presented with an exciting suggest menu that features matching products along with images, ratings and price, as well as matching categories. FACT-Finder's smart suggest function isn't limited to products, which allows OBI to display content-rich media such as how-to pages and inspirational content. This automatic and intelligent menu isn't just about speeding up searches, it also helps the user construct their search and encourages exploration into alternative pages they hadn't previously considered.
Mistake #4: Using irrelevant filters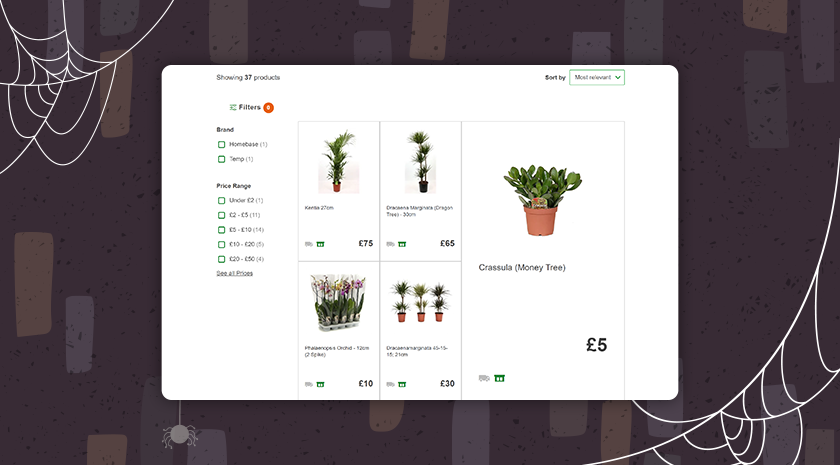 For products such as houseplants, a search will likely lead to many results as there are multiple varieties. Unfortunately, this site only offers two filters (brand and price) to help visitors narrow down the results. With a category this broad, there are many other specifications that are more critical such as color and sun exposure. By not providing customers with specific ways to find the item they're looking for, customers are forced to scroll and scroll – most likely leading to abandoning the site. RIP.
FACT-Finder offers self-learning filter navigation and simplified customer selection.
Gardener Poetschke focuses on implementing filters that prevent overwhelming customers with numerous results and instead, help them find their desired product quickly. A simple check mark format helps refine search results by restricting unwanted products. The more filters clicked, the more criteria applied, resulting in highly-relevant items.
Gardener Poetschke's filters also adapt to the search term. For example, lifespan and heyday filters are not shown for 'plant pots' and the price range adjusts automatically as pots can be pricier than plants. An additional benefit of offering filters is a reduced return rate due to the customers' involvement in the product selection.
Mistake #5: Failing to offer truly helpful customer support
Purchasing products online for oneself can be daunting as the possibilities are endless. Purchasing products for others online? Even more terrifying.
FACT-Finder allows retailers to bring the in-store experience online and increase post-purchase satisfaction.
Douglas provides a helping hand for its customers through guided selling campaigns. Guided selling is the online equivalent of an in-person exchange: interactive, helpful and intuitive – but fully digital. This gift consultant is ready to provide the guidance and support that customers need. It allows customers to filter based on visual preferences and characteristics.
Guided selling offers the advantage of increased trust and turns indecisive visitors into active buyers. And because customers are informed and involved in the product selection, the return rate is directly reduced.
Mistake #6: Leading visitors to lackluster landing pages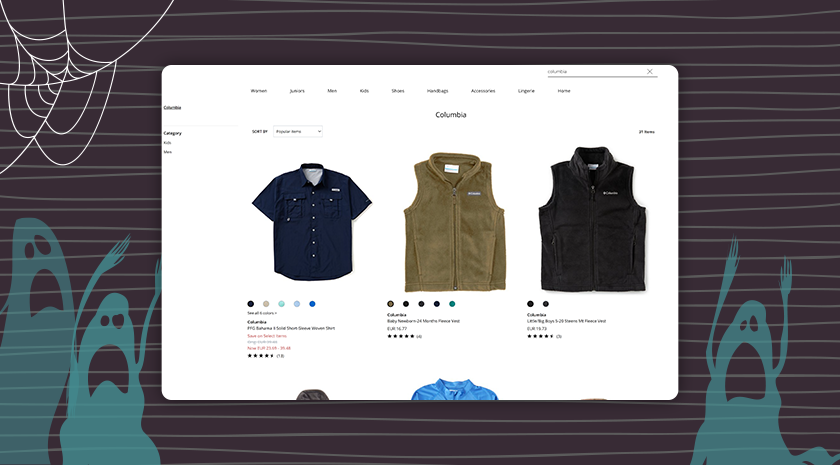 Typing in 'Columbia' on this site leads to a generic results page featuring all products that match the keyword. There's no organized presentation for all the Columbia products this site offers. If its a brand that the user likes, it would be helpful to showcase specialty items, new products, or categories.
FACT-Finder offers effective product promotion and easy-to-create campaigns.
Bergfreunde knows that popular labels sell better when they are grouped on one page. Strategic visual merchandising is an opportunity to inspire customers to make purchases. A search for 'Columbia' on this site leads to page that promotes the brand. This campaign showcases bestsellers and lets customers narrow down products by category, price or article type. Any new items cannot be missed by anyone interested in the brand.
Bonus: this brand world can be featured throughout the website, maximizing the product promotion.
Mistake #7: Falling flat on first impressions
A Google search for Columbia, a major brand of active lifestyle gear, yields 224 million results in less than a second. Google controls the placement of search results by assessing whether the content of a webpage contains information that is relevant to what the user is searching for.
FACT-Finder offers high-converting landing pages and an increase in marketing ROI.
Bergfreunde promotes Columbia's brand and products through creative campaigns, e.g. its brand world page. As a consequence, Google lists them as the 4th result on the first page – highly visible and easy to click. If you've got it, haunt it.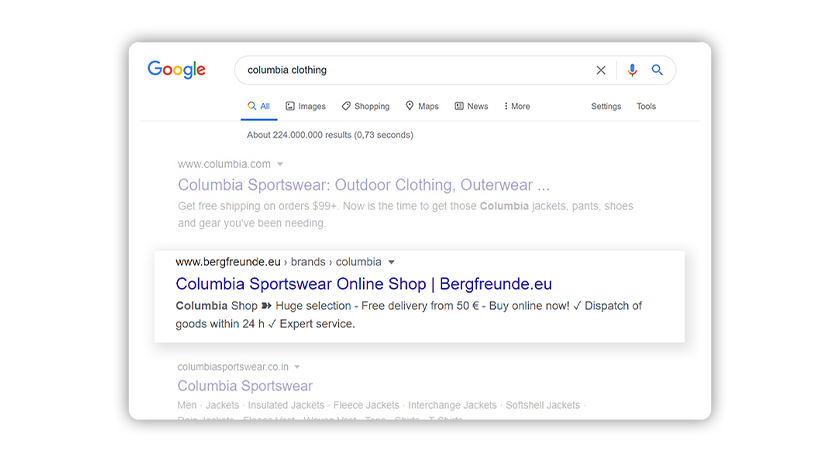 Mistake #8: Providing weak recommendations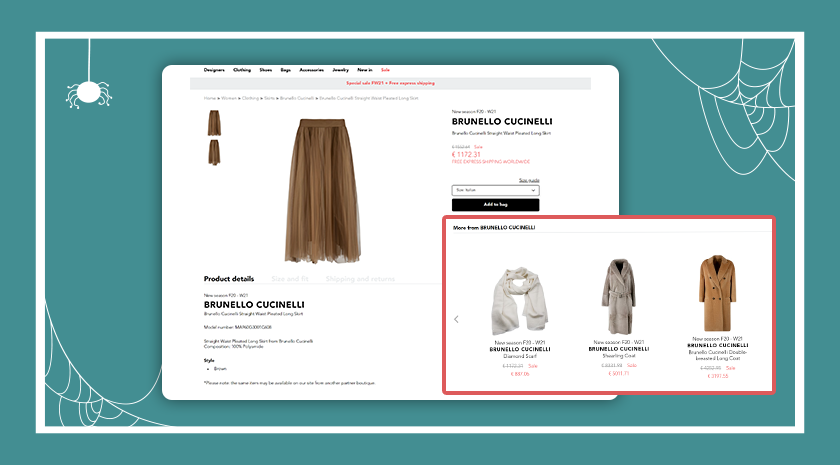 A product page is there to provide detailed information regarding a specific item but it's also an opportunity to make customers aware of related products – i.e., cross-selling. This retailer show related products for this luxury skirt but unfortunately the only element that connects the recommendations to the item is the brand. This is a missed opportunity for this retailer to display what would complement this purchase.
FACT-Finder offers automatic upselling and cross-selling and increases in shopping cart size.
Mytheresa provides its customers with an extra service in the form of recommendations. These are truly relevant, helpful, and intelligent recommendations tailored to this luxury skirt. Their beautiful and visual display of complementary products are engaging for visitors and they can see the total look. Instead of buying one item alone, Mytheresa's recommendations encourage shoppers to obtain a complete outfit, effectively cross-selling and increasing the value of the shopping cart.
With FACT-Finder's AI capabilities and machine learning, recommendations can be truly dynamic and personalized based on an evaluation of shopping cart contents and customers personal preferences.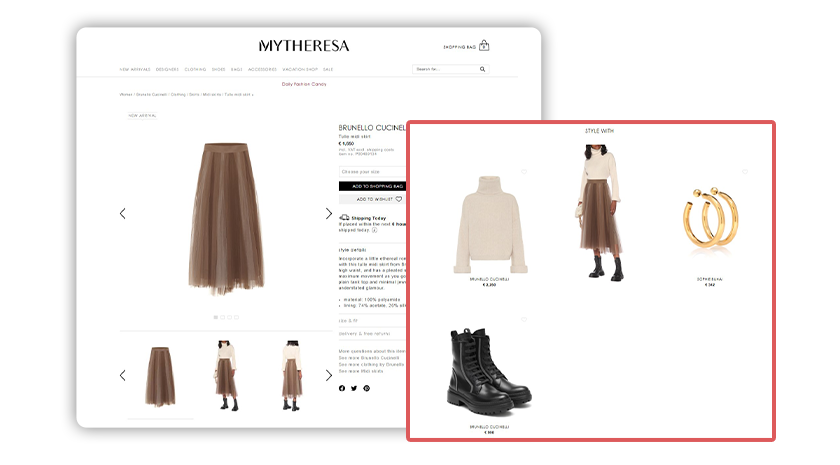 Mistake #9: Not customizing the shop to the shopper
While gathering this list of e-commerce mistakes, our FACT-Finder team noticed that there are only a small number of online shops who offer personalized search results. This is wasted potential as it's a significant factor in providing customers with the ultimate shopping experience.
Customers are using clicks, filters, baskets, wish lists and search terms to tell you what they want. Personalization is how you show them that you are listening.
FACT-Finder offers personalized shopping experiences and increased customer loyalty.
Searching as a customer with a black dishwasher already added to basket, and now looking for a fridge, we are shown a generic list of product results. We hoped to see black fridges that would correspond with the contents of our shopping basket, as individual preferences play an important role in long-term purchases – especially aesthetics which can precede the selection of certain technical features.
FACT-Finder's personalization function would provide this particular user with a highly-tailored set of results. The top results in the search would be ones that match their specific browsing behavior.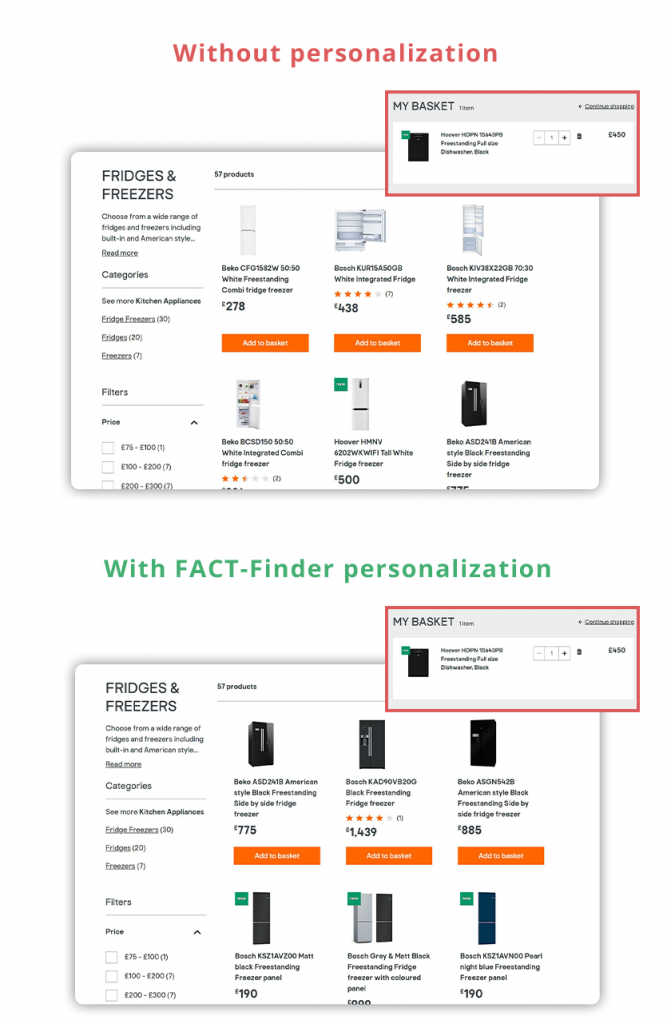 Is your online shop guilty of these mistakes?
Contact us at info@fact-finder.com for a free personalized website audit and a FACT-Finder demo customized to your online shop.