Introducing "E-Commerce Tip of the Month," a new segment for retailers looking for quick wins for their online business.
Back in October 2020, we launched a new segment called "E-Commerce Tip of the Month" in our monthly newsletter (not signed up yet? It takes less than a minute to register). In it, we provide retailers like you with actionable advice to improve the customer journey in your online channels. After receiving positive feedback we decided to make it even easier for readers to get their hands on these through our blog. Scroll down to see the first edition and stay tuned for all of the new content that'll come in the new year.
Have any suggestions or comments? We'd love to hear from you! Please feel free to reach out to us by commenting below or using our contact form.
E-Commerce Tip of the Month: Zero Results Pages
Dress Up Your Zero Results Pages – Don't Scare Customers Away
We all make mistakes – who isn't guilty of misspelling a word when typing a query into Google? It's the same with online shops, and with everyone and their mother (quite literally in this context) online nowadays, it's important to cater to every single one of them – even those of us who weren't spelling bee champions.

So let's say I'm looking for something in a home improvement shop – if I'm stuck at home, I might as well make it a pleasant place to be, right? If I type in gibberish (or any other embarrassingly misspelled word), B&Q shows me this zero results page: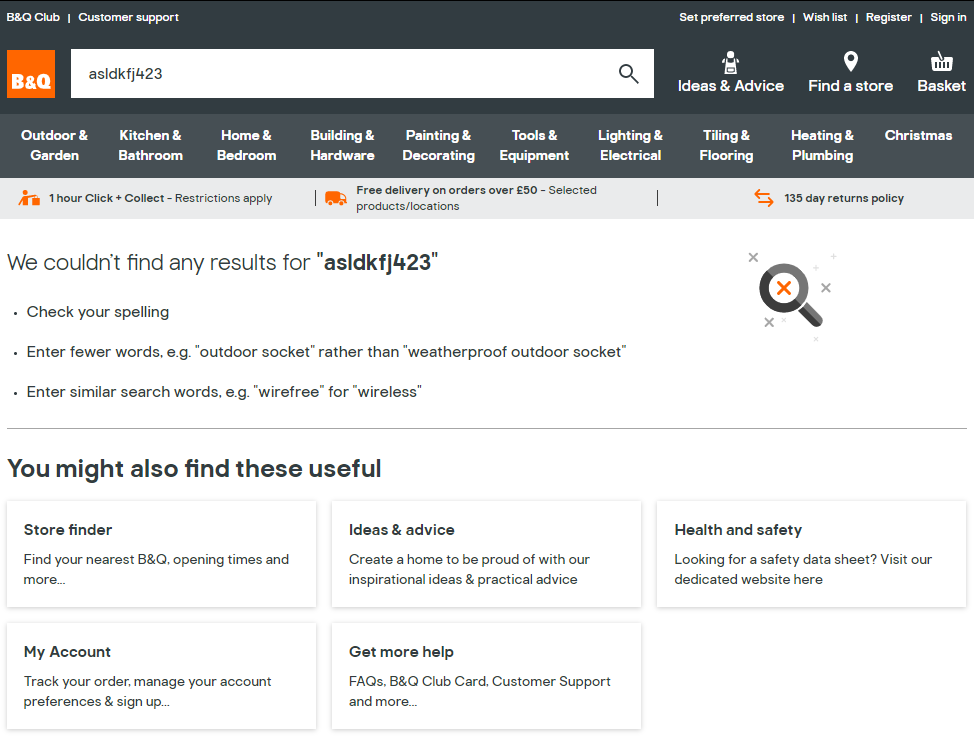 They give some tips on how to improve the search query along with some links to other important pages on the site – not too shabby. But could it be even better? Let's try another online shop, OBI (a leading home improvement retailer in Germany and across Eastern Europe):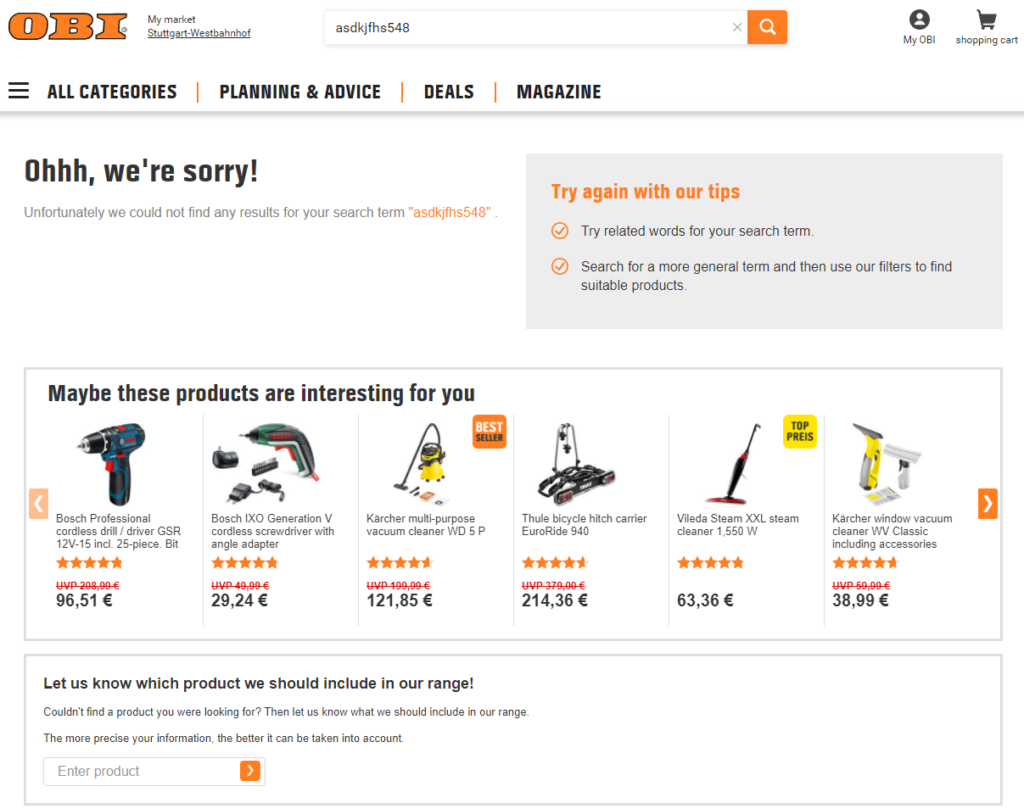 Do you notice a difference? Let's break it down:
OBI's main message is "we're sorry" – instead of placing the blame on the spelling-challenged customer, they take responsibility and work to help you find what you're looking for.
They provide a carousel of star products (best sellers, promotional and highly-rated items) in case one of them might interest me – and all of this without ever having searched for something else in their online shop. If I had successfully searched for items before, this carousel would change to display products I've recently shown interest in.
Notice that box at the bottom? "Let us know which product we should include in our range!" If I had actually been looking for something in the online shop that they don't provide, this would give me the opportunity to tell OBI about it – and effectively help them improve their offering in the future.
In an ideal world, a customer would never have to see a zero results page. But let's be realistic – it happens. Don't let your zero results pages drive people away – use it to reel them back in.
 
How does your online shop compare? Have you seen any other great examples? Let us know in the comments below ⤵