Learn how Elkjøp Nordic has digitally transformed themselves over the years to provide the best online experience to their customers.
If you are located somewhere in northern Europe, chances are you have heard of Elkjøp, Elgiganten or Gigantti, associated with Dixon's Carphone, which holds a 25% market share in consumer electronics in the Nordics with over 400 brick-and-mortar stores. This retail giant recently reported 3 billion dollars in revenue growth, and they attribute a lot of their success to their dedication to providing a stellar customer experience across all touchpoints, both in-store and online.
Julie Nielsen, a Senior Web-/User Experience Analyst at Elkjøp Nordic, recently held a webinar to explore ways in which retailers can bring their e-commerce businesses to the next level with the customer as the focal point. Joining her were Artur Wagner, Customer Success Director at FACT-Finder, and Anastasiia Vashkelite, Customer Success Manager at Dynamic Yield. Watch the webinar on-demand now or continue reading to see the highlights.

Elkjøp Nordic's digital transformation in consumer electronics
Elkjøp Nordic prides themselves on their agility and willingness to make crucial changes to keep them firmly ahead of their competition. After conducting hundreds of customer and staff interviews, holding discussions with stakeholders, and creating over a dozen prototypes and reports, they took a deep dive into the research and analyzed the data with a critical eye. Their findings overwhelmingly pushed them in the direction of transforming from being product-centric to consumer-centric, and from dominating by size to leading with relevance.
A part of this analysis included closely evaluating the tech solutions they were currently using and decide how best to move forward to achieve their business objectives. Through their research, Elkjøp Nordic found that FACT-Finder and Dynamic Yield were the perfect match for their requirements. Even better, they found that these two technologies perfectly complement each other to bring a well-rounded, optimized experience to their digital channels.
Bringing these two powerhouse technologies together helps Elkjøp Nordic eliminate the technical silos of their e-commerce teams. Both solutions are very easy-to-use and makes the time to market much quicker; "these are really the right tools to grow with… there are great API capabilities, both server-side and client-side" remarks Julie. "Both tools come with templates and configurations that can work right out-of-the-box to increase conversion and sales – you don't need to have any technical knowledge to use them."
Optimized search and suggestions, powered by AI
Elkjøp Nordic recognized the importance of search over ten years ago when they first integrated FACT-Finder into their digital channels. Thanks to the innovative self-learning technology, product results are optimized automatically over time. This is a crucial feature for retailers like Elkjøp Nordic with thousands (or hundreds of thousands) of products.
With FACT-Finder, you don't have to think of every possible use case – AI does the majority of the hard work for you. FACT-Finder measures the click-through-rate for products with different keywords, along with any purchases made. The system then automatically boosts those products with the highest CTR the next time someone searches for the same phrase. This is especially helpful to change product results with the seasons, or to account for words that have different meanings depending on context.
Additionally, a strategic ranking of products helps boost Elkjøp Nordic's conversion rate by matching user intent with business objectives. Fifty percent of their users don't view more than 12 products on a search results page, so it is especially critical to show products that are relevant to them. With FACT-Finder, e-commerce professionals can take advantage of FACT-Finder's out-of-the-box capabilities or manually add in specific rules to promote products, which can be anything from best-selling products to only those that are currently in stock.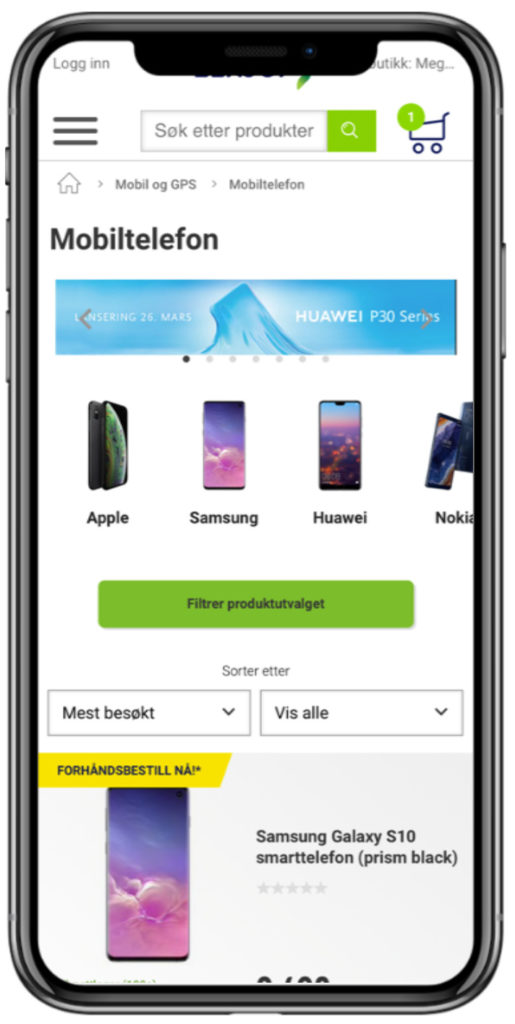 Dynamic and personalized filters for mobile
To make their product filters more mobile-friendly, Elkjøp Nordic combined the capabilities of FACT-Finder and Dynamic Yield to create a bespoke, optimized experience for their online customers. They evaluated the most popular filters in each of their product categories and then moved them to the top of the product results pages with images representing the main categories. With these small yet powerful changes, Elkjøp Nordic saw an impressive 4.19% reduction in the bounce rate, 78% increased use of filters, and a 5.67% increase in conversion.
Pop-ups for added value services
By engaging with users in small, incremental ways, such as through Dynamic Yield's pop-up functionality, Elkjøp Nordic also witnessed positive results. For example, they were able to upsell their product insurance plans to a customer when they added a cellphone to their cart. By A/B testing and using the event tracking tool, they were also able to view how many times a user rejected a pop-up. To ensure each user is having a positive shopping experience on their site, Elkjøp Nordic was able to disable these pop-ups for those users that found them to be unpleasant and continuously closed them.
A perfect match for Elkjøp Nordic: FACT-Finder and Dynamic Yield
Elkjøp Nordic continues to be a leader in consumer electronics and uses FACT-Finder and Dynamic Yield to keep their digital channels ahead of the competition. Thanks to their agility and analytical nature, Elkjøp Nordic was able to respond to the challenges of 2020 with ease while constantly evolving to provide unique and optimized experiences to their customers. In a world where digital has been brought to the forefront more than anyone could think possible, Elkjøp Nordic is well-prepared for the future.
Want to hear directly from Julie Nielson, Elkjøp Nordic's Senior Web-/User Experience Analyst? Watch the webinar now: