The German Brand Institute honors FACT-Finder for its excellent brand, consistent brand management, sustainable campaigns and marketing projects.
Our FACT-Finder team's highest priority is that our clients achieve their e-commerce goals. We are particularly proud when their success is not only reflected in KPIs but also in industry awards. In recent years our customers have been awarded numerous renowned prizes for outstanding usability.
This year, the tables have turned and it is us who received an award. We are delighted to announce that we have been named the winner of the German Brand Award 2020 in the Trade, Retail & eCommerce category.
From an idea to the market leader
What today is a success in technology was initially one of many ideas from our founder and managing director Carsten Kraus. When FACT-Finder took its first steps onto the e-commerce stage in 2001, the first mail order companies were going live, online shopping was often frustrating, and weak site search functionality of websites was the perfect start for the young sales team.
From the beginning, even in the programming of the first FACT-Finder prototype, the focus of our technology has been on intelligent algorithms. While impressive, it can be at times difficult to explain the capabilities and projects that our research department develops. Not everything can be concisely described.
Marketing at FACT-Finder has always been about decoding and simplifying complex topics. The brand has been built up through events, press, and, above all, through sharing our customers' success stories. Inbound and content marketing along with social media engagement and other disciplines of communication followed after.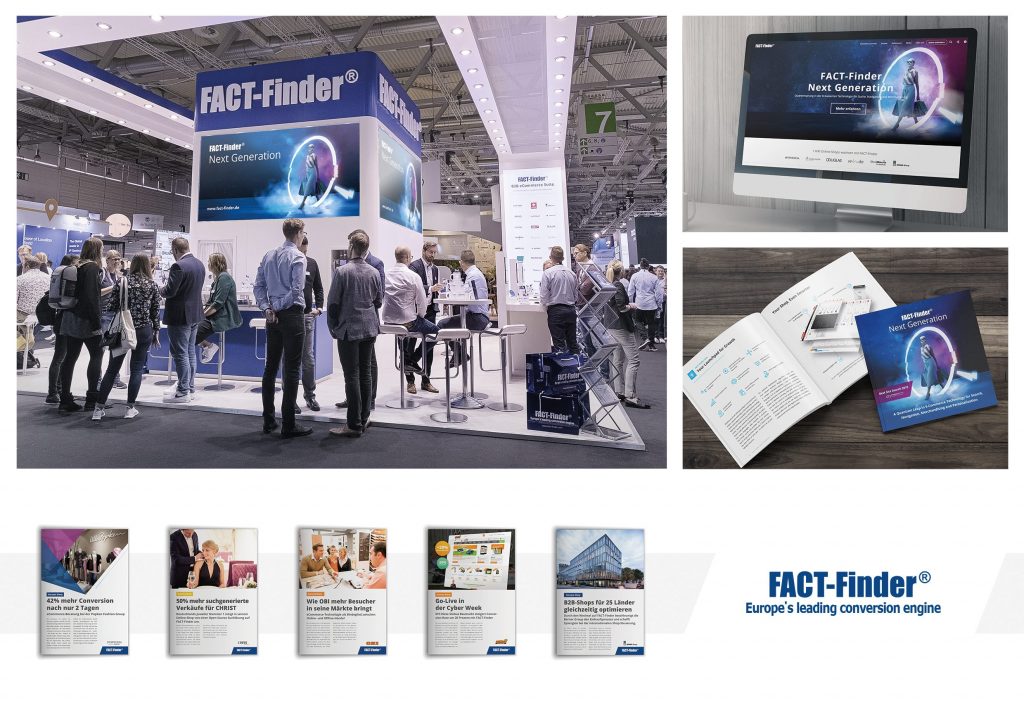 Making innovation tangible
Since the beginning of the online retail boom, many e-commerce companies have dissolved or been absorbed by other companies, but FACT-Finder remains a strong part of the online community. This is ensured by Carsten Kraus who has educated small and medium enterprises on the importance of artificial intelligence for the future, often using his own product examples to show how innovation can succeed.
One example is the Predictive Basket which uses algorithms to calculate what a customer is likely to buy then display it before they even make a click into the products. This solution saves customers' time when shopping and creates an opportunity for intelligent recommendations.
Online grocery retailer, Kastner, experienced higher customer satisfaction and doubled the value of shopping baskets. It's success stories like these that help our marketing team illustrate the complex technology and make it tangible for e-commerce managers.
Leading the future with artificial intelligence
The launch of FACT-Finder Next Generation last year marked the beginning of a new technological era for our customers and strengthened our brand. The German Brand Award brings us closer to our goal of becoming the best known e-commerce brand in Europe. What drives our innovation remains research and development in the field of artificial intelligence.
About the award
With a gross range of around 315 million contacts annually, the German Brand Award is the most far-reaching marketing award in German-speaking countries and is becoming increasingly international. In the direct competitive environment, the German Brand Award ranks first nationally and second internationally.
In 2020, 1,200 submissions were received from 14 countries. A jury of brand experts from business and science examined the submissions on the basis of 13 criteria – including degree of innovation, sustainability, relevance to the target group as well as homogeneity and design quality of the brand presence.