FACT-Finder is thrilled to announce that we have been named as finalists in 3 categories at the eCommerce Awards 2020: Best B2B eCommerce, Best eCommerce Technology Innovation, and Best Use of AI.
Every year, e-commerce professionals flock to the eCommerce Expo in London to get a glimpse of the latest trends, technologies and insights in the digital retail space. Across three conference days, attendees get the chance to network with over 8,000 like-minded delegates and take advantage of the curated content provided across the dozens of keynotes and seminars available.
Of course, in 2020, the eCommerce Expo is going digital – making it even easier for e-commerce professionals to flexibly attend the event from the comfort of their own home (or office). No matter where your e-commerce focus lies, the eCommerce Expo has something for you with topics ranging from UX and CRO (hello, FACT-Finder) to delivery and fulfillment.
One of the major highlights of the event is always the eCommerce Awards, going on its 13th consecutive year, that happens on the second night of the conference. All of the best names in e-commerce come together to celebrate the year's successes and innovations. Here's a highlight reel from last year's awards ceremony:
This year, FACT-Finder is being recognized for our accomplishments and work with some of Europe's leading retailers at the eCommerce Awards 2020. We are nominated as finalists in 3 categories: Best B2B eCommerce, Best eCommerce Technology Innovation, and Best Use of AI. You can see all of the finalists here.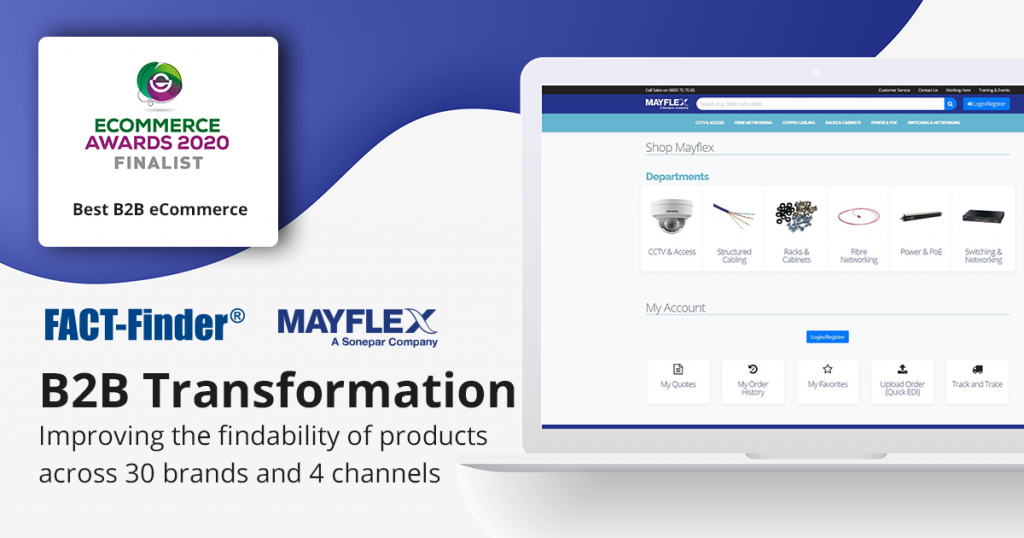 Best B2B eCommerce: Mayflex, Powered by FACT-Finder
According to the award category description, the winner will go to "the company that provides the best online experience. Excellent product, user experience, and strong sales will be a given, but judges will also be looking for evidence that this is a company who is committed to online selling, demonstrating true innovation and market leadership."
Mayflex and FACT-Finder joined together in this category for their projects with the Mayflex online shop and the Excel website, available in 3 languages. Mayflex is a leading distributor of converged IP solutions including infrastructure, networking and electronic security solutions. In 2017, they placed their trust in FACT-Finder to digitally transform their business and create a seamless experience across customer touchpoints – whether customers make first contact online or offline.
Mayflex is continuously expanding operations online, and FACT-Finder is there to support them every step of the way in providing the best online experience. Mayflex uses FACT-Finder for error-tolerant search, personalized recommendations, promotional merchandising campaigns and more. Read more in their success story (coming soon).
"With FACT-Finder, we feel supported – it feels more like a partnership than what we've experienced with other providers."

Samantha Lynch, Digital Product Owner at Mayflex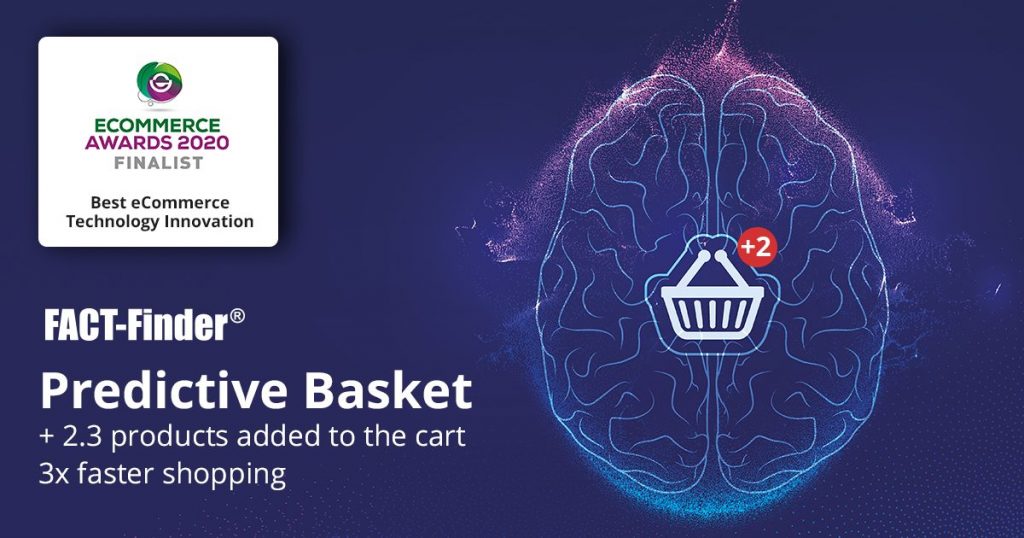 Best eCommerce Technology Innovation
As the name suggests, the award for this category will be given to the company that demonstrates a truly innovative solution in the world of e-commerce. Judges will focus on how the innovation solves an existing e-commerce problem and whether it offers an easy-to-implement solution for retailers.
FACT-Finder has been nominated as a finalist in this category for our Predictive Basket, a powerful tool that makes it possible for customers to shop faster and more conveniently in an unprecedented way thanks to advancements in Machine Learning and Artificial Intelligence. The Predictive Basket accurately predicts which products are most likely to be purchased again from a customer's second visit to the online shop. Before a customer runs out of certain products, and before they can buy them elsewhere, the Predictive Basket reminds them to reorder – additional sales, pre-programmed.
FACT-Finder clients of the Predictive Basket have already reported 2.3 more products added to the shopping cart on average, along with a three times faster shopping experience. The Predictive Basket is particularly useful for online grocery retailers, pharmacies, B2B, or any other sector with recurring purchases.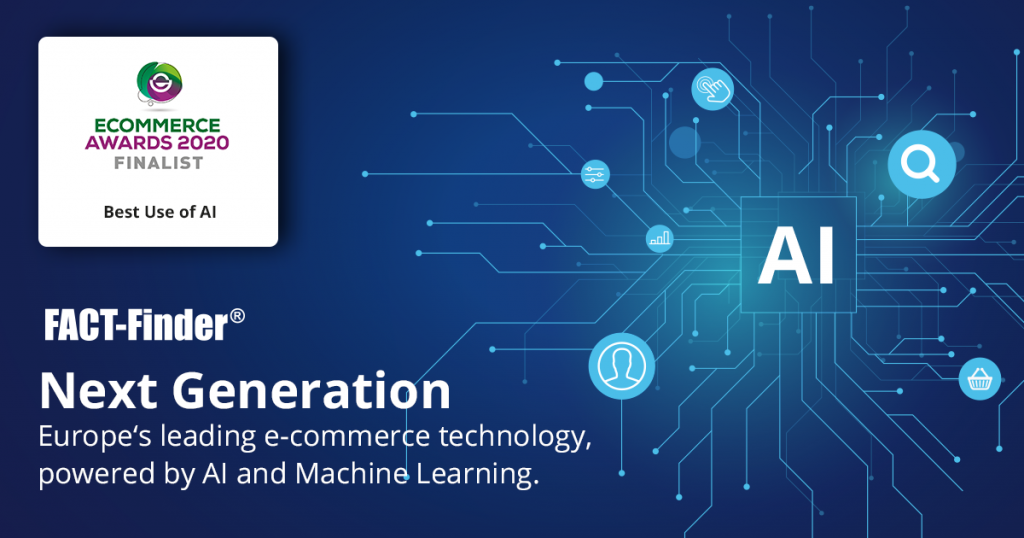 Best Use of AI
AI isn't just a buzzword – it's the foundation of some of the world's most successful companies, in and out of retail. For this award category, judges will be looking for businesses that "embrace automation, AI and machine learning with a focus on customer engagement, connectivity and interactivity, innovation, efficiency of use and the resulting positive commercial impact."
It's only fitting that FACT-Finder was chosen as a finalist in this category, with AI and Machine Learning deeply interwoven into our software. In both areas, we hold several patents and have filed for more. Our clients are among the first to benefit from advances in AI.
The FACT-Finder Core is the foundation of our solution. In addition to revolutionizing site search, it is the engine that powers the AI-based functionality of the other modules within the suite, including personalization and merchandising. The more modules used, the greater the impact on sales. Thanks to tracking data and AI algorithms, the modules work together seamlessly and constantly improve each other.
When will the winners of the eCommerce Awards 2020 be announced?
Given the circumstances, the award ceremony will take place digitally this year – making it easier than ever for you to attend the ceremony taking place on 30th September at 5pm (BST). Be sure to register for your free ticket here.
Want to experience the latest e-commerce technology, but don't want to wait until the conference?
Reach out to organize your free, personalized demo to see how FACT-Finder can bring your online business to the next level.

Or discover more about our technology based on your industry: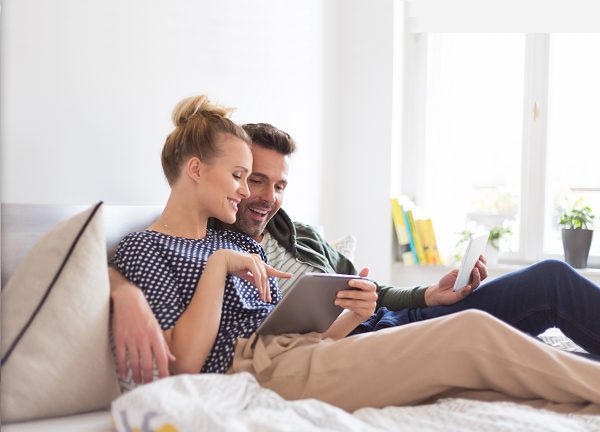 100x faster search
Boost conversion
Scale internationally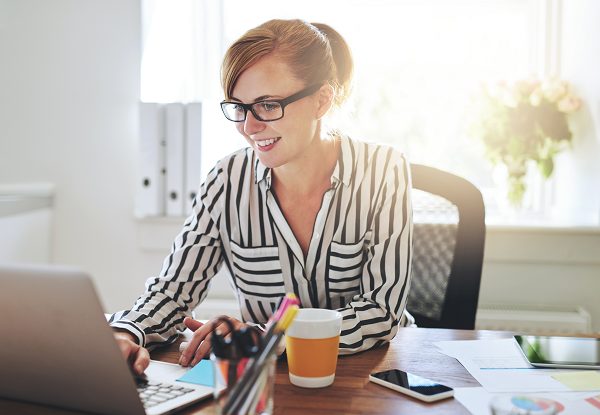 Individualized pricing
Maximize reorders
Future-proof technology