In a 5 page report Bloofusion points out, how filter navigation (faceted search) can positively effect search engine results. Last month we presented our new SEO Enhancer for the first time, at the "mail order world congress" in Wiesbaden/ Germany.
The tool is to help shop operators, who use FACT-Finder, to automatically use the knowledge collected by their on-site search and navigation in a way that search engines can rate individual product-categories and product-detail pages higher and index them more easily.
"In this way the internal on-site search and navigation will also effect the general visibility of a shop in the web."
How to use customer's search terms for smart search engine optimization:
Create descriptive URLs for spiders and users.
The informative value of the URL is a fundamental factor for Google and other search engines, when evaluating web content. Our SEO Enhancer automatically creates unique descriptive and well-structured URLs from shop categories. These pages can be indexed from search engines just like static pages, even while FACT-Finder is dynamically creating content to mirror up to the minute trends.

Customize unique and descriptive URLs in the FACT-Finder backend.
Display static pages with dynamic product presentation.
A core advantage of our dynamic navigation is that the category pages also profit from FACT-Finder ranking algorithms since launching our SEO Enhancer this also applies for SEO-compliant landing pages." As a result, products with the highest buying potential will always appear at the top of the search result set, whereby non-deliverable items will appear at the end of the results list.
Enrich product pages with keywords that really sell.
FACT-Finder goes one step further and identifies related keywords, which in the past have led to purchases of the same product – naturally covering all misspellings and taking into account their relevancy for the result set. It is the job of the SEO Enhancer to dynamically add these keywords to the associated respective pages. In a nut shell, this means that FACT-Finder learns minute by minute, from the users themselves, about what is the most relevant shop content.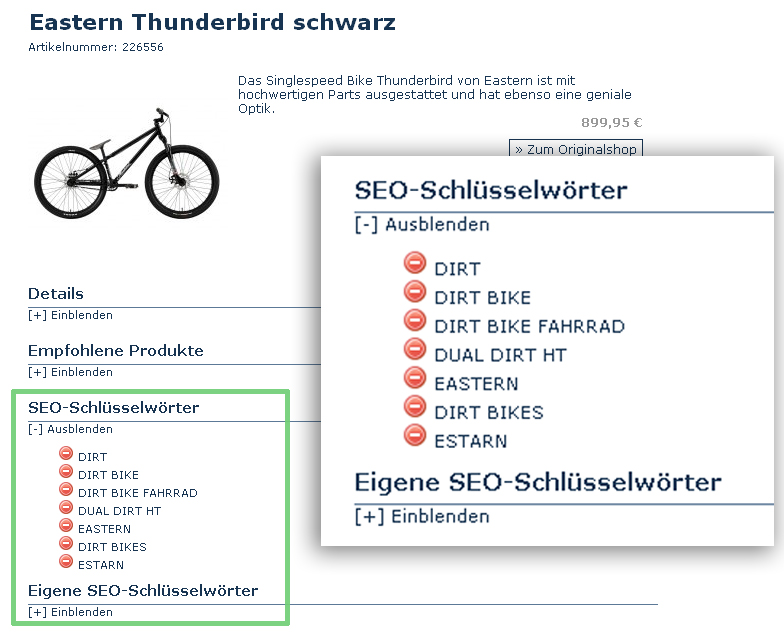 Which Keywords sell your products? – New Keywords are generated through the FACT-Finder on-site search.
Adjust the right keywords manually.
Even so, the shop operator or the SEO agency still has the flexibility to intervene at any time, to analyze the keyword lists, exclude certain keywords and add own new ones. A brand shop could for example exclude the keyword "cheap" out of its "jeans"-category page permanently, even if clients often search for "cheap jeans" and buy these products.
Related Content:
If you like to read more on this topic visit our FACT-Finder SEO Enhancer.