We are excited to announce a new revolutionary AI-powered merchandising solution that empowers retailers to detect and act on micro-trends as they happen, in real-time.
Remember when Netflix released The Queen's Gambit? Within 33 days, 62 million households watched the show, the original novel became a New York Times bestseller, the world's largest chess community received more than 100,000 sign-ups daily and chess boards sold out like crazy. 🔥

Trends can change what's relevant very quickly, especially in today's media-heavy world of streaming, social media and influencers. As an online merchant that sells games and chess boards, it would have been nearly impossible for you to predict this meteoric shift in buying behavior. Not reacting quickly to these trends has a cost and, if shoppers can't find what they want, they'll go elsewhere. Search abandonment results in a whopping $2 trillion a year, globally, according to research by Harris Poll. The ability to identify, react to and capitalize on the growing number of micro-trends is immense – unfortunately until now, no one has been able to do so.
Every assortment is under the constant influence of emerging trends
Regardless of what you are selling, looking into your analytics, you will find different products that are trending across the year. There is a long list of underlying developments that can impact your sales, such as:
1. Seasonal shifts: shoppers buy ski helmets in winter and bike helmets in summer.
2. Special days: Christmas, Mother's Day and Swedish Waffle Day.
3. Advertising campaigns: television ads and products with attractive discounts.
4. Social media: influencers mentioning specific products.
5. Events: sports events like the World Cup, The Superbowl, Olympics and Wimbledon.

The list goes on. Tapping into these micro-trends will be game changing for online shops. This is why we are super excited to announce FactFinder Pulse, our new breakthrough approach to identify and react to emerging trends with unprecedented precision and speed.
How it benefits you:
Boost sales by tapping into micro-trends in real-time to highlight the hottest products.
Increase customer retention and AOVs by being more relevant than your competitors.
Save time by reducing manual search optimizations as shifts in buying behavior get actioned without human intervention.

Let's get nerdy: How FactFinder Pulse works together with our contextual AI approach
In essence, product discovery involves two essential components: retrieval, which is the process of displaying the appropriate products, and ranking, which entails organizing products in the most relevant order to cater to the specific preferences of individual shoppers. The ranking part is where FactFinder Pulse strikes. Let's have a look at what happens if a shopper searches for "racket"?

Step 1: Retrieval: What's the relevant set of products to be displayed?
Our advanced AI model uses many neural nets to create a human-like understanding of your assortment. That's the basis of how it defines the set of products that match the context of your specific query. In our example this would mean it finds all products in the context of rackets.

Step 2: Ranking: How to rank products in the most relevant way to optimize conversion?
Showing the right products on top can make the difference between a sale and a bounce. This becomes especially true for mobile devices which display fewer products at the same time and account for 65,7% of all retail eCommerce sales worldwide. To rank the products in the most relevant order, we take popularity ("what products have the most interactions") personal preferences (eg. color, brand…) and session intent ("already clicked on tennis shoes before") into account. In our example if we get a signal that you are looking for tennis-related products, the AI will take this information to show tennis rackets on top and sort those based on their popularity and your personal preferences.
Additionally, FactFinder Pulse takes this to the next level by taking Momentum & Newness into account:

1. Momentum – discovers trends and shifts in buying behavior at blazing-fast speed. This ensures that trending products will automatically get displayed at top positions for you to be able to ride that wave. This allows you to capitalize on all trends in your assortment without lifting a finger. An example could be Nick Kyrgios just entered the Wimbledon quarter final in an astonishing way and there is a slow but increasing interest in his Yonex EZONE 98 racket. Missing that one micro-trend would be annoying, but missing out on most of them means leaving a big amount of revenue on the table.

2. Newness – easily integrate new products with no interaction data. FactFinder Pulse does the work for you – integrating them into your search results based on their relevance for shoppers. Giving new products a pulse to jump start their popularity.
Step 3: Authentic Intelligence – factoring in human intelligence.
Based on a study by Boston Consulting Group, companies that can combine human and artificial intelligence are getting 5x the financial value of companies that are just investing in AI. That's why we have the ability to apply human control. Our platform allows you to refine the retrieval process by adding trending products to a dashboard, alongside their trend analytics, so you decide what to promote.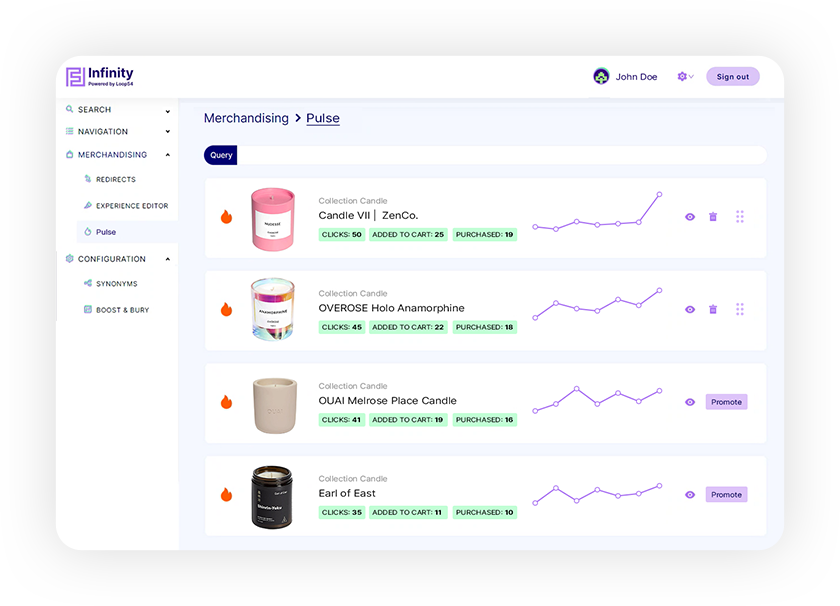 Learn more:

FactFinder Pulse will be made available for all Infinity customers that are subscribed to our Merchandizing module. Reach out to your account manager to learn more.

For new customers, we'd love to demo how Pulse and our other AI-powered product discovery features work together to help you increase conversions and reduce search abandonment. Request a personalized demo here.