ROPO, short for Research Online Purchase Offline, was named as the e-commerce trend to focus on in 2019. But what exactly is it? And what to do about it?
This recent trend in purchasing behavior begins with customers searching the internet for detailed product information – descriptions, images, reviews, price – on which their purchasing decision is based, and ends with the customer's decided-upon item being purchased in a physical store.
Researching a product prior to purchasing is certainly not a new concept but it's more prominent now due to internet and mobile. Buyers have access to more information than before, and because e-commerce has made it possible to buy from sellers worldwide, buyers also have more purchase options.


Evaluating ROPO's impact on purchase behaviour
To really understand just how much online access has influenced sales over the years and will continue to do so, we need to talk numbers.
In 2011, websites drove 10% of offline purchases. By 2021, online channels will impact 41% of U.S. and 38% of E.U. offline retail sales.
Mobile touchpoints have intensified this growth with 62% of in-store shoppers using their phones to look up product information before making a purchase.
But online research doesn't stop once customers are through your business' doors, with 82% of smartphone users consulting their phone on purchases they are about to make in-store.
These figures shouldn't scare you into thinking that online and in-store are separate and distinct experiences. Instead, it proves that they are merging.
Retailers have to embrace the importance of making their online shop and brick-and-mortar business work together. To do so successfully, it's important to understand why consumers ROPO. Surveys showed two prominent reasons customers turn online before going in-store and what they expect from their research experience:

"Help inspire my purchase"
Searches for generic terms
Wants helpful recommendations
33% look for brands to suggest product options or give tips about the latest trends
"Help plan my in-store trip"
Searches for "near me"
Wants accurate store information
500% growth in "near me" mobile searches that contain a variant of "can I buy" or "to buy"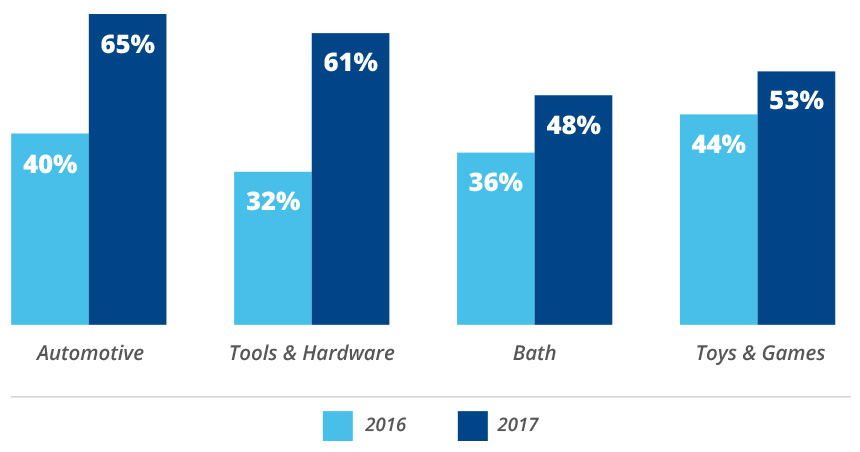 Turning the digital experience into your best sales associate
Providing services in the form of content will change how your online visitors engage with your brand. Here are a few ways you can incorporate this into your online shop.
Provide customers with content that will help them purchase with confidence.
Deliver an enjoyable shopping experience through automatic recommendations of products and categories for those in search of inspiration.
Create a page to educate shoppers with how-to guides, tutorials, and helpful hints.
Implement digital assistants to support visitors with queries and turn to consumer-generated content to help indecisive visitors become active buyers through ratings and reviews.
Store searches are no longer just location oriented, they're about a specific thing, in a specific area and in a specific period of time.
Supply customers with all the details concerning local stores: working hours, directions, contact number. As well as helpful information about the item they intend to buy: price at a nearby store, coupons or deals that may apply, location of closest store with item in stock, what other items are available.
Simple local information can motivate store visits.

Blending offline and online worlds
OBI has capitalized on this growing trend. As the largest DIY retailer in Europe and the third largest in the world, they are well-represented with over 580 store locations but they recognized local presence wasn't enough. Which is why the company focused on a digital strategy aimed at providing visitors with inspiration for home improvement projects and incentives to buy in the local market.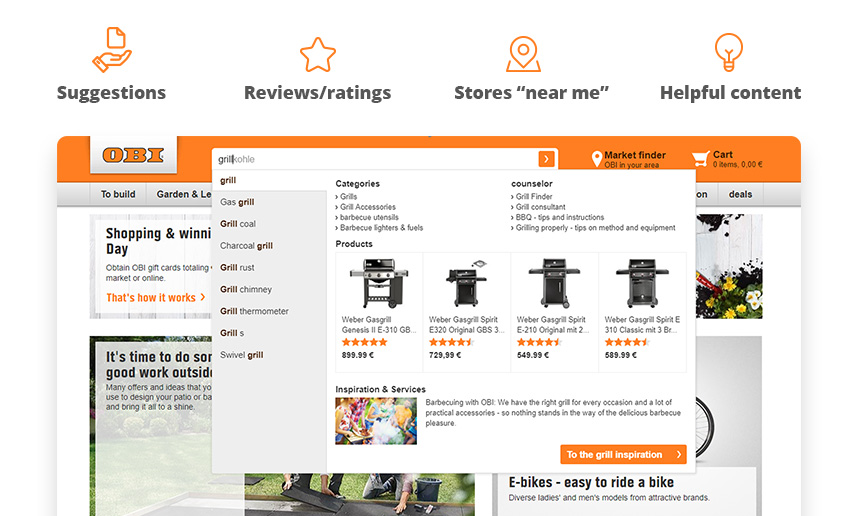 OBI's search and navigation provides visitors with the services they want in the form of content.
For those looking to be inspired, OBI provides product suggestions and creative content.
For those who want specific information, store locations and nearby product prices are readily available.
The way to approach ROPO is not to try and replace your existing business model with an online one, but rather enhance it.

Sources:
Cygnis Media
Think with Google: Online to Store Insights from Case Studies: France, Germany and UK
Forrester Research
Bazaarvoice: The ROBO Economy
Think with Google: How mobile search is driving today's in-store shopping experience
Think with Google: How 'Near Me' helps us find what we need, not just where to go