What is Next Generation?
FACT-Finder Next Generation has been carefully developed to empower conversion in your online shop. 100X faster performance, higher search precision, unlimited scalability, and an outstanding user experience enable you to continually outdo your sales targets. As the name suggests, our e-commerce solution is unlike any other – let us take your online shop to the next level.
Smarter
A/B tests prove
FACT-Finder has the
best algorithms.
Faster
The right product
in a +100M range
in milliseconds.
Profitable
Customers benefit
with 20 - 33%
higher turnover.
What's new in Next Generation Blixt?
Our latest release Next Generation Blixt gives you the possibility to activate our new personalization and recommendation modules, powered by Loop54 - the leading eCommerce personalization solution in the Nordics. Loop54's proprietary AI algorithm GOLEM provides real-time 1:1 personalization and truly relevant recommendations with only small amounts of data. In combination with FACT-Finder's market-leading search algorithm and established tools like ranking rules and campaigns, you can fine-tune the results as little or as much as you like.

FACT-Finder Core+
Your launchpad to peak eCommerce success
Incredible sales power in one intelligent solution. Search, navigation, merchandising, and analytics work together to make sure customers are never more than a click away from what they are looking for. Happier shoppers and higher revenue powered by the speed, scale, and flexibility of Next Generation. Learn more.
Next Level Modules
Elevate your conversion, enhance their experience
Exceed expectations with highly responsive, 1-to-1, real-time experiences as unique as the customer. Learn more.
Maximize upselling and cross-selling with tailored, automated, context-based product recommendations. Learn more.
Bridge the gap between online and physical, connect shoppers to nearby products, and unlock your local power. Learn more.

Predict customer needs, increase AOV, accelerate the purchase process, and strengthen loyalty with ML. Learn more.

Display dynamic, custom pricing and discounts to deliver the right price at the right time for every customer. Learn more.

What makes Next Generation unparalleled?
Search core that rocks
Superior search technology is at the heart of our technology's success. Self-developed, cutting-edge algorithms mean FACT-Finder can process big data, index complex ranges, perform in all languages and search more efficiently – surpassing all other search solutions.
Analytics and A/B testing beat guesswork
Avoid risks, eliminate uncertainty, optimize for maximum conversion, generate more revenue – that's what our built-in analytics and A/B testing offer you. Test search settings, campaigns, rankings, even entire modules and get definite answers on what works best for your shop.

UI designed for real use cases by real people
Powerful functionality doesn't have to be complicated, hence why we reimagined the way e-commerce professionals interact with our backend. Offering more efficient interactions with fewer clicks and real-time visualization of changes, our user interface is truly user intuitive.

Expand beyond your goals
Scalability determines the lifetime of e-commerce success; choosing a solution built with scalability in mind will ultimately save you time and money. With centralized channel management and Worldmatch® language independence, you can rely on unlimited capacity to grow, adapt and exceed demand.
Discover more about Next Generation and uncover your online shop's conversion potential
Add-on solutions that wow shoppers
FACT-Finder offers the most comprehensive set of e-commerce solutions for retailers worldwide. Our customers are among the first to benefit from advances in innovative algorithms, AI and Machine Learning. Each function is created to lead customers to the right products in record time, even with the most demanding strategies.
Customer Specific Pricing
If the mission of your online business is to be more customer-centric, then meet our Customer Specific Pricing module. It enables you to customize your shoppers' experiences on an individual level and incentivize purchases with tailored pricing – all without costly callbacks to third parties or performance loss.

Predictive Basket

Attract, retain and grow your most profitable customers with the Predictive Basket. This AI-powered technology analyzes past shopping behavior to accurately forecast customers' future purchases. For shoppers it means never forgetting to buy something important; for you, it means increased average order value.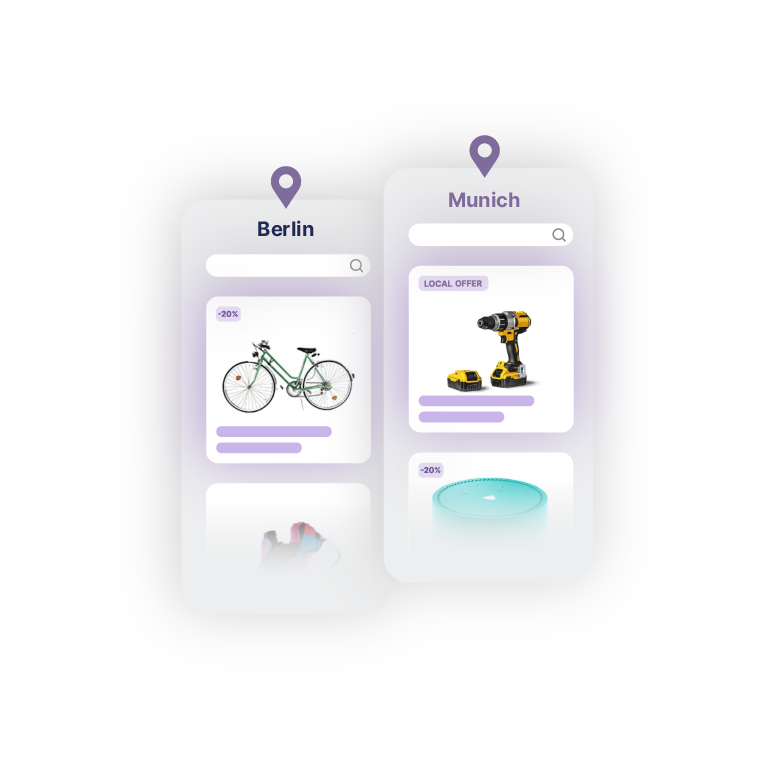 Geo
Harness the power of geolocation to deliver personalized, location-based experiences. Display nearest stores, products in stock, special offers, seasonal content, store-specific services, shipping times, click and collect options and more. Achieve far-reaching sales goals by thinking local with the help of Geo.

Trusted by 1,800 online shops worldwide
Ready to see FACT-Finder in action?
Fill out the form and one of our e-commerce experts will reach out to provide you with:
A product overview, based on your specific requirements
Information on integration
Personalized pricing
//= rex_url::base('resources/js/TweenMax.min.js') ?>