FACT-Finder Core
Powerful site search, smart suggest, ranking rules, AI-powered analytics and A/B testing
+50%
conversion via search
+20%
conversion via search
+125%
conversion via mobile
Self-Learning Site Search
Accurate search results every time
FACT® is a patented method for error-tolerant matching, meaning that no matter the search term entered - whether it contains misspellings, exchanged letters, incorrect punctuation, or abbreviations - it compensates for these mistakes and delivers precise results at lightning speed.

Language-independent technology
Grow your international sales with our patented Worldmatch® algorithm. This advanced solution can analyze any character set and recognize the similarities - delivering the most relevant products regardless of the language.
Convert complex, long-tail searches
The more specific the search term, the more determined the customer is to buy, which is why our site search supports highly-focused, multi-word search queries, including product IDs. Our indexing process delivers results in just a few milliseconds, even with 100+ million data fields.


Better search results
right out-of-the-box

Cross-border expansion
with language independence
Deliver suggestions that sell
Typing the first three letters of a search prompts an automatic and intelligent suggest menu that leads customers to their desired destination with fewer clicks. It's not just about speeding up searches but also helping users construct their search and encourage exploration into alternative items or categories not previously considered.
Showcase your expertise
FACT-Finder's smart suggest function isn't limited to products. Do you have content-rich media such as video tutorials, how-to guides, and blogs? Display these and more can within the suggestions and help customers easily find the industry knowledge that distinguishes you from competitors.

Improve access
to the product range
Align search results to your business objectives
The sequence in which products appear in the results has a major effect on online conversion, so why leave it to chance? Customize the order of search results in relation with your current priorities - whether it's by margin, brand, availability, or more - our solution can integrate all the information from your product data to form an ideal product ranking for your shop.


Less maintenance
with automatic search optimization

Display your USP
with the order of products

Tracking data
improves other modules
Quick wins guaranteed
Numerous key figures are available for your analyses, such as click-through rate, conversion rate, revenue per search and more. Plus, intelligent assistants monitor the data and inform you when peaks or unexpected events require your special attention. Equipped with all this information, you are able to react swiftly with winning adjustments.
Immerse yourself in the customer journey
What a customer searched for and clicked, what they added to their shopping cart and when they decided to check out – FACT-Finder Analytics captures all interactions of individual customer sessions and displays them in a clear timeline. These insights provide an accurate map of how your shop visitors behave, enabling you to make optimizations based on data.

Actionable insights
to react quickly to changing demands

Identify the customer
journey based on
tracking data

Easily monitor KPI's
through visual graphs
Optimizations that make a huge difference to your bottom line
Integrated A/B testing gives you clear insights into which back-end settings are most profitable. As little as +0.05% in conversion can have an impressive impact on your revenue.
Identify your profit points
Campaigns, ranking rules, even entire modules: you can put all your sales methods to the test, with simplicity and transparency. You control, at a granular level, the volume of traffic and test period. Once done, the settings proven to be most successfully can be immediately applied. Less guessing, more optimizing.

Discover
unexpected sales potential

Optimizations
based on solid data

Your control center:
the FACT-Finder back-end
Ready to see FACT-Finder in action?
Fill out the form and one of our e-commerce experts will reach out to provide you with:
A product overview, based on your specific requirements
Information on integration
Personalized pricing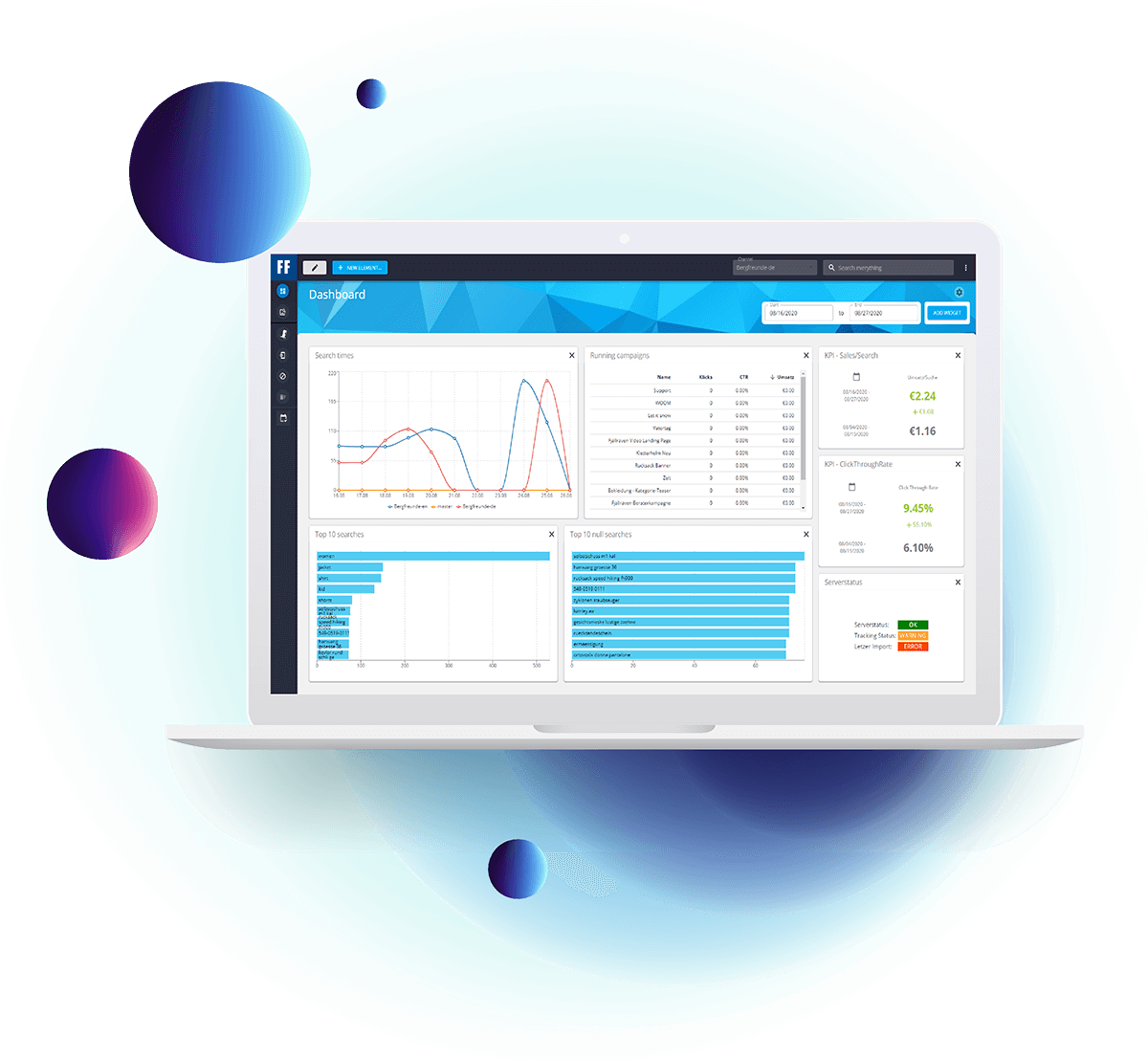 France:
+ 33 6 45 70 05 30
//= rex_url::base('resources/js/TweenMax.min.js') ?>