B2B e-Commerce is growing – as proven by an expert survey of online purchasing behaviour in B2B e-Commerce conducted on behalf of ibi research, SIX Payment Services and Creditreform in 2017. 88 percent of companies questioned had recorded a noticeable increase in the proportion of online purchases over the preceding two years. The primary reason for this development is a gradual shift of shopping behaviour away from the private sphere, moving to daily commercial life. Online purchasers expect the comfort they are used to, and they expect B2B to be fast. The following article explains which shop functions provide purchasers with exactly what they expect.
A search function that understands the purchaser
The results of this expert survey formed a clear picture: 85 percent of responses made it clear that the search function is the most important tool for purchasers in the B2B shop. Many B2B shops sell products with complex technical names, meaning that spelling mistakes or mistyped names occur frequently during searches. This can lead to irrelevant results or "no results" pages, both of which lead in turn to reduced sales. That is why you need an intelligent, error-tolerant search that also understands complex queries and moves purchasers swiftly to the product they are looking for. The search must also boast good performance and be able to cope with a volume of data that encompasses millions of products.
Predictive Basket: Artificial intelligence helps with re-ordering
Purchasers often have to procure large quantities of the same products and do not want to call up each C-part separately. In this case, it would be handy if an online shop could suggest the right products, so that the purchaser only has to drag and drop them into the shopping cart. Machine Learning tools make it possible to predict which products are most relevant for the purchaser at a given time. To do so, tracking data and purchasing frequency within a shop are evaluated.

Enhanced proposal function for faster order processes
Speed is a vital factor in B2B E-commerce: individual customers enjoy browsing through the shop but purchasers just want to find what they are looking for, and quickly. A proposal function would be ideal in this case, as it can accelerate the product search and then the purchase itself.
Purchasers reach their goal even more quickly if you enhance product proposals with a shopping cart function. This means that purchasers can avoid calling up detailed information for each individual product selection if they know exactly what product and quantity they want.
Increased purchase probability with personalisation
Today's E-commerce technology makes it possible to automatically adjust search results for each customer. B2B shops should also make use of the advantages of individual search results – as these are more likely to lead to sales. A personalised search determines the preferences for individual customers, i.e. which brands, colours, price segments or categories they favour. This means it is possible to promote products in the results that are most relevant to the currently active user. If a purchaser has already purchased products from a particular premium manufacturer, the search results display corresponding products higher up.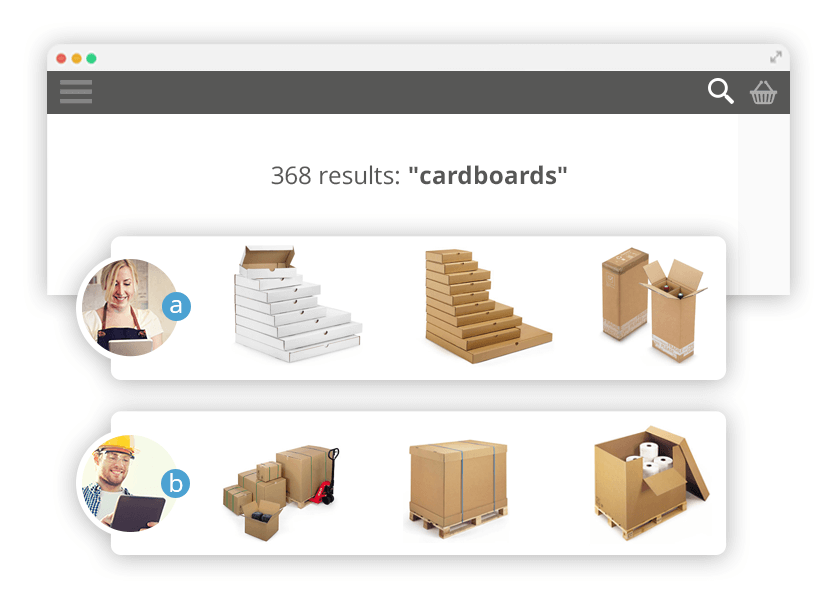 Advisor campaigns to save time and money
Sometimes, even professional purchasers don't know which product versions are right for them, or how to filter their search results for them. Advisor campaigns provide an alternative to contacting the call centre for advice. They provide a solution that saves time and money, in the form of a virtual sales consultant. When you implement an advisor campaign, your shop poses product-related questions for specific search terms – e.g. "first aid kit". Customers can click on the applicable answer to restrict the search results and move on to the next question – as long as the list of hits is not too long.
Increase order value per customer with a Recommendation Engine
Cross-selling is not just of interest for individual customers. Perhaps your company offers products that could be of interest to the purchaser – if only the purchaser knew they were there. Use sensible recommendations to present the shop visitor with more products from your assortment. B2B purchasers are well-informed shoppers – they have higher expectations and are more likely to react to useful information than showy campaigns. It would therefore make more sense to place additional recommendations as unobtrusively as possible. A Recommendation Engine helps you to suggest sensible extra products as well as more expensive alternative products, to increase the average shopping cart value.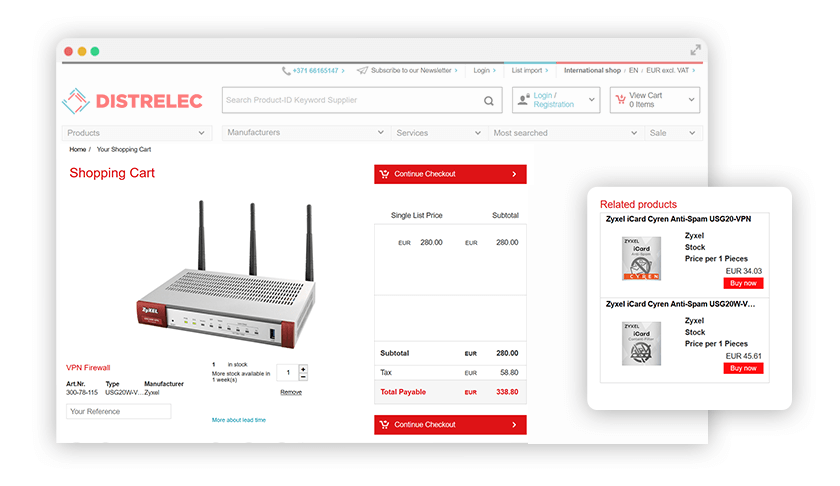 Conclusion: Usability is a differentiating feature
According to market research company Frost & Sullivan, global B2B E-commerce market revenues will reach 6.7 trillion USD by 2020. By then, at the very latest, the majority of B2B retailers will be operating an online shop. Top-class usability will then be even more important as a differentiating feature. The Customer Experience is one of the central methods for adjustment when attempting to boost online sales. Implementation of the recommendations listed above allows you to lay the foundations for sustainable revenue growth.