Whether it's a click, a search term or a purchase – your customers leave traces of data in the shop after each interaction. Our tracking interface collects this data from your FACT-Finder and uses it for shop optimisation. All well and good, but what exactly does FACT-Finder use the tracking data for? What benefits does it provide to customers, and to you as the user? This article provides the answers.
Tighter customer focus on your top selling articles
FACT-Finder uses the tracking data to learn which products are most popular with your customers – which ones they click on most often to place in their shopping baskets and purchase. You can make use of this knowledge when sorting your search results – by activating the "Automatic Search Optimisation": over time, your bestsellers then automatically move up to higher positions in the results ranking. This increases the purchasing probability. The higher up the list these products appear, the more likely it is that your customers will notice them.
Product or product accessories? Your search learns how to tell the difference
If customers search for the term "smartphone", they normally want to buy a smartphone, not a protective case for the device. However, these protective cases do often appear in the results, as product texts and the texts for accessories frequently contain the same keywords.
If you use Version 6.11 or higher and your tracking is running, the Semantic Enhancer recognises the relationships between search requests and subsequent customer transactions. For example: in the result list for "smartphone", it is primarily smartphones that are selected and purchased. FACT-Finder then concludes that the devices are more relevant to this search term than the accessories. The algorithm learns when each product is popular – and produces the appropriate search results at the appropriate time.
You customers receive tailored search results
Many studies have shown that personalisation represents real added value for customers. For example, the global "Connected Commerce" study from digitasLBi – it states: 87 percent of online shoppers buy more when they receive personalised offers after logging on.
The tracking data gathered by your FACT-Finder allows you to adjust the sequence of your search results for individual customers. For example, our Personalisation module recognises which brands, colours or categories a customer frequently selects and upgrades the appropriate results in the ranking. Customers can be recognised by a user ID or a cookie ID, depending on whether they log in or not.
You can use opportunities for cross-selling and up-selling
The tracking interface is also essential when using the Recommendation Engine. This allows FACT-Finder to determine which products are often purchased together. Machine learning then contributes to the production of a picture of which categories go well with one another. This allows the recommendation of relevant products that have not yet been combined into one customer purchase.
It is important for the contents of each shopping basket to be included in the recommendations: if this already contains a shirt and tie, the system should display supplementary suggestions that suit both – such as a jacket.
Your shop can provide intelligent purchasing proposals
When shopping for groceries, medication or drugstore items, customers often just put those products into their shopping baskets that they have bought before. It would be practical if an online shop could suggest the right products, right away. FACT-Finder can do just that for your shop: the "predictive favourites" display exactly those products that are most relevant to the customer at the current point in time – tracking data is also critical here. FACT-Finder uses the purchasing frequency for your shop – for example, pharmacy customers buy vitamin tablets more often than nail clippers – and individual customer behaviour to determine which products these are. This means that your shop can remember to re-order certain items before there are none left for the customer.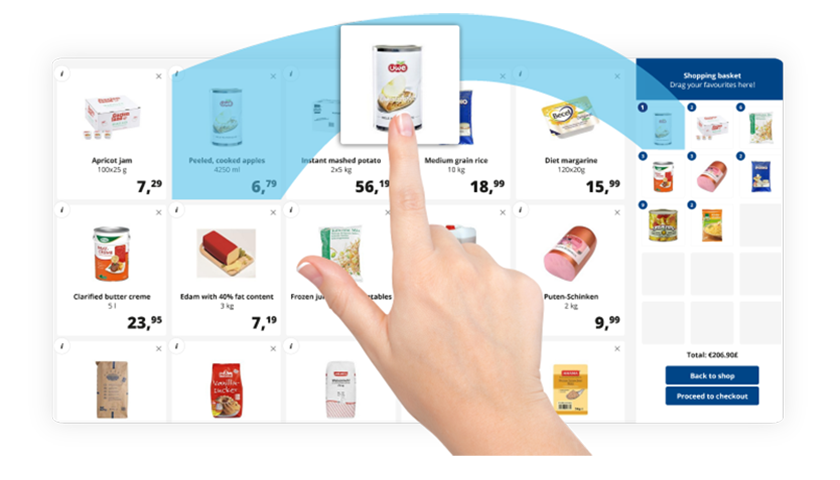 You find gaps in your assortment and unexploited conversion potential
Which search terms are being used frequently? Which queries do not produce relevant results? And which terms do not produce any results at all? You can see all that and more in the Analytics tool integrated in your FACT-Finder, as long as the tracking data has been transmitted correctly.
This information is worth its weight in gold, as it enables you to derive the right measures from the search and purchasing behaviour of your customers. For example, you can highlight especially popular articles with an SEA campaign. Or you define synonyms to make it easier to find specific products. Or you can offer alternative products for articles that shoppers often search for, but which are not in your assortment.
Conclusion: no machine learning without tracking
Automatic result optimisation, personalisation, Analytics: tracking is the basis for many important functions in your online shop. FACT-Finder needs to learn from customer behaviour to allow you to reap the full extent of the benefits it can bring. Ensure that our tracking has been correctly integrated when you implement FACT-Finder. If you have any questions about this, please do not hesitate to contact us.