This year's biggest trends, valuable insights and actionable tips – everything you need to help your online shop have a profitable fourth quarter.
We are only a few days away from kicking off the 2020 holiday shopping season and the COVID-19 pandemic continues to cause uncertainty in the retail industry for both retailers and shoppers. A growing number of Google searches for 'is black friday 2020 canceled' highlights the confusion surrounding the discount-driven event.
While there is still a lot unknown, our FACT-Finder team has researched the latest developments and biggest shopping changes of this year to help predict what Black Friday 2020 will look like. We have also created a detailed plan of action to help retailers prepare their online shops to be among the winners of this holiday shopping season.
Let's dive in with Black Friday 2020's four most exciting trends: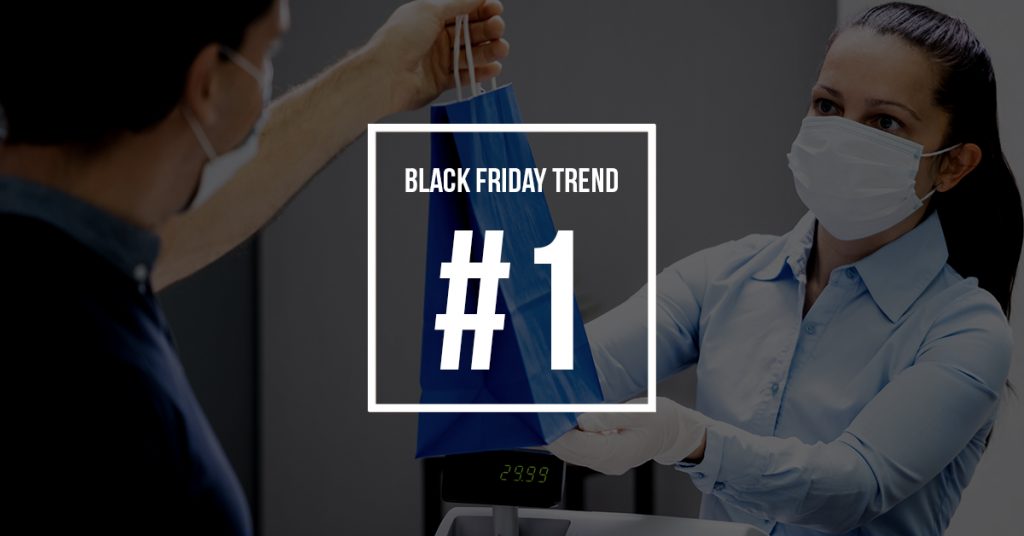 Trend #1: Navigating business in the pandemic
To help stop the spread of coronavirus, retailers are required to comply with several safety rules. Some of these include frequently disinfecting surfaces, removing product testers, closing the fitting rooms, requiring face masks, maintaining social distancing, adhering to occupancy levels, testing body temperature, providing disposable gloves, offering contactless payments and so on. These regulations paint a different picture to the crowded madness we have come to know in-store on Black Friday.
As shopping becomes just as much about public health as it does about discounts, stores will have to conduct business with meticulous care. Retailers have merchandise to sell but they must do so with delicate consideration. For example, promoting in-store only specials could be seen as insensitive by shoppers – especially those with preexisting medical conditions.
Black Friday 2020 is going to be a balancing act for retailers to encourage sales, foster trust and promote spending it in a way that also demonstrates they care for the public's well-being. In response to health concerns and employee safety, many big-name retailers including Walmart, Target, Best Buy, and Kohl's have announced their decision to close on Thanksgiving Day. 2020 will mark the first time in more than 30 years that Walmart, the world's largest retailer, closes its doors on Thanksgiving Day. The number of retailers following suit continues to grow, currently reaching nearly 100.
None of the businesses above have released store hours for Black Friday 2020, leaving shoppers left to wonder if there will be an in-store Black Friday and what it will look like.
Data: A survey by Google found that more than a third of U.S. shoppers who normally shop in store for Black Friday say they won't this year.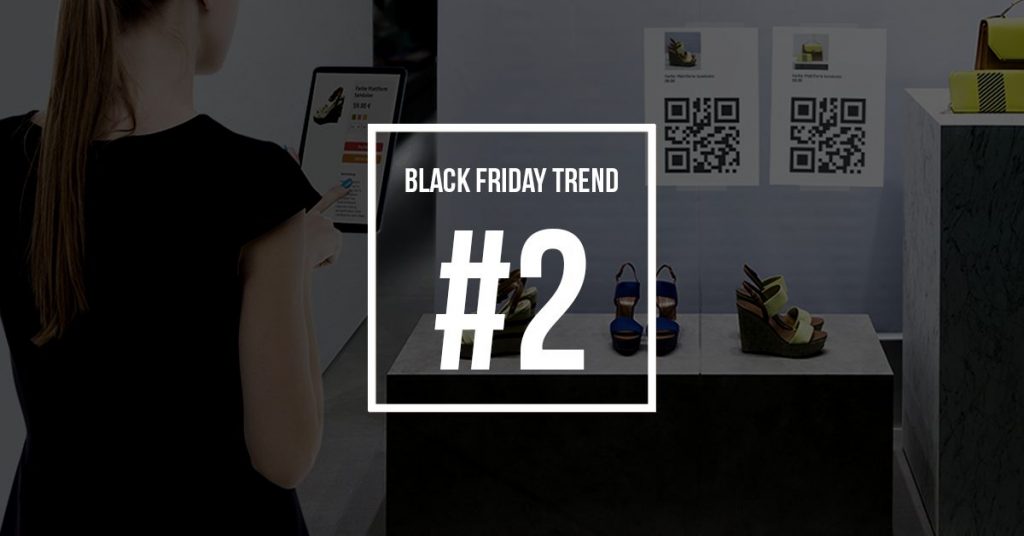 Trend #2: Stores become fulfillment centers
COVID-19 exposed the vulnerability of the traditional supply chain in many companies and entire industries both in B2B and B2C. Businesses who had a high dependence on China to fulfill their need for raw material or finished products couldn't procure goods and online shoppers couldn't receive goods as the shipping industry struggled to maintain a steady flow during a demand surge.
Consumers aware of the issues in the supply chain will likely opt for pickup options rather than shipping to their home as a way to guarantee that the items they are buying online are in stock and shippable. Salesforce predicts that parcels shipped by traditional delivery providers will exceed capacity by 5% across the globe between the week before Cyber Week and Boxing Day. That's potentially 700 million gifts that are at risk of not arriving in time for the holidays.
Retailers will have to take a new approach this year and focus on omnichannel strategies that eliminate shoppers' shipping concerns while also enhancing hygiene protocols. These services make use of the store, better yet, transform it into a fulfillment center – offering both parties a higher control of the product while establishing local customer relationships.
QR Codes – These tiny black and white squares can turn your store into a digital showroom. Technology has made these insanely easy to use since all phones are now equipped with cameras, requiring only one action from the user: point. QR codes work as a bridge between brick-and-mortar and online, allowing customers to see the product and easily buy it online along with their specifications (size, color, etc.). In addition to effortless usability, QR codes also offer the added benefit of being completely contactless.

Check out our article on The Revival of QR Codes in Retail to learn more about the advantages of using QR codes and and a how-to guide on how to implement them.


Buy Online Pick Up In Store – Also known as BOPUS, BOPIS and Click & Collect, is alternative strategy that offers shoppers the convenience of picking up their purchase from a store rather than waiting for delivery, saving them both time and costs on delivery charges. Other reasons customers use BOPUS are the ability to see the product before taking it home, return the product instantly and, most importantly, avoid crowds. An added benefit of this cross-channel strategy is that it brings the customer into the store, giving the business a unique opportunity to entice them with additional purchases. Adobe Analytics reports that 82% of shoppers say they purchase additional items when they come into the store to pick up an online purchase.


Curbside Pickup – A type of Click & Collect that has been particularly popular during the pandemic and will remain sought-after during the holiday shopping season. Curbside pickup allows customers to stay safely in their cars while a store employee picks up and delivers their purchase to the curb. An additional benefit of this methods is that it allows businesses to keep employees safe and employed while meeting customers' demands.
Data: Salesforce forecasts that sites offering store pickup — curbside, inside, drive-through — will see a 90% increase in digital sales over the previous holiday season.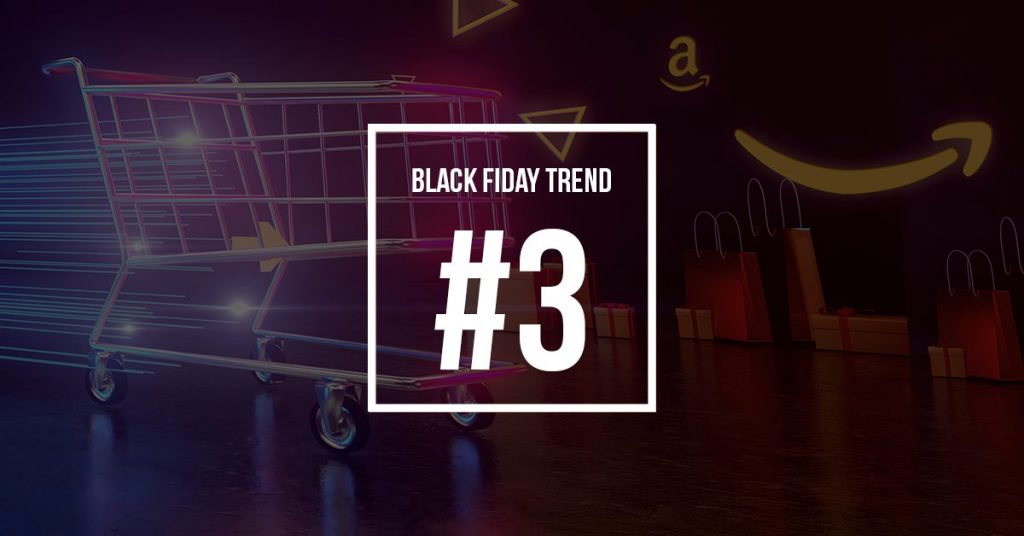 Trend #3: Amazon Prime Day 2020 enters Black Friday, Cyber Monday and Singles Day territory
The development of Q4 will be particularly uncertain given that this year brings Prime Day into the holiday shopping season arena for the first time.
Normally held in July, the 2-day sale hosted by Amazon has been rescheduled to October 13-14. The company delayed the event amid the coronavirus pandemic stating that Prime Day would be held in the fourth quarter. This three-month window between October 1st and December 31st is traditionally the busiest period of the retail year, exclusive to Black Friday, Cyber Monday and Singles Day.
With Prime Day entering the picture, it's difficult to determine how the sale event will impact holiday revenue. Mind you that last year, Amazon Prime Day reached impressive sales of 100,000 laptops, 200,000 televisions, 300,000 headphones, 350,000 luxury beauty products and more than 1 million toys – a total of more than 175 million items. It marked the largest shopping event in Amazon history, outperforming its sales for Black Friday and Cyber Monday combined.
Data: Salesforce predicts that a Prime Day event in October could potentially steal up to 10% of Cyber Week's digital revenue.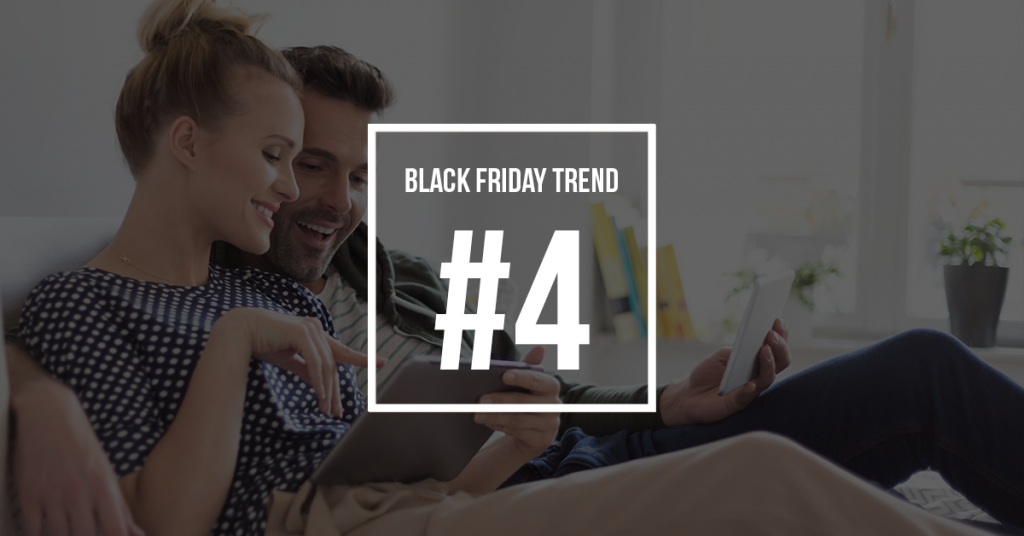 Trend #4: Further shift to online sales
Social distancing and stay-at-home orders have forced whole consumer groups worldwide to shift to online shopping, making it the primary means of commerce in some areas. According to new data from IBM's U.S. Retail Index, the pandemic has accelerated the shift away from physical stores to digital shopping by roughly five years.
This shift has been so dramatic that shopping levels during COVID-19 (April–May) were higher than what retailers saw during the 2019 holiday season (November–December) according to Adobe's Digital Economy Index. The report also indicates the gap between expected versus actual online spending in the U.S. for the year so far is a $107 billion difference.
Consumer intent to shop online continues to increase and this new shopping behavior is expected to remain, even after the crisis. The holiday shopping season has already been shifting to online shopping in the past, with last year's Cyber Monday outperforming Black Friday by $2 billion. With physical measures likely staying in place, it's safe to predict that e-commerce will continue to set new records.
Data: Salesforce predicts that up to 30% of global retail sales will be made through digital channels this upcoming holiday season.
We're here to help!
Our FACT-Finder team wishes you a great start to the holiday shopping season! If you have any questions or need assistance in implementing any of the tips mentioned, send us a message:


Black Friday 2020 action plan
Though this year has been anything but predictable, there are strategic methods retailers can implement to guarantee a successful holiday shopping season. We will go through the customer journey – from awareness to conversion – providing actionable tips to optimize your customer experience.

Awareness: Attract your audience
Generating a lot of traffic is not everything, but without traffic everything is nothing. During the holiday shopping season it's especially important to be proactive in promoting your product offers. We will discuss three basic but powerful ways to reach and gain the interest of possible shoppers, with a special focus on being present in the channels consumers are using.
Email Marketing
Despite the growth and prominence of mobile messengers and chat apps, email is an integral part of daily online life and one of the most effective ways to bring sales. The Direct Marketing Association reports that for every $1 spent on email marketing, the ROI is $42. With global e-mail users set to grow to 4.48 billion users in 2024, there are more than enough reasons to put your email list to work.
Contact previous customers and offer them a special VIP discount code that gives them additional savings when they buy. Since they've already bought from you before they'll be more likely to buy again. If they've bought within the past 30 days, your brand will be fresh in their mind so be sure to include those people as well.
When it comes to sending emails to potential customers, email them the deals you'll have that day so that they keep checking back online. If you promote specific products make sure the products are clickable so people can go directly to the product pages to make their purchases.
Here are a few pointers:
Make sure you know your audience
Personalize the text and the offers
Provide a meaningful call-to-action
Emails sent at 11:00 a.m. have the highest click rates
Thursday is the best day to send emails, followed by Tuesday
More than half of emails are opened on mobile devices
Emails that appear incorrectly on mobile are partially by users within three seconds
78% of customers have unsubscribed newsletters because they received too many messages
Hashtags
With consumers spending more time at home, social media has seen a significant spike in activity. So, as the saying goes, be where your customers are. Whether it's Instagram, Facebook, Twitter or TikTok, take advantage of hashtags to generate traffic and promote your Black Friday offers. This will allow you to quickly reach customers who are specifically looking for deals.
Be sure to include these hashtags:
#blackfriday2020
#blackfriday
#blackfridaysale
#blackfridaydeal
#freeshipping
#discounts
#cybermonday
SEO
Whether it's a blog post on shopping tips, a gift guide, a sneak peek of deals or a video tutorial on how to bookmark a product page, appealing content is a powerful lever for more traffic and higher sales. This is an especially important step in arousing the interest of new, potential customers. But you can't make a first impression if shoppers can't find you.
It's important that prospect buyers are able to find your content through organic search. To increase your visibility, we recommend that you research in advance which Google keywords are best suited for your content. The higher your content ranks on Google, the more online shoppers you will reach and the greater the attention you draw to your product offers.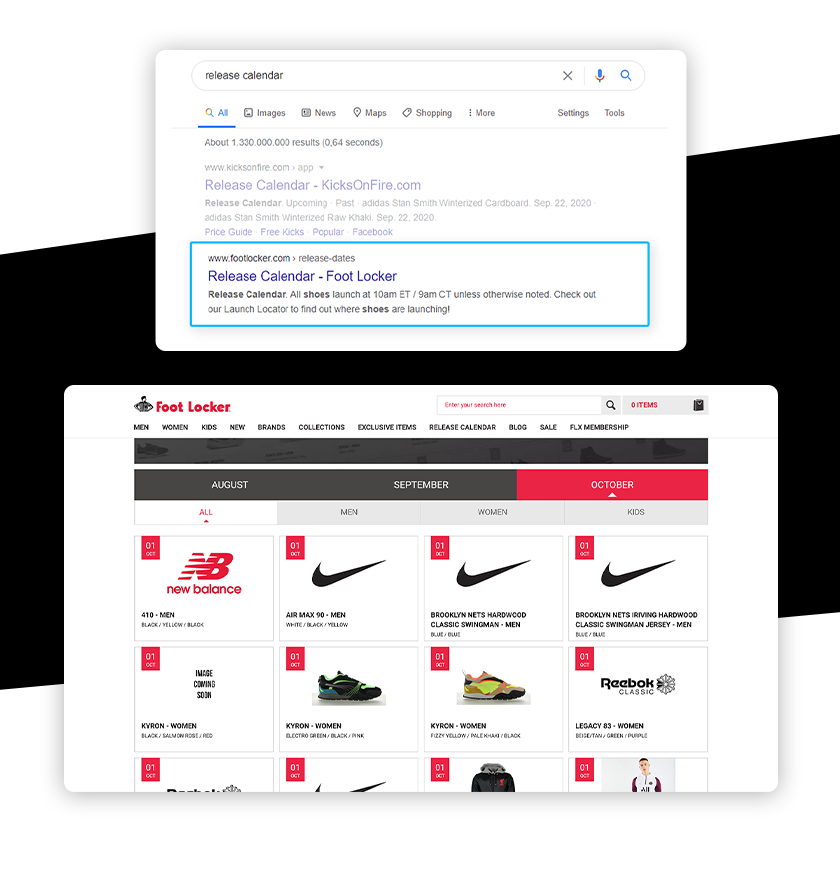 Interest: Engage your visitors
You generated traffic to your site, now it's time to seize customers' attention. The way you present your offers and your products in the online store has a huge impact on what customers place in the shopping cart. This is especially true during the holiday shopping season as countless retailers compete for customer attention. Targeted digital merchandising helps businesses introduce their unique selling proposition and nurture new visitor relationships with compelling content.
Use attractive banners
Those who shop at the end of November are mainly looking for one thing: deep discounts. Therefore, ensure that customers know they have come to the right place by visually displaying your Black Friday specials through banners, product suggestions, bundle offers and more – enticing customers to click.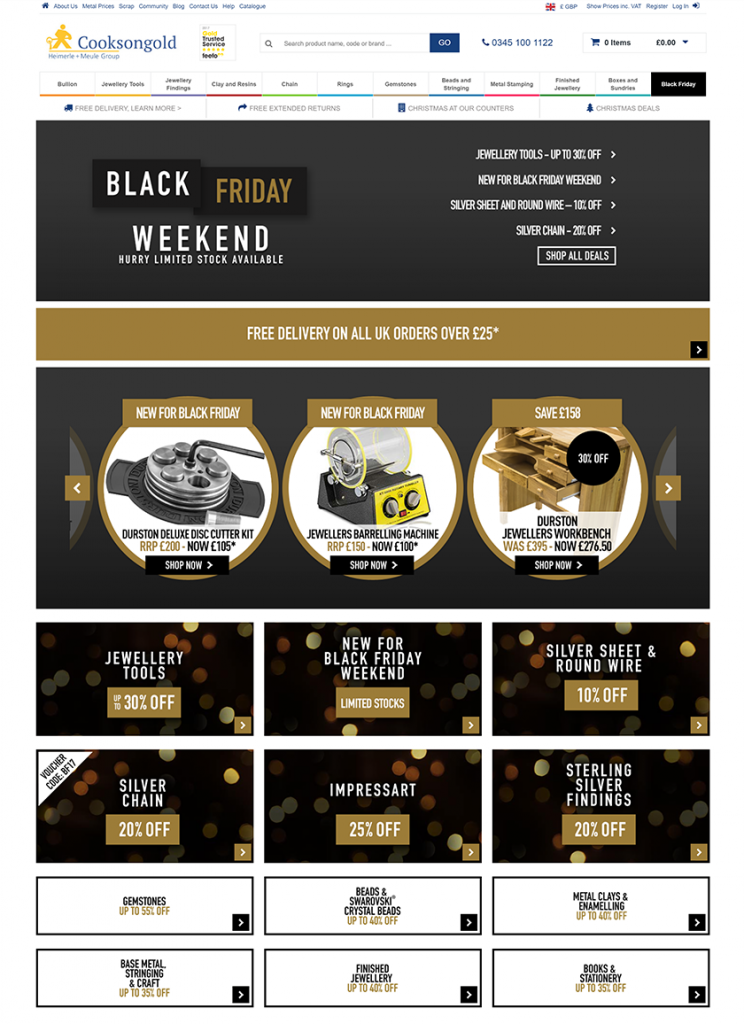 Leverage feedback campaigns
Inspiring customers to make online purchases doesn't have to be difficult, especially with the help of FACT-Finder's feedback campaigns. Retailers can use this feature to target and influence the content and display of results.
For example, a sporting goods retailer wants to promote a Black Friday sale on Reebok running shoes. All that needs to be done is to create a feedback campaign that is triggered whenever 'running shoe' is included in the search query or the category selection. The campaign can activate a 'Reebok SALE' banner above the results and promote the discounted shoes within the first products, ensuring that the sale cannot be missed by anyone interested in running shoes.
Display products with purpose
The search function in an online shop is the most important sales tool. Customers who enter a query into the search box have higher purchase intentions compared to those who browse and click through categories. In the discount-driven event that is Black Friday, it's important that all search result reflect the essence of the day: discounts.
Our FACT-Finder consulting team sees it time and again during customers workshops where the arrangement of product results is based on the recommended retail price and not on the reduced price. When a customer wants to sort by price, the best offers are not displayed in the correct positions.
Ranking rules allow retailers to customize the order of search results in relation with their current priorities – making it extra easy to arrange discounted products at the top of search results during Black Friday. Then, when a product goes out of stock, simply relocate it to the bottom to avoid frustrating online visitors with offers that are no longer available. This is not only a valuable lever for your discount strategy but also a big help for customers looking for deals.
Indicate discounts
In the competition for Black Friday shoppers, it often comes down to the details. For example, tiny but critical details are discount icons on your product thumbnails. They help visitors quickly locate in the search results, on category pages and in the suggestion menu, which products are on sale. Featuring the percentage discount also helps to catch attention.

Consideration: Support prospective buyers
You've gotten consumer interest, the next stage is establishing an emotional connection that inspires a desire to make the purchase. This point of extended engagement focuses on nurturing the lead, building a relationship, and establishing trust between them and your online shop. The right offer and content at this stage can have a dramatic impact on lifting your conversions.
Higher traffic demands better performance
If the loading time of an online shop is delayed by just two seconds it can increase the bounce rate by over 100%. Therefore, shop performance is a crucial conversion factor. To prepare for Black Friday 2020, remember to upgrade your servers so that the online shop is ready for heavier traffic.
It's important to identify weaknesses ahead of the busy season. To analyze page speed, retailers can use tools such as PageSpeed Insights by Google. This tool provides a detailed description of how fast your site loads on desktop and mobile and includes a step-by-step breakdown of exactly how to improve it.
Redirect to Black Friday pages
To find the best deals, some customers enter terms such as 'sale', 'black friday' or 'discounts' through the site search. Support customers by forwarding such queries to a Black Friday landing page. There, retailers can provide an overview of special offers, provide gift guides and help with product inspiration.
FACT-Finder makes it possible to create redirect pages in seconds. Simply create a forward campaign in the user interface, specify the search terms that should be redirected and enter the target URL. You can also use FACT-Finder Analytics to help you define which search terms customers used last year.
Make use of 'no results found' pages
Plan for searches that lead to dead-ends. Instead of discouraging invalid queries, turn them into opportunities by transforming your no results page to a page where customers can receive targeted support and motivate them to continue searching.
Customers tend to prefer clicking, so showcase your best sellers and best deals. This will encourage customers to click on something instead of re-typing, increasing the chance that they stays in the shop. In addition, offer customers a way to interact with you, whether through a chat tool, free service hotline, or virtual consultant.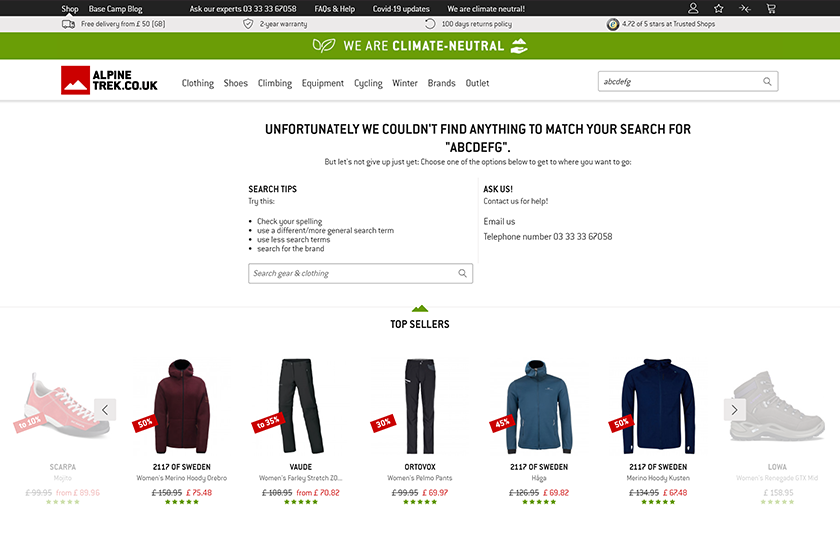 Offer guided selling for gifts
Black Friday shopping is, to a large extent, gift shopping. Statista reports that 60% of Americans usually start shopping for Christmas gifts before December. But finding the perfect gift is not necessarily an easy task. With more purchase options than ever, it's understandable that online shoppers can feel overwhelmed when making a purchase decision. It's in these early stages of researching what they want to buy that consumers turn online for help. Ultimately, the decision on where to buy gifts will come down to the retailers that can provide them with the best ideas.
It's easy to think of multiple experiences we've had with a sales associate who put their product knowledge to good use and took away any doubts, ultimately helping us pick a gift we're proud to give. Yet the majority of these experiences are in store. How many times can we recall receiving this kind of support while online shopping?
Guided selling is the online equivalent of an in-person exchange: interactive, helpful and intuitive. This is a shop function that guides customers through the selection process via a question-and-answer format. The tool asks the user simple but selective questions. Based on the answers, this digital consultant displays corresponding follow-up questions with text and images, making it both easy and fun to use. The more questions answered, the more the results are filtered, leading to a more precise selection of highly-relevant products.
Cross-sell with intelligent recommendations
Conversion is not the only objective – successful e-commerce also depends on the average size of customer shopping carts. It's easy to increase the cart volume by providing suitable product recommendations. For example, a person who buys a camera may also need a complementary accessory such as a strap but, a lot of times they don't think about it – that is, until the online shop shows it to them.
Help customers complete their Black Friday shopping list by suggesting items that complement their purchases. You can feature these recommendations in the product details page or in the shopping cart.
Use location-based search
Know what is accessible offline, in their nearest store, is an added value for customers. For example, local availability, prices for their selected store, if store services such as Click and Collect or curbside pickup are offered, etc. Having access to this type of information allows consumers to pick up their products immediately, helping them avoid waiting for delivery. This not only expedites Black Friday shopping but also improves the shopping experience.

Conversion: Close the sale
Retailers have invested vast time and resources to get consumers to this critical end point. Which is why it seems almost unbearable that users, after having added items to their cart, would then choose to abandon their purchase. Yet they do. The Baymard Institute has tracked the global average cart abandonment rate for 9 years and it currently sits at 69.2%.
Too often, retailers develop online shops without ever experiencing the checkout process from the customer point of view. In order to reduce cart abandonment and lift conversion rates, it's important to keep the customer at the core of every optimization.
Straight from consumers, these are the top 3 reasons they abandon items during checkout according to RetailMeNot plus tips on how to avoid these common checkout pitfalls:
#1. Extra costs are too high (shipping, tax, fees)
Shoppers will go to great lengths to avoid paying for shipping and will likely result in an abandoned shopping cart. With a smart shipping strategy, retailers can meet shoppers' expectations without tanking profits. A few ways to offer free shipping are:
Paid membership program for free shipping. On days like Black Friday, give members an added service benefit by letting them view deals earlier and start shopping ahead of non-members.
Only at certain times of the year, as a special offer or on busy days like Black Friday or Cyber Monday. This is a good way to test the effects that free delivery will have on your business.
With orders over a certain threshold. This is often the most popular choice and the cheapest to implement because it covers the cost of shipping on smaller orders and encourages purchases on additional items in order to reach the minimum.
Only on eligible items. Retailers can reserve this service for higher margin products, ensuring a gain on the sale, or on smaller, lightweight items that don't cost much to ship.
#2. The site requires creating an account
Black Friday is an opportunity to build loyalty with new customers but recruiting them via member accounts isn't the only way. Yet some sites are so dead set on their membership model, that they completely ruin their chances at converting some users.
Sites which force users to create an account before checking out are basically saying "no" to a huge amount of conversions. It's better to have more conversions through guest checkouts than to have less conversions and a few extra membership signups.
Provide shoppers with checkout options: member checkout, guest checkout, PayPal checkout, or even add a "log in with social media" button. Authenticating users with a Twitter or Facebook account is much easier than forcing new customers to register a new account just for a single purchase.
#3. Too long or too complicated checkout process
Streamline the checkout experience and keep it simple, easy and clear. Make sure to eliminate any requirements that are not necessary for completing the checkout.
How to minimize steps:
Reduce the amount of form fills and only include necessary field. Website with fewer fields have a higher conversion rate.
Use autofill so you never ask for the same information twice.
If a customer makes an error and overlooks a required field, just flag the problem. Making a customer retype and entire page of information is the perfect way to lose a sale.
Delete links that point to other pages of the website (think navigation menu & footer links)
Have a clear progress bar in place
Make the form interactive so that you provide instant gratification.
Price + experience = the winning formula
Black Friday is centered around price. But fighting a price war against competitors with deep discounts as your only weapon isn't going to guarantee you a winning hand. Leading with a great user experience at the frontline, however, just might.
When all others are focusing solely on price, focus on offering an unbeatable experience – assuring that customer's incentive to purchase from you exceeds the incentive to purchase from competitors. Utilizing the tips above, you can compete with a dynamic duo strategy that will leave consumers feeling heard, seen and appreciated.