Part I uncovered two key challenges that eFood merchants face: gaining customers and maintaining loyalty. Part II will address how to manage both challenges successfully.
Customer acquisition
In order to gain new customers, online food retailers should focus on added value. That is, connecting their offering with an attractive price promise. It's also essential to gain customer loyalty through fresh products.
Retailers can work towards this by employing a transparent and efficient supply chain, fair return policy and customer review system. By doing so, their online grocery becomes an attractive alternative to brick-and-mortar businesses.
Additional services, like predefined cart assembly, individualized product branding, or subscription and flat-rate offers, can also make e-commerce solutions within the food trade industry a more attractive option to the public.
"E-commerce is interactive commerce. The individualization according to customer preferences is an animated counterpoint to the hardly emotional purchase in the brick and mortar grocery store," says Alexander Ertner, Vice President of the Working Committee for food trade, bvh.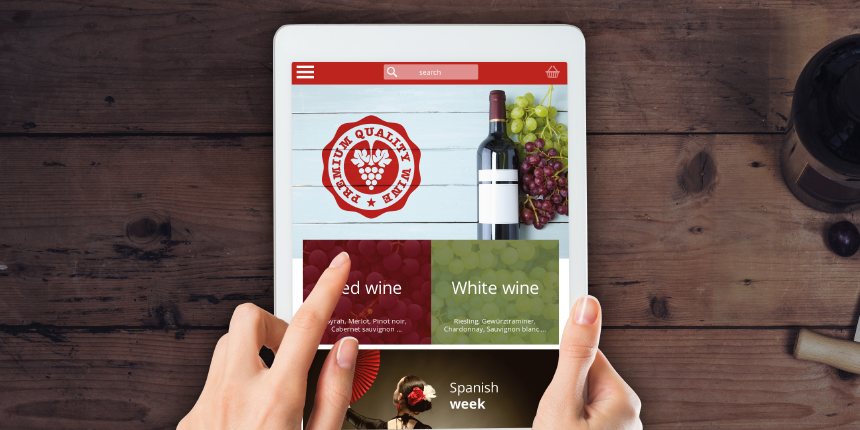 Customer loyalty
There is hardly any online food retailer that has succeeded in gaining long-term customer loyalty from occasional sample buyers.
Very few online food retailers have ever succeeded in gaining customer loyalty from occasional buyers. However, already there are some promising concepts that can make shops more attractive for regular customers. For instance, a loyalty scheme in connection with customer profiles or a wish list functionality ensuring that the product range is always adapted to customers' needs.
Joost W. van der Laan, an independent consultant for Retail Economics, sees the possibility to quickly react to customer feedback as a major advantage of online retailers against brick and mortars. He says, "The most promising communication feature is the possibility for customers to respond to the retailer's information and marketing mix elements. A retailer may solicit assortment suggestions and complaints. The internet makes it possible to use customer complaints as powerful drivers for quality improvement in the company."
Retailers operating web shops should also focus on an easy customer journey. Only by doing this will they ensure that customers are willing to return. The correct interpretation of the search query can be sales relevant and avoids losing the customer to the competitor, who is only one click away.

Due to product labeling, it often happens that a search query for a specific food group will result in numerous, and unfitting items that include the term. For example, a search for "beef" can result in cat food containing beef. REWE, a German multichannel retailer, relies on FACT-Finder's search and navigation solution to overcome this challenge.
This quick and accurate detection of products also plays a critical role in B2B because as professional buyers, online visitors are less patient than if they were shopping for private use.
Snabbgross, a Swedish food wholesaler part of Axfood-Konzerns, integrated FACT-Finder technology into it's online shop. They now have the tools e-commerce platforms needs to improve usability, achieve higher customer satisfaction and increase turnover. Here is an overview of their advantages:
Error tolerant search functionality simplifies the detection of the right products
Dynamic navigation shortens the query tracks in the shop.
Merchandising campaigns: with banners, pushed products, landing pages and more, it's possible to create an appropriate shopping atmosphere and to influence selective search results.
Ranking rules: according to business objectives and customer requirements, relevant products can be displayed first – just like in brick and mortars, where products are placed in eye-level displays for better sales.
The Recommendation Engine increases cross-selling and upselling
Product data and usability
Online pure players are saving costs on the sales area and sales forces required for bricks and mortar stores, but these economized resources should be invested in the right areas.
Dr. Mirko Warschun, partner at A.T. Kearney, says, "Retailers could profit from the fact that on the internet it is much easier to implement a clear connection between the product and other specific information than in a supermarket. In contrast to the offline world, which requires heavy investment in screens, information can be made available, updated and adjusted to the current offer with ease. Additionally, with the help of intelligent up- and cross-selling methods the average receipt can be increased."
Delivering the right content to the right customer is essential for high turnovers and conversions. Andreas Wagner, product manager of FACT-Finder argue, "Investments in product data and content ensure ROI is reached quickly, when made available to customers via search and navigation functionality. Thus, content delivery is as important as content generation."
---
Learn about profitable business models for grocery merchants by reading part III of our eFood series.