This year's World Travel Market in London provided a packed full four days of networking, presentations and business opportunities. To get a feel of what is next and where the travel industry is heading, this proved to be the must-attend event of the year. With almost 48,000 senior travel industry professionals, government ministers and international press attending, the WTM leads the way for loads of partnering possibilities – and this year was no exception.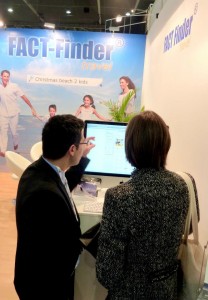 With a prominent stand deep within the Online Travel & Technology jungle, FACT-Finder Travel generated a lot of attention of what we can expect to be the next big thing within online travel search. It is no news, that the online travel agencies are eager to generate traffic towards their web sites, but a much neglected area is what to actually do with these visitors once they enter the web page. As this problem has become more and more obvious over the last few years, the interest for FACT-Finder Travel's semantic search was overwhelming.
Some came prepared, steering directly towards the FACT-Finder Travel stand to try out our demo and discussing the next steps of implementation. Others got lured in by curiosity to see what the fuzz was all about. I am happy to say that neither one left disappointed and as the buzz started to get out there, people who never thought about how important semantic travel search will be to their business came flocking.
Where the competition is high, the dynamics are even higher and with the whole world, literally, in one room discussions evolved around industry opinion and, of course, a discussion of trends of which we were very eager to influence.
We have always had one ear to the ground to know what is on the move, and especially after WTM we can with confidence tell you where the industry is heading – it's getting semantic.
Learn more about semantic travel search FACT-Finder.