Get to know Chris White, Head of Strategic Partnerships at Styla, and Gordon Thomson, E-Commerce Solutions Specialist at FACT-Finder, as they prepare for their upcoming co-webinar. They share with us who they are, what makes them tick, and provide valuable insights into the world of e-commerce.
Following their recent partnership in the UK, FACT-Finder and Styla have come together to share their expertise in a single, jam-packed webinar. In these weeks leading up to the big event, we have the rare opportunity to turn the tables on our webinar speakers – today, we get to ask the questions.

This will be the first of many activities to come in the UK, and we're excited to learn more. Styla's enthusiasm for shoppable content has won us over… and now we're off to win the hearts of retailers in the UK together. So without further ado, let's hear from our speakers.
We're so glad you can join us for this interview. Can you tell us a little about yourself?
Chris: First of all, thanks for inviting me. I am really excited to be here! For the last 10 years, I have been working with brands to help them improve customer experience and increase engagement through the use of technology.

Gordon: As for me, I'm a native Scot now living in Germany. I have been working in technology and software solutions for about 14 years. As much as I love living in Germany, I must say that the lack of televised rugby is my main complaint. On the bright side, I found out that the Black Forest region nearby actually produces a lot of whisky – which makes up for that point slightly.
What's you role at FACT-Finder / Styla?
Gordon: I'm an e-commerce solutions specialist for FACT-Finder, and I am responsible for taking our solution to market in the UK and other English-speaking countries. I get to introduce the software to retailers, consult with them on how it can integrate into their business and enhance their offering. I also get to create webinars and presentations for events which is really fun.

Chris: Right now I am working on building a partner ecosystem, bringing together all the best tech providers and agencies to help brands grow.
What do you enjoy most about the company? Did anything about it surprise you?
Gordon: It definitely has to be the team I work with. I'm really lucky to be surrounded by incredibly diligent and creative people who work together so well. The product itself is really easy to stand behind due to the quality and talented team involved in creating it. It's easy to see why it works as well as it does. The most surprising thing was learning that Carsten Kraus, our CEO, actually wrote operating software for Atari in the 80's which was used on 700,000 computers. Being an ex-Atari owner I thought this was really cool.

Chris: Content is a really big challenge for retailers, so helping them solve this challenge is really exciting!

Switching gears a bit, we're going to focus more on the upcoming webinar. Before getting into the meat of it, we wanted to hear about the experience on a more personal level. Even though Chris and Gordon are experts at speaking in webinars, they're still human. Let's hear a little bit more about what happens behind the scenes.
What do you enjoy most about doing webinars? What do you dislike?
Gordon: It's a great way to engage with people who may not know that there are solutions out there to their biggest pain points. Getting to share knowledge and connect with people by offering something of value comes with a nice sense of satisfaction.

Chris: Its a really great way to connect with a wide audience and share my opinions and hopefully some insights that prove to be useful for those in e-commerce.
Have you ever made any embarrassing mistakes during a webinar? What happened?
Chris: We ran a webinar last year with one of our tech partners. Unfortunately, half way through the webinar we lost power, which as you can imagine brought the webinar to an abrupt end… Let's hope it doesn't happen this time round!

Gordon: In my last webinar, I was chatting with our guest speaker before beginning. We got to talking about podcasts, so when the webinar did begin, I opened with "Welcome to the FACT-Finder podcast…" I had no idea that I did that until my colleagues pointed it out afterwards. They were all asking "Hey Gordon, so what's on next week's podcast?" It took a while to live that one down!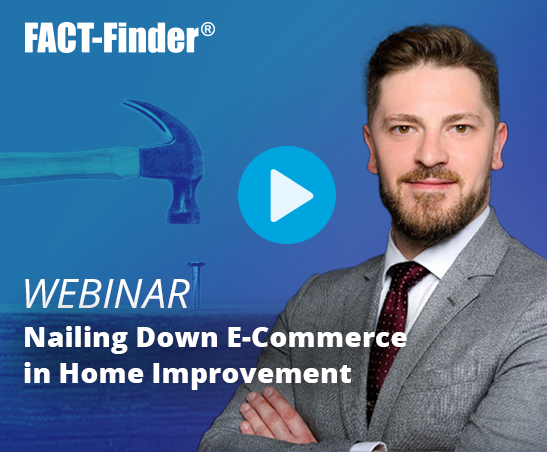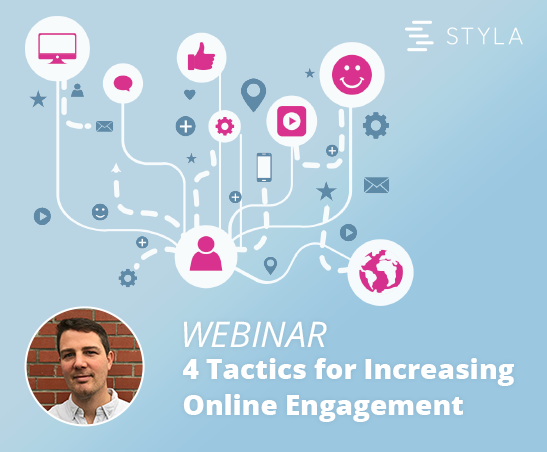 Check out some of their previous webinars to get a glimpse of what you can expect in their upcoming webinar together.
What does your company do, and what makes it stand out?
Chris: Styla helps retailers create unique digital experiences to connect with their audiences and inspire them to buy more. Our SaaS platform helps create and publish rich shoppable experiences without the need for any code or agency, helping retailers and brands deliver inspirational, engaging content in record time. With so many choices available for consumers today, retailers need to cut through the noise and differentiate themselves through their own brand and product stories.

Gordon: FACT-Finder is a full-service conversion engine that provides a massive uplift in customer experience for e-commerce platforms. It starts with full optimisation of the on-site search and uses AI to continually optimise its operation based on how site visitors interact with the store. It provides merchandising, product ranking, personalisation, dynamic navigation and a full suite of analytics. What makes us stand out is the simple fact that no one on the market can offer what we can. There are other providers but we offer the only complete solution.
Why did you decide to form a partnership in the UK?
Gordon: The UK is an incredibly important market for us and a partner strategy is a fundamental aspect of enriching what we can offer our customers. We have a successful partnership with Styla in Germany, so after getting to know the UK team, we were eager to expand that relationship into the UK. They are innovative and dynamic and the concept of having inspirational shoppable content that drives sales fits in beautifully with our own offering.

Chris: FACT-Finder compliments Styla really well, so its a great natural fit. Site search and content go hand in hand. About 50% of people prefer to use the search bar when looking for products, and it makes sense to enrich those search results with really great content to help inspire consumers to make that purchase.
How are retailers using your solution to gain a competitive advantage?
Chris: Retailers' desktop and mobile sites are their digital shop window. This is where consumers are going to discover, explore, buy and engage with your services. It's key that your shop window stands out from the crowd, with relevant and exciting content that catches the attention of today's customer. Retailers that are able to create these rich, digital experiences will see a significant increase in engagement time, reduction in bounce rate and increase in conversion. Brands that are producing a mix of relevant, rich content like guided selling tools, lookbooks, UGC, video and blogs/micro sites are seeing the best results. In 2018, brand storytelling was the number 1 topic for CMO's.

Gordon: FACT-Finder helps retailers get customers to the products that are perfect for them in record time. Retailers have full control right out-of-the-box. They use us to create guided selling campaigns which replicates conversations with an in-store expert. They have the flexibility to show products at the top of searches that are immediately available, on sale, or best sellers. They use us to link products to inspirational or how-to content, or even to create immersive campaign pages. Retailers with sites powered by FACT-Finder have won awards for their customer journey. The results speak for themselves, and we have seen conversion rate increases of 170% plus. Furthermore, we are scalable – so whether its Christmas or Black Friday, we take spikes in search traffic completely in stride.
We're always interested in getting expert perspective. What do you see changing in e-commerce in the near future?
Gordon: I believe that we will see online stores becoming more and more immersive for customers. Content and user experience are key. You can argue that supply chain automation and fulfilment are critical, but they are both driven by how customers choose to buy. No matter where the focus currently lies, retailers need to keep an eye on whether their site is giving the best possible UX. If that starts to fall behind, then optimisations elsewhere become costly and redundant.

Chris: There is a lot of noise about AI, and I can see really practical uses when it comes to the supply chain. This can help reduce costs, improve product selection, manage inventory in clever ways, and enable better fulfilment options like same day delivery. But right now, brands just need to focus on doing the basics correctly before looking too far into the future. Get your content strategy in place, improve site search, add personalisation to help deliver more relevant content, and do things that will engage your audience and get them to make that purchase.
How can people find out more?
Gordon: Easy! Sign up for our free webinar on the 8th of August and let Chris and I explain how to increase your sales conversion using search and merchandising technology combined with engaging, interactive content.