5 simple ways to optimise your online shop and start hammering into conversion results.
E-commerce for the DIY and home improvement market is growing more than ever, so much that it's actually outgrowing physical stores by a 6 to 1 ratio. This thriving digital market is attractive to competitors with 53% of home and garden businesses that now operate online shops in addition to their brick and mortar. With online competition growing, brands have to distinguish themselves to achieve maximum sales growth. We were interested to know how this current development has affected DIY retailers' e-commerce strategies. We conducted interviews with industry experts to learn from their experiences first-hand. We asked for their input and opinion, any pressure points they are experiencing, and how they are approaching these changes in the market. We analysed their responses and found that this market struggles with 5 prevailing challenges.
If you'd prefer to watch the webinar, scroll to the bottom.

1. Conveying product expertise
"We're experts, but it can be hard to distinguish the offering from competitors and get across our expertise."

Martin Gilmour, Marketing Manager at ESE Direct
How can you showcase the industry knowledge that distinguishes you from competitors? We know you are experts, but do your customers know? How can you make your industry expertise visual? The answer is guided selling – higher conversion through interactive consultant functions.
Online platforms sometimes fail to provide customers with the shopping experience they would get in-store, especially for DIY and home improvement projects where support is often needed. So how does guided selling work and how can implementing it into your online shop create a competitive advantage? Guided selling is the online equivalent of an in-person exchange: interactive, helpful and intuitive. A fully online consulting service ready to provide the guidance and support that customers desire. This Q&A format refines search results by restricting unwanted products. The more questions answered, the more the results are filtered, leading to a more precise selection of highly-relevant products. Guided selling offers the advantage of increased trust and turns indecisive visitors into active buyers. Since customers are informed and involved in the product selection, the return rate is directly reduced.


2. Providing the best customer experience
74% of customers feel frustrated when website content is not personalised.

Infosys
Customers are willing to pay higher prices when they feel they get better value and better quality. Is your unique selling point clear to your customers? How can you best present and promote your products without making price the focal point? It all comes down to attractive merchandising and personalisation. A study found that by 2020, customer experience will overtake price as the key brand differentiator. This is a great opportunity for businesses to appeal to DIY customers by providing a memorable and unique shopping experience. Targeted merchandising makes it easy to create compelling content that will leave a lasting impression, while personalisation enhances the shopping experience by delivering tailored results for each customer.
Guide customers to desired products through content-rich campaigns. These are especially useful for crafters who look for seasonal inspiration and projects.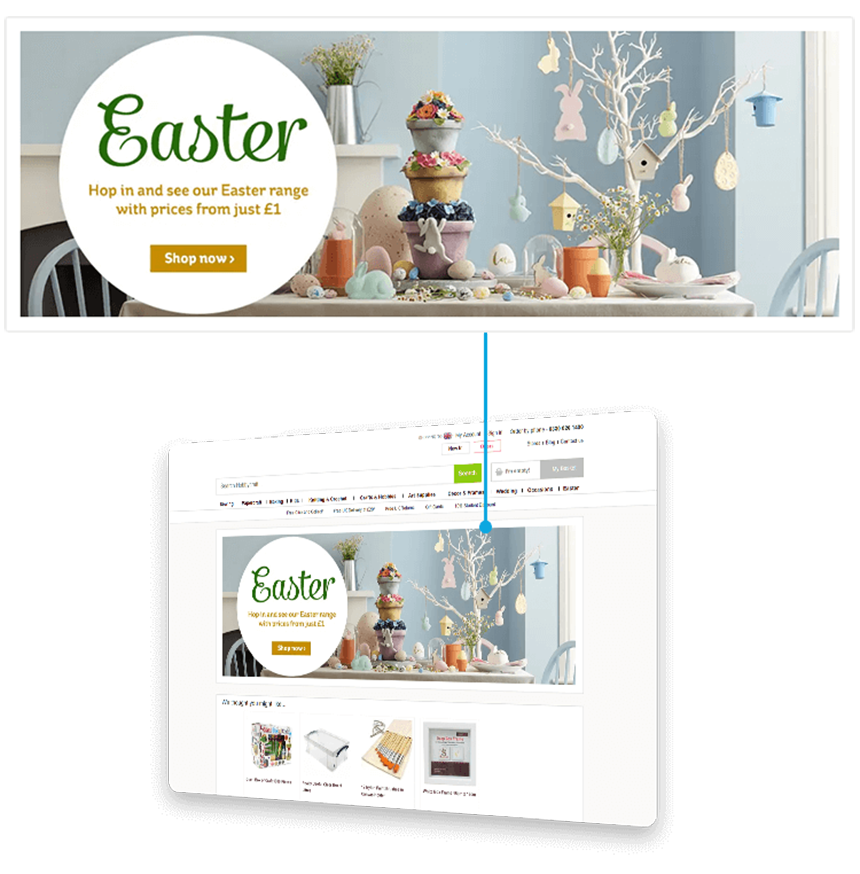 Deliver perfectly tailored results based on browsing and click behavior and help speed up purchases and increase customer loyalty. For customers looking into redecorating their homes, showcase products that fit their style preferences.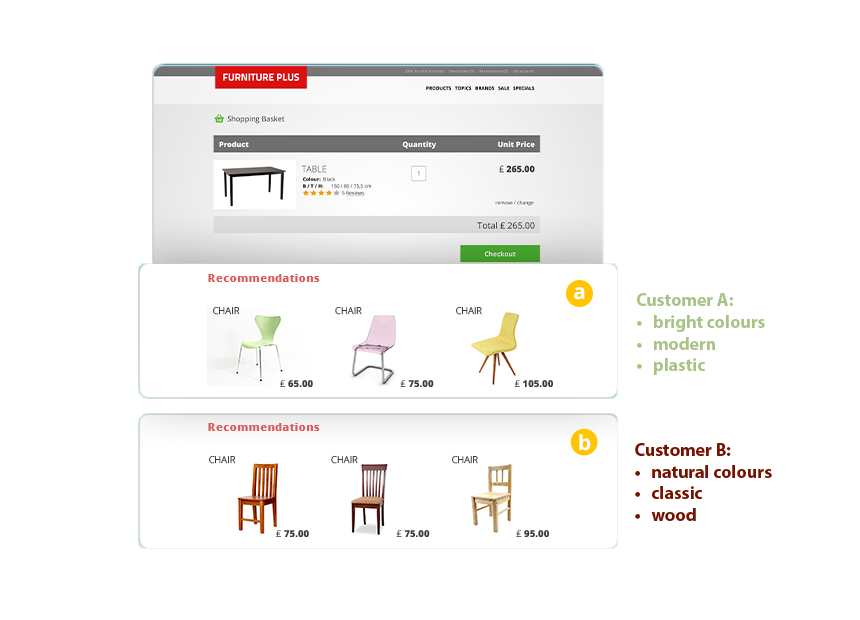 Offer matching accessories and alternative products through intelligent product recommendations. Help customers grow their dream garden by suggesting items that complement their landscaping purchase.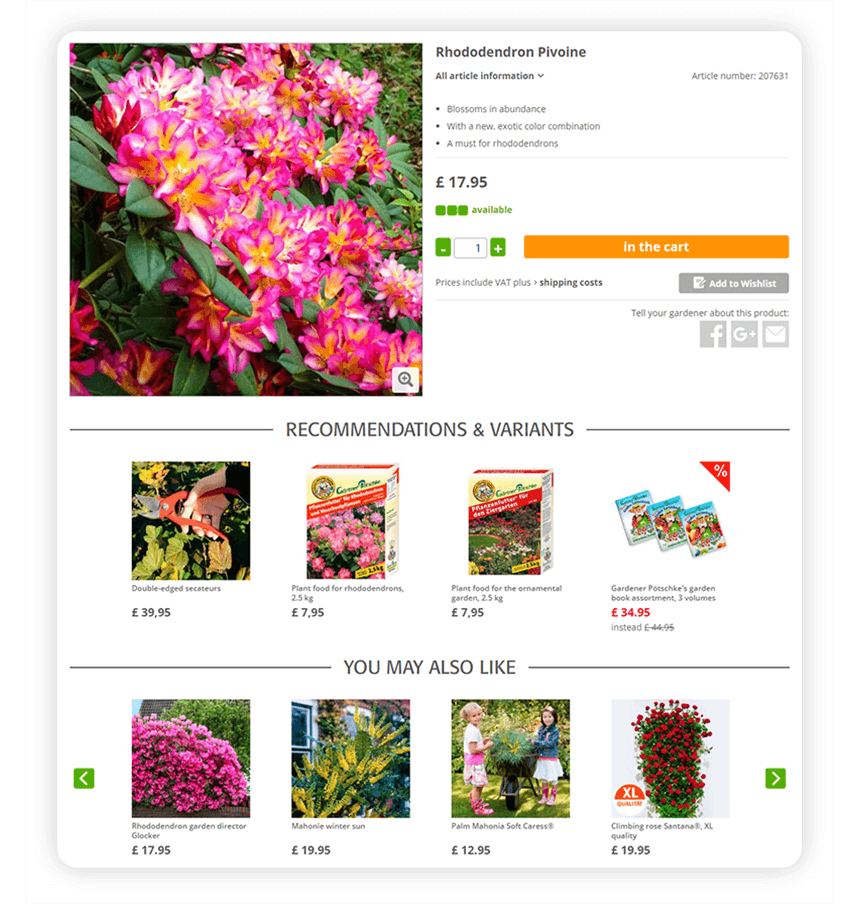 3. Turning traffic into sales
"Everybody talks about traffic. But the bottom line has to be conversions."

Tom McCay, Owner at CCW Tools
You may have high traffic but is it leading to purchases? There are multiple types of do-it-yourself consumers visiting your site, varying from beginners to experts and everyone in between. So it's easy to understand that just like their skill levels vary, so will their search behaviour. 78% of online shoppers agree that the search function is the most important element of a website. But with such differing traits, how is it possible to adhere to individual search habits and support them in making a purchase? After all, all visitors are potential buyers. The solution is to optimise your site search functions.

A responsive search function is crucial. For experts who tend to know exactly what they want, help them find their desired product as fast as possible by supporting product ID and complex multi-word searches. For beginners, ensure that search is responsive to vague terms, intelligent in knowing which words to omit, and error-tolerant to help keep them on track. By providing visitors with a search function that supports all search behaviour, you can prevent potential revenue going elsewhere.


4. Aligning sales to business objectives
"Site search has to display what customers want to see – but also what we want them to see."

Jonathan Marsh, E-Commerce Coordinator at Slingsby
You have optimised your search functions and know your customers are getting accurate and relevant product results. But you have also recently partnered with a power tools leader and want to highlight their new sought-after products. Or you're working with a construction supplier whose products have a higher margin. Or maybe you've launched your own brand and want to promote it to gain long-lasting customers. Perhaps you are overstocked on seasonal items and want to move inventory through a discount sale. So how can you bring all these to agreement while staying true to customer needs and in line with your sales goals? Drive sales where you want them with targeted product placement with the help of ranking rules.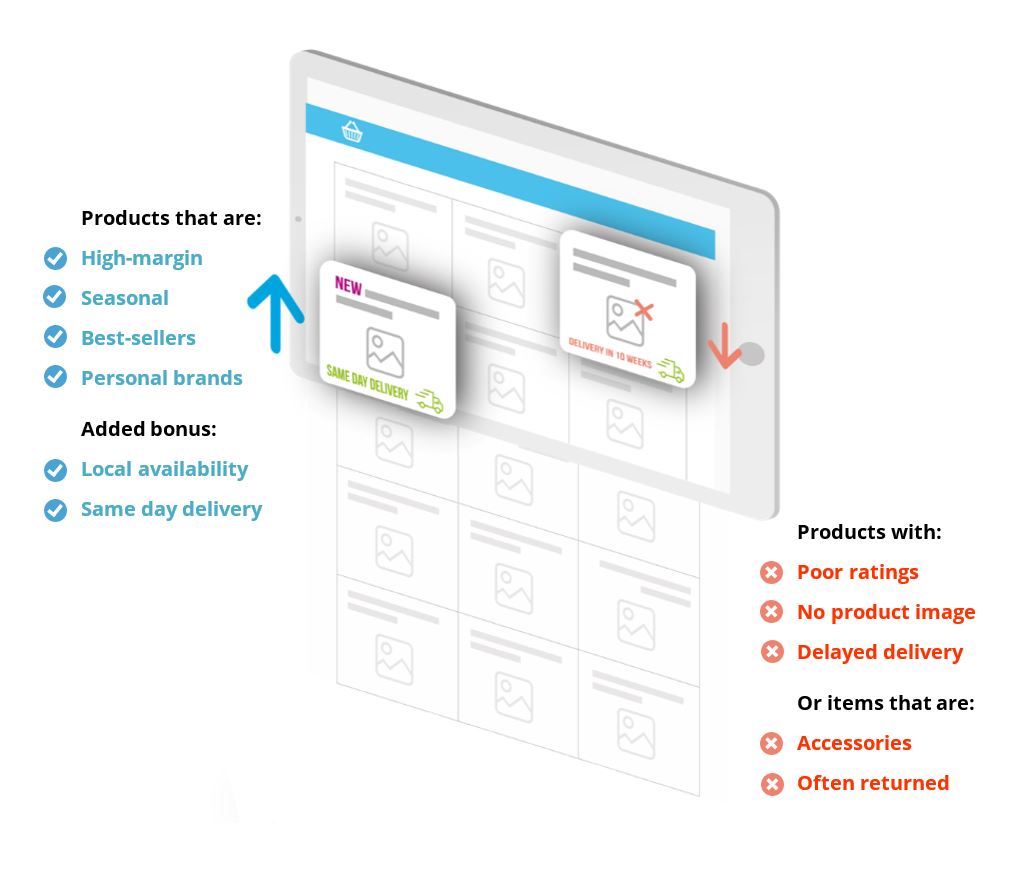 Implementing ranking rules enables you to easily customise the order of search results in relation with your current priorities. Relocate seasonal items to the top to make consumers aware of these limited-time goods and avoid getting stuck with out-of-season merchandise later. And when a product goes out of stock, simply relocate it to the bottom to avoid frustrating online visitors with offers that are no longer available.


5. Increasing mobile conversion
48% find it frustrating to search and buy products on a smartphone.

PricewaterhouseCoopers
The average person checks their phone every 12 minutes and spends more than a day per week online. So it's not surprising that by 2022, 74% of e-commerce transactions will be carried out on mobile devices. When a potential customer is on a hand-held device but your site isn't easy to use, they're 5 times more likely to hop right back to search results and go to one of your competitors who does have an easy-to-navigate platform. How can you prevent this? Optimise your mobile platform to make it easier to shop on-the-go.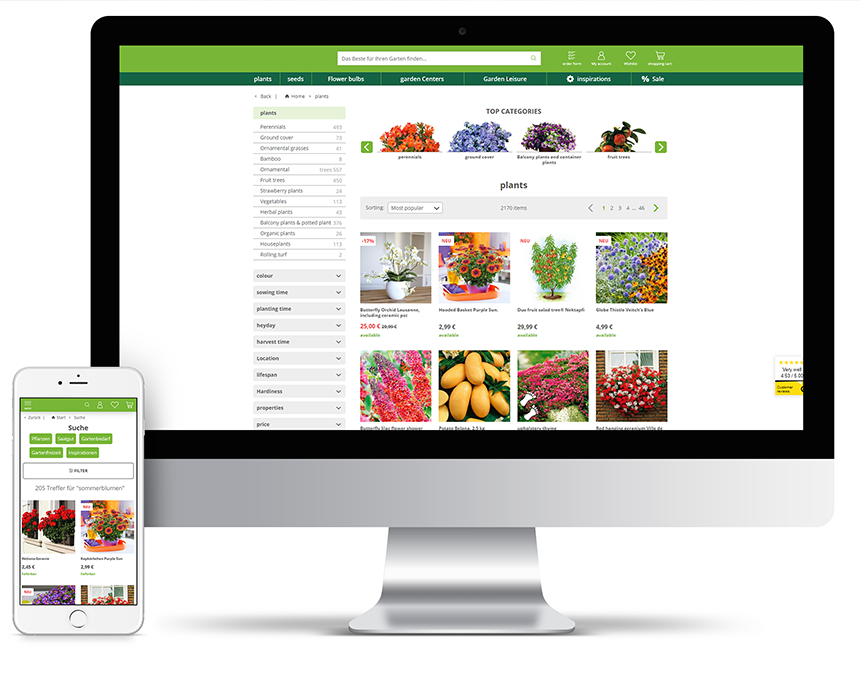 Simple UX changes that behave according to the device or display will provide a streamlined experience for online visitors. Reduce shopping hurdles like pop-ups, and optimise necessary ones like GDPR to be less intrusive and easily dismissed. Avoid customers having to pinch and zoom by formatting the site so that it sizes buttons instead of just shrinking them. Take into consideration typing difficulties on smaller formats by utilizing grammar tools such as autocorrect and synonyms. Avoid visual overload by using ranking rules that feature less products per line but make viewing product images and information more clear. Configuring these small but crucial changes increases the possibility of online conversion by up to 67%.
Bonus: Did you know that Google now uses mobile-friendliness as a ranking signal? Websites that cater to both desktop and mobile visitors see a significant impact on where they place. Click below to test your page and see where you stand.


Hammering into success
With online shopping increasingly growing, retailers are faced with a rewarding opportunity to embrace a digital strategy. Whether you're a new addition to online stores or already established, you may face the same challenges as your peers. Let's recap what those challenges are and the specific solution for each one.
Convey product expertise with guided selling
Beat lower-priced competition via merchandising & personalisation
Turn traffic into sales by optimising your onsite search
Control what's sold with ranking rules
Increase conversions by making your site mobile-friendly
To learn how FACT-Finder is the all-in-one solution, request a free demo or contact us with any questions. Check out our webinar on the topic below.
Sources:
eMarketer
Profitero
Walker