MEVACO turns to FACT-Finder to optimise conversion rates in the B2B shop and increases the number of successful searches to nearly 100%.
"Fascinatingly simple," remarks MEVACO, Europe's leading supplier of expanded metals, perforated sheets and welded grids. As a pioneer in the field of industry 4.0, this medium-sized enterprise demonstrates great innovative spirit. While always aiming to make everyday working life as easy as possible for customers from the metal construction and trade sectors. Their e-commerce team manages all seven online shops from the headquarters in Germany, therefore, a high degree of automation is critical. This is why MEVACO relies on FACT-Finder's search and navigation engine throughout its European shops.

Digital Pioneer in the Analogue Industry
A 2019 study by the Fraunhofer Institute, Europe's leading application-oriented research organisation, indicates that 79% of steel and metal dealers have no experience with industry 4.0 applications. Taking this market knowledge into account, MEVACO decided to distinguish itself early on and lead the way by offering exceptional online services. These include an intuitive user experience, product configurator, inspirational area with rich media instructions, as well as the MEVACO app, which provides insight into the entire product range.
Christian Mertens, E-Commerce Manager at MEVACO explains, "What sets us apart from the market players in the metalworking industry is that we are a very open-minded company when it comes to digitalisation. We try to automate the processes as much as possible. Today we offer more than 14,000 articles in our shop and with our new MEVACO Configurator the variety is almost infinite. Our range of online services encourages customers to process their orders digitally. We are working hard to ensure that this portion increases even further in the coming years."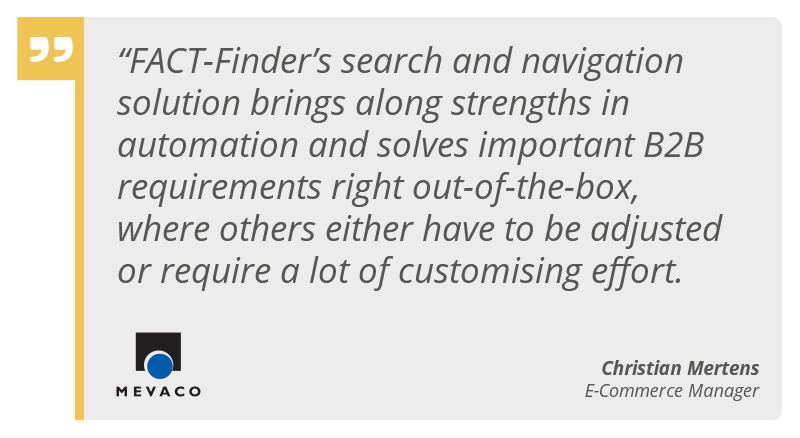 Not All Search Solutions Are Suitable for B2B
When it comes to making the procurement process as fast and simple as possible for online customers, the search function is of the highest importance. The search solution MEVACO previously used was unable to meet the metal trader's requirements in terms of both accuracy and functionality. Additionally, optimizing the search results required a lot of time and resources – exactly what one wants to avoid as an e-commerce team of an enterprise, especially if you have six additional online shops to manage. Therefore, MEVACO decided to integrate a new solution and considered several providers. The decision was then made in favor of FACT-Finder as Christian Mertens, E-Commerce Manager at MEVACO, explains, "FACT-Finder's search and navigation solution brings along strengths in automation and solves important B2B requirements right out-of-the-box, where others either have to be adjusted or require a lot of customizing effort. FACT-Finder is exactly what we needed."

B2B requirements that FACT-Finder meets straight out-of-the-box: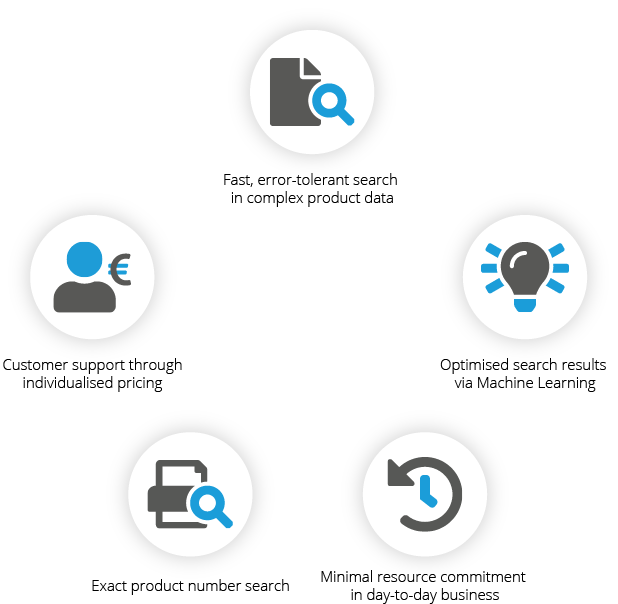 FACT-Finder Delivers Maximum Quality with Minimum Effort
"After a smooth integration, we've only had to create one ranking rule and manage the synonyms and filter configuration weekly. We leave the rest mainly to FACT-Finder's AI-based algorithms – we rely very much on automation," continues Mertens. "This alone has increased the number of successfully-found search terms to 94%. We are therefore confident that using FACT-Finder will contribute significantly to our online success."

The search function in MEVACO's online shops is also extremely important for returning buyers. When customers know their way around, they will be primarily looking for article numbers or DIN standards. Using FACT-Finder's Exact Search function, MEVACO is able to switch off error tolerance for article number searches, allowing product experts to find exactly what they need.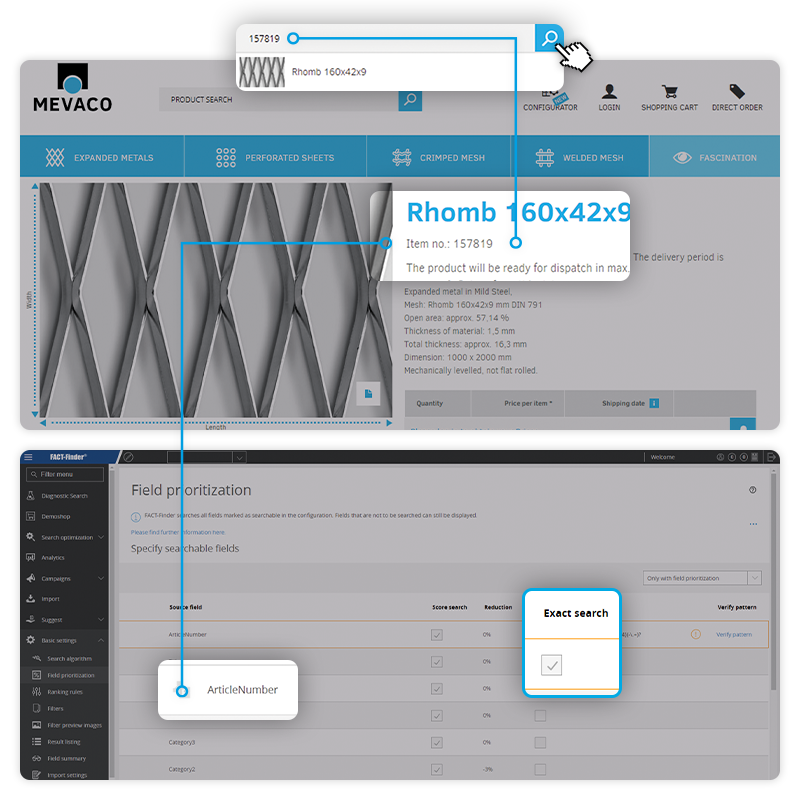 Next Steps: Optimising Suggestions and CMS Search
MEVACO has greatly improved usability in its B2B shops with the core features of FACT-Finder. Now, their e-commerce team looks forward to the results of upcoming projects. Mertens confirms, "We have planned to further optimise the Suggest function and also integrate FACT-Finder's search function to the CMS (Content Management System) pages. We still have a lot of ideas on how to use FACT-Finder's full potential for our digital growth. It's good to know that FACT-Finder, like us, is always working on innovations that are useful."
See FACT-Finder in Action
Whether you are an online pure player or an omnichannel retailer, operate nationally or internationally, FACT-Finder adapts to any B2B or B2C business strategy. With FACT-Finder, you not only improve search results , but also create the prerequisite for your online shop to scale with your e-commerce growth. No matter how many languages, sales channels or products, FACT-Finder excels and provides the most relevant search results every time. Better yet, it doesn't require any extra effort on your part – no need to tie up your valuable resources.

Visit our B2B E-Commerce page to learn more about how FACT-Finder is the all-in-one solution for your business. Check out our blog to learn how FACT-Finder was awarded as the 'Supreme Software' for its excellence in the B2B industry. As a leading SaaS provider, we offer free demo plans that allow users to test-drive our software features at no cost and make well-informed decisions. The demos give you the chance to understand how the software can help to boost your company's efficiency and profitability. See FACT-Finder in action by requesting a free demo: