Jumbo optimizes its online shop to help and empower home improvement shoppers, leading to a 40% increase in conversion rate.
DIY retailers face particular challenges in e-commerce. First, there's an extensive range of products, from tools and building materials to bedding and garden equipment. Then, there's a unique search behavior of DIYers: instead of searching for a specific product, customers think in terms of project, such as renovating the bathroom or building a terrace.
It's therefore crucial for success that DIY retailers offer inspirational content and expert advice. But how can this be implemented online?
Jumbo, a Swiss DIY chain, has not been in e-commerce for long, yet the way it addresses industry demands has quickly established them as a role model. Mario Coiro, Team Leader of Customer Insights and Customer Experience for Jumbo, shares his experience with the online shop, integrating FACT-Finder's site search and managing resources during the lockdown.

"In the first year with FACT-Finder, the search conversion rate increased by 40%. And in the second year, it increased again by 40%. The impact is clear, FACT-Finder contributes greatly to our sales."

Mario Coiro
Team Leader of Customer Insights and Customer Experience
Jumbo
5X more orders during the Covid-19 lockdown
Just the like the name indicates, this Swiss DIY chain does things big. With 40 stores across Switzerland, a range of 65,000 products and annual sales of more than 500 million Swiss francs, Jumbo lives up to its name. The company first started in 1982 as a full-range supplier, specializing more over time in DIY supplies. Today, Jumbo is the only DIY-dedicated store in the country.
The Covid-19 lockdown in early 2020 was challenging for many retailers, including Jumbo – and a stress test for the comparatively young online shop. As Mario explains, it was more important than ever that the online shop ran smoothly despite the increased number of visitors.
"During that time, we had five times more online orders than usual. Our resource planning is geared toward growth but with so many orders, we had to reorganize. To ease the strain on order processing and logistics, we temporarily blocked certain categories and products – for example, cement bags. They are inexpensive but require a lot of effort when shipping. Under normal conditions, we ship these products," says Mario.
FACT-Finder outperforms open source solution
When the home improvement retailer first went live with its online shop, Jumbo.ch, in 2018, it used a search solution that made it difficult for customers to find the right products for their DIY projects.
Mario recalls, "We had implemented a standard open source search solution but the quality of the search results was far from what we expected. It's important, especially in DIY, that the search understands exactly what the customer wants. Therefore, we quickly looked for alternatives and compared different search providers. FACT-Finder impressed us the most in terms of scope and capabilities, so we integrated the solution into our online shop. When implementing a new system, we're used to several rounds of integration until everything is working properly. That was not the case with FACT-Finder and Spryker. The project went quickly and smoothly – and they delivered on what they promised. We are still very happy with our choice. FACT-Finder and Spryker work wonderfully together."
For the past two years, FACT-Finder servers have been answering all of Jumbo's online search queries. Under normal conditions, this mean one million online visitors per month, with half using the search bar during their visit. The results from switching from open source to FACT-Finder search has already reflected in their KPIs.
"One KPI we have been focusing on since integrating FACT-Finder is the search conversion rate," says Mario. In the first year, the search conversion rate increased by 40%. And in the second year, again by 40%. The impact is clear, FACT-Finder contributes greatly to our sales."

Displaying valuable content for DIYers
A powerful search engine is not the only FACT-Finder function Jumbo uses to improve the digital customer experience. They also rely on customized search results, intelligent suggestions and easy-to-find advisory content, which as Mario explains, is essential in DIY.
"In the do-it-yourself space, customers tend to be interested in projects rather than individual products. They're either rebuilding or creating something new. For example, if you want to repaint your office, you may ask yourself what you need. Paint is obvious , but angled brushes for corners and masking tape are also important. You have to remind customers of this. And when it comes to the paint, there are different types for indoor and outdoor. So, if you're not an expert, you need advice or inspiration. With FACT-Finder, we can respond to this need. In addition to products, we display helpful content that is relevant to the search query right within the search results. The format is nonintrusive and we can mix content as we see fit. Customers can simply click and view the content if they're interested or ignore it and continue scrolling through the products," says Mario.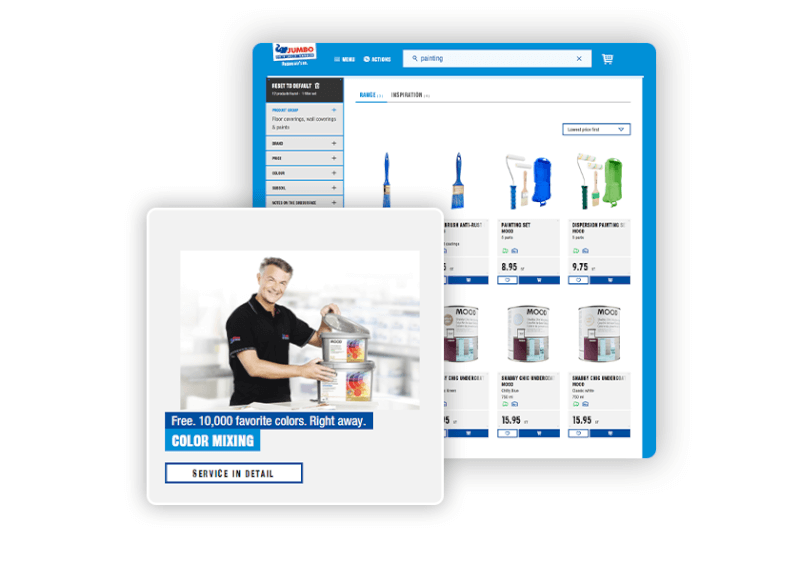 Next e-commerce goal: 10% of total revenue
Jumbo takes a holistic view on customer interaction and sees the e-commerce channel as an essential part of their omnichannel strategy. The flexibility of Spryker Commerce OS has allowed the DIY retailer to seamlessly connect its existing systems (which include more than 20 interfaces to CRM, ERP, finance and third-party systems) to the online store. Jumbo can manage prices and merchandise consistently across all its channels; since the systems are synchronized, every change is updated both offline and online.
Jumbo is currently pursuing an innovative omnichannel concept. The pilot project, called 'Shop-in-Store', equips smaller branches with an area of 400-800 square meters with terminals or tablets which display the full product range. This enables branch employees and customers to find items that are not kept in stock for space reasons. They can then chose to have the item delivered to the store or directly to the customer's home. This means that even the smaller stores can benefit from the wide range of products available.
The Jumbo team has clear ambitions on what they want to accomplish in the next few years. Growing their online channel is one of their key goals.
"In the next two to three years, we would like to reach the 10% mark, meaning make 10% of our total sales via the online store. In order to achieve this goal, we will expand our assortment to include external product ranges and delve deeper into long-tail queries with the help of dropshipping. We also plan to make more use of our wealth of content by implementing search optimizations on our advisory pages. It's an advantage that with FACT-Finder we have a search that performs well and can display all our products and content according to our logic."
Upgrading to Next Generation is already on the agenda
"Looking at our growth goals and product range expansion, using FACT-Finder Next Generation which brings higher performance and new capabilities, is definitely the next logical step for us," says Mario. "Especially because our store is available in three languages (German, French and Italian). Aside from German, multi-word terms are a big issue because most languages don't have compound terms. Given that Next Generation is even more precise in handling multi-word searches, we expect an additional uplift here. We look forward to testing the new version."
View the PDF to discover our latest technology:
---
More DIY content