Re-In streamlines central shop control with FACT-Finder to generate increased revenue compared to other search and navigation solutions.
Re-In Retail International GmbH runs four online shops, with a range of products that includes more than half a million articles. Customers can choose from virtually all the items under the sun in the areas of electronics, model and technology – assuming they can find what they are looking for. That is why Re-In has integrated FACT-Finder search and navigation technology. This results in improved search results in the shops and massive amounts of time saved when implementing marketing promotions and tapping into new markets. An A/B test from last year confirms: sales figures show that Re-In has made the right choice with FACT-Finder.
First-class results despite little manpower
The Nuremberg-based retail company Re-in combines four online shops: voelkner.de, digitalo.de, smdv.de and getgoods.com. These address various – sometimes international – customer groups, including private and commercial customers. So, it is no surprise that centralised shop control can quickly become an issue. It is equally clear that the eCommerce team welcomes each step towards automation to support conversion optimisation.
Patricia Zwack, On-Site Search and Shop Control expert, explains: "Although we don't invest a huge amount of manpower in FACT-Finder, we do get really good results. Within the basic settings, we can define the level of weighting that FACT-Finder applies to our various data fields – such as Product Name, Category or Description – during the result search, and the level of error-tolerance we want to have in the algorithm. However, if it is not possible to find a specific product, then we can see that in the automatic FACT-Finder evaluations. Just one synonym or preprocessor entry is normally required to correct the result."
The fastest way to create landing pages
A significant proportion of Re-in customers do not access the shop from the homepage, but use landing pages in-stead. These can be advertised in newsletter promotions, advertising in print, or affiliate actions. "The FACT-Finder campaign module provides us with the ideal tool for agile integration of our marketing promotions," says Patricia Zwack. "We can use criteria to define which products and contents are to appear on our landing pages. As these are not static product sets, we do not need to make any updates if our assortment changes or specific products are sold out. We use FACT-Finder to create many of our landing pages, as this is the easiest and fastest way for us to do it."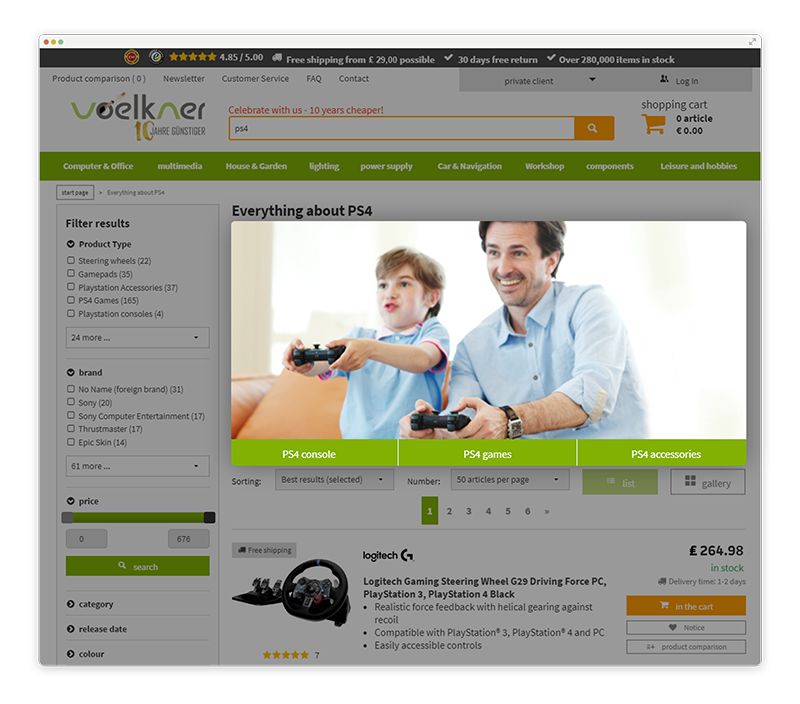 Marketing campaign with integrated selection options. Re-In uses FACT-Finder to dynamically display the correct contents on results pages and landing pages.
Internationalisation: cover new languages in record time
The online shop getgoods.com allows Re-In to deliver electronics items to eight different countries. The content for the various languages is currently being maintained. Compared to this, the conversion of the search requires far less effort: "It was very easy for us to adjust the search in English. We simply copied the German-language channel, then cloned and translated the existing campaigns. We also received an English stopword list from the FACT-Finder team, which we have been able to use one-to-one. As the FACT-Finder core works on a language-independent basis, we had everything needed to make the English-language shop retail-ready. And we will do exactly the same for the other seven languages," says Patricia Zwack.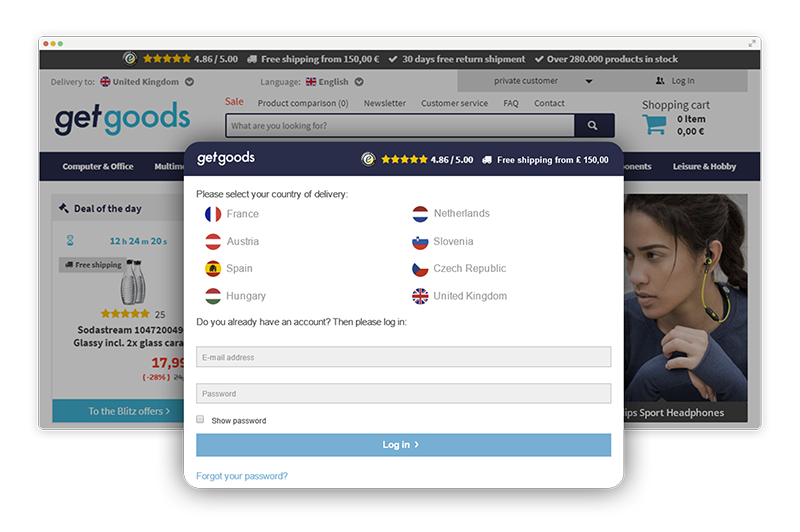 Retail-ready in no time, in eight different countries. FACT-Finder allows easy search set-up for any language.
A/B test confirms: FACT-Finder is invariably the best-performing solution
The Re-In team is exemplary, particularly in terms of their consideration of testing and optimisation options: the existing technologies and settings are tested at regular intervals – nothing is taken for granted. The aim is always to maximise revenue and customer satisfaction. The same is true for FACT-Finder: the conversion engine was compared to another search tool in an A/B test that lasted for two months: Patricia Zwack tells us what the test results showed: "Our final analysis revealed that FACT-Finder was ahead throughout the entire test period, particularly with regard to the KPIs for revenue and average order value. We immediately decided to continue using FACT-Finder – never change a running system."
Consultants support continual revenue increase
"One year down the line, I have to say that FACT-Finder would come out even further ahead today," continues Patricia Zwack. "Together with Mr. Wagner from the consulting team, we continued to do some fine-tuning in a workshop. For example, we have enhanced filter navigation for technical products like construction elements, allowing customers to easily restrict the results list even with more than 4,000 hits.
A workshop like this helps us much more than talking on the phone or meeting at a trade fair. We can address all queries personally, discuss them in detail and find the right solutions. That is why we are so pleased with the consulting support from FACT-Finder."
Even more synergy effects with new release
It is already very easy for Re-In to maintain the various shops, thanks to functions such as "Clone Campaigns", the language-independence and the consulting support provided. The upcoming update to the next FACT-Finder release will free up even more resources: "The new version will allow us to control and maintain our channels collectively, without having to work on each one individually. For example, we have successfully tested many FACT-Finder settings with voelkner.de and we will soon be able to roll these out to our other shops with just a few clicks. We benefit from these valuable synergy effects," explains Patricia Zwack.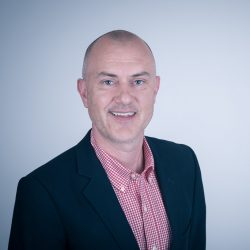 Stuart Patterson
is the New Business Manager at FACT-Finder for UK and Ireland. Stuart brings a wealth of ecommerce experience having worked in both UK and Irish markets extensively. He has worked with small entrepreneurial start-ups to Global brands such as BMW, Vodafone and Mindshareworld. Stuart brings a fresh outside the box type of approach based research and best practices. He has 10 years ecommerce experience across all verticals. As a previous business owner he knows how to create bespoke ecommerce solutions tailored to specific requirements and objectives.