Mail-order company Gärtner Pötschke relies on FACT-Finder in the online shop and customers are thrilled by a shopping experience that was rewarded by the 2018 Online Retail Award.
Gärtner Pötschke – Germany's fifth-oldest mail-order company – impressively proves that tradition and innovation do not have to contradict one another: The poetschke.de online shop helped the company to win the 2018 Online Retail award in the "Garden & DIY" category – one of the most renowned e-commerce rewards in Germany. The winners where chosen by those who know it best: 13,000 consumers rated shops to determine which one provides the best level of customer orientation, in terms of user experience, convenience, assortment and other criteria. This success story explains how Gärtner Pötschke implements FACT-Finder to improve customer loyalty, as well as increasing the conversion rate and the average order value.
Amateur gardeners have their own shopping tactics
The diversified online assortment offered by Gärtner Pötschke includes nearly 10,000 different articles – from seeds, plants and flowers to tools and greenhouses. It provides everything that amateur gardeners need – assuming that they can find what they are looking for. That may sound trivial but it represents a serious challenge, as Tobias Schwering, head of e-commerce at Gärtner Pötschke, can confirm: "Thousands visit our shop on a daily basis and they all have their own shopping behaviour. For example, some of them just enter short keywords such as geranium in the search and then filter, while others enter complex queries like red geranium xl hardy. Others are just looking for inspiration and like to browse in our categories or advisory contents.
We recognised at an early stage that our shop software did not allow us to meet all customer requirements. That is why we are implementing FACT-Finder as a supplementary solution to optimise what happens between the landing page and checkout. Our sales figures and the prize we won recently both prove that this measure is bearing fruit. We are benefiting from the decisive advantage that FACT-Finder provides with regard to the convenience, user experience and assortment criteria.
Quickly get customers who want to shop to the right product
After entering the first letters in the search field on poetschke.de, shoppers are presented with a concise menu of search, category and product proposals. "Many of our customers are knowledgeable and already know what should end up in the shopping cart when they get started. Unlike Amazon & co., our suggest menu shows concrete products with photos that lead directly to the relevant detail pages. This saves each customer one step in the purchase process, as no results list is required," says Tobias Schwering.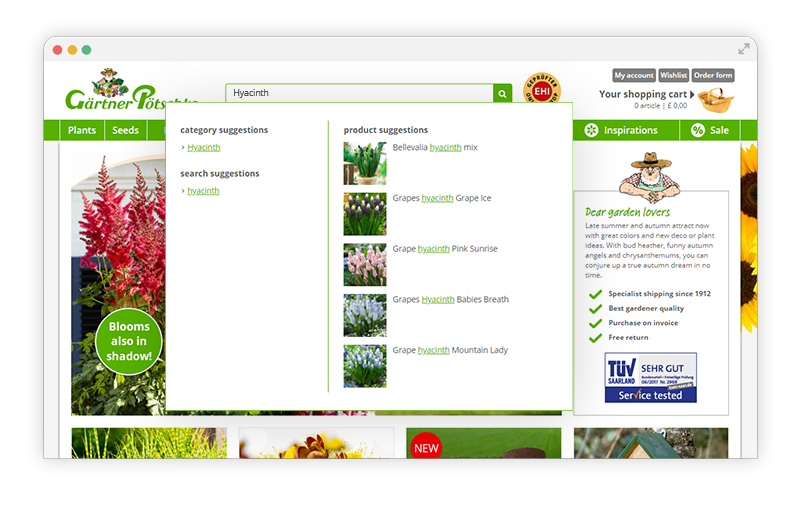 Orientation made easy: The suggest menu on poetschke.de shows suitable categories and products alongside search proposals. Even if customers make a typing error.
Reliable control of multi-word search queries
Customers intent on making a purchase also like to enter complex search terms – known as long-tail keywords. These occur less frequently than generic queries but they provide greater conversion potential. Stefanie Maier is an e-commerce consultant working closely with Gärtner Pötschke and explains: "Google is getting better and better at interpreting search entries that consist of multiple words. And more and more customers expect that online shops should also be able to do so. FACT-Finder requires no adaptation to work with long-tail keywords. We only need to perform basic search optimisations, such as maintaining synonyms, to allow a search using scientific terms to lead to their colloquial names, and vice versa. FACT-Finder deals with everything else automatically."
Customers should not be overwhelmed by hundreds of results
"Rose", "geranium", "fertiliser" – the majority of Gärtner Pötschke's customers start shopping by searching for a generic query. The difficulty is that the result list is often confusing, as too many products match the term entered. The e-commerce team therefore focuses on filter navigation in shop optimisation: "In addition to the search, the filters are definitely the most important tool for customers. FACT-Finder helps us to control the precise sequence we use to display our filters – text, tiles or sliders – and which filters are dependent on one another. The practical advantage of FACT-Finder is that it uses the search result to generate the filters. Filters that would not lead to any result are excluded," explains Tobias Schwering.
Self-learning and personalised result sorting
The rules are the same in retails stores and online shops: Customers prefer to buy what they notice first – if they make a purchase at all. The sequence in which products appear in the result list has a major effect on revenue. Gärtner Pötschke leaves nothing to chance regarding the sorting of search result and category pages, combining machine learning functions with their own rules: "We really appreciate the fact that FACT-Finder provides us with so many opportunities to improve the result listing.
FACT-Finder learns which products are clicked on and purchased most often and continually improves sorting without any input from us. In addition to this automatic optimisation, we use rule-based logic to position high-margin or discounted products more prominently – at our discretion. The personalisation function takes over the fine-tuning, adjusting the result listing to the previous shopping behaviour of the individual customer. Ultimately, FACT-Finder allows us to take many factors into account for sorting. It is useful for us to be able to understand why a product is in a particular position – FACT-Finder is certainly not just a black box," says Tobias Schwering.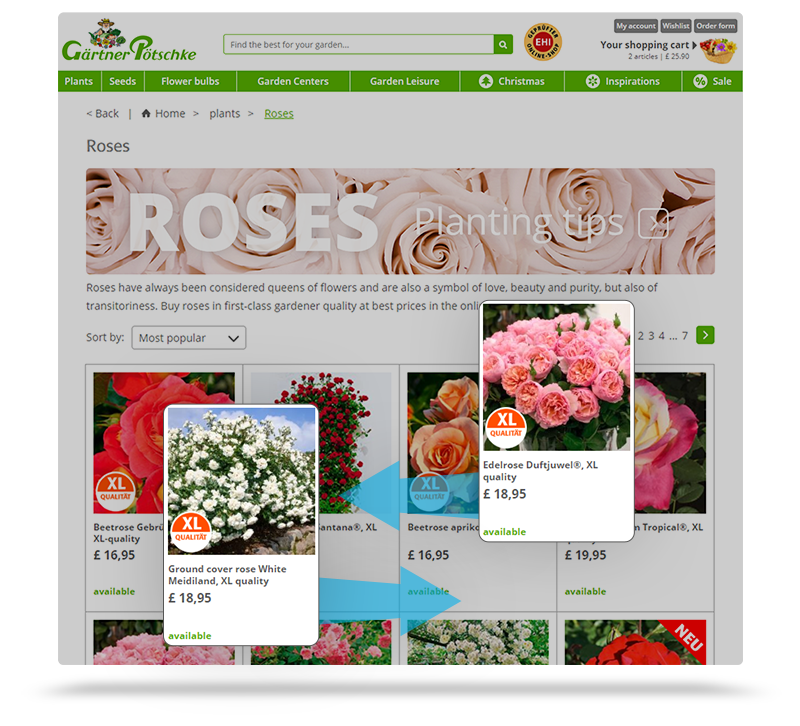 A customer placed pink-coloured products in the shopping cart during a shop visit. If this customer now searches for "rose", FACT-Finder adjusts the sorting for this colour preference.
Inspire to purchase with categories that you create
Instead of using the search, many online shoppers navigate to find what they are looking for. This includes those who do not know exactly what they want, or who need more information to make a decision. These customers can also quickly achieve this aim with Gärtner Pötschke – thanks to topic-related category pages and easy-to-find advisory contents. "In addition to existing categories, FACT-Finder can also be used to implement categories that are not defined in the product data feed. This makes it easy for marketing teams to realise inspirational shop pages on specific topics – garden parties, balcony design or a dream lawn – and use rule-based logic to provide them with suitable products," recommends Stefanie Maier.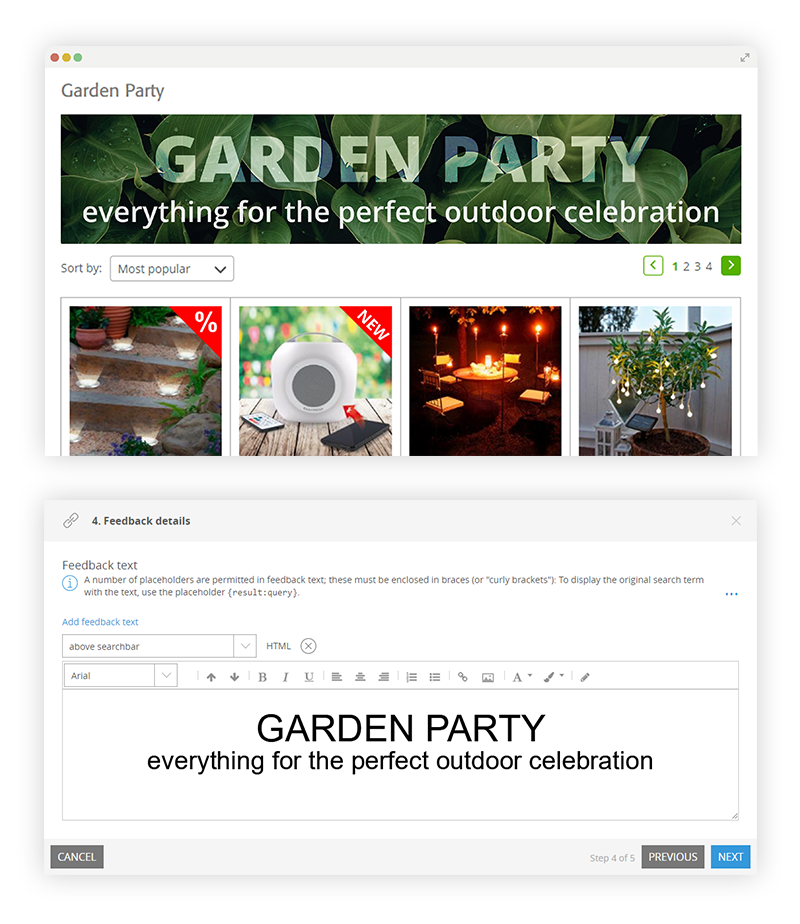 More cross-selling with inspirational topic pages: It is quick and easy to implement current  marketing requirements in the FACT-Finder backend.
Recommendations that make customers feel understood
As soon as customers include a specific product in the final selection and go to the detail page, they see more detailed information about the product and relevant purchase recommendations. "The Recommendation Engine from FACT-Finder lets us recommend suitable complementary products and alternative products with a target profit margin," explains Tobias Schwering. "This is an extra service that we provide for our customers, which often increases the value of the shopping cart. A practical advantage is that FACT-Finder can also include knowledge learned from other locations in the shop. For example, if a customer had primarily clicked on red plants and placed these in the shopping cart, this colour preference is also taken into account in the recommendations."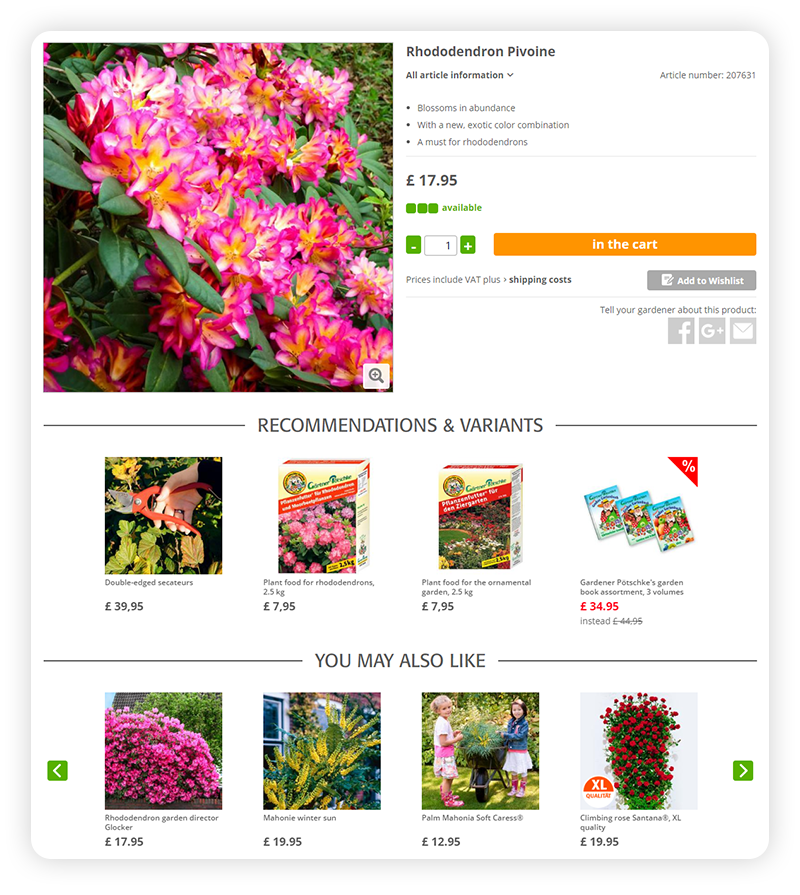 Personalised alternative and complementary recommendations on the detail page for a rhododendron product. Customers do not need to start another search to find the right accessories.
Consistent shop optimisation and strategic consulting
Using the right technology for an improved shopping experience is one thing. Making the most of the options available to you is another. Gärtner Pötschke works closely with the consultants from FACT-Finder to find the ideal FACT-Finder set-up for your own growth objectives. "It is great to see what FACT-Finder can do out of the box. But we are delighted that we can enjoy the support of Ms. Maier from FACT-Finder for more complex topics such as ranking, recommendations and personalisation. We also use the consulting program to perform continuous improvements on our shop – based on the analyses delivered by FACT-Finder. As we don't have any dedicated internal search experts, this allows us to be sure that we are making the best use of FACT-Finder – and I believe that this is what makes the difference between a good shop and a very good shop."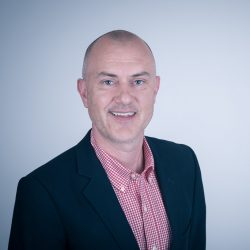 Stuart Patterson
is the New Business Manager at FACT-Finder for UK and Ireland. Stuart brings a wealth of ecommerce experience having worked in both UK and Irish markets extensively. He has worked with small entrepreneurial start-ups to Global brands such as BMW, Vodafone and Mindshareworld. Stuart brings a fresh outside the box type of approach based research and best practices. He has 10 years ecommerce experience across all verticals. As a previous business owner he knows how to create bespoke ecommerce solutions tailored to specific requirements and objectives.