Numerous top decision makers from the retail industry had the 16th October 2013 marked in red on their calendar. Because on this day, this year's Internet Retailing Conference & Expo in London, one of the most important events for business people in trade, took place. In the foreground were two issues that currently set the pace in the retail world: multichannel commerce and customer experience. In both, not only merchants that already appeal to customers through different channels were interested – among the visitors were also online pure players, executives of brick and mortar as well as suppliers and analysts.
Those who wanted to participate this year, had to book early. The event was sold out quickly with 600 congress participants and 2400 exhibition visitors. No wonder, besides 8 workshops with free access the Internet Retailing offered lectures by renowned key figures of the retail industry. The presentations were held in three thematic streams:
Stream 1: The Customer
How can companies interact with customers individually and at all touch points? This was a central question that has been discussed in the first stream.
Stream 2: The Business
Supply chain management, warehousing, merchandising and IT: Participants in this stream were given insights into all business processes that are needed to provide the optimal cross-channel customer experience and differentiate themselves from the competition.
Stream 3: The Industry
Technology, business models and customer behavior are currently affecting the entire retail industry. In this stream the latest technology trends were illustrated and technical standards of tomorrow were discussed.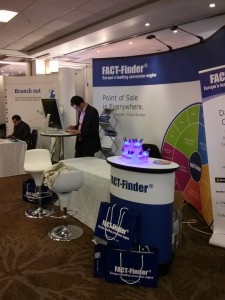 Also, outside of the seminars interesting discussions and networking took place: On the accompanying exhibition around 50 exhibitors showed their own innovations and solutions to the visitors. And like last year, also FACT-Finder was present as an exhibitor. This time, our trade fair motto was "Point of Sale is Everywhere – Cross Channel. Cross Boarder". We showed interested visitors how they manage to provide buying relevant information such as products, prices and availability, at any time and through any channel to their customers. In addition, we have answered many questions. For example: How can I analyse what people are doing in the shopping process on my website and how can I improve the customer journey to raise the conversion rate?
All in all we had a lot of interesting conversation and for FACT-Finder the event was a great success. Thus, we will surely attend Internet Retailing Conference 2014!