The last two days at Internet Retailing were both energising and inspiring. Like a child trapped in cotton candy, or a fanatic entranced by Apple's mystical glow, we are hungry for more. The eCommerce world is pulsating with invention, insight and a more polished professionalism than ever before. It was a pleasure to stand amidst my fellow eCommerce brethren and brethrettes, to push and redefine the possible. Yes… spring has sprung even over the otherwise rather gloomy Birmingham. It's safe to say: Internet Retailing has successfully put Birmingham on the eCommerce map. This will be a show to follow closely in the future.

As for our role there: we spent time prophesying the good news of on-site conversion. Then what good is getting your customers to the site (SEM) if they're not transacting. It's like a rooster in a hen house that doesn't want to play.
In my speech at Internet Retailing, I concentrated on translating real world scenarios into the online virtual world (your shops). Generally, if we have a job to do, we're going to look for the right tool to do it with. Take mowing the lawn for example. If I'm in the market for an English Garden, I'm not going to run it over with a BMW M5. I'm going to grab my John Deere two-cylinder and with it, I'm going to create paradise.
How to Turn Visitors into Shoppers
If I'm looking to cruise down the German Autobahn, however, I'm going to reach for something a tad bit more substantial with lots of horsepower. BMW has been giving tickles in belly buttons and toes travelling along German highways, and the back rural streets of England, since its inception; teaching us that it's possible to not merely drive from point A to point B, but to "experience driving pleasure".
Your website is going to bring this real world example to the virtual world. You have customers looking for practical products during one visit, and a more social head-turner the next but still the same visitor. An intelligent conversion engine is going to allow each visitor the flexibility to "choose their own adventure with each visit to your shop". And your customers will thank you for it.
The following are examples of where to start increasing conversion once you've gotten shoppers on your site.
In order to effectively drive on-site conversion, it's important to approach your customer properly on entry. For this reason we have to ask the question:
How do customers reach your site?
–    Brand presence draws them in
–    Magazine Advert
–    PPC campaign
–    Maybe social media
On-Site Campaigns
Whenever customers enter your site, they have generally already disclosed quite a bit of information regarding what they expect to find. Why not reward them with an on-site campaign tailored to their journey thus far.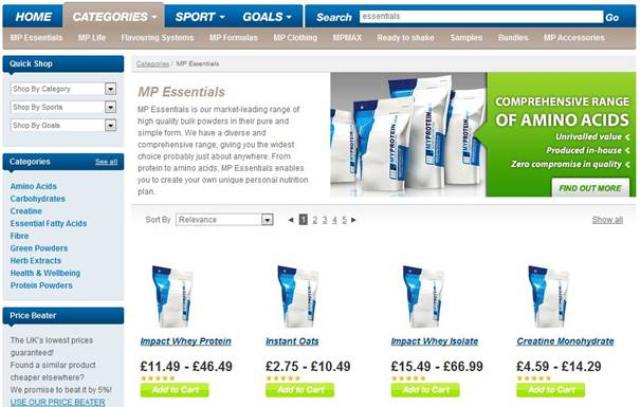 It would seem to go without saying that a customer should be able to click through from Google, directly to the correct product or category page on your site, without having to begin yet another tedious search once reaching your store. Nevertheless, I have come across more examples of companies not taking advantage of this than those that do.
Being led directly to a product or category listing, which was clicked on in Google, is going to increase "the happiness factor" of your customers by leaps and bounds. They feel understood and they buy. Of course you have the opportunity to merchandise these "dynamic" landing pages as you see fit. Use this to your advantage and include a couple accessory items for products corresponding to your lead category listings. Look to see about retrieving a list of trending products associated with each of your big selling main items. This should be accessible through your reporting tool, and will allow you to control this portion of your site automatically.
An aside: associated trending products are not to be underestimated. These are products, which are not necessarily always going to be associated with one another, but due to social, economical or geographical events, suddenly become relevant. Things like a Mountain Bike and mud guards. You'll see these two products purchased more frequently together in the late summer or early spring. It would be rather annoying, as a customer, however, to continually receive recommendations for these two products if I am unable to understand the momentary need. This kind of trending information should be gathered automatically and made usable whenever called upon. This is one of the hurdles to be aware of when implementing any type of recommendation technology, as it can have the opposite effect desired.
So you've surprised your customers with a beautifully tailored dynamic landing page, upon site entry, customised to their needs. What if they enter your site directly and simply begin browsing?
Dynamic filtered navigation
Surely everyone has heard how important it is, to give your customers meaningful attributes to narrow their journey by. But do the attributes you're offering, coincide with the range of product in the result set? And do the attributes take trending topics into account? We are all accustomed to attributes like price, size, colour, brand, and category level. But what about things such as if a product is extremely "low maintenance", "durable" or "doesn't wash out". These are more socially driven types of filters that can be harvested directly from your customer ratings. As a result, these types of attributes will constantly be changing. Some will find their way into the standard navigation, while others will be replaced seasonally as customers respond to your product directly.
In addition these navigation options should be fluid. Each click on a parent attribute or category should reveal a further set of contextually based filter options, which logically move the journey one step closer to completion, with the customer being able to move easily in and out of the selections they have made.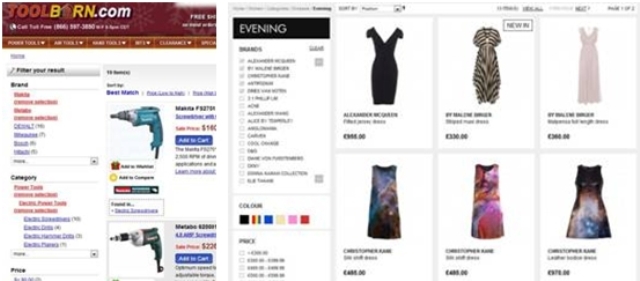 Filter options need to allow multi-select, so that a customer can view several options at once (red, blue, and green shirts), while at the same time being able to turn each individual filter selection on and off without affecting the rest of the breadcrumb trail.
These optimisations are going to be what puts a smile on the face of customers, looking not merely to purchase on your shop, but to experience it as well. They aren't necessarily looking for any product in particular. They want to be seduced into buying, and the way in which you present your product can either make or break their experience. Each interaction needs to be lovingly, coercing them closer to the product they intrinsically know they need to buy.
My wife does this throughout the year, whenever we are online together, looking through a catalogue or dare to venture out into the real world with our children to go clothes shopping. She always makes sure that my eyes are looking at the product that is important to her at the moment. This will change from week to week and season to season. It doesn't do much good to take notes, because by the time you've gone through your notes and balanced your pocket book to make a purchase decision, she says: "Oh that? No, no, that really wasn't that important. Have you seen this?"
Of course I'm exaggerating (somewhat), but for your shop this wouldn't be an exaggeration. Customers navigating through your site want and need to be lovingly manipulated to purchase what's on their mind anyway. For this it will be important to gather click data and use it, along with any physical retail store data you might have, in order to daily merchandise product according to what is trending. Of course it's still possible for customers to find non-trending products, but the standard sorting, for visitors to your site, just roaming around, should be highest sales and trending products.
The catch here is: this is both good for you and your customers.
SEO Enhancer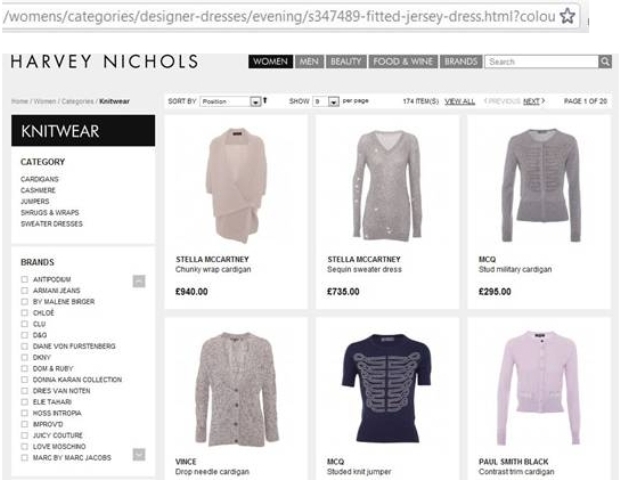 And because each click and each purchase are telling you vital information about your product and in which constellation your customers desire to see your product, it will be useful to use this information for SEO enhancements. Make the most of the long-tail by associating useful SEO links with the actual product purchased for a given spelling of a particular product, and then using these links and variations to drive ppc campaigns externally.
Fuzzy Search
I just mentioned the long-tail in reference to search a moment ago. Even as we enter the days of seemingly ubiquitous error-tolerant fuzzy search among on-site search engines, it is nevertheless important to remember that: just because it's confusing, doesn't make it "fuzzy". A professional fuzzy, error-tolerant search is going to have the long-tail of search terms in mind. After all, users navigating your site via the search box are converting on average around 20%, in comparison to a 2% to 3% conversion using just the navigation.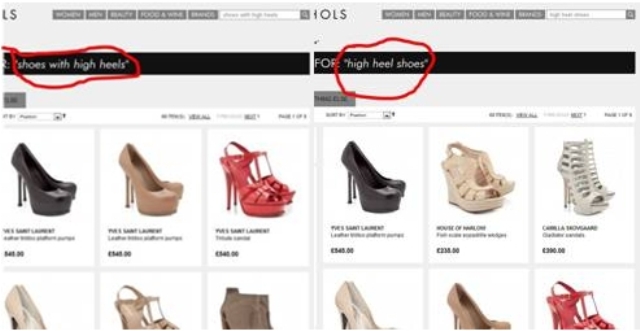 Is your search engine going to be able to deal with different variations of terms for your product offering? Not simply misspellings but different variations of the same thing. For example: "High heel shoes" or "Shoes with high heels".
This is going to be a shining difference between a professional on-site search engine and its competitors. Again, taking the time to get this sorted-out will give your customers more flexibility, and will bind them to the experience on your site.
Rounding it up:
So we talked about the following:
How to turn your visitors into shoppers:
1.    How are they getting to your site –
This is an important question to answer before moving to the succeeding points.
2.    On-Site Campaigns –
If customers are entering your site from an external link, then reward them for clicking on that link, by responding with a dynamic landing page with merchandised product for their selection.
3.    Dynamic Filter Navigation –
This is going to cut down on headaches for your audience. You will be able to present them with the necessary attributes and category levels they need in order to quickly narrow down their journey on your site, to find the products they are looking for. At the same time, you will be merchandising the product selection automatically, according to highest margin, least returned products, and most trending. And you'll be able to do it all automatically, cause you'll be tracking the click behaviour on your site.
4.    SEO Enhancer –
Make sure searches in the search box deliver SEO friendly URLs. Also, make sure that you are automatically building SEO relevant information for the long-tail of search results. The example I used was "High heel shoes" and "Shoes with high heels". Google should be able to spider your site and quickly see that you have relevant items for both of these variations.
5.    Fuzzy Search –
Not everything that totes the name "fuzzy" is really Fuzzy. Many on-site search engines are only loosely based on some kind of fuzzy-logic algorithm. They achieve their seemingly error-tolerance, by maintaining lists of key words (misspellings, and variations of keywords). These lists are not free and add to the price of the solution, while at the same time decreasing your return two-fold. You pay more up-front and you're still losing customers who search for variations of your products not yet entered into the lists of keyword variations.
That's about it for now. Hope you learned something and keep on rockin' in the eCommerce world!
Watch my speech at Internet Retailing Expo:
[bliptv hL9jgq%2BwbgI]