Tech Times ranked us the year's number 1 eCommerce search for digital retailers. Learn what makes our solution stand out from the rest.
FACT-Finder is the #1 best eCommerce search software
We are proud to announce that Tech Times has ranked us the best eCommerce search software. Digital retailers looking to increase their conversion should provide their online visitors with the best, most intuitive shopping experience. One of the easiest ways to achieve this is to invest in an eCommerce search software. Learn why Tech Times named us the year's leading eCommerce search software.
Who is Tech Times?
Tech Times, a digital media company headquartered in New York City, reports on the latest technological innovations and developments. They analyze how business and technology intersect and how they influence different market and industries. Tech Times ranked the best search engines for online shops according to their features and advantages to business of all sizes.

"Combining a dedicated team of experts and industry-acquired experience has made FACT-Finder the smartest way to find the best products."

Tech Times
Why you should choose FACT-Finder's eCommerce search
In the article, Tech Times focused on eCommerce which is growing and expanding rapidly. Every online retailer should provide their online shop visitors with the best on-site experience and product discovery.
We agree that site search in eCommerce is critical to increase your conversion rate and improve the user experience. Experience begins at the search bar and with FACT-Finder you can deliver precise results at lightning speed. Website visitors using the search bar have a clear intent to purchase and want to find the right products straightaway.
Our powerful site search is the core of our solution and is self-learning, error-tolerant, and language-independent, making it easier than ever for businesses to scale quickly. In addition to search, the FACT-Finder Core+ includes smart suggest, ranking rules and AI-powered analytics and A/B testing. Even for long-tail search queries or product numbers, our intelligent site search provides the most relevant results. This makes search user-friendly and intuitive, converting online visitors into active buyers.
FACT-Finder search from a retailer's POV
With over 60,000 food items available in their online shop, Kastner knew a powerful search was critical. Hear from Maximilian Reiter as he shares his experience with our search, "The moment we implemented FACT-Finder, we had an immediate effect on the customer."
Other features and benefits of FACT-Finder
In addition to the FACT-Finder Core+, Tech Times highlights a few of the other features and reasons why online retailers looking to increase their conversion should choose FACT-Finder technology, including our proprietary algorithms and one-to-one personalization technology:
Personalization: FACT-Finder is the only eCommerce search solution on the market that offers a highly responsive, real-time, one-to-one personalization technology. And the future looks exciting on this front, thanks to the latest acquisition of Loop54, Nordic's leading Artificial Intelligence Personalization vendor. Learn more in the press release.
Recommendations: Optimize your upsell and cross-sell opportunities through personalized, automated, context-based product recommendations. The AI-powered software analyzes clicks, shopping carts and purchases as well as historical data on combined sales to generate recommendation logic, which it adjusts in real time to each individual customer.
Geo: The geographical location of online visitors is valuable data for improving conversion as it allows you to display more personalized, location-based content. Display nearest stores, products in stock, special offers, seasonal content, store-specific services, shipping times, click and collect options and more. With the help of Geo you can bridge the gap between online and physical, and connect buyers to products.
Predictive Basket: This innovative solution anticipates customer needs by predicting which products are most likely to be purchased again from a customer's second visit – an opportunity to strengthen your customer loyalty through machine-based learning.
Customer-Specific Pricing: It enables you to display dynamic, individualized prices and discounts directly in the search, navigation and filters – all without costly callbacks to third parties or performance loss.
As an added benefit in comparison to other site search solutions on the list, Tech Times points out that we work with several popular eCommerce platforms which makes integration with FACT-Finder easy, regardless of whether it is an in-house development or a ready-made standard solution.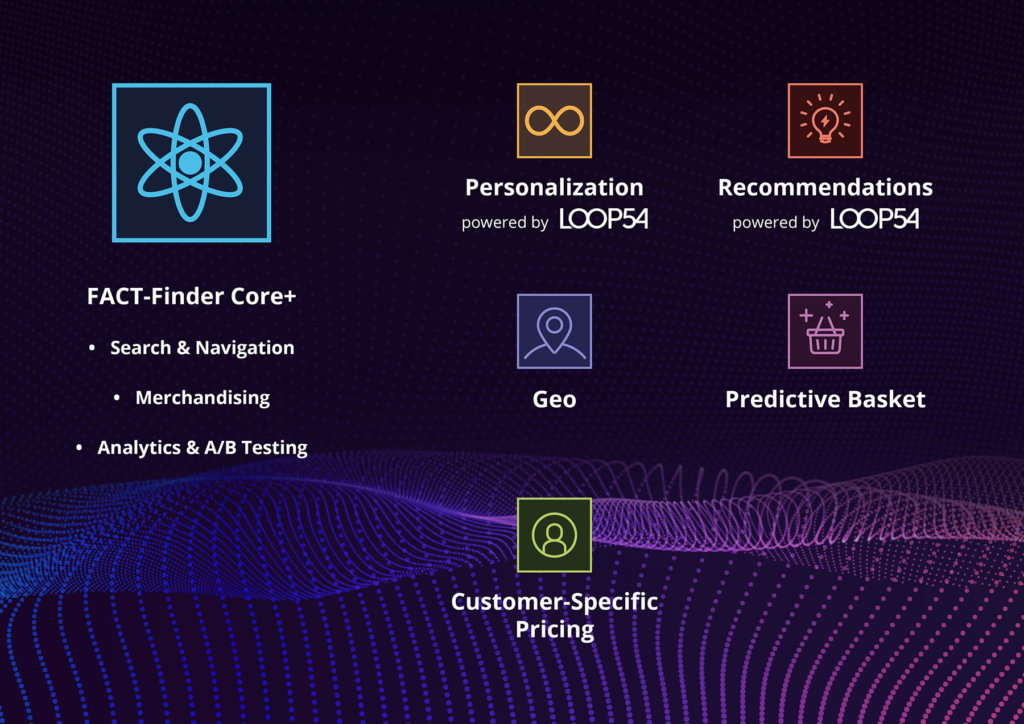 See our eCommerce search in action
Ready to see how FACT-Finder can boost your online sales? Request a free personalized demo today.