User-friendly online shop draws up 170% increase in conversion.

A rising number of individuals are taking part in the DIY crafting movement, bringing the market size to a generous $35 billion. People are taking on creative projects for many reasons: they feel like they can handle the task, they enjoy the work, to save money – not to be confused with being cheap, to help the environment by upcycling, and to add personalised touches to their homes.

Hobbycraft, the UK's largest arts and crafts retailer, has capitalized on this growing market and is making a lot of money doing so. They have expanded to 94 locations and have seen a consecutive eight-year revenue growth that reached £168.5 million last year. In 2018, their in-store sales grew by 2.3% and online purchases rose by 21.5% – online now represents 9.8% of total revenue. This creative superstore is turning do-it-yourself into big business. So what exactly is Hobbycraft doing to gain this success?

Finding the way to creativity
Hobbycraft understands that all visitors are potential buyers. But visitors cannot convert into buyers if they can't find what they are looking for. The crucial element in the purchase process is leading visitors quickly and conveniently to the products they are searching. Hobbycraft achieves this by making their online shop conversion ready.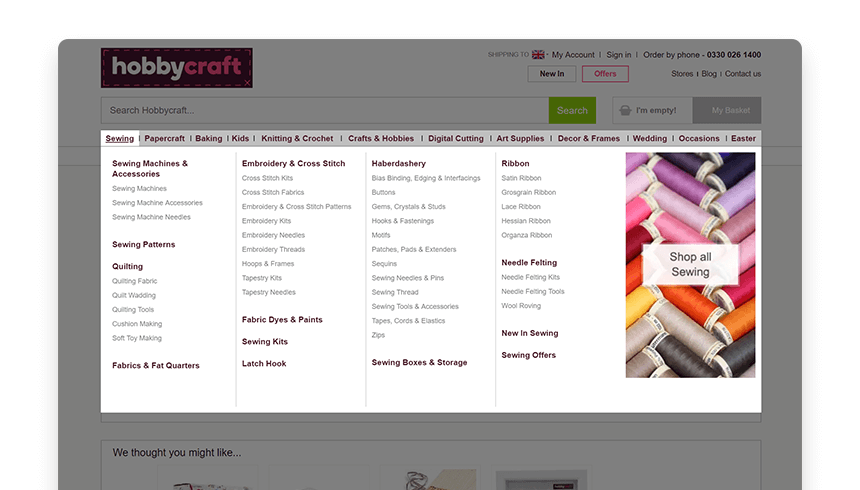 A first look at Hobbycraft's homepage presents visitors with a main navigation menu that instantly communicates what Hobbycraft offers. As if customers were walking through a store with labeled aisles, this menu displays descriptive labels that show what categories are available. Within those categories, are grouped subcategories – just like labeled shelves. This handy menu is clear, structured and intuitive. For beginners, it helps them find their way around by providing an easy-to-see overview of content and encourages exploration into additional categories or alternative products they hadn't previously considered. For experts, object-based navigation is accurate, straight-forward and easily directs them exactly to where they want to go. The menu remains consistent as visitors move within sections – maintaining trust throughout the site and providing fluid continuity. Hobbycraft's web navigation meets the needs of visitors in all stages of the buying funnel – those in the awareness stage, those who are researching, those who are evaluating alternatives and those who have decided to buy.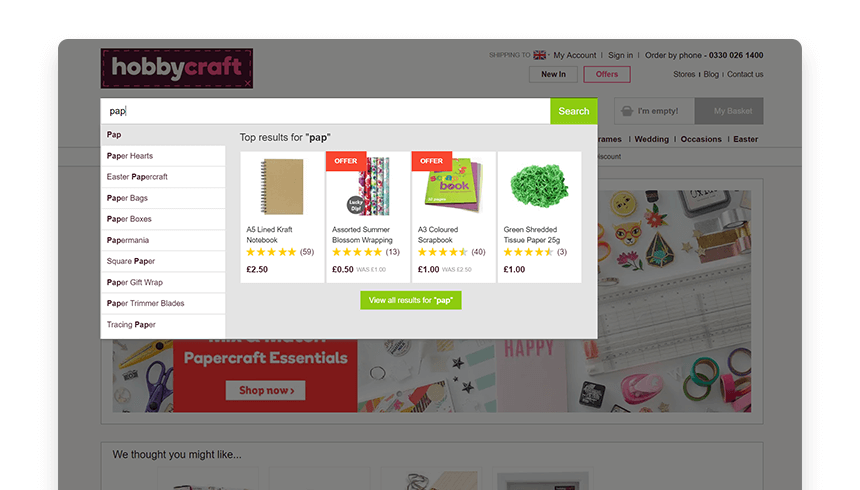 On a content-heavy website, the search bar is a frequently used design element. That's why Hobbycraft ensures that it is displayed prominently as it can be another fast route to discovery. By typing the first 3 letters for a product search, visitors are presented with a world of arts and crafts inspiration through structured information. This automatic menu intelligently suggests products, categories, and content. It's not just about speeding up the search process but rather about guiding the user and helping them in constructing their search. For beginners who type generic terms, suggested products are listed by name or image. In the case of unknown or incorrect words, the search functionality accounts for synonyms and spelling mistakes. For experts who know exactly what they need, the search bar supports multi-word terms and product IDs. Hobbycraft's search function provides a useful starting point for beginners without frustrating more experienced shoppers.

The results are a work of art
Hobbycraft focused on enhancing visitors' shopping experience by optimising their navigation and search functions. Their user-friendly site brought forth outstanding results : 170% increase in conversion rates. To learn effective ways to improve user experience, which tools maximise conversion, and how to drive sales through search optimisation, watch our webinar: